StreetShares Reviews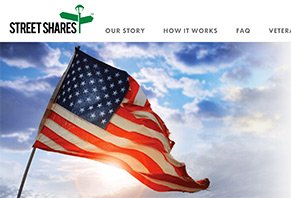 StreetShares is a veteran-led company offers loans to small businesses who are looking for an alternative to the cumbersome process of getting a loan from a bank.
About StreetShares
Looking for a loan from a veteran-led company? StreetShares says they're the right fit for you, so we investigated to make sure they're a legitimate business.
Lenders have a bad name these days.
Public perception of banks and mortgage companies has changed a lot since the Great Recession. Skepticism reigns and trust is hard to come by. But think about it like this: What do you do if you're a business owner who needs a loan?
Do you completely avoid big institutions and, for that matter, any lending institution? If you've owned a small business, then you know that's pretty much impossible. StreetShares, a veteran-led lending company based in Reston, Va., promises a quick, painless loan-approval process that gives you between $2,000 and $100,000 within a matter of days.
What StreetShares is offering seems like a great deal – who doesn't love the easy access to cash for your business? However, we wanted to know how legit the company is and whether or not it's worth it for you to get into business with them.
In the next few minutes, we're going to discuss a little bit about who the company is, what they offer, what other businesses are saying about them and whether or not their loan products are a good fit for you.
Who is StreetShares and Why Do They Emphasize Veterans?
StreetShares makes it known that they're big supporters of veteran-led small businesses. Why? Because of their two C-level leaders, CEO Mark Rockefeller and COO Mickey Konson, are veterans themselves and are encouraging vets to start small businesses.
According to their LinkedIn profiles, Mark served in the United States Air Force for 10 years and Mickey served one year in the South African Air Force. Six of their 13 directors and vice presidents have served in the military.
The company started in 2013 during a breakfast meeting between Konson and Rockefeller.
According to the company's "Veterans" page, StreetShares' mission is to "fund as many veteran-owned small businesses as possible, which is why we're specializing in providing veteran business loans."
While you don't have to be a veteran to borrow from StreetShares, it seems like being one would make the investment process feel familiar since many of the company's leaders are veterans themselves.
What Do They Offer to Small Business Owners and Investors?
StreetShares' services are divided up into two different categories: lending and investing.
These two services are intertwined. The loans provided to small businesses are funded by the company's investors.
Small Business Loans: Getting Money From Investors
StreetShares small business loans range from 3 to 36 months in. The annual interest rates on those loans range from 9 to 30 percent, a company representative told us during a phone conversation.
The requirements to be eligible for a loan are pretty straightforward:
Reasonable credit
U.S. citizen or permanent resident
1 year in business or $100,000 in revenue
Your loan APR will be determined by your credit history and your business' profile, which, in our opinion, means that the lower your score and revenue, most likely the higher the rate you'll get on your loan.
However, this is nothing out of the ordinary. Your credit history and your business' success (or lack thereof) present a certain level of risk to lenders. The lower the risk, the lower the APR; the higher the risk, the higher the APR.
Regardless of whether you get a low or steep percentage rate, that rate will never change, StreetSmart's website says.
As far as getting the loan, you'll have to provide specific information about your company, including:
Owner's social security number
The company's Employer Identification Number
A listing of all the business' outstanding debts
The business' six most recent bank statements
Tax returns
Profit-and-loss numbers may also be required.
The StreetShares rep told us that, barring any delinquencies in your credit report, they can "get you funded somewhere within 24 to 72 hours." These promises for quick responses to your funding request are pretty standard in the world of small-business loans.
Expect to pay an up-front fee of either 3.95 or 4.95 percent for getting the loan, along with your APR. This fee is what's known as an "origination fee" and is pretty standard in the lending industry.
In our opinion, StreetShares offers a really simple version of small business lending. While there are companies who promise a faster turnaround on loan/line-of-credit requests, we believe that's more about the process than it is about speed (investors, in some cases, need a few days to decide whether or not they want to jump in on the opportunity).
Other companies like BlueVine have their money in-house, which means they can, in theory, approve a loan request and get the money in your account a lot quicker than StreetShares.
But the big difference between this company and its competitors is that StreetShares charges an overall APR and not a daily percentage Not only does this save the business a few bucks depending on their financial situation, it also makes the numbers really simple.
One last thing: you can borrow from StreetShares as much as you like, provided you make six months of payments without being late, or you pay off at least 60 percent of your original balance.
Quick note: The company also offers lines of credit ranging from $5,000 to $100,000. The terms and APR for those loans, a company representative told us, are very similar to their loans.
The Investors: Big and Little
Once you've been pre-approved for your loan or line of credit, your risk factors and amount requested will be forwarded to StreetShares' investors who will according to this post on their blog, read your pitch and bid for your loan in a way that resembles a mix between Shark Tank and eBay.
The company's main investors are various individuals who are part of the StreetShares Pro membership, a program for high rollers (net worth of $1,000,000 or more).
While the company's Pro members are the ones bidding on funding requests from small business owners, there's another group of investors who simply buy $25 bonds.
Investopedia explained bonds in a way we really liked:
"A company needs funds to expand into new markets, while governments need money for everything from infrastructure to social programs. The problem large organizations run into is that they typically need far more money than the average bank can provide. The solution is to raise money by issuing bonds."
Basically, StreetShares sells bonds to anyone who wants to buy them and then puts that money toward their funding efforts. But the investors don't want to give their money away freely, and that's why StreetShares offers a 5-percent return on investment.
The bonds that StreetShares sells are registered with the SEC and cost $25 a piece. Each investor can purchase up to $5,000 in bonds and increase that cap with every new investor they bring into the company.
According to the company's FAQ's page, they have a "provisional fund" set aside to pay back their investors should the economy tank like it did in 2008.
The bond option is really nice for the average person who doesn't have tons of cash but wants to support a good cause (and get a little bit in return).
So far, StreetShares seems like a solid company, but what's the general opinion of consumers?
What are other people saying about StreetShares?
This veteran-focused lender and investment vehicle gets some really solid reviews across a couple of different websites:
74 reviewers on TrustPilot gave the company an average of 4 out of 5 stars.
10 reviewers on Consumer Affairs gave the business 4 out of 5 stars.
An A+ rating with the Better Business Bureau (BBB), with no complaints or government actions against the company since it started with the BBB March 2015.
Many of the positive comments we read about the company focused on its customer service. Several reviewers said representatives were helpful and friendly and that getting their loan was easy.
There were a couple of negative complaints about interest rates, and one reviewer felt like the representative he spoke with used high-pressure sales tactics.
All in all, we believe that you'll probably have a pleasant experience with StreetShares. But just remember, your interest rate could be as high as 30 percent. Just because a company has a reputation for being nice doesn't mean you're going to get the interest rate you want.
Our Conclusions About StreetShares
StreetShares' focus on helping veterans is admirable, as entering the entrepreneur world can be difficult after spending so many years in the military.
However, if you've got the drive and determination to succeed (and meets the company's financial requirements), this company offers some pretty straightforward and reasonable terms for loans.
On top of that, their bond-based investment system allows average people to invest in the businesses the company chooses to help. While not all the businesses they work with are owned by veterans, it is nice to know that your investment dollars are going toward the dream of a former servicemember.
An advantage to using StreetShares is that you won't be paying a daily interest rate like you would with other companies who offer small business loans.
Since we don't know how many of their clients get the 9-percent APR the company representative told us about, we (nor they) can guarantee that you'll be offered a rate you like. If you've got a mediocre credit score, be prepared to pay around 25 or 30 percent.
If your company doesn't meet the requirements we talked about earlier, or you're looking for a bigger loan or line of credit, there are plenty of other lenders out there.
Fundbox, BlueVine, and LoanMe are three that we've reviewed. Each of these companies has their pros and cons, so be sure to read through our observations so you know what you're getting yourself into!
Awesome company, highly recommend

By Brian C.

,

California

,

Sep 19, 2019
Verified Reviewer

We created an e-commerce company in April of 2008. By September of the same year, our company was generating 6 figure revenues and the demand for our products began to far outpace our ability to deliver. This is s a good problem to have for a start-up but it's still a problem that required a solution. To exasperate the situation, Black Friday and the Holiday season was coming up, and we needed to increase our inventory in a bad way. Our first call was to our bank and found out right away that we didn't qualify for the type of loans we needed, solely based on the fact that our company was only a few months old. They couldn't take into account the amount of income we were generating month over month and the fact that the biggest sales season of the year was approaching because they had their policies which were immovable. We then called StreetShares where they were genuinely interested in our business and approached the conversation with the attitude of "how can we help to meet the specific needs of your company?" Needless to say, the process was smooth and we were able to meet the demands of our customers over our first Holiday Season! We're grateful to the team at StreetShares and we highly recommend them if your business is in need of their services.

Bottom Line: Yes, I would recommend this to a friend

---

StreetShares is a great finance partner!

By Diedre W.

,

Maryland

,

Sep 10, 2019
Verified Reviewer

I've worked with StreetShares for over two years and have been extremely pleased with all of their products. I've used both the line of credit and contract financing options, both of which have provided me the necessary funding for my business. I've found it very easy to grow my busy with them as a finance partner and look forward to continued growth with them.

Bottom Line: Yes, I would recommend this to a friend

---

Advertisement

---

Should be politicians

By Steven K.

,

Georgia

,

May 21, 2019
Verified Reviewer

We used this company one time before and everything was good, was told after 6 months we could do a line of credit again once this one was paid in full and on time. We paid this in full on time, actually before time! The same staff was no longer there and found out they have a huge turnover of help. Waited a week and heard nothing and then told they needed more docs. We went to another company and our deal was done in a day. They use the VET thing to real you in.

Bottom Line: No, I would not recommend this to a friend

---