Sungevity Reviews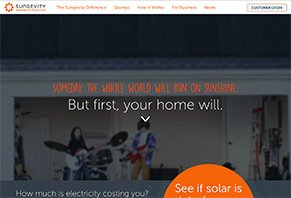 Based in Oakland, CA, Sungevity provides their customers with easy access to custom-made solar panel systems that can help you save money on electricity costs.
About Sungevity
Did you know: Enough sunlight falls on the Earth in 40 minutes to power everything on the planet—for the entire year?
Sungevity, an Oakland, CA-based company, wants to help you harness some of this energy using their residential solar panel systems. This way, you'll be able to reduce your monthly electricity costs over the course of 20 years, and could even get your electricity for free!
Through their different financing programs, Sungevity can put one of their custom-made solar panel systems on your roof for little-to-no money down, making solar power even more affordable.
But is a Sungevity solar panel system for you? To help you get a better idea of what to expect, let's start with how the process works.
How the Sungevity Process Works
Step 1: Assessment & Design
After calling Sungevity, you'll go through something known as an iQuote.
Here, Sungevity will use their proprietary Remote Solar Design technology to view high-resolution images of your home, which will zero in on your roof, track its sun time, and show you how your solar system will look and work.
The Sungevity rep will also need information about the last 12 months of your energy usage (including rates), which can make your quote as accurate and personalized as possible and provide a system that meets your energy needs and fits your home's aesthetic.
Then, you'll be given a "comprehensive" view of your monthly electricity bill and your environmental impact with a Sungevity system. You'll also be shown costs and all your leasing and buying options.
Step 2: Installation
After a custom design has been approved, Sungevity will take care of the planning, paperwork, solar panel installation, applicable rebates, and "any hurdle that might come up."
From a local perspective, a Sungevity Field Manager will handle the installation process from start to finish, including permitting, site visits, solar panel installation, and interconnection. And once your installation is complete, a Sungevity Quality Assurance Specialist will inspect the system and confirm the quality of the work.
According to Sungevity, they only use "efficient, high-quality solar panel technology, using watertight roof mounts for a more reliable system."
Step 3: Energy Production
Once your Sungevity solar system is up and running and producing power, you'll be able to monitor its performance online and from iOS and Android-equipped mobile devices. There, you'll be able to see your solar energy production (you can view by week, month, year, and lifetime), weather, and the pounds of carbon emissions your solar home has offset.
Before you can begin producing electricity though, you have to pay. How much do Sungevity's solar systems cost?
The Cost of a Sungevity Solar Panel System
Sungevity claims that electricity costs fluctuate every year, but their systems can help you lock in predictable solar electricity rates. In some areas, Sungevity could even help you earn money back from your utility provider by producing more energy than you use.
Pricing & Guarantee
How much your Sungevity solar panel system will cost depends on many things, including your electricity needs, the size of your home, how much sun your roof receives, the area where you live, and much more.
As such, Sungevity doesn't list any costs on their website, other than stating that a "5 kilowatt system lease starts at $40-$140 per month for 20 years on approved credit."
Taking all factors into consideration though, Sungevity claims that even after you remove the cost of your system, your remaining power bill could be less in total than your previous electric bill.
To further help with costs, your Sungevity system may be eligible for federal and state solar energy tax rebates. You can also get a credit for excess production (note: this can vary depending on your utility provider), as well as bonuses for referring friends and family.
After your Sungevity system is installed, the company's guarantee covers its performance for 20 years.
Payment Options
In order to pay for one of these systems, you can choose 1 of 4 options:
Buying your solar panel system outright.
Financing your system through one of Sungevity's partner lenders, which allows you to own the system while making monthly payments.
Monthly lease. Here, you'll pay minimal upfront costs and a monthly amount to the lease provider. Zero down and no deposit required. If you sell your home, this lease can be transferred to the new owner.**
Solar PPA, which allows you to pay for the electricity you produce at a set rate. If you sell your home, Sungevity will help transfer the PPA to the new homeowner.**
**According to some Better Business Bureau complaints we read during our research, the costs associated with leases and PPAs can be significant.
One noted that they pre-paid more than $17K to begin their lease, while another claimed that they had to pay $21,000 just to transfer their existing lease to the new homeowner (or pay $48,000 to buy the panels outright).
Additional Costs to Keep in Mind
Outside of everything noted above, remember that there could be additional costs related to your Sungevity system. This could include needing to re-roof before panels are installed, moving a gas meter, unforeseen permitting costs, and much more.
During our research, we read several customer complaints regarding thousands of dollars in extras, which were only discovered after the contract was signed and installation was underway. In other words, it was too late to back out.
What else are Sungevity's customers saying?
Does Sungevity Have a Good Reputation with Customers?
Sungevity, Inc had an A+ rating with the Better Business Bureau (as of 9/24/15), based on 10 closed complaints. These referenced everything from misrepresented costs (power generation, suddenly increased monthly rates, etc.), damaged roofs, and advertising practices. One complaint even noted that it took more than 6 months between initial inspection and when their Sungevity system was producing power.
On Solar Reviews, readers gave Sungevity a 3.4-star rating. Common compliments cited open and honest sales representatives, an easy installation process, and great system performance.
On the other hand, many customers claimed that Sungevity's contracts are one-sided and heavily favor the company, and that they will conveniently leave out factors that could increase costs during the initial inspection (as we mentioned above).
Solar Reviews readers were also upset that Sungevity's contractors (who are local and independent) had a lot of delays, and that the company often installs systems before receiving funding on their end, causing further delays—sometimes lasting weeks or months.
Lastly, there were 98 reviews for Sungevity on Yelp, with an average rating of 3.5 stars.
Again, common complaints revolved around financing problems after the panels had been installed, not being upfront about actual costs, poor quality subcontractors, and lots of general confusion. The company appeared to respond quickly in many of these cases.
Are there any other options out there besides Sungevity?
Other Residential Solar Companies
As time progresses, production costs decrease, and power output increases, more and more homeowners are turning to solar panel systems. But it's no secret that they're extremely expensive, so many companies like Sungevity have appeared over the last couple years to make solar power more accessible.
This includes SolarCity, SunRun, and even Vivint. Many of these companies operate similarly to Sungevity with essentially identical online customer reputations, so it's important to research them as much as possible (HighYa is a great place to start!).
Now that we've talked about Sungevity's process, pricing, reputation, and competition, let's bring everything together.
Should You Put Sungevity's Solar Panels on Your Roof?
Can a Sungevity solar panel system provide you with lower utility bills? In many instances, yes.
Does this mean that one is right for you? There are so many considerations to keep in mind—from the amount of sun your home gets to the amount of electricity you consume, from excess costs to tax rebates available in your state—that it's impossible to say.
The good news is that there are dozens resources out there that can help you decide whether or not your home is suitable for solar panels, including these in-depth Daily Finance and LifeHacker articles.
By reading this review, you're already on your way to making an important decision about solar panels, whether you choose Sungevity or not. If you do choose Sungevity, it seems that they have a mostly positive online customer reputation, solid customer service, and are proud to stand behind their products and services.
Don't use Sungevity

By Linda S.

,

Larkspur, CA

,

Jul 24, 2019
Verified Reviewer

I recently received an invoice for $1500.00 for cancellation and was appalled! The issue I have is not that I signed this contract, but that the person I spoke with said I could cancel at any time, he lied. The person I was trying to settle this with is blakehazelrigg@solarspectrum.com, 415-886-3258. He kept changing the topic, never addressing whether the person lied to me to get me to sign the agreement, treating me like an idiot, but his emails are all sugar and spice. Watch out for this company, there are plenty of other reputable companies out there.

Bottom Line: No, I would not recommend this to a friend

---

Advertisement

---