Sunshine Blade Instant Heater Reviews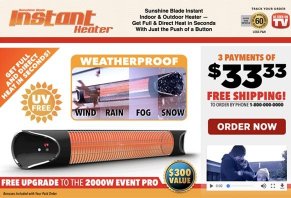 Using infrared radiation that can heat directly, without heating the surrounding air, Sunshine Blade Instant Heater claims to work instantly and efficiently.
About Sunshine Blade Instant Heater
With just the push of a button, Sunshine Blade Instant Heater's special carbon fiber bulb technology produces invisible infrared thermal waves that disperse heat directly to objects and people, without warming the air in between.
This way, the website tells us the device produces instant, full heat in a matter of seconds, and that it heats up three times faster and costs 50 percent less than some competing gas heaters. It also is said to offer all-weather performance, whether wind, rain, fog, or snow.
Additional features include a built-in timer, four heat settings, remote control, adjustable wall mount, and a sensor that automatically switches on Sunshine Blade when you enter the room, and then goes into standby mode as soon as you leave.
Together, the manufacturer advertises that it's perfect for indoors and out, whether in the garden, on the patio or balcony, in the garage or workshop, or anywhere else that you need direct, efficient heat.
It's no secret that warming an area can be inefficient since the heat must move through the air before reaching people. Even then, it can still leave behind cold spots and drafts. But, will the Sunshine Blade Instant Heater deliver on the manufacturer's promises? Are there competing products you should consider?
Let's help you find some answers by starting with a few basics.
How Sunshine Blade Works: The Basics of Infrared Radiation, Warmth, and Direct Heat
The Sunshine Blade Instant Heater website advertises that the device can help you "enjoy the incredible warmth of sunshine in seconds." But have you ever wondered why sunlight provides heat?
According to Scientific American, the simple explanation is that sunlight contains infrared radiation; or, the "invisible infrared thermal waves" noted on the Sunshine Blade website, which is part of the electromagnetic spectrum as a whole and is invisible to the naked human eye. When this radiation reaches the skin, it excites the molecules inside and causes them to move quickly, which then produces heat.
However, although the sun's electromagnetic radiation travels nearly 93 million miles before reaching us, it retains its warmth and isn't lost to the surrounding air or, the vacuum of space, as the case may be. This is because infrared light doesn't create heat until it's absorbed by something.
In a nutshell, this is how heaters like Sunshine Blade work. They produce infrared light (which the eye can't see) that is absorbed by our skin and clothes, excites molecules, and generates warmth, but without potentially harmful UV radiation from the sun.
How Much Does Sunshine Blade Instant Heater Cost?
Sunshine Blade is priced at three payments of $33.33, plus free S&H, which will also include a free upgrade to the 2,000-watt Pro model.
All orders come with a 60-day money-back guarantee, less return S&H charges. Tristar Products' customer support department can be reached at 973-287-5100.
What Do We Know About Tristar Products?
The HighYa team has collectively written about more than 950 As Seen on TV products over the years, and we've learned in that time that Tristar is the second-largest company in the industry.
Based out of Fairfield, NJ and in business since 1992, some of their recent releases include Copper Chef Pan, Clear TV, Power Pressure Cooker XL, and Genie Bra. They held an A+ Better Business Bureau rating, based on slightly fewer than 700 closed complaints, as of 1/30/18. A representative responded in each instance.
Sunshine Blade Instant Heater vs. Other Infrared Heaters
Online, you'll find a wide variety of infrared heaters in all sizes, designs, and power levels, most of which range in price between $50 and $250 (for indoor models; outdoor-only models can exceed $1,000), putting Sunshine Blade at the lower end of the in-home spectrum.
Where should you begin when looking for a model that meets your needs?
According to How Stuff Works, infrared heaters can be more environmentally friendly than traditional options, since they often use less energy and are more efficient, and can work pretty much wherever direct heat is needed (everywhere from warehouses and assembly lines to gyms and homes). However, they're not ideal for heating a whole home.
They also point out that infrared can use many different fuel sources, but that "if you're looking for an electric model" like Sunshine Instant Blade, "you should check how many volts and Hz are used."
In this instance, Sunshine Blade offers 2,000 watts of power, whereas many of the competing in-home models provide somewhere between 1,000 and 2,000.
Other specifications they note you should look for include "filter controls, wheels, weight, fan, thermostat, and color. The design also plays a role. Usually, you'll find a protective cover over the heating element, which can be made from as copper, iron, steel or brass."
We can see from the website and commercial that Sunshine Blade features a long, cylindrical design, a protective cover, and a carbon fiber filament. However, we reached out to several customer support representatives looking for additional information about the product's dimensions, weight, timer length, heating setting temperatures, and whether it's battery operated or corded, although none could offer insight.
What does this mean regarding your quest for the perfect infrared heater?
Our Bottom Line About Sunshine Blade Instant Heater
Featuring a unique design, coming in at just under $100, and with 2,000 watts of power and the ability to provide indoor or outdoor use, Sunshine Blade Instant Heater seems to provide a lot of bang for your buck. It also comes from a manufacturer with decades in business, free S&H, and a 60-day refund policy, which is plenty of time to discern if it's right for you.
However, it doesn't appear to come with some of the additional features commonly found on higher-priced models, including filter controls, fans, or thermostats. Also, after several calls to customer support, they weren't able to advise about Sunshine Blade's power source (e.g., battery or cord—and cord length, if applicable), temperature settings, timer details, or weight.
And if you plan to use the infrared heater outdoors, keep in mind that although wind might not impact the device's heat output (as measured in the commercial), if the wind is strong enough, it will almost certainly prevent the heat from reaching you, depending on your distance.
Lastly, without learning how much it weighs, remember that shipping Sunshine Blade back to the manufacturer might not be inexpensive, depending on your proximity to the manufacturer.
» See Also: 11 Ways to Save on Heating Costs This Winter
Sunshine Blade faulty and dangerous and its 30 days for return

By Selena C.

,

Victoria, Australia

,

May 17, 2019
Verified Reviewer

I bought the Sunshine Blade last year on a promotion of buy one get another half price. At 32 days of having only one put up and running, I awoke in fright, my house was glowing red, I thought it was on fire.

The remote only changed settings, numbers the switch on the unit did the same, it couldn't be turned off, you couldn't walk in front as the heat was burning hot. I had to get on the floor just to get to the power point to turn it off.

I have been trying to get a refund on both the unopened one and the one that is faulty and dangerous, the purchase was brand developers TV home show. They only value money in their pockets.

They do not care about customer welfare or safety, nor do they care about Australian consumer laws. I am still battling with them. I loved the heat as my house has no heating, but I value my life more.

Bottom Line: No, I would not recommend this to a friend

---

It almost burned down my house today

By Inga B.

,

Western Australia

,

Oct 22, 2019
Verified Reviewer

How could you sell such an unsafe device to people?

Today was a lucky day that I was home off work so was able to disconnect the power source when the heater got on fire.

It was turned off by the remote and was not in use when the device itself decided to turn on then heated up so fast and start burning from the control side...I had to crawl underneath the burning heather to pull the cord off the wall.

People, never ever buy these crappy, unsafe products.

Bottom Line: No, I would not recommend this to a friend

---