SunTrust Private Student Loans Reviews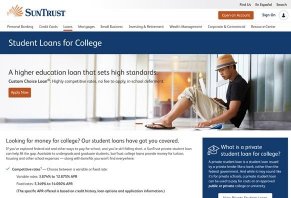 SunTrust private student loans are designed for undergraduate, graduate and professional degrees. Their interest rates are competitive for certain loans and they provide a discount of up to 0.75%.
About SunTrust Private Student Loans
SunTrust is a Birmingham-based bank the offers private student loans for undergraduate, graduate and medical school students looking for loans to cover the cost of their education.
The bank has a good reputation in its region and its student loan interest rates are relatively competitive, making them an attractive option for borrowers who can qualify for their private student loans.
SunTrust launched back in 1985, according to their website, when Trust Company of Georgia and SunBanks, Inc., merged to form SunTrust. Their CEO at the time of publishing is William J. Rogers, who worked for the company going back as far as its pre-merger days in before 1985.
Based on our research of private student loan lenders, we think it's important to analyze the types of loans a lender offers, the repayment options you have, the interest rates and fees they charge, what their customer service record is like and how they compare to other lenders who provide private student loans.
Our review of SunTrust will cover each of those topics and also offer a concluding section on the pros and cons of their student loans.
The Types of Private Student Loans That SunTrust Offers
SunTrust provides three main types of student loans that go by the names Custom Choice, Union Federal, and Graduate Business School.
Before we get into these various loans, there are some overarching characteristics that apply to all three loans that we want to point out.
First, if you choose to use a co-signer for your loan (someone who takes joint responsibility for your loans and whose credit scores are high enough to get you a lower rate) you can release them from their responsibility if you can make 36 on-time payments.
This is a big deal for the co-signer because they will no longer be held liable for your loans in the event that you decide not to make payments and go into default. If that happens when your co-signer is still responsible, both your credit scores will drop significantly.
Second, all loans require a credit check, which is a major factor in determining your interest rate. If you no credit history or a bad credit history, you'll most likely get SunTrust's highest rates.
One way to avoid those high interest rates is to get a cosigner who has better credit scores than you do but, again, this means they'll be held responsible for your loans.
Also, SunTrust will give you a 0.25% interest rate reduction if you sign up for automatic payments from your bank account and another 0.25% if that account is a SunTrust account.
Pro tip: These loans are for students who are enrolled at least half-time.
Custom Choice
This type of private student loan is the most flexible in the sense that you can use it in a variety of situations. SunTrust's website says that these loans cover undergrad, graduate and professional programs.
The loans are very similar to the Union Federal loans, with a few small differences that have long-term implications.
For now, though, we're going to list who is eligible for these loans:
U.S. citizens
Permanent residents
International students cannot take out Custom Choice loans. They must, according to SunTrust, use the Union Federal option. Cost-wise, you're getting the exact same APR.
Another unique characteristic of this loan is that SunTrust will deduct 2% off your principal amount (the actual amount you borrowed to pay for school) when you graduate. So, if you took out $20,000 in loans and you graduate, SunTrust will reduce your principal amount to $19,600.
Over the life of a, say, 15-year repayment at 5.349%, you'll pay $9,137.24 in interest on a $20,000 loan. But, if you chop off that $400 discount, then you'll end up paying $8,944.79 in interest, saving you around $200. So, that discount of $400 ends up being worth $600 after your interest payments.
The repayment period for the Custom Choice loan is 7, 10 or 15 years. Loan amounts start at $1,001 and go up to $65,000.
As for interest rates, you have two choices for the type of rate you want: variable or fixed. Variable rates go up and down over the life of your loan based on when the Federal Reserve raises and lower rates. Fixed rates, on the other hand, stay the same over the life of your loan.
The advantage to variable-rate loans is that their best APR is usually lower than fixed-rate loans but there's a chance that, over time, your variable rate will exceed the fixed rate you could have had. Many experts note that variable rates are a gamble and could end up costing you much more in interest payments.
The following table shows interest rates for loans you defer until six months after graduation or until you fall below half-time. Discounts are not included:
| | Fixed | Variable |
| --- | --- | --- |
| Seven-year repayment | 6.167% - 12.153% | 5.318% - 11.3397% |
| 10-year repayment | 6.503% - 12.596% | 5.545% - 11.735% |
| 15-year repayment | 6.897% - 12.956% | 5.825% - 11.987% |
As you can see, variable rates are lower than fixed rates. Also, both interest rates go up as you choose a longer repayment period.
Union Federal
Like the Custom Choice loan, you can use the Union Federal loan for undergraduate, graduate and professional degree programs.
The big difference between these loans and the Custom Choice loans is that international students can apply for it, in addition to U.S. citizens and permanent residents. In fact, it's the only loan among SunTrust's three private student loans that's available to international students.
Also, these loans don't offer the 2% graduation discount which, on a $20,000 loan, can save you $600 over 15 years. What you do get, however, is an addition 0.25% discount if you can make 36 consecutive on-time payments. So, if you can make 36 payments in a row, then you could get up to a 0.75% discount on your interest rate if you pay it via a SunTrust account.
The interest rates you get for these loans are exactly the same as what you get with the Custom Choice option: fixed rates of 6.167%-12.956% and variable rates of 5.318%-11.978%.
Your repayment options are 7, 10 or 15 years and loan amounts range from $1,001 to $65,000.
Graduate Business School
This type of private student loan is intended for graduate students as well as those working on their MBA and the doctorates.
A few aspects of this loan are different than the two previous loans we discussed:
Repayment: 7 or 10 years
Loan amount: $1,001 to $95,000
Interest: Lowest of the three loan types
One of the main reasons that these loans have lower interest rates is that people, in general, earn more money with a master's or a doctorate degree than those who with a bachelor's or who don't graduate from college.
Here's a table showing the interest rates for all loans on a deferred payment plan...discounts are not included:
| | Fixed | Variable |
| --- | --- | --- |
| Seven-year repayment | 6.423% - 9.482% | 5.510% - 8.591% |
| 10-year repayment | 6.749% - 9.880% | 5.725% - 8.877% |
The lowest APR's on these loans are slightly higher than what you'd get from the Custom Choice or Union Federal, but it's the highest APR's that are significantly lower than the other two loans – more than 2% in every case.
Repayment Options
SunTrust has three different plants for your loan repayment, all of which to apply to the three types of loans they offer: interest only, deferment and fixed payment.
Every loan you get will have a combination of interest and principal, with principal being the amount you borrowed to pay for school. Every time you make a payment, you're paying interest and principal. Therefore, making interest-only payments reduces your monthly cost.
A loan on deferment will kick in six months after you graduate or fall below half-time, whereas a fixed-payment repayment means you'll be paying $25 a month while you're in school and then the full monthly payments after you graduate.
Pro tip: You also have the "option" of immediate repayment, in which you start paying full monthly payments on your loans as soon as you get them.
How SunTrust's Customer Service Ranks
One of the important aspects of choosing a student loan lender is customer service. Because you're dealing with what, in most cases, is a significant amount of money, you want a company who is going to answer your questions and provide help in a timely, friendly manner.
We like to use J.D. Power's rankings of retail banks as a judge of how good a bank's customer service because they formulate their rankings based on input from consumers who've interacted with SunTrust.
Now, keep in mind that SunTrust is a regional bank and not a national bank, so J.D. Power only provides regional rankings for SunTrust.
According to their 2018 Retail Banking Satisfaction Study, SunTrust ranked 10th out of 16 banks. The ratings agency gave them two circles, which J.D. Power defines as "the rest".
Based on this, we'd say that you may have a slightly below average experience with them. However, their two-circle rating from J.D. Power isn't a guarantee that you'll have a negative experience.
How SunTrust Compares to Other Private Student Loan Lenders
We're going to compare SunTrust's rates and discounts with those that three other student loan lenders offer as well as the federal student aid program to give you a sense of how they rank against the competition.
The following table shows fixed rates for loans paid after deferment, as well as the maximum discount you can get:
| | SunTrust Union Federal | Sallie Mae | Wells Fargo | Discover | Federal Aid |
| --- | --- | --- | --- | --- | --- |
| Undergrad Loans | 5.417% - 12.206% | 5.59% - 11.60% | 5.94% - 12.15% | 5.99% - 12.99% | 5.05% |
| Graduate Loans | 5.417% - 12.206% | 6.00% - 8.91% | 6.84% - 11.17% | 5.99% - 13.99% | 6.6% |
| Law/MBA | 6.423% - 9.880% | 5.99% - 8.91% | 6.84% - 11.17% | 5.99% - 12.99% | 6.6% |
| Medical Doctorate | 6.423% - 9.880% | 5.99% - 8.61% | 6.66% - 9.68% | 5.99% - 11.24% | 6.6% |
| Max Discount | 0.75% | 0.25% | 0.50% | 0.60% | 0.25% |
We noticed a few things in this comparison. First, SunTrust has the lowest undergraduate and graduate interest rate among the private lenders, but not as low as federal loans.
Second, SunTrust's MBA/professional degree interest rates aren't quite as good as the competition. Sallie Mae and Discover offer better low rates and Discover offers better high rates.
Finally, SunTrust provides the biggest discounts. Although, you'll have to remember that, in order to get a 0.75% interest rate reduction, you'll have to make automatic payments from a SunTrust account and make 36 consecutive on-time payments.
In other words, the max discount is better than the competition but the soonest you can get it is three years into your loan.
Pros and Cons of SunTrust Private Student Loans
In our opinion, SunTrust's greatest strength is that you can remove a co-signer from your account after 36 consecutive on-time payments. This is a big deal for your co-signer, as you'll release them from responsibilities, which means any future late payments you make more than 30 days past due won't affect their credit.
This is a unique feature among private student loan lenders, as is the max 0.75% discount.
The drawback to their loans is that, even though they have the biggest discounts, they still aren't the best lender in terms of overall loan rates for those pursuing undergraduate, graduate and professional degrees. Also, J.D. Power ranks SunTrust poorly for their customer service.
In our opinion, SunTrust is an excellent option for an undergraduate who has great credit (or a co-signer with great credit) and needs a private student loan.