SuperBoost Wi-Fi Reviews
Claimed This company has claimed this profile, is getting alerted on any new customer reviews entering this page, and may engage in dialogue with its customers to address their matters.

Companies cannot pay money or provide goods in order to remove or alter customer reviews.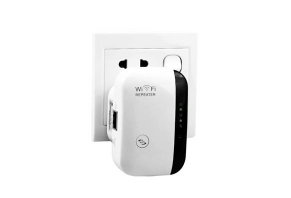 The SuperBoost Wi-Fi Booster is designed to extend your router's signal strength in rooms that previously had little or no signal. The device could provide you with a noticeable increase in Wi-Fi strength but customers report numerous problems.
---
Scammed

By Peter W.

,

Melbourne, Australia

,

Nov 15, 2020
Verified Reviewer

Length of Use: Less than 3 months

Overall Experience:

I was going to buy 2 of these but changed my mind. I did not complete the transaction, but, I completed enough for them to finish the order and charge my credit card. I was disgusted to find out I was charged but in a few hours they claim to have processed the order and sent it. Do not trust these people with your details, they will scam you.

Pros and Cons:

No "pros" were specified in this review
The fact that they helped themselves to my money

Bottom Line: No, I would not recommend this to a friend

---

Scammers

By John S.

,

Boston, MA

,

Oct 31, 2020
Verified Reviewer

Length of Use: Less than 3 months

Overall Experience:

I installed it and my WiFi signal got worse. All it does is add more burden on the original router. I returned the package using "return to sender" on the original package back in June and the package still has not been returned or found in the warehouse. I have been waiting for a refund for 4 months for a product that DOES NOT WORK.

Bottom Line: No, I would not recommend this to a friend

---

Advertisement

---

Do not order this!

By Lynn C.

,

Birmingham, AL

,

Sep 26, 2020
Verified Reviewer

Overall Experience:

On June 9, 2020 - ordered 3 devices. Confirmation said to allow 30 days from date of order to receive.

On July 5 - I emailed customer service to say I had not received a shipping notification yet even though I should be receiving within the next five days.

On July 8 - I received a response that said delivery sometimes takes 30 days. I responded saying they didn't answer my question. Will I receive it in 2 days without a shipment notification?

On July 12 - Response received saying my order is on "shipping status". Waiting for tracking details to get generated. Once that happens, I'll be notified.

On July 18 - I emailed, saying I was told 6 days ago you were awaiting a tracking number, but still no shipping notification. Asked to tell me when it will ship, so I can decide if I should cancel or not.

On July 21 - Was told pandemic has caused delays. Offered a 20% discount. I agreed to the discount but asked for a delivery estimate. My credit card was credited the next day, but no delivery estimate given.

On August 28 - I told them to cancel my order, that I'm not waiting any longer. I received an immediate response saying "warehouse has responded with packing shipping reference #___". Tracking number to follow. My request to cancel was ignored.

On August 29 - I insisted that I wanted to cancel and had already purchased another product, which had arrived in 4 days from the date of my order. I told them to refund me immediately. No response.

On August 31 - I told them I had not received my refund. Immediate response said sorry you want to cancel, but "your order has already been packed and is on its way to you."

On September 1 - I responded that I had canceled on August 28th and hadn't been told that it had already shipped. Still no shipment notification. Demanded immediate refund. Was told that it was already "processed for shipping" on the 28th, hence the warehouse number.

On September 5 - I emailed that the order I canceled was allegedly shipped 8 DAYS ago and I have still received no shipping notification! Obviously, it has not shipped; refund me immediately. No response.

September 8 - I asked if my order shipped 11 days ago, where is my shipment notification? Give it to me now or give me a refund. Immediate response on September 8th saying I would receive tracking information in 1-2 weeks, despite the fact that they claimed it shipped on August 28th! Contacted AMEX and disputed the charge.

Needless to say, it's September 22nd and I have yet to receive this product that they claim was sent to me on August 28th.

Pros and Cons:

No "pros" were specified in this review
Possible scam
Dishonesty by customer service

Bottom Line: No, I would not recommend this to a friend

---

Scam - please beware

By Lori C.

,

Columbia, SC

,

Sep 23, 2020
Verified Reviewer

Length of Use: Less than 3 months

Overall Experience:

I ordered this product on May 3rd. They overcharged my account. They withdrew funds on May 5th. When I still hadn't received the product, I sent an email and chat on their website, canceling the order. I never received a response. I tried unsuccessfully to reach them by phone over 20 times. I received the product on August 4th, refused and returned to sender the unopened package. After many more attempts to contact them, I finally got through at 6 am this morning. The agent said they have not received the products and cannot issue a refund. This company is a total sham.

Pros and Cons:

No "pros" were specified in this review
No customer service
Three months to receive product
Overcharged my account

Bottom Line: No, I would not recommend this to a friend

---

SuperBoost Wi-Fi underhanded website checkout

By Jesus H.

,

Texas

,

Sep 15, 2020
Verified Reviewer

Overall Experience:

Purchased on the website, selected 3 units for $99.95 plus $10.95 shipping, selected PayPal for payment. Payment was selected and the window for warranty comes up that can only be answered with yes or you have to close the window. I closed the window, but no final page that allows you to review your order. Email received that says I have purchased 1 unit for $89.95 + $10.95. Tried to call and cancel the order, no answer. Emailed and the reply is the order has been sent, even though I called and emailed the next day at 10:28 am central time. Email reply received at 11:56 am, no way that the order went out. Buyer beware!

Pros and Cons:

No "pros" were specified in this review
Underhanded sales tactics

Bottom Line: No, I would not recommend this to a friend

---

Never delivered and customer service is non-existent!

By L B.

,

New York, NY

,

Sep 4, 2020
Verified Reviewer

Length of Use: Less than 3 months

Overall Experience:

Ordered in April and shipping confirmed on June 7th. The other object shipped the same day and arrived within a week. Still no sign of the SuperBoost. Customer Service has not responded to several email messages and never answers the phone. Cannot recommend!

Pros and Cons:

No "pros" were specified in this review
Customer service

Bottom Line: No, I would not recommend this to a friend

---

Horrible product!

By Hector C.

,

Scott AFB, IL

,

Jul 22, 2020
Verified Reviewer

Length of Use: Less than 3 months

Overall Experience:

This product does not increase the range or the strength of the signal. I was able to get it after 2 months but have been ghosted now that I try to contact customer service.

Pros and Cons:

No "pros" were specified in this review
Does not work
Customer service ignores you after you complain
Lies to customers

Bottom Line: No, I would not recommend this to a friend

---

Advertisement

---

Product never arrived

By Phil B.

,

Orlando, FL

,

Jun 28, 2020
Verified Reviewer

Overall Experience:

I ordered two SuperBoost WiFi extenders more than three weeks ago and have received nothing despite telephoning and emailing customer support.

They took $89.90 out of my account promptly though.

Bottom Line: No, I would not recommend this to a friend

---

Super Boost Wifi

By Gary A.

,

Palatine Bridge, NY

,

Jun 25, 2020
Verified Reviewer

Overall Experience:

I ordered this and nowhere did it say that the delivery would be 30 days and on top of that I paid almost $9 shipping. I recommend to stay away from this company, they do not take your call and make you wait, and then all of sudden they want you to do feedback on my call, which did not happen because they never took my call. Stay away.

Pros and Cons:

No "pros" were specified in this review
30 days for delivery
Did not take my call when I called to see what's going on with my order

Bottom Line: No, I would not recommend this to a friend

---

Scam big time and PayPal did nothing about it!

By Sonia N.

,

Queensland, Australia

,

Jun 25, 2020
Verified Reviewer

Length of Use: 3–6 months

Overall Experience:

I ordered two WiFi blasts on the 10th of April 2020. It is nearly 2.5 months later, on the 23rd of June 2020 and there is NO sign of the shipment. I had at least 6 messages back and forward from the seller selling that they will track the shipment or reship the items, they did NOTHING! I reported the issue to PayPal, I tried to call PayPal too. They had me waiting on the line for 20 minutes only to hang up on me saying that they could not take calls because of COVID-19, what a poultry excuse. PayPal is playing games not to take responsibility at this time also. After having submitted an escalation of my case to PayPal, in return, I had an email saying that my case was closed as I did not escalate the case. They are all in cahoots, taking money, and dissapearing afterward.

Pros and Cons:

No "pros" were specified in this review
They do not comply with their commercial obligations
They do not resend the product
They do not refund the money

Bottom Line: No, I would not recommend this to a friend

---

No product sent

By Russell B.

,

Bournemouth, England

,

Jun 24, 2020
Verified Reviewer

Overall Experience:

Just like all the other reviews I paid good money for no item. This company is a con, do not purchase anything from this company. If you have, contact your bank to try and get your money back as I have.

Bottom Line: No, I would not recommend this to a friend

---

Product not received

By Barbara P.

,

Leoma, TN

,

Jun 5, 2020
Verified Reviewer

Overall Experience:

Ordered SuperBoost on May 13, 2020 and was charged on May 15, 2020. Was also charged an international tax. Have not received the product yet. Tried telephoning and could not speak to any representatives. Per statement due to the virus they are changing shipping. Confusing and frustrating.

Pros and Cons:

No "pros" were specified in this review
No way to contact a representative.

Bottom Line: No, I would not recommend this to a friend

---

Advertisement

---

Horrible company - horrible service

By John C.

,

Tampa, FL

,

Jun 3, 2020
Verified Reviewer

Length of Use: Less than 3 months

Overall Experience:

Disgusting. I ordered 2 units on 4/14/20. After 3 weeks I emailed - no response. For 3 days I have been emailing and calling. No response to emails. When called, I was dropped to their customer service survey 4 times after waiting as long as 10 minutes. Finally, on the fifth call I spoke with someone and was told 2-6 more weeks and my units would be shipped. I cancelled and only hope I get my money back. BUY AT YOUR OWN RISK. You may or may not ever get a thing from this company.

Pros and Cons:

No "pros" were specified in this review
Slow service
No response to emails
Inadequate customer service personnel

Bottom Line: No, I would not recommend this to a friend

---

Length of Use: Less than 3 months

Overall Experience:

I received the SuperBoost yesterday, but my laptop won't let me connect because the SuperBoost is not secure. So I can't use it.

Bottom Line: No, I would not recommend this to a friend

---

No product

By Dewald N.

,

George, Western Cape, South Africa

,

May 29, 2020
Verified Reviewer

Overall Experience:

I got no product since the 16th of April 2020 when I placed my order. Directly after they took my money I received a confirmation email with order number 92521871 with the same warranty as the order number. It's 6 weeks and NO PRODUCT! After numerous emails with no response, this must be a scam and people like this should be prosecuted.

Pros and Cons:

No "pros" were specified in this review
Communication

Bottom Line: No, I would not recommend this to a friend

---

Stay away!

By Marilyn A.

,

Cincinnati, OH

,

May 29, 2020
Verified Reviewer

Overall Experience:

That little story about Rick and Barry was cute but when you actually order from SuperBoost, all you may get is the bold runaround. They responded to my initial inquiry about my order. The typical "processing time, please be patient" later there was just continual non-response to calls or email.

Later, after my last frustrated email that I felt like I was being scammed, and that I was going to contact my state's Attorney General, the next call...low and behold, the call was answered, I was told my order somehow had been put on hold. The associate wanted to check with someone to find out why but by now I simply wanted my money refunded which was processed while I waited on the line. Take my advice and stay away from SuperBoost.

Pros and Cons:

No "pros" were specified in this review
All you may get is the bold runaround
Non responsive

Bottom Line: No, I would not recommend this to a friend

---

Never received the product

Overall Experience:

It seems to be a fraud operation. They do not answer my call to inquire about my order. I tried many times to call and no response. Overall experience is deplorable. I have not dealt with such a company. I do not know what to do. They never sent a tracking slip of shipment. Overall experience sucks.

Pros and Cons:

No "pros" were specified in this review
Fraud
They do not deliver product as in the invoice

Bottom Line: No, I would not recommend this to a friend

---

Advertisement

---

Never received product

By James S.

,

Vero Beach, FL

,

May 26, 2020
Verified Reviewer

Overall Experience:

Paid with PayPal on 4/26/20. Never received the product. Filed a complaint with PayPal. Never received any direct communication from Think Tank! Have checked all email accounts and have tried to contact them directly.

Bottom Line: No, I would not recommend this to a friend

---

Have not received it

By Gracie P.

,

Prosper, TX

,

May 23, 2020
Verified Reviewer

Overall Experience:

Have not received it yet. Would like an update on shipment. Don't know if I will keep it when I do get it.

I am wondering if it has been shipped and now lost in transit. Would like to hear.

Bottom Line: No, I would not recommend this to a friend

---

Scam!

By Ron S.

,

Ringgold, GA

,

May 22, 2020
Verified Reviewer

Overall Experience:

Ordered item in mid-April and by mid-May haven't received anything! No item, no emails, no response to several inquiries. Total SCAM! Avoid them, please. They took me for nearly $50, don't let them take you for any amount of money!

Bottom Line: No, I would not recommend this to a friend

---

Did not receive my prepaid order

By Brian W.

,

St. Louis, MO

,

May 22, 2020
Verified Reviewer

Overall Experience:

I ordered 3 of these boosters back in April, 04/20/2020 as a matter of fact. Still have not received anything, no email saying items were shipped, no tracking info, no contact us. Not anything! Fraud company.

Bottom Line: No, I would not recommend this to a friend

---

I share similar concerns that this is a scam

By Todd S.

,

Oregon

,

May 19, 2020
Verified Reviewer

Overall Experience:

I ordered two WiFi repeaters on April 11th. I immediately received a confirmation email containing an order number as well as several different customer service numbers included, so I was confident that my order was secure.

However, I received no updated after three straight weeks regarding the status of my order, and also around that time I received a tacky email from someone named "Amy" who purported herself to be with SuperBoost, and all she did was say "we'll send your shipping confirmation shortly" and then proceed with a sales pitch for an additional item; presumably one they would include with my repeaters in the same order. Sort of like a scheme for piggy-backing more profit from a customer.

I have emailed support@superboostwifi.com and hope to get a response soon. If it remains silent I will seek to contact "Strong Current Enterprises" who seems to be some sort of parent company (?).

Bottom Line: No, I would not recommend this to a friend

---

Advertisement

---

None delivery of my prepaid product

By Alan S.

,

Escondido, CA

,

May 18, 2020
Verified Reviewer

Overall Experience:

On April 22nd of 2020 I ordered after checking reviews on Google and this company had 5 stars, I trusted Google's ratings so placed my order in good faith, and prepaid and was promised I will receive it in a week, but the beauty is even today, 5/14/2020, I'm yet to receive my product. They are a fraud, they won't answer, and after a while they will hang up on you. And in the middle of waiting wants you to give them a rating and don't care if you got help. Very funny, I say.

Bottom Line: No, I would not recommend this to a friend

---

Doesn't work

By Dziugas A.

,

Surrey, United Kingdom

,

May 15, 2020
Verified Reviewer

Overall Experience:

It is just a waste of money, the signal is the same as without the booster, and it is overpriced 10 times, can be purchased $5 around the corner, but I would not get it even for 1£. Useless.

Bottom Line: No, I would not recommend this to a friend

---

Terrible company

By Kasey K.

,

Florida

,

May 7, 2020
Verified Reviewer

Overall Experience:

I ordered my Super WiFi booster weeks ago. I never received a receipt email. I emailed customer service twice and never got a response. This company just stole my money. I just want to cancel my order but they won't send me any receipt so how can I know my order number?

Bottom Line: No, I would not recommend this to a friend

---

Total silence and no reply from SuperBoost Customer Service

By Kang Y.

,

Singapore

,

May 6, 2020
Verified Reviewer

Overall Experience:

I purchased 3 WiFi Boosters together with the lifetime warranty on the 23rd of April 2020 and have sent them 4 e-mails on the 23rd, 24th, 25th and 30th of April to their 3 e-mail addresses at support@trendytechmedia.com, support@superboostwifi.com, and hello@email.trendytechmedia.com for inquiries and assistance.

I did not receive any reply from anyone until today (5th of May) so I sent again another e-mail to cancel my order and demanded a refund of US $101.19 inclusive of the warranty and told them to stop sending the 3 boosters as I have decided not to accept them anymore.

With more than 100 negative and 1-star reviews, who on earth would want to purchase anything from them.

I will write to the credit card bank to demand them to refund me if they continue to keep mum about this.

Bottom Line: No, I would not recommend this to a friend

---

Waste of time and money

By Robert R.

,

Texas

,

Apr 8, 2020
Verified Reviewer

Overall Experience:

I ordered SuperBoost and have never gotten them. I called and got no real information. I was promised that the units would be arriving soon and that has never happened. I think that I was ripped off.

Bottom Line: No, I would not recommend this to a friend

---