SuperBoost Wifi
Claimed This company has claimed this profile, is getting alerted on any new customer reviews entering this page, and may engage in dialogue with its customers to address their matters.

Companies cannot pay money or provide goods in order to remove or alter customer reviews.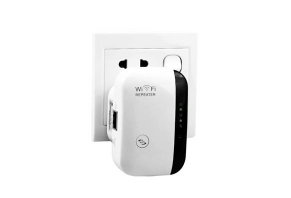 Dead spots in your router's range can make for a frustrating internet experience in your home or office. The SuperBoost Wi-Fi Booster claims to extend your router's coverage enough to eliminate weak signals.
About SuperBoost Wifi
SuperBoost Wifi is a device that connects to your existing Wi-Fi signal and boosts that signal so that rooms with bad connections can get a reliable signal from your router.
The device is a simple one in that you plug it into the wall of an area or room where you'd like a stronger signal. It has a clean, straightforward design that includes a variety of plugs that fit power outlets in Europe and the United States.
Wi-Fi boosters have been around for a long time now, so there is plenty of competition out there for the SuperBoost. In this review, we'll talk about how the device's features and price compare to other more well-known brands, as well as cover how it works and what the item's return policy is.
How the SuperBoost Wi-Fi Booster Works
There is very little information about the SuperBoost Wifi on the product's website. We called the company's customer service line multiple times to get some details on the device's specs but could not reach a representative.
When you take the booster out of the box, you'll need to connect it to your existing router network, which only takes a few minutes. Once the device is connected, it will send the signal out in such a way that rooms with poor signals should see a boost in that signal.
Now, to actually connect to the boosted signal you'll have to connect to the booster itself instead of your router. So, open your Wi-Fi settings and you should see the new booster there. Connect to it and you should see a significant jump in speed.
One easy way to check how much the booster helped is to do a speed test before you set up the booster and a speed test after. The quickest speed test is available through Google; just search "Google speed test" and you'll get your results in seconds.
As we mentioned earlier, the SuperBoost Wi-Fi Booster includes four different power adapters to handle 120V plugs in the U.S., 240V plugs in Europe, and 230V plugs in Australia/New Zealand/China/Argentina.
It's important to point out that the website makes no claims about how effective your SuperBoost will be. How effective a booster is depends on where you place it, what the signal is like coming into the booster and how many obstacles stand between the room you're in and the booster.
Pro tip: The SuperBoost doesn't make your router's internet connection faster, it just extends the range of the signal.
How a Wi-Fi Booster Actually Boosts a Signal
Linksys, a popular name in routers, modems, and signal extenders, provides an excellent example of how a signal booster works.
Basically, you've got your router – it shoots your internet connection as far as it can shoot it – and you've got the rooms in your house. Some of those rooms are going to be too far away to get a good signal and are known as "dead spots."
This happens to me when I go outside and work on our back patio – the signal is spotty, at best, and qualifies as a dead spot.
"Think of it in terms of baseball, where your router is an outfielder whose job it is to get the ball to the catcher" Linksys explains. "A Wi-Fi extender is the shortstop that stands between the two, waiting to catch the ball and throw it into home plate."
While an extender can work wonders for your internet signal strength, it's not always necessary to buy an extender, Linksys says.
"Sometimes your Wi-Fi router placement is the culprit for your dead spot woes," they say. "Before purchasing a Wi-Fi extender, try placing your wireless router in the most centralized location of your living space."
The article from Linksys goes on to say that you'll want to get a range extender that matches the technology of your router.
Because the SuperBoost website doesn't offer any information about the device's technical specifications, it's very tough to say whether or not its technology is equal to your router or less advanced.
The SuperBoost Wifi's Price and Return Policy
At the time of publishing, the SuperBoost Wi-Fi Booster cost $52.95 with shipping rates that vary depending on where you live. The company behind SuperBoost is based in London, so there's a good chance your shipping will be a bit higher than it would be if the company was based in the U.S.
According to the company's fine print, you can't make any returns and you only have 30 days from the day you receive your booster to exchange it.
"Our Exchange Only Policy lasts 30 days and it takes effect from the time you receive your purchase. If more than 30 days have gone by since delivery of your purchase, unfortunately, we can't offer you an exchange or price equivalent in store credit," the fine print says.
Email support@superboostwifi.com to start the exchange process.
Keep in mind that, when you send in your booster for an exchange, it needs to be in perfect condition and returned in the original packaging.
The company will then confirm with you through email that you'll get your exchange, either by them sending you a new unit or giving you store credit you can redeem for a free booster.
How SuperBoost Wifi Compares to Other Boosters
We compared SuperBoost Wifi to name-brand extenders on Amazon that get high ratings from customers.
The TP-Link AC1750 was the highest-rated range extender among brand-name products. At $69.99, it garnered more than 2,700 reviews for an average rating of 3.6 stars. We looked at other TP-Link extenders and found that the ratings went up as the price point went lower.
TP-Link AC750: $28.44, 3.8 stars
TP-Link AC1200: $30.99, 3.6 stars
As we did our research, we found an extender that looks exactly like the SuperBoost. It was called the Aigital Wi-Fi Range Extender. It cost $21.99 and had an average rating of 3.7 stars, with common phrases from those reviews including: "works great," "signal was weak," and "easy to install."
Some customers said the range extender worked well and was easy to install, while others said the setup process was a little confusing. In general, the reviews of the extender were positive.
While we can't confirm that this is the same extender, it is not uncommon for a manufacturer to build a product like this and have multiple companies purchase, print their company name on it and sell it.
The Bottom Line
What's tricky about getting a good sense of how SuperBoost works is that the product's website reveals very little information about its specs. One of the more important metrics you should know about your range extender is the internet speed it can handle.
For example, if your extender is rated at 75mbps and you've got 300mbps internet speeds, your extender is going to limit the speed. Because we weren't able to reach SuperBoost customer service, we couldn't confirm which speed the extender can support.
However, based on our research of a signal booster we found on Amazon that looks the exact same device, there's a good chance your SuperBoost will handle internet speeds of up to 300mbps.
As we mentioned earlier, the best way to test his is to do a Google speed test when you're connected to your router, then another speed test when you're connected to the SuperBoost.
As far as downsides go, we'd say the main drawback to the SuperBoost is its price. You can find cheaper signal extenders that support the same internet speeds. In fact, reputable brand name TP-Link offers a booster for $28.999 that gets decent reviews from Amazon reviewers.
---
Took my money and no SuperBoost

By Mary E.

,

Colorado

,

Jan 9, 2019
Verified Reviewer

Overall Experience:

I would not recommend ordering from this company. I ordered a SuperBoost for my mom for Christmas on December 4th. She is in an assisted living and the reception is not good. I have not received the SuperBoost. And it's now January 3rd. I repeatedly asked for a tracking number from customer service via email, and finally, they gave me one. It doesn't exist! I call the number for customer service and they have a recording saying all reps were busy and stayed on for 30 minutes. I did this several times. Please help!

Bottom Line: No, I would not recommend this to a friend

Apr 7, 2019

Hello Mary. We are sorry to hear about this feedback. We know that by now you have already received your order. We'd like to take this chance to apologize for the long delay. We hope that your mother liked the product. Thank you so much for ordering with us!

---

No customer service

By Lawrence L.

,

California

,

Jan 12, 2019
Verified Reviewer

Overall Experience:

I've been trying to return the unit for a refund. These people do not answer phone calls; I've been put on terminal hold. They do not reply to emails. I can only assume that SuperBoost does not have Customer Service.

Bottom Line: No, I would not recommend this to a friend

Apr 7, 2019

Hi Lawrence. We are sorry to hear about this feedback. We'd also like to take this chance to apologize if we were not able to respond sooner to your attempts to contact us. To make sure that all your concerns are covered and straightened out, we have sent you an email to the address you have used when you ordered. We sincerely thank you for your patience.

---

Advertisement

---

Awful

By Ida A.

,

Elkton, MD

,

Feb 17, 2019
Verified Reviewer

Overall Experience:

Does not work. On hold with customer service for over an hour and no response. The website does not open. Quite bluntly this is a piece of crap! I gave one star only because I had to. I would prefer to give zero or even negative stars.

Bottom Line: No, I would not recommend this to a friend

Apr 7, 2019

Hi Ida. We're sorry to hear about this feedback. We'd like to offer further assistance so you can maximize the functionality of the wifi booster.

Read the following instructions carefully before use.

IMPORTANT SAFETY INFORMATION

CAUTION: UNIT MAY FEEL WARM WHEN IN USE DUE TO ELECTRICAL CURRENT FLOW.

WARNING: DO NOT USE IF UNIT IS WET, DAMP, OR HAS BEEN SUBMERGED IN WATER. MOISTURE MAY ALTER UNIT AND RESULT IN DEFECTIVENESS.

1. Only use the device for intended purposes.

2. To reset your Wi-Fi Booster, hold Reset Button for 10 seconds.

3. For wireless setup, please ensure you have the following:

Wi-Fi AP/Router Internet Access (Wireless Repeater Mode)

Broadband Router Internet access (Wireless AP Mode): Connect Wi-Fi Booster to your Router/Switch with Ethernet Cable

Configuring Your Wi-Fi Booster Wirelessly Plug your Wi-Fi Booster into an outlet.

Click on the network icon. This can be found on the bottom right of your desktop.

Click on 'Connect' Open browser and enter: http://192.168.10.1

When the login screen appears, enter 'admin' as for your Username and 'admin' as your Password.

When the new web page appears, click on 'Repeater' in the top right corner.

To continue, select Wireless SSID.

Insert the network key. Click 'Apply'.

*Note: Your default wireless SSID and Security key are the same as your AP/Router.

Configuring Your Wi-Fi Booster with Wireless AP Mode Plug your Wi-Fi Booster into an outlet.

Open a browser and enter: http://192.168.10.1

When the login screen appears, enter 'admin' for your Username and 'admin' for your Password.

When a new web page appears, click on 'AP' in the top right corner.

When 'Wireless AP Mode' screen appears, use the following information to fill in the empty fields:

SSID: Your 'SSID' or wireless network.

Channel: Auto (recommended).

Security Type: Set up wireless security and encryption. Supports 64/128-bit WEP, WPA, WPA2, WPA/WPA2.

Security Key: The 'Password' used for your wireless network.

Click 'Apply'.

Wait for your Wi-Fi Booster to restart.

Configuring Your Wi-Fi Booster with the Ethernet Cable

Plug your Wi-Fi Booster into an outlet.

Use an ethernet cable to connect the Wi-Fi Booster to your computer or laptop.

Open a browser and enter: http://192.168.10.1

When the login screen appears, enter 'admin' for your Username and 'admin' for your Password.

When the new web page appears, click on 'Repeater' in the top right corner.

To continue, select Wireless SSID.

Insert the network key.

Click 'Apply'.

Please let us know if you have any further questions.

---

NO customer service!

By Steve M.

,

Cartersville, GA

,

Feb 18, 2019
Verified Reviewer

Overall Experience:

I've been trying to return the unit for a refund. These people do not answer phone calls; I've been put on terminal hold. They do not reply to emails. I can only assume that SuperBoost does not have Customer Service.

Bottom Line: No, I would not recommend this to a friend

Apr 7, 2019

Hello Steve. We are sorry to hear about this feedback. We are here to assist you. To make sure that all your concerns are covered and straightened out, we have sent you an email to the email address you've used when you placed the order online. We look forward to hearing back from you soon. Thank you!

---

Advertisement

---

Disappointed again!

By Joe C.

,

Austin, TX

,

Mar 1, 2019
Verified Reviewer

Overall Experience:

I got the unit, getting it to link-up. At first, the signal was STRONG, then crashes. Wifi just dies, after a few minutes, signal is back. It's a rollercoaster. Not good for security cams. Would NOT recommend this to my cat or dog. Waste of money!

Bottom Line: No, I would not recommend this to a friend

Apr 7, 2019

Hi Joe. We're sorry to hear about this feedback. We'd like to offer our help so you can maximize the use of the wifi booster.

Read the following instructions carefully before use.

IMPORTANT SAFETY INFORMATION

CAUTION: UNIT MAY FEEL WARM WHEN IN USE DUE TO ELECTRICAL CURRENT FLOW.

WARNING: DO NOT USE IF UNIT IS WET, DAMP, OR HAS BEEN SUBMERGED IN WATER. MOISTURE MAY ALTER UNIT AND RESULT IN DEFECTIVENESS.

1. Only use the device for intended purposes.

2. To reset your Wi-Fi Booster, hold Reset Button for 10 seconds.

3. For wireless setup, please ensure you have the following:

Wi-Fi AP/Router Internet Access (Wireless Repeater Mode)

Broadband Router Internet access (Wireless AP Mode): Connect Wi-Fi Booster to your Router/Switch with Ethernet Cable

Configuring Your Wi-Fi Booster Wirelessly Plug your Wi-Fi Booster into an outlet.

Click on the network icon. This can be found on the bottom right of your desktop.

Click on 'Connect' Open browser and enter: http://192.168.10.1

When the login screen appears, enter 'admin' as for your Username and 'admin' as your Password.

When the new web page appears, click on 'Repeater' in the top right corner.

To continue, select Wireless SSID.

Insert the network key. Click 'Apply'.

*Note: Your default wireless SSID and Security key are the same as your AP/Router.

Configuring Your Wi-Fi Booster with Wireless AP Mode Plug your Wi-Fi Booster into an outlet.

Open a browser and enter: http://192.168.10.1

When the login screen appears, enter 'admin' for your Username and 'admin' for your Password.

When a new web page appears, click on 'AP' in the top right corner.

When 'Wireless AP Mode' screen appears, use the following information to fill in the empty fields:

SSID: Your 'SSID' or wireless network.

Channel: Auto (recommended).

Security Type: Set up wireless security and encryption. Supports 64/128-bit WEP, WPA, WPA2, WPA/WPA2.

Security Key: The 'Password' used for your wireless network.

Click 'Apply'.

Wait for your Wi-Fi Booster to restart.

Configuring Your Wi-Fi Booster with the Ethernet Cable

Plug your Wi-Fi Booster into an outlet.

Use an ethernet cable to connect the Wi-Fi Booster to your computer or laptop.

Open a browser and enter: http://192.168.10.1

When the login screen appears, enter 'admin' for your Username and 'admin' for your Password.

When the new web page appears, click on 'Repeater' in the top right corner.

To continue, select Wireless SSID.

Insert the network key.

Click 'Apply'.

Please let us know if you have any further questions.

---

Total frauds! They'll take your money...and forget the rest.

By Paul B.

,

Pittsburgh, PA

,

Mar 5, 2019
Verified Reviewer

Overall Experience:

DO NOT BUY FROM THIS COMPANY!

They will send you worthless crap, accept the return, and never refund your money, despite their 30-day return policy!

- Bought three boosters - 12/14/18 for $124.95.

- Shipment was sent - 12/16/18.

- Shipment arrived - 1/14/19.

- Boosters installed - 1/16/19.

- Concluded they don't work at all - 1/31/19.

- Returned items with original packaging - 2/13/19.

Supplied copy of the order with the return - and "Leslie's" email stating that they'll gladly refund my purchase price less shipping charge (there was none, except the cost for me to return the units).

A week later I emailed Leslie to ask her if my refund was on its way. Got a form letter email stating that I need to provide proof (postal receipt) that my return was shipped along with the tracking number, and they will happily refund my purchase price.

I sent the postal receipt with tracking number and USPS text showing address, date and time of delivery. Waited another week, sent another email asking that they confirm the refund. They replied with, essentially, the same form letter email stating that I had to provide a postal receipt, etc.

I have repeated the same process SIX TIMES! Tried calling several times, also. No answer. Left on hold for an eternity.

We should all band together and sue class action! They obviously are a scam and need to be stopped!

How can anyone be allowed to claim having a 30-day return policy, accept the return, then blatantly disregard their refund policy and claims all together?

Isn't that called "fraud?"

Bottom Line: No, I would not recommend this to a friend

Apr 7, 2019

Hi Paul. We are truly sorry to hear about this feedback. We are here to assist you. To make sure that all your concerns are covered and straightened out, we have sent you an email to the email address you've used when you placed the order online. We look forward to hearing back from you soon. Thank you!

---

Con job

By James S.

,

Oceanside, CA

,

Mar 11, 2019
Verified Reviewer

Overall Experience:

Ordered ONE for $49.00, they charged me $124.90 even though I judiciously refused all of their additional offers. Called them immediately. Need to wait two business days. Please be careful.

Bottom Line: No, I would not recommend this to a friend

Apr 8, 2019

Hi James. We are sorry to hear about this feedback. We'd like to inform you that this amount has already been charged back by the bank. Please check with them so you will know as to when it will be reflected in your account. Thank you!

---

Zero customer support

By Lisa H.

,

Rutherfordton, NC

,

Mar 16, 2019
Verified Reviewer

Overall Experience:

I ordered this product with high hopes since we live in a rural area. We have a modem and just wanted to check before we connected. I've called, emailed, and called again with no response. I ordered 3 units, so guess what! $100 is just gone! I plan on contacting the BBB since it's been two weeks now with no response. DO NOT ORDER this product!

Bottom Line: No, I would not recommend this to a friend

Apr 8, 2019

Hi Lisa. We are sorry to hear about this feedback. We'd like to assure you that the customer service is here to assist. We have sent you an email to make sure that all your concerns are addressed and straightened out. We look for ward to hearing back from you.

---

Filing a complaint with WA AG, Visa, etc.

By Joan L.

,

Seattle, WA

,

Mar 18, 2019
Verified Reviewer

Overall Experience:

After 15-20 emails, I am still waiting for a refund. I returned the item after it was way too late for Christmas gifting. Ordered on 12/08/19, delivered on 01/08/19, returned on 01/31/19 to the address finally supplied in Pacoima, CA. I have a receipt, including who it was returned to. I was told by Cheryl in her email that refunds take 15-30 days. No refund as yet and no response to my numerous emails. I will continue to pursue this with complaints to WA state AG, BBB, and Visa.

Bottom Line: No, I would not recommend this to a friend

Apr 8, 2019

Hi Joan. We're sorry to hear about this feedback. Please note that we take them seriously as it will help us improve our overall services. Regarding your concern, we'd like to confirm that the refund has already been issued to the original form of payment. Thank you for your patience and understanding.

---

Not as advertised

By Brian S.

,

Michigan

,

Mar 22, 2019
Verified Reviewer

Overall Experience:

Saw it advertised on Facebook, says it has a 5-mile pickup range to pick up open networks, it only boosts your home internet and drops out constantly. Basically a fraudulent ad on Facebook.

Bottom Line: No, I would not recommend this to a friend

Apr 8, 2019

HI Brian. Sorry to hear about this feedback. We assure you that we do not over advertise our product. The wifi repeater will do exactly what is says. If you have an existing order and you need technical assistance with it, please let us know. We will be more than happy to help you maximize its functionality.

---

Don't waste your time or money!

By Stephen C.

,

London, Ontario, Canada

,

Mar 28, 2019
Verified Reviewer

Overall Experience:

These are the same people that sell and advertise "LiveWire," another product that takes forever to get to you, doesn't work, and then becomes next to impossible to get a refund for. How are these con artists still in business and allowed to advertise? Shouldn't these crooks be in jail for fraud?

Bottom Line: No, I would not recommend this to a friend

Apr 8, 2019

Hi Stephen. We are sorry to hear about this feedback. We assure you that this is a legit entity - we are not in the business of scamming people. If you have an existing order you need assistance with, please let us know. We are more than glad to help.

---