SuperBoost Wifi
Claimed This company has claimed this profile, is getting alerted on any new customer reviews entering this page, and may engage in dialogue with its customers to address their matters.

Companies cannot pay money or provide goods in order to remove or alter customer reviews.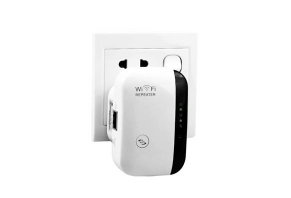 Dead spots in your router's range can make for a frustrating internet experience in your home or office. The SuperBoost Wi-Fi Booster claims to extend your router's coverage enough to eliminate weak signals.
---
Waste of money

By Chris D.

,

New South Wales, Australia

,

Feb 20, 2020
Verified Reviewer

Overall Experience:

I bought a SuperBoost Wifi not for the extended range, as I already had coverage everywhere in my home, but I bought it for the faster speed as they claim in their sales pitch.

Firstly, it took 3 weeks to deliver from Hong Kong, I didn't get a reply from them when I asked where is my booster until after it was delivered.

After booking up the booster my internet slowed considerably and I constantly had problems trying to watch Netflix or Stan, YouTube seemed to be ok but a bit slow. So I removed the booster and my internet worked fine again.

So I cut my losses and threw it in the bin, best thing I did with it.

I tried to put up my review on their site earlier but it wouldn't let me, as a message came up saying "Server is busy, please try again later". They must be using one of their own boosters.

Bottom Line: No, I would not recommend this to a friend

Feb 23, 2020

Hi Chris. We're very sorry to hear about this experience. Know that we are taking your feedback seriously to help improve our overall services and customer support.

---

JUNK

By Cherie H.

,

Conneaut, OH

,

Feb 19, 2020
Verified Reviewer

Overall Experience:

Biggest piece of junk I ever bought. I received this and set it up. Dropped my internet speed way down. Called support and they said was defective. Returned it for a refund. Can't even get my refund back. They say they processed my refund through my bank and have to call my bank. She said this happens a lot. BUYERS BEWARE! It's not on my bank account that it got deposited. I have never gotten ripped off before and I'm 52. Woooooow!

Bottom Line: No, I would not recommend this to a friend

Feb 23, 2020

Hello, Cherie. We're very sorry to hear about this experience. Know that we are taking your feedback seriously to help improve our overall services and customer support.

---

Advertisement

---

Disappointment

By Debbie H.

,

Rantoul, IL

,

Feb 18, 2020
Verified Reviewer

Overall Experience:

Was unable to get the booster to work. Called 3 times for technical support and finally returned booster to the New Jersey address I was given. Per USPS the item was delivered on January 15th but I still have not received my refund.

Bottom Line: No, I would not recommend this to a friend

Feb 23, 2020

Hello, Debbie. We're very sorry for the delay in the issuance of the refund for the returned order. We have followed this up with the Returns department. To help expedite the process, would you be able to send us the return tracking number at support@superboostwifi.com? We look forward to hearing back from you.

---

The worst customer service

By Lainie B.

,

Pottstown, PA

,

Feb 15, 2020
Verified Reviewer

Overall Experience:

I don't know which was worse - the product or customer service. Yes, customer service wins hands down.

Two orders were made - one the day before Christmas and one the day after. This was due to getting a slew of emails from them telling me my cart was empty or not finished. I emailed them telling them that at least one order needed to be canceled and 12 days later got a return email saying "They could not cancel either one because then it would cancel the upsale." I don't understand it, but by that time I asked for both to be canceled and I asked again and I asked again and again and again. It's like they don't even read your email. They just offered me another 20% off and ignored my cancellation. After 31 days went by I contacted PayPal. They understood and escalated my dispute to claim. Everything was going fine until they told me that the word "Super" was not mentioned on their end so it negated the claim. But then my order arrived. Three boosters and a travel adapter.

I emailed SuperBoost twice now asking for an address to returned the items but have yet to get an answer.

They'll probably wait past my 30 days. That's the way this company rolls.

Also the "Lifetime Warranties," they are "Limited" lifetime warranties, which is not what was sold. That's a real case of false advertising. And my Warranty Certificate number is the order number for the travel adapter so you know they won't honor that.

But I want my money back because it's a lot of money when you have NO faith in customer service.

Bottom Line: No, I would not recommend this to a friend

Feb 23, 2020

Hello, Laine We're very sorry for all the inconvenience this has caused you. We followed this up and we would like to confirm that a full refund for all your orders had already been issued to the original form of payment. It should be reflected in your account within the next few business days. We thank you for your patience.

---

Advertisement

---

The ONLY thing worse...

By Ralph N.

,

New York

,

Feb 5, 2020
Verified Reviewer

Overall Experience:

A complete non-functioning fiction. Delivery took weeks and then the product is simply useless. I spent 30 hours setting up, re-setting up, and moving it around my home to try to get ANY improvement over my normal signal strength. In the same room as the router, it was weaker and never yielded an even slight boost anywhere I put it throughout my home and property. There is absolutely NO BOOST what-so-ever with this product! I've asked for a refund, 72 hours after purchase, FIVE TIMES. The only thing worse than the SuperBoost is the SuperBoost service. They don't even reply to daily emails. AVOID THIS SCAM!

Bottom Line: No, I would not recommend this to a friend

Feb 8, 2020

Hi Ralph. We're very sorry to hear that the product did not work for you. Please check your email because an email has been sent to you by one of our customer service representatives. If you found the product unsatisfactory, we have a 30-day money-back guarantee which entitles you to a refund as long as the product is returned to us in its original condition within 30 days from the time of delivery.

---

Ripped off

By Dana D.

,

Michigan

,

Feb 3, 2020
Verified Reviewer

Overall Experience:

I decided to return my order of 3 SuperBoost Extenders, simply because I did not need them. I followed their return instructions to the exact guidelines provided by SuperBoost. The 3 extenders I ordered were never used...nor were the packages they were shipped in ever opened.

After waiting 3 weeks and NO RESPONSE or REFUND in SIGHT, I sent the company an email concerning my expected refund. They claimed to have never received them and that I should give them the tracking order for them to locate the return shipment. Sadly, I did not have the tracking number provided by the U.S. Postal Service. They have refused to credit my order made on my credit card.

So BEWARE and KEEP ALL RECORDS when dealing with this company.

BAD NEWS.

Bottom Line: No, I would not recommend this to a friend

Feb 8, 2020

Hi Dana! We are very sorry to hear about this. An email has been sent to you a few months ago asking for a return tracking number or any proof/confirmation that the product has been returned but we did not hear back from you. Please check your email and we will look forward to your response so we can directly follow this up with our Returns department. Thank you.

---

Don't put them in your cart!

By Kristy O.

,

Montana

,

Feb 1, 2020
Verified Reviewer

Overall Experience:

This is what happened:

I looked at WiFi boosters twice online on December 14th. I left the website both times without completing the purchase. Second stop at the website was to see what it would cost if I were to get 2 items instead of 3. Again, I left the website without completing a purchase.

On December 14th two separate orders were charged on my PayPal account from the visits I'd made to the website looking at the WiFi boosters, one charge was $110.90 as though I'd ordered 3 of them, the other $79.90 as though I'd ordered 2 of them. I looked at the products online and priced them out with shipping fees but did not complete a purchase either time.

After seeing the charges posted to my PayPal account I sent emails to both PayPal@thinktechsales.com and to support@superboostwifi.com denying the purchases/canceling the orders/transactions and demanding refunds on the day I was charged, December 14th.

I emailed support@superboostwifi.com again on December 19th repeating that I did not order anything and did not want their merchandise and demanding my money be refunded.

The two orders were shipped to me anyway on December 21st, despite the two cancellation emails I sent on December 14th and December 19th.

A package was deposited in my mailbox on December 31st. I have not opened the package.

I made it clear immediately after my money was taken and again one week later that I did not order the WiFi boosters, did not want them, and wanted my money back. Both complaints/cancellation emails were sent long before the orders were shipped to me.

There's no address available to get a "confirmed" return address. TOTAL SCAM.

Bottom Line: No, I would not recommend this to a friend

Feb 8, 2020

Hello Kristy. We're very sorry to hear about what happened. We'd like to assure you that this is a legit entity and we are not in the business of scamming people. Our PayPal dispute team has sent you multiple emails to send to help you rectify the issue. We hope this gets straightened out soon. Have a good one.

---

Not shipped to correct address

By Ray B.

,

Mechanicsville, MD

,

Jan 23, 2020
Verified Reviewer

Overall Experience:

I finally received an email saying my order was shipped and a tracking number. The ship-to address was correct.

Checked the package tracking and it was shipped to the wrong address. There is no one there to receive it and it is over 7 hours away.

I sent an email to customer support and am awaiting a response, if I get one.

Poor quality control in the shipping department.

Bottom Line: No, I would not recommend this to a friend

Feb 8, 2020

Hi Ray. We are sorry to hear about this shipping issue. An email has been sent to you regarding your concern as it was escalated by the previous representative. We'll have it followed it up so we can check on the status. We thank you for your patience.

---

How can I get a REFUND?

By Ali C.

,

Nottingham, England

,

Jan 22, 2020
Verified Reviewer

Overall Experience:

Bought it a few weeks ago, but considering there is no tracking number or response to emails, I am seriously thinking about asking for a refund. Did you ever get your money back? If this was in the UK, it is fairly easy, but with the US and a badly reviewed company, I don't know what the outcome will be.

Bottom Line: No, I would not recommend this to a friend

Feb 8, 2020

Hi Ali! Our sincerest apologies for the delay on the shipment of your order. The last time we checked, it has already been endorsed to the courier. We hope you have already received it. Thank you!

---

SuperBoost WiFi

By Arnold G.

,

Tonawanda, NY

,

Jan 20, 2020
Verified Reviewer

Overall Experience:

Purchased a SuperBoost WiFi that was supposed to work with any router. I set it up according to the instructions and it did everything except allow me to connect to it. This unit is a piece of garbage!

I tried to contact support but I have been ignored. Do not buy from this company as they only sell junk!

Bottom Line: No, I would not recommend this to a friend

Feb 8, 2020

Hello Arnold. We're very sorry to hear that it did not work for you. Please note that the speed and reliability of your internet connection will still depend on your internet service provider. What SuperBoost does is to amplify your current signal so it can reach the dead spots in your home or office, thus preventing spotty connection while you move around your house or office. Hope this helps! Thank you.

---

SuperBoost WiFi not delivered 20 days after order

By Mark H.

,

Victoria, Australia

,

Jan 17, 2020
Verified Reviewer

Overall Experience:

I ordered the WiFi booster plugin on 12/26/2019, after 15 days I complained by email. I was emailed it is in stock and would be notified of the tracking number as soon as it was dispatched. That was a week ago, no communication has been made since. I have now emailed and asked for dispatch notification and a tracking number or a full refund. I was also told all prices are quoted in American dollars and I was charged $70 not the $45 advertised. This is looking more like a scam.

Bottom Line: No, I would not recommend this to a friend

Feb 8, 2020

Hi Mark. We are sorry to hear about this feedback. We hope you have already received your order and that it has helped resolve your issues with spotty connection around the house. Have a good one!

---