Survey Junkie Reviews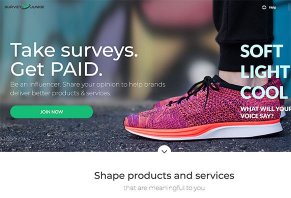 In business since 2011, Survey Junkie has helped more than three million members take free surveys and redeem points for PayPal cash and e-Giftcards.
About Survey Junkie
By offering the ability to get paid for taking online surveys anywhere, anytime, and on any device, Survey Junkie is an online community that helps their 3,000,000+ members share their opinion, become influencers, and assist brands with delivering better products and services.
According to their website, all you have to do is build your profile, and they'll match you to surveys. After completing them, you'll earn virtual points that can be redeemed instantly via PayPal cash out or for e-Giftcards.
Seems simple, right? But does this necessarily mean that Survey Junkie is "a 100 percent legitimate way to earn some extra cash," as claimed on their website? Here, we'll briefly explore the nuances of this question so you can come to the most informed conclusion possible.
Taking a Closer Look at How Survey Junkie Works
Anyone can become a Survey Junkie member, as long as they're at least 13 years of age or older, reside in the US, UK, Canada, or Australia, and have a valid email address. Obviously, since all of these surveys are completed online, you'll also need an internet connection.
Speaking of which, the company recommends taking their surveys while using a desktop or laptop. In fact, using a smartphone could limit your options to only those surveys also accessible via mobile devices.
You'll also need to complete a brief profile about yourself (although you can add more comprehensive details at a later point), which the company emphasizes is "strictly private and will not be shared or sold to third parties." However, market research companies will have access to your anonymous answers.
Then, you'll simply confirm your email address and get started.
According to Survey Junkie's FAQ, their surveys—which are available daily—are very easy to complete, although you must be proficient in English reading and writing skills, and you must always provide honest answers. The company may also send regular invitations to your inbox.
They report that completion time for each of their surveys varies, although on average, we're told they take about 15 minutes.
After completing one, or after filling out additional profile questions, referring friends to participate, or performing other rewardable actions (designated by a green button), you'll earn points. Based on previous survey completions, your current points—which will never expire as long as you're a current member—will be displayed in the left panel (dashboard) of your member's home page
Once you've accumulated at least 1,000 points, they can be redeemed for cash using PayPal or e-Giftcards (US residents only). All you have to do is choose your redemption method, provide your email address, and the reward will be sent accordingly.
Note: In some instances, the company may send an "email or text message to confirm your contact information, or ask you to provide personal information through security questions which help us verify your identity before you can redeem your points for rewards."
How Much Money Could You Earn From Survey Junkie's Rewards?
A Survey Junkie membership is absolutely free. And, according to at least one advertisement on their website at the time of our research, you can get paid an extra $5 cash per day by completing their surveys. Is this realistic, though?
The Survey Junkie FAQ tells us that 1,000 points are the equivalent of $10, which works out to $0.01 per point. They also report that each survey takes about 15 minutes to complete, although this—as well as the points you earn—can vary.
The company's website didn't provide any further details, but when taking a look at a broad cross-section of third-party industry-related websites like ListenMoneyMatters.com and WorkAtHomeNoScams.com, it appears the bulk of completions will earn members between 100 and 300 points. With these details in mind, let's run some quick numbers:
If it takes you 15 minutes to complete a survey that earns you 200 points, or the equivalent of $0.20, this works out to about $0.80 per hour. Therefore, drawing this simple example out to its conclusion, this means that you'd have to spend more than 10 hours completing surveys before you earned enough to withdraw.
As discussed earlier, these numbers could fluctuate slightly in either direction, but the point remains the same—and is something Survey Junkie's FAQ strongly emphasizes: you will not get rich by taking their surveys.
In fact, if you're looking for some extra cash, your time might be better spent getting a part-time job.
Nonetheless, when it's time to withdraw your money, Survey Junkie doesn't charge any fees.
What Can We Learn From Online Member Reviews for Survey Junkie?
We encountered nearly 400 member reviews for Survey Junkie on TrustPilot, who had cumulatively given the company an average rating of about four stars. Common compliments appeared to revolve around fun, interesting surveys and the fact that you can earn instant points, while complaints often revolved around frequent penalizations, low payouts, being declined for surveys after completing many questions, and problems redeeming points.
In each of these instances, a representative responded to help find a solution.
From a company perspective, Survey Junkie (Blue Media Ventures, Inc., who recently rebranded as Active Measure) is based out of Glendale, CA and has been in business since 2011. They held an A + rating with the Better Business Bureau, based on one negative customer review and 13 closed complaints, as of 1/16/18. No additional details were available.
Are There Other Sites Competing with Survey Junkie?
Searching online, you'll find there are dozens of survey rewards websites competing for your time and energy. Here were some of the top results at the time of our research, in no particular order:
| Website | Payout | Redemption Options |
| --- | --- | --- |
| Survey Junkie | Up to 1,000 points per survey | PayPal, e-Giftcards |
| Swagbucks | Up to $35 per survey | Gift cards |
| Survey Savvy | None listed | Cash/check |
| Ipsos i-Say | Up to $95 | PayPal, Gift cards, Sweepstakes entry |
| Inbox Dollars | Varies | Cash, Gift cards, Sweepstakes entry |
| Point Club | Varies | Gift cards |
| eMiles | None listed | Airline and hotel points |
Given the fact that this is just a small sample of your many different options, how can you possibly choose the right website to earn some pocket change—or perhaps even more—by completing surveys?
The bottom line is that each site appears to differentiate themselves from the competition in one or more of the following areas:
The subject matter you'll be dealing with
The number of points, or amount of money, earned for completing surveys
The methods through which these points or money can be redeemed
For example, we can see from the table above that if you're interested in gift cards, companies like SurveySavvy, eMiles, and VIP Voice likely wouldn't be your first choice. On the other hand, if you absolutely must know how their points structures work prior to signing up, the VIP Voice and MySurvey websites didn't provide a whole lot of detail at the time of our research.
Like any other company you choose to do business with, you'll also want to browse consumer advocacy websites like HighYa to find out what members are saying. If you frequently encounter the same feedback, this could be a strong indication you could experience the same after signing up.
How does all of this come together? Let's bring everything to a final conclusion.
Our Final Thoughts About Survey Junkie
In the end, based on what we learned from online customer feedback and Survey Junkie's Better Business Bureau rating, they seem to be a legitimate company who's been in business for years, and who really can help their members earn extra money by completing online surveys.
However, we think it's important to balance these positives with the fact that, using our (perhaps) overly simplistic example from above, you'll almost certainly earn far less than minimum wage for your time.
In other words, while it might represent something that can help occupy 10 minutes of boredom every now and again, while earning you a few pennies in the process, if your main goal is to make money, even getting a part-time job could pay many times more per hour than what you'll earn from completing their surveys.
Just keep in mind that not all sites are as legitimate as Survey Junkie. To learn more, be sure to read Online Surveys: How to Determine Scams from Legitimate Opportunities.
Survey Junkie IS A SCAM!

By Anne D.

,

Tarpon Springs, FL

,

Jan 3, 2020
Verified Reviewer

If you value your time, don't waste it with this survey company. When you are told a survey will take abt 15 minutes...DON'T BELIEVE IT! 45 minutes to an hour is more like it. I type 155 words per minute, so it's def not my typing skills that account for all the extra time. Another irritating common occurrence is that you will find yourself 20 or more minutes into the survey and you will be kicked out, with the explanation that you do not fit with this survey and they then allocate a whole measly 3 points to you. This happened 5 out of 6 times in one day. At that rate, you are earning a negative sum of money. Legitimate? Just barely.

Bottom Line: No, I would not recommend this to a friend

---

Scam

By Hugh K.

,

New Jersey

,

Feb 14, 2019
Verified Reviewer

Survey Junkie has gone off the rails. You seldom get disqualified from a survey until you are at least ten minutes into it. After attempting every day for a month the closest I came was a survey I spent 25 minutes on. The survey said I was finished but then I still got the notice that the survey was filled and I received three points. If you contact them through the help link they just send you a standard reply.

Bottom Line: No, I would not recommend this to a friend

---

Advertisement

---

Scam

By Roger D.

,

North Carolina

,

Oct 23, 2018
Verified Reviewer

They trick you into taking surveys and then when you finish, they say that you don't qualify for the survey and then give you about 1% of what they promised. They got their data and my original info. I got screwed! I am filing a BBB report! Crooks!

Bottom Line: No, I would not recommend this to a friend

---

Scam! They don't pay out what you earned!

By Stevi K.

,

Jupiter, FL

,

Sep 21, 2018
Verified Reviewer

You do surveys, get points into your account from those surveys completed, and then can't redeem your money. Every time I give them my phone number to verify my account, and I entered the code that was given to me over the phone via an automated message, I get a message on their website "We were unable to verify your identity. Please contact customer support." This has happened several times even after they claim to have reset my verification attempts. They obviously do not want to pay me. SCAM!

Bottom Line: No, I would not recommend this to a friend

---

Advertisement

---

Don't bother

By Greg B.

,

Texas

,

Jun 28, 2018
Verified Reviewer

I was on the site for several months...no issues at all (cashed in with no problem multiple times), then nothing! No surveys, no notice that I was knocked off the site...694 points lost.

A few months later I just gave up and joined under my other email address and VIOLA, surveys abound! Until I try and cash out. They say I violated by having multiple accounts. Even though I had not earned a single point on the first account in months, they accused me of trying to double up on earnings. Obviously they must have suspended my first account for whatever reason (they never said anything to me). Great customer service (sarcasm) since I answered everything truthfully. Believe me, my profile is terrible as far as qualifying for surveys - 50-year-old, white male, no kids, not married. If I were going to lie I'd start with my profile, so I'd get more surveys. Anyway, they canceled my account and I lost another 1000+ points.

Lousy customer service, accusations without telling you giving any specifics, and then just deleting your account when you ask why. It's a very slow site in terms of how fast you can earn...many better options with a more professional staff backing them up. DON'T BOTHER!

Bottom Line: No, I would not recommend this to a friend

---