Swell Investing Reviews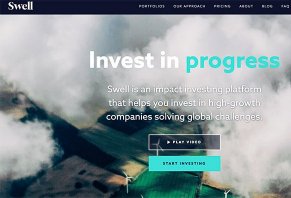 Swell Investing's six different portfolios give you the chance to invest your money in companies who are doing good in the world in areas of green tech, health, energy and sustainability.
About Swell Investing
Swell Investing is a robo-advisor that lets you invest your money in companies who contribute to environmental and social change.
This type of investing is what's known as "impact investing". The Global Impact Investing Network defines impact investing as, "investments made into companies, organizations and funds with the intention to generate social and environmental impact alongside a financial return."
Basically, you use Swell to invest in companies who are doing good and giving investors returns.
Dave Fanger founded Swell in 2015 and launched in it May of 2017. Fanger is a graduate of UCLA's Anderson School of Management and has more than 15 years of experience in the financial world. Before launching Swell, he was the Assistant Vice President of Corporate Development at Pacific Life.
Fanger did an email interview with us leading up to our review. He noted why impact investing has increased in popularity in the past few years.
"The next generation of investors realize that growth for the sake of growth isn't enough. We need to simultaneously be working towards building a better world in which we can enjoy our wealth," Fanger said. "The good thing is that this is a strong investment approach in itself--companies solving today's greatest challenges are poised to drive returns."
The site's focus and pedigree seem to be sound but that doesn't mean the site itself should be your automatic choice for impact investing. There are many factors that need to be taken into consideration.
What are the investment options you have; are they limited to one or two industries? Do you have to pay any fees and how do those fees compare to competing sites? What are users saying about Swell? And, finally, are there other impact investing sites out there and, if so, how do they compare to this one?
These are the questions we're going to answer as we move through this review.
What Are the Investment Options You Have With Swell?
The site provides six different portfolios you can choose from: green tech, clean water, zero waste, renewable energy, disease eradication and healthy living.
Each one of those portfolios is a collection of companies working toward, in one way or another, positive change.
You'll be able to access basic information for each company in the portfolio, including what percentage of the portfolio the company's stocks account for.
Green Tech
This category includes companies who are actively pursuing ways to produce tech products that reduce impacts on the environment.
Here's a quick list of some of the companies included in this portfolio:
Eaton Corp., PLC: Power management
Tesla Motors: Builds electric cards
Daktronics, Inc.: Produces LED-powered signage ranging from billboards to massive screens used in sports venues
At the time of publishing, there were 60 green tech companies in this portfolio.
Renewable Energy
According to Swell, this portfolio focuses on companies who are seeking alternative energy sources outside of prevailing tendencies toward coal, natural gas and oil.
Companies in this portfolio include:
Transdigm Group, Inc: Manufacturer of aerospace components
PG&E Corp: Power company who produces more than half their electricity from renewable sources or sources that don't emit greenhouse gases.
Sunrun Inc.: Solar-panel producer
There were 65 companies in this portfolio at the time of publishing.
Zero Waste
This portfolio focuses on companies who are working toward solutions for managing the hundreds of millions of tons of trash produced each year by consumers.
This Swell portfolio includes the following companies:
LKQ Corp.: Seller of recycled and aftermarket auto parts and auto accessories
Tenneco Inc.: Produces vehicle parts the contribute to cleaner air and smoother running vehicles.
Green Plains Inc.: Manufactures ethanol
At the time of publishing, this portfolio included 37 companies.
Clean Water
This portfolio includes companies who contribute to clean water initiatives and/or water conservation in one way or another.
Here are a few examples of some of the 42 companies included in this portfolio at the time of publishing:
Ecolab, Inc.: Experts in water, hygiene and energy technologies
A. O. Smith Corp.: Manufactures commercial and residential water heaters
Mueller Water Products, Inc.: Water transmission, distribution and measurement experts
Disease Eradication
This portfolio is home to biotech companies who use funds to research cures for diseases. At the time of publishing, there were 66 companies in this portfolio and here are three of them:
Abbvie, Inc.: Specializes in medicine for rheumatoid arthritis
Fibrogen, Inc.: Develops medicine for anemia, pancreatic cancer and other life-threatening diseases
Advaxis, Inc.: Develops immunotherapies that help fight cancer
Healthy Living
The final portfolio in which you can invest through Swell features healthy living companies. The portfolio contains 50 companies whose products and services promote healthy lifestyles. Here are three good examples of companies in this group:
Lululemon Athletica: Popular company who creates workout clothes and promotes self-improvement
Sprouts Farmers Market: Healthy-food grocery store chain
Fitbit: Popular producer of fitness/bio trackers
Through the Swell site, you can invest your money in all of these portfolios, just one or a mix of multiple ones.
A Quick Note About How Swell Chooses Their Companies
Swell goes through a specific set of steps to determine if a company should be included in Swell's portfolios. Some of those steps, according to their website, include:
Determining if the company has a positive impact "across multiple areas of its business"
Analyzing a company's revenue to find out if they're really making a difference with the money they earn
Checking the company's financial health and evaluates how its stock is doing
The Fees that Swell Investing Charges
You'll pay 0.75% a year on the money that you invest with Swell. If your investment over the course of the year is $1,000, you'll pay $7.50.
You'll have to invest at least $50 to open an account with Swell.
How Swell Compares to Other Investing Sites
There are dozens of robo-advisors out there who let you invest your money through a website or app that automate much of what an investment brokerage would do for you.
Some of those robo-advisors include Betterment, Wealthfront and Acorns. There are also sites who provide specific socially- or environmentally-conscious portfolios in which you invest. Stash, Aspiration and Swell are examples of this.
Here's a quick table to show you how each site's fee structure works...keep in mind that most robo-advisors will charge different rates depending on how much money you invest with them:
| Swell | Stash | Aspiration | Acorns | Wealthfront | Betterment |
| --- | --- | --- | --- | --- | --- |
| 0.75%/yr | $1/mth for accounts under $5K, 0.25%/yr for $5K and over | Pay what you think is fair, even if it's $0 | $1/mth for accounts under $5K, 0.25%/yr for $5K and over | Free for accounts under $10K, 0.25% above $10K | 0.25% for basic account, 0.40% for premium |
Swell's fees are higher than the competition for balances over $1,600. When compared to Stash and Acorns' $1/month fee, Swell is the cheaper option all the way up to balances of $1,600. After that, Stash and Acorns offer the better deal.
As far as robo-advisors who provide socially- and environmentally-friendly investment options, Aspiration is the cheapest choice because of their pay-what's-fair structure. You can literally use their investing site for free.
In terms of choices of impact portfolios, Swell and Stash lead the way with six choices each. Aspiration has one choice: their Redwood Fund, which focuses on companies who promote legislative, environmental or social change.
Based on our research, we believe that Stash offers the better value for those who are looking for a simple way to invest their money in companies who are, according to the robo-advisor's standards, doing some good in the world.
However, much of what you perceive as being more valuable has to do with the companies which make up the portfolios in which you invest. You may find that you like what Swell has to offer over Stash, or vice versa.
We noticed, though, that it's much easier to access the companies in Swell's portfolios; they're on the Swell website.
You'll have to click through a few pages then go to a third-party site in order to find the companies included in Stash's portfolios.
The Final Word: Pros, Cons and Who Swell Is Good For
In our opinion, Swell Investing's strength is the simplicity with which they present their six different investment portfolios.
Their website provides the list of every company in every portfolio, which we like. It gives you a chance to do your research on each portfolio and decide if the companies who make up the portfolio are companies you'd like to support.
One of the things that's tough about investing with most robo-advisors is that their portfolios consist of ETF's which are big conglomerations of various funds that are made up of many different types of parts, including currency, stocks, bonds and more.
The Swell platform is much more consumer-focused, in this sense, because you can go to your account and, within seconds, see what's in your portfolio.
As for downsides, Swell's fees are higher than the competition for accounts that have more than $1,600 in them. The upside to this "weakness" is that Swell is the cheapest option if you want multiple impact investing choices for a portfolio under $1,600.
We believe the person who is a good fit for this site would be someone who likes to have quick access to all the companies listed in a portfolio and desires multiple impact portfolios in which they can invest.