Switchmate Reviews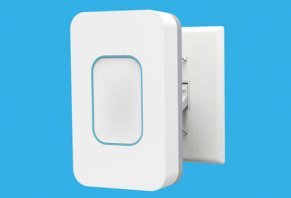 About Switchmate
Switchmate is a new home automation company whose first product, known as the Snap, is a lighting controller that's claimed to snap into place over an existing switch, and to instantly turn it into a "smart" lighting device that can be controlled via a Blutooth enabled smartphone. And by allowing you to transform any light switch in your home into smart light in seconds, without rewiring or other hassles found with most home automation switches, Switchmate claims to be making smart lighting simple.
How Does Switchmate Claim to Work?
One of the unique challenges faced by almost all new home automation companies is to take complex technology and implement it in a way that's effective, yet simple enough that the common consumer can benefit from it. With this said, while home automation has been around for quite some time, it hasn't been until the last couple years that companies have started focusing on making their technology accessible to the average consumer.
Switchmate is one such company. This Palo Alto-based startup has created Snap, which is a lighting controller that uses rare earth magnets to snap into place over an existing light switch (e.g. standard toggle, rocker/decora, and multi-gang switches), and Blutooth 4.0 technology to communicate with iPhones and Android smartphones, as well as through any internet-connected device via the optional WiFi hub.
Ultimately, the company claims that this allows any homeowner to turn their lighting on and off with the press of a button, even when they're not home, while allowing the original switch to retain its functionality. In addition, the Switchmate Snap can be set to turn on and off at certain times in order to provide added security when you're away from home.
And unlike most other home automation switches, since the Switchmate Snap attaches using magnets, it can be moved to different areas of your home, depending on your needs. In fact, the company claims that the Snap can be taken with you when you're traveling for lighting automation on the go.
Is Switchmate Easy to Use?
In order to begin using the Switchmate Snap, the company claims that you just need to snap it into place over an existing light switch using magnets or the included adhesive, pair it with your phone, and begin controlling. Once in place, the Switchmate is claimed to have a Blutooth range of about 70m (230ft), and to last 8-12 months before needing to be recharged using the micro USB port.
Once you're up and running, the company claims you can manually control lighting via your smartphone, or you can set a proximity function to automatically turn on your lights as you approach your home.
Switchmate Pricing & Refund Policy
According to Industry Edge, crowdfunding for Switchmate is set to begin in early 2015. Because of this, as of the date of this writing, no prices are posted.
Can Switchmate Provide You with Easy Home Lighting Automation?
Since the Switchmate Snap likely won't be released until well into 2015, and as a result doesn't currently have any online user reviews, we contacted Nick Picklo at Picklo Digital Homes for some insight into the product. Here's what we found out:
Cost vs. Capabilities
Unless you plan on controlling your Switchmate Snap only via Blutooth, then you'll be required to purchase a central hub, which will not only further increase your cost, but will require you to be more technically savvy as well.
In addition, although we don't yet know the price of the Switchmate Snap or its full range of capabilities, we have to wonder if more than one Snap can be controlled via smartphone, and if so, if there's a maximum number of units that can be controlled at one time. Also, will the Switchmate app give users the ability to create an event (e.g. kitchen, living room, and porch lights come on at the same time)?
The Reach of Blutooth
Have you ever been talking with someone via Blutooth while driving, arrived at your destination, stepped just a few feet from your car, and had your call drop? If so, you probably quickly understood that the reach of a Blutooth connection depends on a variety of environmental factors. Because of this, only under the best of circumstances could you expect your Switchmate Snap to pick up your phone's Blutooth signal from 230 feet away.
Form vs. Function
According to Mr. Picklo, while the primary goal of automation is to form a seamless integration between you and your home, a close second is aesthetics. In other words, things shouldn't just function properly; they should look good (or in many instances, be completely invisible) while doing it.
In the instance of Switchmate, while it may look slightly better than a standard light switch, it could be considered bulky and a "wall wart" that sticks out like a sore thumb.
However, the reality is that most beginning users will likely be more concerned with function than with looks, and the Switchmate Snap seems to be a solid way of introducing consumers to home automation, and helping them experience all of its benefits before moving onto something more technically demanding.
Bottom Line
By offering a plug-and-play automation product that simply installs over an existing light switch, without the need for an electrician, the Switchmate Snap appears to target an ever-growing base of beginning home automation customers. But with a release date at some point during 2015, and a wide variety of automation companies vying for this same market segment, we'll be interested to see what comes out between now and then.
Won't stay off or on with first command

By John C.

,

Oshawa, Canada

,

Oct 21, 2019
Verified Reviewer

I use Google Home to turn off or on the switch but I have to repeat the command usually twice as the switch will again turn on or off again. Too bad, other than that, it works pretty well. I've contacted the company with no resolve.

Bottom Line: No, I would not recommend this to a friend

---

Time Setting

I have Model TSM001W. It doesn't turn on at setting time but turns on at the turn-off setting. I tried many different settings but experienced the same result. Also it can recognize only the standard time and not the day light saving time. I just had it with this crap.

Bottom Line: No, I would not recommend this to a friend

---

Advertisement

---

This company should be ashamed!

By Regina B.

,

Newnan, GA

,

Jul 27, 2018
Verified Reviewer

I bought several of these a year or so ago. Installation was easy and with my Wink Hub, I was able to use Alexa to turn them on and off. HOWEVER, recently Switchmate put out a new software update and now they are not compatible with Wink any longer. Why in the heck would they do that! I will never buy or recommend anything Switchmate to anyone since you will not know when they decide to change software and make the item useless unless you have your phone on you 24/7. Horrible thing to do to your customers!

NO! I would not recommend to a friend...or even an enemy!

Bottom Line: No, I would not recommend this to a friend

---

Waste of money

I bought two Switchmate toggle switches. They worked okay for a few days. You can't have more than one Android device connected to each switch, but at least they worked. Firmware update on 8-28 bricked one! No help from Switchmate other than a generic "recovery" email that did not work. I followed every step to recover and nothing. Such a waste of money.

Do not buy as this company does not stand behind the product. There is no phone number to call. They only provide an email for support, but support is incapable of resolving the problem. I have emailed them several times since and got absolutely no response. Google Play is loaded with negative reviews from firmware update bricking the devices. I should have listened.

I did not perform the firmware update on the second device, but it no longer works because you have to have the app to operate it. Terrible product and bad customer service.

Bottom Line: No, I would not recommend this to a friend

---

Advertisement

---

Does not work as advertised

By Shane Seward

,

Wichita Falls, TX

,

Jun 6, 2017
Verified Reviewer

It installed easily, but it only works when the phone is in the room. When out of range, nothing works, not even the timers that they claim will work when out of range. It takes a long time to reconnect when back in range, so it is nearly useless.

Bottom Line: No, I would not recommend this to a friend

---