T-Fal Heatmaster Reviews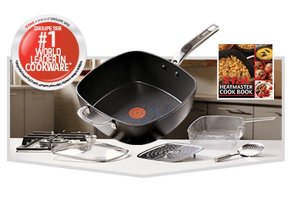 Compared to other non-stick coatings, T-Fal's new Heatmaster square pan promises to deliver patented sapphire-infused durability, along with multi-layer construction and zero cold spots.
What Is T-Fal Heatmaster?
T-Fal Heatmaster is a three-in-one square pan that combines a sapphire-reinforced non-stick surface, a Thermo-Spot ring that turns solid red when the pan reaches the perfect temperature, and six-layer construction (including a stainless steel base) for even heat distribution and retention.
Unlike competitors, this sapphire-based non-stick surface also uses patented technology to remain super durable and chip/scratch resistant (even when using metal utensils), allowing it to last up to 20 times longer than copper pans.
Additional Heatmaster features include an oven-safe design up to 500 degrees (the lid can only withstand up to 350 degrees), an extra-large family size, and the option to use it on any cooktop, including induction. It also has extra deep four-inch sides that allow it to be used as a pot, pan, wok, deep fryer, rice cooker, baking dish, as well as the convenience of preparing, cooking, and serving all in the same pan.
And when the time comes, you can quickly wash it using soap and hot water (like any non-stick surface, avoid using harsh abrasives). Or, you can pop it in the dishwasher.
T-Fal is one of the biggest names in the cookware industry, and they certainly seem to have packed Heatmaster with a lot of potentially useful features. Does this mean it's the right pan for you, though?
By outlining everything we learned during our research, this article will help you answer this central question.
What's Different About Heatmaster's Sapphire Non-Stick Coating?
It's non-stick coating is reinforced with actual sapphire, which provides strength, without having to rely on traditional chemicals such as polytetrafluoroethylene (PTFE, otherwise known as Teflon) or perfluorooctanoic acid (PFOA).
While there's a lot of concern among consumers that PTFE flakes can cause cancer, the existing clinical evidence indicates these simply pass through your system if ingested. PFOA, on the other hand, if heated above 500°F, can emit gasses that are deadly to birds and can cause flu-like symptoms in people.
Comparatively, T-Fal emphasizes that if a particle of their sapphire-infused coating is "inadvertently swallowed, there is no health risk associated, as the particles are non-toxic. They will pass through the body without being absorbed. In fact, the non-stick coating is so safe that it is often used in the medical profession to coat pacemakers and the tiny tubes made to replace arteries."
How Much Does the T-Fal Heatmaster Cost?
T-Fal offers the Heatmaster pan for three payments of $24.95, plus free shipping, totaling $74.85. Or, you can save about seven bucks by making a single payment of $67.36. Both options include a tempered glass lid.
You'll also receive four gifts with your order:
Recipe book – Advertised as containing a variety of exciting, no-fuss meals that can help you use your Heatmaster to its full potential.
Fry basket – Specifically designed for the Heatmaster, this allows you to fry food and even strain pasta.
Steamer plate – Another tool specifically designed for this pan, it promises to deliver "perfectly steamed, crunchy vegetables every time."
Skimmer – A mess-free method of easily draining liquids or extracting solid food from your pot.
T-Fal backs all Heatmaster purchases with a 60-day refund policy, less S&H, although this only applies if the pan is unused.
It also comes with a lifetime guarantee, which stipulates that if its non-stick surface ever scratches or blisters, you can send it back for a replacement. To request a refund or process a warranty claim, customer support can be reached at 844-539-6655 or TFal@webcsr.info.
What Do We Know About Heatmaster's Manufacturer?
T-Fal is a brand of Groupe SEB, a French company originally founded in 1857 and who's also behind other popular houseware brands like Tefal, Rowenta, All-Clad, and Krups.
Their U.S. branch in New Jersey held an F rating with the Better Business Bureau, based on one negative customer review and 40 closed complaints (11 of which the company failed to respond to), as of 2/26/18. Where details were available, most seemed to revolve around difficulty processing warranty claims.
Is There Other Sapphire-Infused Non-Stick Cookware Competing with Heatmaster?
During our research, we found a handful of popular brands like FlavorStone and Bialetti that advertised 'sapphire' non-stick cookware lines. However, T-Fal was the only company that expressly claimed to infuse their coatings with this gem, and their Thermo-Spot technology was similarly unique.
Together, if you're looking for something with the exact same set of features (sapphire coating, heat indicator, high sides, square shape, etc.), it's currently the only game in town. We also called and spoke to customer support, who advised the pan measures 11" x 11" and 18.5" from the end of the hand to the opposite side, and weighs about 1.5 pounds.
However, they weren't able to provide additional details about the material each layer is constructed from, or the thickness.
What if you're still exploring which specifications are most important and which options will best meet your needs, though? How can you take a step in the right direction?
In How to Buy the Best Non-Stick Cookware, we outline that top-quality coatings are sprayed on with at least three layers, so they'll provide slippery smoothness for years of reliable use. You'll also want to focus on pans constructed of hard, anodized aluminum, and—since they require regular replacement every few years, depending on use—ideally priced below $60.
After reviewing more than 200 kitchenware products over the years, we've also learned that you'll want to do business with companies with a reputation for quality, mostly positive online customer feedback, and who stand behind their products with at least 30-day refund policies.
Does this mean you should go ahead and place an order for the T-Fal Heatmaster?
Our Bottom Line About the T-Fal Heatmaster
Even if you infrequently cook, learning the different "personalities" of a new piece of cookware takes time, such as where it shines and in what situations it might not be your go-to option. And because these personalities will match some needs better than others, finding the right option will likely take some trial and error.
For this reason, it's positive that Heatmaster comes from a company with decades in business, mostly positive online customer reviews, and who offers a 30-day satisfaction guarantee on purchases—not to mention the pan's unique combination of features. Just keep in mind that as soon as you try your new pan, the T-Fal website emphasizes that refunds are no longer available.
Also, it's important to point out that, while non-stick coatings offer a great deal of simplicity, they're not completely maintenance free. This is why the T-Fal website points out that you'll need to start by oiling your Heatmaster before it's first used, and then repeating the process occasionally (especially if you clean the pan in the dishwasher).
For more about how this works, be sure to read How to Season, Use, and Store Your Non-Stick Cookware.