Tac Amplifier Reviews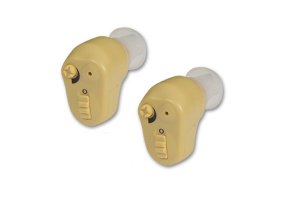 After turning the device on, placing it in your ear, and manually adjusting the volume, Tac Amplifier claims to boost sound in a variety of scenarios, without breaking the bank.
About Tac Amplifier
Bell + Howell's Tac Amplifier is advertised as a powerful, easy to use device that can deliver an adjustable volume boost whenever you need, making it ideal for a wide variety of situations.
These include out in the field, listening closely in a noisy environment, watching TV at a volume that's comfortable for everyone, or enjoying a sermon or lecture. And with its discreet, comfortable design, the website indicates no one will even know you're wearing it.
But, is there really nothing else like Tac Amplifier on the market today, as emphasized in the commercial? And if not, how can you make the most informed decision before handing over your hard-earned money?
Over the next few minutes, we'll place you on a path toward taking the next best step.
PSAP vs. Hearing Aid: How Do Devices Like Tac Amplifier Work?
At first glance, it might be easy to confuse Tac Amplifier with a more traditional hearing aid. After all, they tend to boast the same core features, including a built-in microphone that picks up external sounds, internal circuitry that amplifies these sounds and transmits them through an inner ear speaker, and the ability to adjust volume.
However, there's a small—but significant—difference between the two; primarily, in their intended use. For example, according to the Merriam-Webster dictionary, a hearing aid is defined as "an electronic device usually worn in or behind the ear of a hearing-impaired person for amplifying sound."
Comparatively, the Food and Drug Administration defines a personal sound amplification product (PSAP) as "wearable electronic product that is not intended to compensate for impaired hearing, but rather is intended for non-hearing impaired consumers to amplify sounds in certain environments, such as for hunting or other recreational activities."
The FDA goes on to explain that because of hearing aids' intended design, they typically feature more complex functionality, programmability to "address an individual's degree of hearing loss across sound frequencies to improve speech intelligibility," and are often require programming and optimization by an audiologist before use.
On the other hand, while PSAPs can feature a wide range of functionality, they're often plug-and-play. Still, they emphasize that hearing aids and PSAPs can feature some cross-functionality, depending on the model.
Will you pay a lot of Tac Amplifier's features? Let's take a look in the next section.
How Much Does Tac Amplifier Cost?
Another typically big difference between these types of devices is the price. Whereas traditional hearing aids can cost thousands, one Tac Amplifier is priced at $19.99, plus free shipping. You can also purchase a second device during checkout for an additional $6.95 fee.
All Tac Amplifiers come with a 30-day refund policy, less S&H charges and any fees associated with the BOGO offer, as well as a lifetime guarantee. Customer support can be reached at 844-475-3594.
Who Manufactures Tac Amplifier?
As a brand, Bell + Howell has been in around since 1907, and was initially based out of Chicago, IL and manufactured media technologies like projectionist and camera equipment. In 1997, however, after nearly nine decades in business, the company was liquidated and dissolved and is currently owned by E. Mishan & Sons (EMSON), Inc.
Today, the brand focuses primarily on manufacturing a range of technology-related As Seen on TV products, including many others in the same lineup like the original TacLight, along with subsequent releases like TacLight Lantern, and Tactical Lighter.
As a company, EMSON Inc. is based out of NY, NY and held an A rating with the Better Business Bureau, based on eight customer reviews and nearly 100 closed complaints, as of 6/26/18. No details were available, although it appears a company representative responded in each instance.
Tac Amplifier vs. Other Personal Sound Amplifying Products (PSAPs)
With rapid advances in technology over the last several years, dozens (perhaps even thousands) of personal sound amplification devices have been released, with some priced as low as Tac Amplifier (> $20), while others are priced almost as much as a traditional hearing aid.
Even when only referencing bare-bones models like Tac Amplifier, we encountered dozens of meaningfully similar competitors who offered adjustable volume, along with discreet designs. Given the sheer number of options you have at your disposal, how can you choose the one that will best meet your needs?
As is almost always the case when referencing any medical concern, the first person you should speak with is your physician, who can run the appropriate tests to determine if you would benefit more from a traditional hearing aid, or from a PSAP alternative. In addition, they can help you gain a better understanding of which features on each device might deliver more bang for your buck, based on your specific diagnosis.
From there, the AARP recommends considering whether or not paying extra for additional features like the ability to connect with other electronic devices (including smartphones) via Bluetooth, extended battery life, and various ear tips for a customized fit will deliver meaningfully more value for your money.
With these crucial factors in mind, we contacted the support number listed on the Tac Amplifier website looking for additional details, although none of the representatives we spoke with were able to provide further insight. This left us with important unanswered questions, such as:
What's the decibel range for volume, as measured in gain?

It appears the only way to adjust volume is with a small (e.g., designed for eyeglass repair) Phillips head screwdriver. Is this correct?

Along these same lines, won't users require good eyesight in order to adjust? Are they out of luck if the plastic becomes stripped due to misalignment?

What kinds of batteries does Tac Amplifier use? How long will they last? How can users replace these batteries? Again, won't the process require keen eyesight?

Does each device come with interchangeable ends to fit different ear canal shapes and sizes?

How does the microphone work? Does it only pick up sound from one direction (omnidirectional), or multiple directions at the same time (multidirectional)?

Does the device feature any noise filtering? What about background sound reduction technology?
Despite these information gaps, let's see what kind of conclusion we can reasonably come to about Tac Amplifier, based on the publically available information we've discussed so far.
» See Also: Personal Sound Amplification Products (PSAPs): A Comprehensive Buying Guide
Is Tac Amplifier the Right Sound Amplification Solution for You?
We've already outlined the topic in depth, but it's important enough that it bears reemphasizing here at the end: If you're regularly experiencing difficulty hearing in a variety of situations (e.g., at home watching TV, sitting at a table in a busy restaurant, out in nature, etc.), it's vital that you begin your journey by speaking with your primary care doctor.
If they recommend investigating a personal sound amplification product (PSAP) instead of a formal hearing aid, as with most other consumer electronics, it's often the case that you get what you pay for. In other words, the more money you hand over, the more features you'll gain access to (in addition to many of the unanswered questions regarding Tac Amplifier we discussed in the previous section), such as:
The ability to filter incoming sounds. This way, only speech is amplified, while background noises are reduced.
App connectivity, which often allows users to switch between presets and otherwise adjust sound settings on the go.
Along these same lines, Consumer Reports performed in-depth PSAP testing back in 2017 and found that devices under $30 (one of which was a different model from Bell + Howell) benefitted testers very little. In fact, they were concerned that they might even damage hearing by overamplifying sharp noises.
Regardless of whether you're looking at a basic model like Tac Amplifier, or a top-of-the-line PSAP priced over $400, the reality is that like any other product (electronics or otherwise), no single device will work for everyone. In this regard, the company stands behind Tac Amplifier with a 30-day money back guarantee if it doesn't meet your sound amplification needs.
Just keep in mind that you'll lose your $6.95 fee for the second device (if you took advantage), plus whatever you'll have to pay to ship the device(s) back to Bell + Howell if it doesn't meet your sound amplification needs.
» For Further Reading: Which Hearing Aid Is the Best? A Comprehensive Buying Guide
Horrible, lasted one week, won't recharge

By Eugene M.

,

Michigan

,

Feb 22, 2020
Verified Reviewer

Bought three of them. Used one a week, now doesn't work. I want a refund on the other two that I bought. Besides that, they sound like you're in a tin box. The charger sucks...you have to plug into a computer or something...what a pain.

Bottom Line: No, I would not recommend this to a friend

---

Tac Amp is terrible

By Chas W.

,

Florida

,

Jan 22, 2020
Verified Reviewer

Did not work out of the box. Only got a high pitch squeal regardless of settings. Returns are tricky. The paper in the box gives you an 800 number to call. That then gives you another 800 number to call in order to return the product. It costs $5.40 for 1st class postage with tracking to mail it back. Bottom line...don't bother buying this junk.

Bottom Line: No, I would not recommend this to a friend

---

Advertisement

---

Improved hearing of TV sound

By James L.

,

Ontario, Canada

,

Jan 11, 2020
Verified Reviewer

Purchased this unit to attempt to overcome poor quality sound from TV, particularly from sound sources like Netflix. While the unit did amplify the sound, even the closer proximity of the sound did not improve the intelligibility. Did not perform as I had hoped.

Unit works and may be suitable for some people, but not for my purpose.

Customer service was pleasant and helpful.

Bottom Line: No, I would not recommend this to a friend

---

These things make hearing really bad.

By Greg S.

,

Pierre, SD

,

Dec 26, 2019
Verified Reviewer

These things amplify everything - wind, your own breathing, and really make it hard to hear. I don't recommend them to anyone and wish I had read the reviews before I ordered them. These, as far as I am concerned, are a real scam. I wish I could return but I can't even do that.

Bottom Line: No, I would not recommend this to a friend

---

Advertisement

---

Junk

By David S.

,

Indianapolis, IN

,

Dec 13, 2019
Verified Reviewer

Got 2 of them, neither works, just get feedback no matter what I do. Called customer service and they said to send them back or get a $5 credit for a product they claim works. DON'T waste your money, this is a bad joke. The shipping back is all on you.

Bottom Line: No, I would not recommend this to a friend

---

These suck

By Erin B.

,

Virginia

,

Dec 9, 2019
Verified Reviewer

I tried wearing one, then tried wearing both of them. I could hear the fan above me and sounds behind me but nothing from the TV. I bought these to help me hear the TV! What a ripoff!

Bottom Line: No, I would not recommend this to a friend

---

BATTERY?!

By Jon R.

,

Nevada

,

Oct 20, 2019
Verified Reviewer

Don't usually do reviews, but, I ordered this for the Mrs., she has hearing loss in 1 ear, Tac Amp looked good, nice price, we ordered, received in good time, and all worked as advertised, BUT, try and replace the batteries! NO information in the booklet, no information on web page, no information on BATTERY! Or Packaging! And the 800 number is only open Mon-Fri 8-8 Est time. What is the number/size of the battery?! So I can buy/replace them as needed!

Bottom Line: Yes, I would recommend this to a friend

---

Junk

By Christine H.

,

North Carolina

,

Sep 30, 2019
Verified Reviewer

I just received the Tac Amp today. However, I quickly found out that all I heard was white noise, it wouldn't adjust no matter how I tried. I was looking forward to finally turn my TV down somewhat but I guess that was wishful thinking. Please don't buy this because it is a waste of your money.

Bottom Line: No, I would not recommend this to a friend

---

Good amplifier

By Mike W.

,

Sep 27, 2019
Verified Reviewer

There are many bad reviews about Tac Amp, I think it's about the regular one that operates with a battery. I bought one with premium quality with a rechargeable battery and my experience has been very good. It amplifies with crystal clear sounds and no background NOISE (I cap to emphasize). In the beginning, I had difficulty turning it on and adjusting the volume. Now I know how to operate it and every day I charge it and wear it until the charge spent, about eight hours. I use it on my left ear that has 35% normal hearing. The customer service is very good, very responsive, solved problem, like returning and exchange.

Bottom Line: Yes, I would recommend this to a friend

---

Total junk!

By Tom B.

,

Memphis, TN

,

Aug 9, 2019
Verified Reviewer

My girlfriend got me two Tac Amplifiers from an ad on the TV. I read all the instructions and did what it said. Both of them wouldn't do anything except buzz in my ear. Couldn't turn it down. Could only turn it off. There is no number to call anywhere in the package for troubleshooting or returning items. She won't be getting me anything else again after getting burned on these items. I could understand one of these Tac Amps not working correctly, but both of them bad...(junk).

Bottom Line: No, I would not recommend this to a friend

---

Save your money, it doesn't work

By J G.

,

Louisiana

,

Aug 7, 2019
Verified Reviewer

We purchased 2 and neither one worked. All was installed correctly, played with volume, etc., and all you hear is background noise and static. Garbage, don't waste your money. You will be out some money because of course, you have to pay to return ship their non-working products. This is the 2nd thing we have purchased from Bell & Howell that does not work.

Bottom Line: No, I would not recommend this to a friend

---