Tac Camera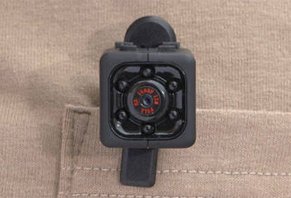 Bell + Howell's Tac Camera features 8 GB of storage space that automatically loops recordings, a rear clip that attaches wherever you need, and six LEDs for night vision.
Tac Camera Review - A Good Body Cam?
Inspired by state of the art tactical technology found in law enforcement body cams, Tac Camera promises to clip securely to any part of your clothing and continuously record up to 8 GB of high-definition audio and video.
When the included SD card runs out of space, it will automatically loop, so you never have to worry about losing recording time. And on the outside, its six built-in infrared LEDs provide night vision functionality, while the rugged, shockproof casing will protect all of the electronics inside.
When the time comes, you'll simply plug the device into your computer where you can view, download, and save your video.
The commercial makes Tac Camera look useful in a wide variety of scenarios, from mountain biking and skiing to watching sporting events and catching criminals. But, will it deliver meaningful value for the money?
We'll discuss several key pointers you should keep in mind when purchasing any body camera, so you can make a decision that meets your specific needs. Let's start with Tac Camera's pricing and manufacturer.
How Much Does Tac Camera Cost?
One Tac Camera will cost customers two payments of $19.99, or a single payment of $39.98. During checkout, you can purchase a second camera for an additional $7.95 fee.
All orders include free shipping, along with an 8GB SD card and a lifetime guarantee. You can reach customer support at 844-475-3610.
Who Manufactures Tac Camera?
As a company, Bell + Howell has been in business since 1907, although it wasn't until the past several years that they've entered the As Seen on TV market. Even more recently, they released the Tac lineup, which, in addition to this Camera, includes previous popular models like TacLight, Lantern, and Lighter.
Durham, NC-based Bell + Howell held an A+ rating with the Better Business Bureau, based on one customer review and no closed complaints, as of 9/10/18.
With these high-level details as our foundation, let's zoom in and take a closer look at Tac Camera, specifically.
Tac Camera vs. the Competition: How Can You Choose the Best Body Cam?
Although we didn't test any devices firsthand, we encountered multiple cube-shaped, miniature 'spy' cameras during our research, many of which featured six (or more) LEDs on the front to provide night vision, along with SD card functionality and the ability to download and view recordings on a computer. They were also priced mostly in line with Tac Camera as well.
However, none of these also offered a built-in rear clip that allowed them to be attached to any item of clothing. As such, if this functionality is at the top of your list, Tac Camera seems to be the only option currently available. Does this necessarily warrant buying it above other models?
As with most consumer electronics, there's an inverse relationship between features and price when it comes to body cameras—in other words, the more features you need, the higher price you'll typically pay.
For example, Procurement IQ points out that some models can record up to 12 hours of footage, while lower-end models might only record a couple before looping. Along these same lines, budget body cams usually only last a couple of hours before needing a recharge, while those higher up on the price spectrum could last all day.
Additional features you'll want to assess based on your needs (and the amount of money you're willing to spend) include image stabilization, "pre-event recording capabilities, built-in LCD screens, water-resistant coatings, GPS locators, and automatic recording activation capabilities."
ASMag.com adds features like "tagging videos (to enable fast retrieval), enabling watching of the footage on other devices (tablet, etc.)," and "streaming video via 3G/4G." Higher-end models can even store their footage via a cloud, instead of locally on each device.
We called Bell + Howell and spoke to several customer support representatives looking for additional details about Tac Camera that might help us understand how its features compare. For example:
Is there an on/off switch? If not, is it always recording as long as an SD card is in place?
Does it imprint a date or time stamp on the footage?
Is it waterproof, or at least water resistant?
What's the actual high-definition resolution?
How long does the battery last per charge? How long does it take to recharge once empty?
The representatives confirmed that there is an on/off switch on the back (no confirmation of size, or if it's easy to access in the event of an emergency), although there isn't a button that you can quickly press to start recording, as with higher-end law enforcement body cams. In other words, if Tac Camera is on, it's recording.
We also confirmed with these reps that Tac Camera doesn't include a date or time stamp on the footage, and it isn't waterproof or water resistant. They also weren't able to confirm its actual resolution (1080p or 720p), nor how long it will last per charge, other than stating "a couple of hours."
With all of these details in mind, let's come to a conclusion about Tac Camera.
Should You Place an Order for Tac Camera?
Although the commercial advertises that it was "inspired by state of the art tactical technology," based on what we learned from sites like Procurement IQ and ASMag, Tac Camera seems to deliver a bare bones features set. And customer support wasn't able to provide additional insight into video resolution or battery life, which are two key factors in any body cam buying decision.
From a consumer perspective, we think this means you might want to maintain realistic expectations about Tac Camera's performance in the real world—especially if you plan to use it as an action camera, or to catch criminals in the act.
On top of this, if you're willing to venture outside of its specific design (and perhaps pay a slightly higher price), we encountered a handful of third-party clip-on body cams with verifiable specifications and must-have features like waterproof construction, shock resistance, and longer battery and recording times.
Despite all of these unknowns, Bell + Howell seem to stand behind Tac Camera with a 30-day refund policy, as well as free initial shipping. Just remember that it's not a completely risk-free transaction, since you'll have to pay to ship it back to the manufacturer, and you'll also lose the $7.95 fee if you took advantage of the BOGO offer.
Don't bother, you'll wait forever and end up canceling your order!

By Cataptra L.

,

Orlando, FL

,

Nov 17, 2018
Verified Reviewer

I ordered these on August 7, 2018, the site states it will ship within 30 days.

30 days later, no word, no shipment.

Finally, after about 45 days, I get a postcard that "the product has been out of stock, however, your order WILL SHIP on October 16, 2018." It NEVER SHIPPED!

Then about 20 days later another postcard: "Your items are on back-order, do nothing if you want to keep your order." Okay, so I let it ride, almost another another 20-30 days later, I get another postcard now saying: "DO NOTHING if you want to let your order be canceled."

So I let the order cancel, after almost 90+ days of waiting for a product I wanted by mid-October and kept getting out of stock or back-order statements, I decided this company HAS NO CLUE on how to do business properly.

These body cameras should NOT be that difficult to manufacture and get out to their customers.

Most messages I got came via postcard and were always "overwhelming demand has placed them on back order" or "overwhelming demand has put them out of stock" and "your order will ship by such and such a date."

That never happened, and now it never will.

Don't waste your time ordering these Bell & Howell body cameras (Tac Camera), as you'll just wait and wait and never receive an email. Information only is sent via USPS (snail mail), they have NO WAY of contacting them via email, nor can you cancel the order online at any time, not until they finally send you 2 or 3 postcards. Then they'll have a link on the bottom of the page where you view your order, but if you click that, you're telling them you're willing to keep your order and wait and wait some more. But if you DO NOT click it, then your order will be canceled (supposedly!).

I finally just decided, I'm not waiting any longer, this is ridiculous. I worked in electronics and manufacturing items like radio equipment, including vehicle alarms and stereos for vehicles. If we'd done this to our customers, the company would be belly up (out of business in no time).

By the way, I only saw this commercial ONCE and decided to order these, one for myself and one for my wife, never saw the commercial again, so in all honesty, I don't buy the "overwhelming demand" and feel it's nothing more than an excuse for a product they didn't have and wasn't even in production at the time the commercial aired. Not with the delay times and USPS postcards I received.

If I could rate this NO STARS, that is what this company deserves, and even that rating is too good for them after my experience with them. Wasted time, thankfully they NEVER got any of my money for the order, and I had ordered the upgraded deluxe version they had with a large capacity SD card.

I wish I would have gotten them when they stated they'd be shipped 10/16/2018, then this review would NOT be WARNING others about this horrid experience I had with this order and process. And is the reason I will not, not will I ever recommend anyone attempt to buy them. Not unless you like waiting forever to get what you want.

I gave them more time than I should have as I (we) really wanted these body cameras.

If I want one, I'll look elsewhere.

Bell & Howell used to be a company with a very good reputation, they are ruining it with companies they are using to sell and represent their products, and now have lost this customer forever over this experience and delays.

Bottom Line: No, I would not recommend this to a friend

---

Junk, junk, junk!

By Jeff H.

,

New Orleans, LA

,

Dec 10, 2018
Verified Reviewer

A piece of crap! DO NOT BUY! Does NOT work. Get a kid to draw a picture with crayons and you will get a better picture! I only gave one star because it was a required entry. REAL SCORE, minus five stars. Warning...RIP OFF product!

Bottom Line: No, I would not recommend this to a friend

---

Advertisement

---

Needs better documentation

By A B C.

,

Texas

,

Jan 4, 2019
Verified Reviewer

I received the product in a reasonable amount of time, a few weeks. I was able to easily charge; however, the SD card did not seem to insert correctly. Documentation is vague to nonexistent. I've searched the web for more information. I was originally hoping to find out if my bigger SD cards would work. Mine is now totally inside the camera and I cannot extract it. My engineering background tells me this is a design problem with the slot, one should not be able to push the SD card into the device.

The power on/off choice could be improved, holding a button for several seconds is a poor design for quick use and difficult for the elderly user.

My poor rating is due to the inability to use the camera ever. I am trying to find my order number.

Bottom Line: No, I would not recommend this to a friend

---

8-week back order

By Bruce F.

,

Detroit, MI

,

Jan 7, 2019
Verified Reviewer

So far I don't like how the company operates. You order the Tac Camera special offer and they don't tell you by email or etc. that the Tac Cameras are on an 8-week BACKORDER. To find this out I had to phone customer service after being on the phone waiting for them for over an hour, so I ask why don't they send an email telling customers they are on back order? They tell me they send a letter in the mail? Wow, this company are not up to operation in the 2000, really backward. I hope the Tac Camera works better than the company operations.

Bottom Line: No, I would not recommend this to a friend

---

Advertisement

---

Return procedures/policies

By Larry M.

,

Georgetown, Ontario, Canada

,

Jan 10, 2019
Verified Reviewer

How do I go about returning this item for a full refund? This product does not function properly and there is no way to determine what mode you're in or how long the battery will last. It is not compatible with all operating systems.

Bottom Line: No, I would not recommend this to a friend

---

Total crap

By James W.

,

St. Augustine, FL

,

Jan 11, 2019
Verified Reviewer

Unfortunately, I bought two of these cams.

Absolutely worthless, I don't even want to fight the return policy. I threw both of them in the garbage.

I rated it a one star because there isn't a zero. Worthless piece of crap.

Bottom Line: No, I would not recommend this to a friend

---

Do not buy this product!

By Paul H.

,

Houston, TX

,

Jan 15, 2019
Verified Reviewer

As others have mentioned, I received the backorder postcard. I ordered it in August and received it the end of December. I received two and gave one as a gift. How embarrassing! When I opened mine to use, I charged it. When I tried to set up the time and date, I could not get it to pull up. I inserted the mini SD card, but the slot is poor design and does not line up properly for the camera to function. Now the power button no longer works. The red LED light stays on constantly, even with the USB cord unplugged. It never worked for me. I wrote it off as a loss. Don't waste your time or money with this product. It is junk!

Bottom Line: No, I would not recommend this to a friend

---

Total crap

By Brian D.

,

Arizona

,

Jan 18, 2019
Verified Reviewer

I went along with the program, took forever to process, and I tried to cancel the order, BUT, it just so happened they processed that day after waiting for over three weeks. When I finally received them after they would not cancel the order, I followed all the directions to no avail. Both cameras would not function at all, and the first one swallowed the card completely and I couldn't get it out. You really can't tell what mode your in, and following the instructions didn't help at all. My advice, DON'T BUY! I wish they would of let me cancel my order. Waste of money!

Bottom Line: No, I would not recommend this to a friend

---

Piece of GARBAGE

By Beth S.

,

Everett, WA

,

Feb 15, 2019
Verified Reviewer

DO NOT waste your money! These are the cheapest little bits of garbage I have ever seen. I am sending mine back and asking for a full refund to my bank card. It was hard to get the card into the unit (one of them fell all the way in). I was never able to get a red light or blinking blue light. I did not even want to check the one star, but this review would not go through without it.

Bottom Line: No, I would not recommend this to a friend

---

This company is a joke!

By Keith S.

,

Alberta, Canada

,

Mar 11, 2019
Verified Reviewer

I ordered the Tac Camera and went for the deal of buy one and get a second at half price or less. I paid by Credit Card and received the cameras about a week later. Both cameras failed, the SIM card fell into the camera and could not be retrieved. Neither camera would link on my computer, and when I called the company to get a refund, I was told I would receive the shipping documents within one week. It has now been 2 and 1/2 months and I have not received anything from the company. I guess that I will just have to suck up the loss. I WILL NOT buy anything from this company, and I would not recommend this company to anyone!

Bottom Line: No, I would not recommend this to a friend

---

Absolute JUNK

By Joey M.

,

Minneapolis, MN

,

Mar 12, 2019
Verified Reviewer

There really are no words that could possibly begin to explain how disappointing as well as how worthless this "camera" is. Upon opening the package, I was expecting a nice solid little cube of a camera. Not even close. These little pieces of crap have one tiny screw and the rest snaps together like a phone case. Except any phone case ever made would be of much higher quality. I found this out after trying to put the memory card in and it just disappeared. So I had to take it apart. I can't believe that whoever was in charge gave the green light to go ahead and put this on the market. It couldn't be more poorly designed. With that to go along with the crap for materials make this the biggest ripoff possibly ever. Absolute horse crap! You should be ashamed of yourselves for charging people $30-$40 for this thing. Ridiculous.

Bottom Line: No, I would not recommend this to a friend

---