Tac Lamp by Bell & Howell Reviews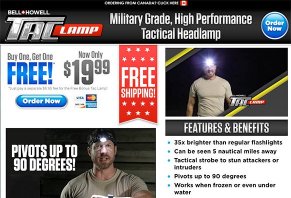 With adjustable straps, a bulb that's 35x brighter than ordinary flashlights, and 90-degree adjustability, Tac Lamp by Bell & Howell promises to work for life.
What Is Tac Lamp by Bell & Howell?
Inspired by headlamps used by military, law enforcement, and fire rescue personnel, Tac Lamp by Bell & Howell promises to shine 35x brighter than regular flashlights, with a hands-free beam that can be seen up to 5 nautical miles away.
We're told Tac Lamp's rugged construction allows it to withstand the elements, continuing to work even after being submerged in water, frozen in a block of ice, boiled in oil, and smashed by a sledgehammer.
In fact, Bell and Howell guarantee that Tac Lamp will work for life.
Once in place, Tac Lamp's adjustable band will fit any head, its head will pivot 90 degrees downward, and its lens can zoom up to 200X. It also features a strobe function that can help stun attackers or intruders.
Undoubtedly, Bell and Howell seems to have outfitted Tac Lamp with some useful features. But is there actually "nothing like it on the market today"? And if this isn't the case, is Tac Light even your best option? Let's help you find some answers.
Tactical Flashlights vs. Tactical Headlamps
In the past, we've written about tactical flashlights (more soon), which typically follow a particular set of criteria. They often feature:
Compact designs
Xenon-filled bulbs with tungsten filaments, which burn brighter and hotter
Bright light output, often between 60 and 1,000+ lumens (remember this term)
No holes or dark spots in the beam
3-volt AA lithium batteries for power
More or less, these options look like traditional flashlights but are intended to be used alongside a firearm while quickly sweeping an area, or to blind up-close combatants.
Headlamps (as the name implies), on the other hand, are worn on the head.
This is typically accomplished using a single adjustable elastic band that wraps horizontally around the head. In some models, a second elastic band is added that runs the length of the top of the head.
In the forehead area, the light's body mounts to these elastic bands, which means they'll provide light whichever direction you're facing. Many models, like Tac Lamp, also feature high-powered zoom functions, as well as different modes (like strobe).
However, unlike tactical flashlights, there's no standard light output that tactical headlights must meet—or any other criteria, for that matter.
What's the point? While Tac Lamp seems to offer many of the same features as other headlamps, it remains unclear what exactly makes it "tactical." Speaking of which…
Are There Other Headlamps Like Tac Lamp?
Whenever you want to find out how much competition a product has, one of the easiest things to do is enter the category into any search engine.
For example, if you type "tactical headlamp," you'll find out that there are hundreds of other headlamps out there claiming to be tactical, some of which feature meaningfully different designs than Tac Lamp.
You'll find even more options if you narrow your term down to "headlamp," or expand it slightly to "camping headlamp."
From a price perspective, you'll find that many of these options tend to fall in the $20 to $40 range, with some going as low as $3 and as high as $90. Comparatively, what will you pay for Tac Lamp by Bell & Howell?
How Much Does Tac Lamp Cost?
One Tac Lamp tactical headlamp is priced at $19.99, plus free shipping. You'll be able to purchase a second headlamp during checkout for an additional $6.95 S&H.
All Tac Lamp purchases come with a 30-day refund policy, less S&H. To request one, customer service can be reached at 866-879-3432.
Does Tac Lamp by Bell & Howell Come With Glowing Reviews?
Considering its middle-of-the-road price, you might expect to encounter a lot of reviews for Tac Lamp. However, it was too new at the time of our research to have garnered any customer feedback.
But earlier, remember when we mentioned that we'd reviewed tactical flashlights before? One of these, TacLight, also comes from Bell & Howell, which had 48 reader reviews and an average rating of 1.9 stars.
Most of these referenced the company's business practices (e.g. ultra-long shipping times, less-than-stellar customer service) and not the product, although several complained that it didn't meet their quality expectations.
A couple other popular Bell & Howell products we've reviewed include microBrite, Solar Charger, and TacLight Lantern, which come with similar ratings and complaints.
Does this mean you're sure to experience any of the same with Tac Lamp? Certainly not. But considering the commonality of many customer complaints about Bell & Howell products, it might be worth keeping in mind.
What's the Bottom Line About Tac Lamp by Bell & Howell?
While there might not be a formal definition or specific set of criteria, for a tactical flashlight, at a minimum we might expect it to be: 1) exceptionally rugged and able to withstand a lot of abuse, and 2) to feature a powerfully bright beam.
While we didn't test Tac Lamp firsthand, based on a lot of customer feedback for Bell & Howell's other products, quality construction may not always be their strong suit. Given this, we'll have to wait for Tac Lamp's feedback to start rolling in to find out whether or not it earns a "rugged" designation.
Perhaps most importantly, though, Tac Lamp's manufacturer doesn't tell us how powerful its beam is (measured in lumens). As a result, there's no way to verify that it's 35x brighter than an average flashlight, or if it puts out enough light to meet any "tactical" designation.
The good news is that if you feel like rolling the dice on Tac Lamp, Bell & Howell seems to stand behind the product with a 30-day refund policy.
Just keep in mind that if you order the BOGO offer, you could lose 50% of your money in non-refundable S&H charges by the time you send them back to the manufacturer.
What did you think of Tac Lamp by Bell & Howell? Do you think it meets the definition of a "tactical" headlamp? Tell us why—or why not—in your review below!
Didn't work right

By Jason S.

,

South Carolina

,

Jun 11, 2019
Verified Reviewer

I bought one and it worked for one battery cycle. When I changed the batteries it wouldn't work again. I tried a few different battery types and it would not work again. I would not recommend it.

Bottom Line: No, I would not recommend this to a friend

---

2 out 2 people found this review helpful

Tac Lamp

By Ken B.

,

South Florida

,

Oct 13, 2018
Verified Reviewer

I've used two Tac Lamps for about three months. I don't think that Tac Lamp will withstand the ice, hot oil or crash tests, although I have not tried those methods of destruction. What I can attest to, is you get what you pay for. That being said, it is not a bad backup headlamp. It does have a powerful beam and works well so far, but it is made cheaply, and one of the units stopped working after two months. I took it apart and found that one of the wires in the circuitry had come loose at the solder point, so it sits on my workbench awaiting my repair.

Bottom line: if you can get one for less than $15, you'll have a throwdown headlamp. I do plan on getting a couple more.

Bottom Line: Yes, I would recommend this to a friend

---

Advertisement

---