Tac Zoom Reviews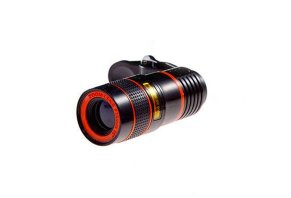 With zoom, fisheye, macro, and wide-angle clip-on lenses, Tac Zoom is a smartphone and tablet lens kit that claims to use military-inspired technology.
About Tac Zoom
Featuring the precision and quality of a genuine Bell + Howell lens, Tac Zoom promises to boost the zoom on any size or type of phone or tablet up to 12 times, helping you capture sharp, hi-definition images and video from far away.
Together, the website claims this surveillance technology-inspired lens kit can transform the quality of your sports photography, act as a pair of binoculars while you're in the woods, and even allow you to see the surface of the moon.
But will Tac Zoom really turn your phone into a telephoto camera, as claimed on the website? Even then, does this lens kit have any competition? If so, how do they compare and what criteria can you use to make a decision?
Here, we'll walk you through all the important aspects, starting with a couple of quick and easy underlying principles.
How Do Lens Kits Like Tac Zoom Work?
Writing for ExplainThatStuff, Chris Woodford reports that, like film cameras, digital cameras—including those built into late-model smartphones and tablets—work by opening an aperture and allowing light to shine through.
Unlike with traditional models that imprint the image on physical film, though, this light is transformed into millions of individual pixels, which are stored as a long string of numbers. But not all digital cameras are the same.
For example, one important difference between the cameras found in phones and standalone digital models is that, with the latter, users can often utilize interchangeable lenses for different effects. With smartphones and tablets, however, users are more often than not limited to their built-in lenses.
This is where kits like Tac Zoom enter the picture. While they don't change how your smartphone or tablet processes or stores an image, they do change how light enters your lens, allowing you to mimic effects commonly available only on standalone models with interchangeable lenses.
Given these details, is there anything unique about Tac Zoom that makes it more worthy of your money than competitors? We'll get there in just a second, but let's first quickly discuss price.
How Much Does Tac Zoom Cost?
Tac Zoom is priced at $19.99, plus free S&H. During checkout, you'll be able to purchase three bonus lenses for an additional $6.95 fee, which include:
Micro – Allows you to clearly see close-up details.
Wide-angle – Capture large scenes.
Fisheye – An ultra-wide lens with a spherical view.
Whether or not you choose to purchase these additional lenses, all Tac Zoom orders come with a 30-day money back guarantee, less S&H. In order to request one, customer support can be reached at 866-587-1042.
Tac Zoom vs. Other Phone & Tablet Lens Kits: How to Choose
When we typed the phrases "phone lens attachment" into Google, we received thousands of relevant results during our research, most of which were priced between $10 and $30. Some of these were standalone zoom lenses, while many others also included micro, fisheye, and wide-angle attachments like Tac Zoom.
That's certainly a lot of options and price points. How can you cut through all the marketing hype to find a lens kit that meets your needs and your budget?
Macworld's Ted Landau advises that "There is no single answer to this question: It varies, depending on your photographic demands and tolerance for added inconvenience." What does he mean?
Keep Realistic Expectations
First, it's important to keep your expectations realistic, since you'll likely lose some image quality using one of these clip-on lenses. Answering a question on Quora, long-time photography hobbyist Clendon Gibson puts it this way:
"All of these will degrade the image a little because you are putting extra glass in front of your lens. The kits you get for ~$20 are not going to be high-grade glass, so that goes into your consideration as well."
However, returning to the point about photographic demands, he emphasizes, "Of course, you may not notice the effect unless you know what to look for. So, don't be put off cheap lenses just because they are cheap. If they do the job you want them to do, then great."
And there's no specific definition for a telephoto lens, other than one that enlarges a distant image. As such, while these types of lenses might help you take less pixilated close-ups, if you're expecting to take professional quality pictures from hundreds of yards away, you might end up disappointed with the results.
The Convenience Factor
Next, most clip-on lenses are manufacturer and model-specific, designed to maximize image quality while causing minimal interference (such as covering the flash). But as a one-size-fits-all model, keep in mind that Tac Zoom might not represent an ideal fit, depending on your specific smartphone or tablet.
Another convenience factor to consider is that, whether or not they're designed for a specific model, the vast majority of clip-on lenses are not compatible with aftermarket cases. As a result, you'll almost certainly need to remove yours before attaching Tac Zoom, and then replace it after use (obviously, this could greatly impact how quickly you're able to catch a last-second shot).
A Note About High-Definition
Finally, during your research, you'll frequently encounter claims that these lenses will help you capture high-definition images.
But remember the pixels we discussed earlier? The greater number of pixels in an image, the greater its quality, which is something that's determined by the camera's light sensor (among other factors)—not by the clip-on lens you're using. So, if you're not starting with an HD camera, these lenses won't transform your phone into one.
In fact, as we just learned from hobbyist Clendon Gibson, even if your camera already features high-definition capabilities, these clip-on lenses are frequently reported to decrease overall image quality.
How does all of this line up for Tac Zoom?
Bottom Line On Tac Zoom
At $26.94, including the three bonuses, Tac Zoom seems to offer some of the most in-demand clip-on smartphone and tablet lenses (zoom, fisheye, macro, and wide-angle) at a competitive price.
Further, as a company, Bell & Howell has released many popular products over the years, including recent options like TacLight, microBrite, and Solar Charger, all of which they stand behind with a 30-day refund policy.
This is especially positive in the case of Tac Zoom, as you can't try the lens kit before you buy, so you won't know if it meets your photography and convenience needs as outlined above—before handing over your hard-earned money.
Just remember that if you choose to place an order and end up dissatisfied, you'll lose any fees associated with the three bonus lenses, as well as whatever it'll cost to ship the products back to the manufacturer, which could vary greatly depending on your location.
6 out 7 people found this review helpful

Your credit card number

By Wilson I.

,

Edmonton, Alberta, Canada

,

Dec 10, 2018
Verified Reviewer

Don't read the website, most important is your credit card number, once you disclose your credit card number, you will get a charge even if you did not agree to the order. The website information is mislead. Shipping policy is different to the website. The customer service cannot provide a solution. This company, I can't trust them, especially their website.

Bottom Line: No, I would not recommend this to a friend

---

Advertisement

---