TacLight by Bell & Howell Reviews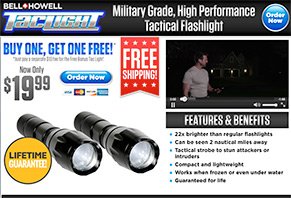 Constructed of aircraft-grade aluminum, TacLight by Bell & Howell is a tactical flashlight useful in many situations, including hunting, camping, and more.
About TacLight by Bell & Howell
It's true that you can't have too many flashlights around, since they come in handy in so many situations. The problem is that most flashlights aren't built to withstand regular use, often leaving you with a broken product that's a waste of money.
Not with TacLight by Bell & Howell, though. The company claims that this tactical flashlight is similar to those used by "elite military units," featuring a compact and lightweight design, along with key features like a knurling surface and strike ring for good grip, tail tap switch, aircraft grade aluminum casing, precision optics, and five preset modes.
The TacLight is so strong that it promises to work when frozen in ice, and even when sitting in boiling water. Not only this, but TacLight vows to be 22X brighter than regular flashlights, capable of being seen from up to two nautical miles away, and its bulb will last up to 100,000 hours!
Reading all of this, is seems like Bell & Howell's TacLight might come in handy in a lot of instances, including camping, hunting, emergency situations, and more. But is it necessarily a unique product? Will it provide a solid level of value? Let's start answering your questions by addressing tactical flashlights in general.
What Is a Tactical Flashlight? What Makes a Good One?
As the name implies, a tactical flashlight is generally intended to be used in tactical situations; e.g. during an emergency where your life might be in danger. Due to their compact design and bright output, tactical flashlights are designed to be used alongside firearms, allowing you to quickly sweep an area and check for combatants, and to blind/stun one if encountered.
According to Popular Mechanics though, a tactical flashlight is just as much about light and hardware quality as it is about brightness:
"Compared to conventional flashlights, tactical lights deliver more light from a more compact, lighter package. A conventional flashlight with two D batteries and a standard bulb puts out about 15 to 20 lumens. A tactical light cranks out a minimum of 60 lumens of solid beam with no holes or dark spots." Note: In some instances, tactical flashlights can put out 1,000+ lumens.

Tactical lights get their blinding ability from a high-pressure xenon-filled bulb with a tungsten filament. Power comes from a pair of 3-volt AA lithium batteries instead of conventional 1.5-volt cells. … The 6 volts of juice burns the filament hotter and whiter than that in a conventional flashlight."
To this extent, it is not known how many lumens TacLight puts out, what kind of bulb it features, or what kind of batteries it uses.
We are told that TacLight's bulb can last up to 100,000 hours, although this is generally the standard run time for most LED bulbs, and doesn't appear to be unique to TacLight.
Bell & Howell's TacLight vs. Other Tactical Flashlights
Comparatively, if you shop for tactical flashlights online, you'll generally find that all of these specifications are clearly listed. After all, they're the primary criteria when shopping for tactical flashlights.
You'll also find overall dimensions, weight, whether or not they can be attached to a weapon, product certifications (if any), primary material, and country of origin.
Now, the one area where TacLight stacks up well against the competition is price. But does this mean it's a good value?
How Much Does TacLight Cost?
One Bell & Howell TacLight is priced at $19.99 plus free S&H. During checkout, you can order a second flashlight for an additional $10 S&H.
Regardless of how many your order, Bell & Howell offers a 30-day refund policy and lifetime guarantee on all TacLights, less S&H charges. If you ordered the BOGO offer, this means you'll end up losing more in S&H charges than you'll get back as a refund.
Still want to request a refund? You'll need to call customer service at 877-415-4824.
​TacLight by Bell & Howell Test
We thoroughly tested the Bell & Howell's TacLight to see if it delivers on its claims. To find out everything we experienced, be sure to watch the video below:
For more product tests and shopping tips: Click here to subscribe to HighYa's YouTube channel.
Is Bell & Howell's TacLight Your Best Option?
Based on the pictures on their website, TacLight seems to look the part when it comes to tactical flashlight design. But as we outlined above, a true tactical flashlight is also defined by high quality and feature set.
Also, while it might look similar to flashlights used by "elite military units," the company doesn't provide any evidence that TacLight—specifically—is used by the military, law enforcement, or fire rescue. And other than "regular flashlights," it's uncertain what TacLight is 22X brighter than.
Nick Bolton? He seems to be a fairly well-known fitness model, and doesn't appear to have served in the military or have personally used TacLight.
Admittedly, it might seem like we're coming down a little hard on TacLight, but our goal is to make sure you have a complete picture of any product before handing over your hard-earned money, including any potential concerns. Given this, we're definitely not saying that TacLight isn't a quality product or that you shouldn't purchase one—only that, just because TacLight is priced lower than much of the competition, this doesn't necessarily mean it'll provide a better value.
On top of this, when you add TacLight's steep, non-refundable S&H charges to the mix, it might make sense to weigh all your options before placing an order.
---
TacLight.com TV offer is a scam

By Jim Orr

,

Duluth, GA

,

Jun 9, 2016
Verified Reviewer

Overall Experience:

I logged onto the web site as given in the TV commercial and ordered my TacLight. I even ordered two of them. After entering my CC information, they hit you with the message that MOST customers upgrade to their brighter flashlight - 32 times brighter than the regulate TacLight - and it shows the flashlight illuminating a house as in the TV commercial. I thought I had just bought that intense flashlight shown on TV.

So they show the bright illumination, then get you to pay for a TacLight, then try to get $10 for each out of you to get the flashlight they show on the commercial. I did not confirm my order and left the site, only to find that they sent me an order confirmation for the lower quality light. I find this to be very dishonest and I will contest the charge on my credit card. I will call the toll free number to try to get my order canceled first. Is this what they call bait and switch? Could this be a punitive situation?

Is it legal? I don't know - but it is not an honest way to do business.

Bottom Line: No, I would not recommend this to a friend

---

Something's not right about this…

By Elwood Wagg

,

Welland, Ontario, Canada

,

Jun 20, 2016
Verified Reviewer

Overall Experience:

I ordered this product from their website and the order was confirmed and credit card was charged. That was well over a month ago and there's still no Tac Light that has arrived. And to top it all off, you can't even check the status of your order or contact the seller.

Bottom Line: No, I would not recommend this to a friend

---

Advertisement

---

Scam or not?

By SM

,

New York

,

Jun 27, 2016
Verified Reviewer

Overall Experience:

I ordered this as a father's day gift for my brother on June 3 (had it sent directly to him in Florida) only to find out when talking to him on father's day that he never received anything from me. While trying to track my order, I discovered that the order number they sent me in a confirmation email did not access my order. After trying every option to track, I finally found the information about my order and under status it indicated that the item was "Temporarily Out of Stock" and that was updated on June 4.

I never received any email notifying me that it was out of stock or I would have canceled the order and purchased something else. When I called customer service today, I was advised that it should be received in 5-7 business days. I asked when it was sent and "conveniently" she said yesterday June 19.

I did not feel confident that the customer service rep that I spoke with was being honest about it being sent out yesterday, so I called back. Then I got the truth that it had NOT been sent yet, that they were on back order and were just starting to get availability to begin shipping again. The second person I spoke with also apologized for me not receiving an email advising me that they were on back order to begin with. I ended up canceling the order and will find something else to purchase instead!

Bottom Line: No, I would not recommend this to a friend

---

Scam

Missouri

,

Jul 6, 2016
Verified Reviewer

Overall Experience:

I ordered two TacLights over a month ago and my card was charged. So when I called customer service today to find out where they were, not only was the lady extremely rude and said they were out, but then had the nerve to call me an idiot! They have also blocked my number so I can't call back. I will be publishing this all over social media.

Bottom Line: No, I would not recommend this to a friend

---

Advertisement

---

Far too late to cry.

By Eugene

,

San Antonio,Tx

,

Jul 8, 2016
Verified Reviewer

Overall Experience:

Ordered Taclight, still waiting for email tracking also. My son purchased a Coast flashlight for me and it's one hell of a light. It can completely light up a dark room. Try Coast instead. Does all Taclight claims it can do.

Bottom Line: No, I would not recommend this to a friend

---

Still Waiting

By Rhonda

,

Jackson, AL

,

Jul 11, 2016
Verified Reviewer

Overall Experience:

Ordered two weeks ago. My debit card was not charged until now, when I received an email saying it shipped via DHL and to allow (another) 2-4 weeks for delivery. There is no way to check the status of your order online. The website is very pushy with add-on options. I did opt for the 2nd light for $10 and my card was correctly charged a total of 29.99. I wish I had seen these reviews before ordering. I never order from TV ads, because I am skeptical of their often outrageous claims. I am interested to see the quality of the product, in light of the sketchy purchase process.

Bottom Line: No, I would not recommend this to a friend

---

This advertisement is a total scam and took me for over $35.00!

Boca Raton, FL

,

Jul 12, 2016
Verified Reviewer

Overall Experience:

I ordered two TacLight units plus extra batteries on 6/20/16. I was told that it would take 7 to 10 days to receive. It has now been over two weeks and still nothing. There stole over $35.00 from me.

Bottom Line: No, I would not recommend this to a friend

---

Do not order

By Therese

,

Jul 13, 2016
Verified Reviewer

Overall Experience:

I placed my order early June. As of July 5th, I still haven't received the Tac Lights. I'm giving it until Friday, then calling my credit card company to reverse the charge. You can't even call to cancel, as you're not provided with a number for customer service.

I do not recommend ordering.

Bottom Line: No, I would not recommend this to a friend

---

Have not received it yet.

By Earnley Payne

,

King George, VA

,

Jul 13, 2016
Verified Reviewer

Overall Experience:

I went online and ordered it from the ad on TV and have never received it to this date. Now I cannot find the website that I ordered it from nor have I seen the ad again on TV. If some one has the contact information or the web site, I would be very thankful for the information.

Bottom Line: No, I would not recommend this to a friend

---

Overall Experience:

I ordered the flash light and did the upgrade, paid with my credit card, and never got them. I don't even know where to call. Its' been 6 weeks. Do not order from them.

Bottom Line: No, I would not recommend this to a friend

---

Overall Experience:

I placed an order on May 19, 2016 and haven't received any product or any notification yet. The order cost me $53.99.

Bottom Line: No, I would not recommend this to a friend

---