TacLight Lantern by Bell & Howell Reviews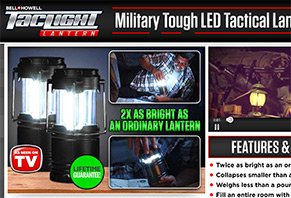 TacLight Lantern by Bell & Howell weighs less than a pound, collapses to the size of a smartphone, features super-bright LEDs, and can withstand extreme temps.
About TacLight Lantern by Bell & Howell
The TacLight Lantern by Bell & Howell promises to deliver twice as much brightness as an ordinary lantern; so bright, fact, that it can be seen up to two nautical miles away.
On top of this, we're told that the TacLight Lantern is "military tough" and built to withstand the elements, including heat resistance, water submersion, and freezing temperatures. In the commercial, it even survived gunfire!
From a size perspective, the Lantern's housing slides, which allows it to collapse down smaller than a smartphone (this sliding action also allows you to adjust the brightness), while bringing total weight in at less than a pound. We're told its genuine Bell + Howell COB LEDs are smaller, brighter, and more energy efficient than regular LEDs, making it ideal for power outages, camping and hunting, working on the car, and more.
TacLight Lantern totally sounds like something that could come in handy in all kinds of situations, right? But before you buy, you want to learn as much as you can. The good news is that if you need information, you've come to the right place!
Are There Any Must-Have Features for Tactical Lanterns?
All of similar flashlights share many of the same features, such as sturdy aluminum housings, multiple modes, and adjustable beams.
But what designates these flashlights as "tactical"? Since they're typically used alongside a firearm to quickly sweep an area and/or stun an attacker, all the features we just discussed might be logical guesses.
But what we've learned during our research is that it's all about the lumens (how light power is measured). At a minimum, to be classified as tactical, a flashlight needs to put out 60 lumens, with no holes or dark spots. Some, however, put out 800 lumens or more.
What's the point? There are two:
Currently, it seems that there isn't a formal "tactical lantern" product category, so we're unsure if what we're seeing here is just marketing hype, or the manufacturing breaking new ground. Either way, there are no standard features for a lantern to be classified as tactical.
Even if we were to use the same specifications found on a tactical flashlight, we're not told how many lumens Bell & Howell's COB LEDs put out. In fact, we're also not told about TacLight Lantern's exterior construction, or if it has multiple modes. We know the brightness can be adjusted, but there's no mention about the beam.
Given all this, we remain unsure what exactly TacLight Lantern's tactical designation is referencing.
Are There Any Other Lights Like TacLight Lantern?
We already mentioned that TacLight Lantern seems to be in a category of its own, but if you're looking for a tough, rugged, take-anywhere flashlight, you certainly have options.
To see what we mean, type the phrase "magnetic lantern," "collapsible lantern," or "survival lantern" into you favorite search engine and you'll find plenty of other lanterns that might deliver the same ruggedness as TacLight Lantern. Obviously, none of these will be designed identically or deliver all the same features in one package, but the point is you have options.
What about from a price perspective?
How Much Does TacLight Lantern Cost?
One TacLight Lantern is priced at $19.99 plus free shipping. You'll be able to purchase a second at checkout for an additional $6.95 fee.
All TacLight Lantern orders are automatically upgraded to the deluxe option at no charge, which features a magnetic base for hands-free use.
TacLight Lantern comes with a 30-day refund policy, less S&H, as well as a lifetime guarantee. In order to request one, customer service can be reached at 855-721-3332.
Comparatively, you'll find other lanterns in (more or less) the same category that fall anywhere between $8 and $60 or more.
Is TacLight Lantern by Bell & Howell Right for You?
There are dozens of different personal factors that go into choosing a new lantern, such as:
Are you looking for something small and compact, or bulky and rugged?
Is weight a factor?
Do you need a specific run time? What kind of battery are you interested in?
Is there a certain light output you're looking to achieve? Do you prefer illumination or soft, warm light?
… and many more—none of which can be answered by anyone other than you.
However, although we didn't test TacLight Lantern firsthand, based on the commercial, it appears to be unlike anything else out there. So, if you're a flashlight/lantern aficionado, then this factor alone might make it purchase-worthy.
With this said, we're still not sure exactly how TacLight Lantern is "tactical," other than the fact that it's springboarding off the immense success of the original TacLight. If you feel like giving it a shot (no pun intended) though, you'll get free shipping and a 30-day refund policy if you're not satisfied.
Now Watch: TacLight by Bell & Howell Review
For more product tests: Click here to subscribe to HighYa's YouTube channel.
Not as STRONG as they said

By Gerald C.

,

Massachusetts

,

Mar 9, 2019
Verified Reviewer

I had my lantern hanging, when I was removing it I dropped it onto the concrete floor, the light stayed on shining bright. The problem was when I went to close the lantern it would not seal enough to shut lite off, eventually the batters ran out. I ended out throwing it away.

Bottom Line: No, I would not recommend this to a friend

---

Great during power outage

By John E.

,

North Carolina

,

Nov 13, 2018
Verified Reviewer

We are currently experiencing our second power outage in a month. I have four TacLight Lanterns and they are a godsend. Well worth the purchase price. These would be a smart purchase for anyone.

Bottom Line: Yes, I would recommend this to a friend

---

Advertisement

---

Plastic lantern

I got five of these. They are made of cheap plastic, so be afraid to drop it since it would surely break. I have a different one that looks just like this Bell & Howell and paid $10.00 for it at an RV store. It works just as good. They call this lantern tactical, but I am an 11.5-year veteran and I would not trust this thing in the bush.

Bottom Line: No, I would not recommend this to a friend

---

Lantern DOESN'T shut off at all

By Leo Patrick

,

St. Paul, Alberta, Canada

,

Mar 19, 2018
Verified Reviewer

I got the TacLight and Lantern set as a gift. I don't mind having the TacLight as another light to have around the house. When I installed the batteries into the Lantern, I was looking for a switch to turn off the Lantern. There wasn't one, so I pushed the Lantern head down. That supposedly "turned off" the light but I decided to check in a dark room and low and behold, THE LIGHT WAS STILL ON! What a piece of whatever if you have to unscrew the bottom to take the batteries out to actually turn off the light. I wouldn't waste your time to buy this product, or you will be wasting your money buying lots of batteries to keep it running.

Bottom Line: No, I would not recommend this to a friend

---

Advertisement

---

Cheaters, cheaters, cheaters!

By M Foster

,

Houston, TX

,

Jan 30, 2018
Verified Reviewer

I saw this TV advertisement, but after beginning to purchase, I thought to look at reviews! I DID NOT "submit" the order, spaced back until I got to the customer information, deleted all my personal information and closed out of the site! NOT even 5-10 minutes later, I received an invoice of purchase! One of the reviews said this exact thing happens and they were right! Where they get you is "IF YOU CLICK "PROCESS ORDER" but change your mind, clicking "SUBMIT" doesn't matter at all, you are stuck!

I haven't received it and will try and cancel on Monday. I don't think this is right to not give a customer options to cancel an order or change your mind. If they do this, I can see how the item may not be as advertised! I want my card credited back!

Bottom Line: No, I would not recommend this to a friend

---

Not as rugged as advertised

I received a Bell and Howell tactical lantern as a gift. I used it at my cabin quite often, and it does give off a decent amount of light. It's lightweight and compact. My problem with it is it's not as rugged as advertised. I dropped it by accident, a distance of six feet on a concrete floor, but with a rug. The slide action got tweaked and would not close all the way. Hence, the batteries would run dead because it wouldn't completely shut off. I felt a little ripped off since the commercial says it's so rugged. NOT.

Bottom Line: No, I would not recommend this to a friend

---

TV commercial sucks you in to a vortex of hyping more products

I responded to the TV commercial for the B&H TacLight. One is provided with an 800 number that, when used, leads to the robo-operator getting the caller's credit card info before getting what you called for. That should have been my first clue.

After that, I was treated (or more accurately MIStreated) to several minutes of hype on different amounts of the product all the way to vacation offers. Never did I get a chance to interrupt or even confirm the order along the way. After several minutes of this garbage, I wanted to cancel what I'd already said "yes" to, but I didn't have a way to do that.

I've searched online for a customer service number to call, and guess what? I haven't found one. I sure wished I'd done more research on this one, but it's turned me off of falling for TV commercials for life! I was never given an order number, and I'm hoping they weren't lying about sending something to my email address. So far, that hasn't happened either.

Bottom Line: No, I would not recommend this to a friend

---

Never received my product.

Troy, IL

,

Dec 11, 2017
Verified Reviewer

I never received my products. It said they were shipped and delivered, and nothing. I am home all day and no delivery was made. I wish I would have read the reviews before ordering. No way to contact the company. I just want my money refunded but, there is no place to contact the company directly.

Bottom Line: No, I would not recommend this to a friend

---

Bad quality product

The lighting on this product is really terrible; it is no brighter than a candle. Save your money, the product is not worth wasting your money on. I bought 5 and am sorry I threw my money away like that.

Bottom Line: No, I would not recommend this to a friend

---

Damaged lantern - no return instructions

Dewey, AZ

,

Sep 21, 2017
Verified Reviewer

The two lanterns arrived today; one was intact, the second one was broken. No return instructions or packing slip was included with the lanterns.

What am I supposed to do with the broken lantern? Where is the contact information, where do I send the broken one? Will they send a replacement?

Bottom Line: No, I would not recommend this to a friend

---

TacLight Lantern

Everyone has their opinion about the TacLight Lantern and no matter what negativity is out there, what satisfies you is what counts. I purchased the lantern a few months ago, and I really like it because it is a handy device to have around the house. It helps me cut down on my electric bill because I use the lantern at night in my bedroom and other areas around the house versus using my house light. My bill was averaging $140.00 per month, and now since I have the TacLight, my bill has decreased to $87.00 per month. A couple of weeks ago we had storms roll through Dallas and lost power, and the TacLight provided us with the light we needed until the power was restored.

The only suggestion I would have for the TacLight is to install a permanent rechargeable battery like cell phones where you can plug it in for recharging. This would be a great improvement and could bring in more willing customers.

Bottom Line: Yes, I would recommend this to a friend

---