Tactical Lighter Reviews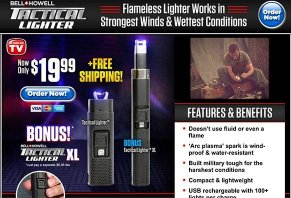 The Tactical Lighter by Bell & Howell is a flameless plasma lighter that claims to be both wind and weatherproof thanks to its rugged construction and electrical design.
What is the Tactical Lighter?
The Tactical Lighter from Bell & Howell is a flameless, USB-powered lighter that claims to be both wind and weatherproof thanks to its "military tough" construction quality. In the product's commercial, we are even shown it being run over by a tank, leaving it unscathed in the process.
The Tactical Lighter's unique benefits center around the arc plasma design, which trades the traditional lighter fluid and flame approach for an electrical charge that is generated at the tip of the product.
In order to fully understand how this device works and what makes it unique, let's quickly take a closer look at how the Tactical Lighter generates an electric current. From there, we'll look at the main benefits of the product, as well as any potential downsides that may come alongside it. Let's dive in!
How the Tactical Lighter's Arc Plasma Works
Instead of lighter fluid, the Tactical Lighter uses an internal, USB-powered battery that can be recharged between uses. The battery­–which lasts about 100 lights per cycle according to the website–provides an electrical charge that is used to power the arc of plasma that is generated between points on the tip of the device. Anything you place between these two points will catch fire, including cigarettes, candle wicks, and whatever else you can fit.
One of the primary claims made by the manufacturer is that the Tactical Lighter works in the windiest, wettest conditions; conditions where conventional lighters would not fare well. This is due to the fact that the electrical arc generated by the device is not able to be "blown out" as a flame can be.
In the product's commercial, the device is also abused in other ways, being frozen in a block of ice and boiled in a pot of water–not to mention the bit with the tank that we touched on earlier. Although we haven't tested it ourselves to confirm, the Tactical lighter certainly seems to live up to its military-grade branding.
In exchange for this level of durability, however, how much will it cost you to get one for yourself?
Tactical Lighter Pricing & Return Policy
The device sells for $19.99 plus S&H. For an additional $9.99, you can add on another lighter plus their Tac Light Flashlight, bringing your total to $29.99 plus S&H.
Shipping and handling are free on all orders, and as for the return policy, the terms state that each order is covered by a 90-day satisfaction guarantee. To process a return anytime within this period, you'll need to reach out to customer service at 1-877-884-8026.
Tactical Lighter vs. The Competition
Though flameless plasma lighters are relatively new to the market, there are already a wide variety of options to choose from online. In fact, performing a simple search on Google or Amazon yields dozens of different results, some of which make very similar claims to the ones made by the makers of the Tactical Lighter.
If you're looking for the best plasma lighter online, keep the following considerations in mind going into your search:
Dual vs. Single Arc Designs
These are the two main types of plasma lighters available, and the differences between them are pretty self-explanatory. One uses a single arc (like the Tactical Lighter), and the other uses two arcs, usually arranged in crisscross fashion. Dual-arc lighters tend to be slightly more powerful according to reviews on Amazon, but the differences between the two are largely cosmetic when it comes to basic usage.
Battery Life
This is a big one, for obvious reasons. When using your plasma lighter, you won't have to worry about running out of lighter fluid, but battery life is still a limiting factor. This is especially true for those looking to use the device while camping or doing other activities in remote places where access to USB power may not be readily available.
The Tactical Lighter states that each charge lasts up to 100 lights, which seems to be the average for most of the devices we encountered during our research. Many products on Amazon listed a 2 to 3-hour recharge time, but when we called Tactical Lighter customer service, we were told that the average recharge time between uses is "about 24 hours." If true, that's certainly something to consider when comparing the product to the competition.
Looks
This probably isn't the most important factor for the majority of users, but seeing as these are meant to last much longer than disposable lighters–and certainly attract more attention–this may be something to consider. Designs range from the more industrial cues found in the Tactical Lighter to a sleeker, more stylized Zippo-style look.
Durability
How durable your lighter is might not be the first thing you think about when you wake up in the morning, but it's still an important consideration to make, especially if you plan to use the device in outdoor settings like camping or hiking.
In this category, the Tactical Lighter seems to have a leg-up on the competition; none of the other products we encountered online claimed to be able to resist freezing, boiling, wet, and windy conditions, and none of the others were run over by a tank–that we know of, anyway!
Cost
For many users, it all boils down to value, and luckily, the Tactical Lighter seems to hold up well in this regard. While all plasma lighters tend to be more expensive than conventional ones, most of the products we found on Amazon and elsewhere online went for anywhere from $15 to $25.
The Bottom Line: Our Verdict on the Tactical Lighter
So, after everything we've learned, will the Tactical Lighter truly live up to its claims in the end? Without testing it out for ourselves, it's difficult to say for certain.
The Good: The Tactical Lighter seems like an extension of a proven design; based on customer feedback on other plasma lighters, we know that these devices work, and the additional ruggedness and durability will certainly appeal to adventure-seekers, survivalists, and candle-lovers alike.
Additional Thoughts: Though the product has many potential strengths, we can also foresee some situations where its plasma-based design may not be ideal, such as when lighting larger objects like pipes, cigars, larger pieces of wood, and more.
At the end of the day, it will be up to you to determine if the higher price of the product (compared to traditional lighters) is worth it for your individual needs.
After all, if all you're looking to do is light some candles around the house, this will probably amount to nothing more than a slightly-more-expensive gimmick, but if you plan to use it in windy, rainy, or rigorous situations, we can certainly see the Tactical Lighter excelling, provided that it works as advertised.
Darn auto firing piece of crap (Giant Tiger)

By William L.

,

Alberta, Canada

,

Oct 28, 2019
Verified Reviewer

I had recently bought 3 Ben + Howell tactical lighters for $5 each, I was happy to see they weren't $19.99 each. Which would have been a big rip off for what I had received. My first one I had opened and was happy to see it came half-charged, BUT! I went outside and lit a cigarette with it and after that it worked twice more then started to make a loud squealing noise when I turned it on for the fourth time it kept going, I put the switch down so I put it back up and it kept going, the handle is really hot so it's on a concrete surface outside in open position lit and the battery percentage light is black and not showing any life but the Arc is still going.

But what do I do about the others? I'm afraid to use another one in case of this happening because it just seems like a safety hazard on how they are designed, pretty crappy and cheap if you ask me, would not buy any more of these.

But they're other products are quality I would reccomend Tac vision or goggles or the flashlight products.

Bottom Line: No, I would not recommend this to a friend

---

Piece of crap

By Kenneth S.

,

California

,

Dec 20, 2018
Verified Reviewer

I bought one of these today at Walmart, liked the long design. It never worked once! Charged for two hours. The red light went off. It was broken right out of the package. Now I have to go through the pain in the butt of standing in an extremely long line to return. Bell & Howell, you suck. I will never buy a product from you again. And again, thanks, the lighter never worked once.

Bottom Line: No, I would not recommend this to a friend

---

Advertisement

---

Don't buy, fraud, and sold at Giant Tiger

I bought mine at Giant Tiger and charged it for two hours. It didn't work. I charged it for two days and it didn't work, but it did drain my charge box. My question is, where is the power going? And this site is stupid for asking me to have at least 180 characters.

Bottom Line: No, I would not recommend this to a friend

---

Does not last past a month

By Paul J.

,

Cambridge Bay, Nunavut, Canada

,

Sep 30, 2018
Verified Reviewer

Very weak product, not durable in the least. Mine stopped working within a month. I did not drop the product, it just stopped working. I can't believe it is legal to sell this kind of product. Really bad.

Bottom Line: No, I would not recommend this to a friend

---

Advertisement

---

Love it

By Randall P.

,

Runnells, IA

,

Aug 12, 2018
Verified Reviewer

Works great! Very dependable. I got it as a birthday present. Only charged for a couple of hours. Fits cell phone charger. GF found it at a store for sale. Only used to light cigarettes. I work outside, so it is great on windy days.

Bottom Line: Yes, I would recommend this to a friend

---

It's a scam

By Barry K.

,

Oshawa, Ontario, Canada

,

Aug 4, 2018
Verified Reviewer

To whom it may concern, I ordered one of these Tactical Lighters, received it, and it does not charge at all. I received a second one and the same result, it does not charge. I am very dissapointed in this product, a waste of money. I really want my money back now!

Bottom Line: No, I would not recommend this to a friend

---

Warning, do NOT purchase!

By Darren W.

,

Alberta, Canada

,

Jun 21, 2018
Verified Reviewer

It shows it in boiling water, getting out of a lake. Right! It's even still on their site video.

Well, this the one I bought and opened and the instructions say!

WARNING #7 " To Avoid damage to the unit, do NOT place the unit into Water or ANY other liquids."

Watch their video yourself! Warning, do NOT purchase! Not worth one cent.

Bottom Line: No, I would not recommend this to a friend

---

Can't get one!

By David

,

Ruidoso, NM

,

Dec 8, 2017
Verified Reviewer

I ordered it as a present for a friend and extras for my vehicle. That was three weeks ago. I called today to check order status and was told they have not shipped and, in fact, they have not shipped any as they are a "new item." No update, even on a possible shipping date. I was asked if I want to go ahead and take a refund. What's up with this?

Bottom Line: No, I would not recommend this to a friend

---

Distrust

Coleman, TX

,

Nov 27, 2017
Verified Reviewer

This piece of crap never worked. I plugged it in for 2 hours, went to use it, and it never worked. Cheaply made and a waste of $20. It would cost me more to go ship it back, including gas and painkillers for a headache from disappointment, but you live and learn. I guess back to Zippo.

Bottom Line: No, I would not recommend this to a friend

---