TapNCharge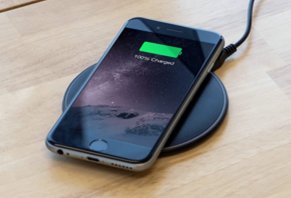 TapNCharge's wireless charging pad uses popular technology to charge your phone without plugging into it. Samsung and iPhone users, however, may find its charging times too slow.
TapNCharge Review: Is It Legit or Just Hype?
The TapNCharge is a wireless charging pad that charges your phone's battery without the hassle of a cord.
If you've used a charging cord for any amount of time, you know how frustrating it can be. Cord connections become loose over time and fall out of your phone easily. If you work in a home office and have a rolling chair, rolling over your cord multiple times can render the cord useless.
Cords are not a permanent or convenient charging solution, and wireless pads like the TapNCharge claim they can solve that problem.
In our review, you'll get a clear sense of TapNCharge's pros and cons, such that you can make a smart buying decision.
How the TapNCharge Works
This pad creates an electromagnetic field that transfers power from the pad to your phone. So, when you place your phone on the pad, it powers up simply by resting on the pad.
The pad itself plugs into a micro-USB cord that plugs into a wall outlet or the USB port on your computer. We suggest plugging this cord into a wall outlet that allows you to hide the cord to protect it from damage or the constant plugging and unplugging.
Doing so protects the cord against the damage that often plagues the charging cords you put into your phone.
The TapNCharge has an LED light that will flash one of three colors, each of which tells you something about the pad's function:
Solid green: Ready to charge
Solid purple or blue: Charging
Flashing purple/blue and green: Phone requires an adapter
Qi Technology and Phone Compatibility
The TapNCharge's technology is called "Qi." TapNCharge's Qi technology can charge phones up to 1 cm away from the charging pad. Not every phone is Qi-compatible, though.
Phones That Are Qi-Compatible
Only Qi-enabled phones can wirelessly charge on the pad. These phones include:
iPhone 8 or newer
HTC Droid DNA
LG G2, G3, G6, G6 Plus
Motorola Droid Maxx, Droid Mini, Droid Turbo, Droid Turbo 2
Samsung Galaxy 6 and newer
TapNCharge's instruction manual indicates that most 2019 phones are Qi-enabled.
Phones That Are Not Qi-Compatible
If your phone is from 2018 or older and not in the above list, there's a good chance it won't be able to charge wirelessly.
In this situation, you'll need to purchase a Qi adapter. This adapter plugs into your phone's charging port, bends behind your phone and sticks to the back of it.
The adapter is thin enough that it shouldn't impede you from putting a case on your phone.
Once you stick the adapter to the phone, you can place the phone on the charging pad just like you would with a Qi-enabled phone.
TapNCharge includes lightning, micro USB or USB C adapter.
Wireless Charging vs. Wired Charging
In general, wireless chargers charge your phone significantly slower than a wired charger. This is because most wireless chargers have much lower power output than a wired charger.
For example, the TapNCharge puts out 5 watts of power, whereas most wired chargers range from 10 watts up to 40 watts.
A 2015 study from Anandtech indicated that wireless chargers could take up to three times as long to charge a Samsung battery when compared to a wired charger.
If you decide to buy a wireless charger, understand that you're sacrificing performance for convenience.
Pricing, Return Policy and Warranty
One charger: $49.99
Two chargers: $92.99
Three chargers: $115.99
Four chargers: $147.99
If you buy one charger, you'll pay $8.95 for shipping. Purchases of two or more chargers include free shipping. It will take up to 30 days for the item to arrive at your address.
Returns
You have 30 days from the day you get your TapNCharge to return it. To make a return, email TapNCharge at support@tapncharge.com and let them know you're making a return.
Then, put your device back in its original packaging and put it in your shipping box along with your original proof of purchase. You'll send the return to the following address: 13507 Van Nuys Blvd., P.O. Box #4701, Pacoima, CA, 91333-7001.
TapNCharge won't approve the refund until they inspect the device. In some cases, they may offer you an exchange or a store credit instead of a refund.
Warranty
You can add lifetime warranty protection to your TapNCharge for $11.60. According to the device's fine print, this warranty covers "defects in materials and workmanship."
For example, if the charging pad's LED light goes out, the cord stops working or the pad no longer charges our phone, you could file a claim.
Negligent use, however, isn't covered. This would include you subjecting the wireless pad to conditions that the device's instruction manual says to avoid: water, smoke, and steam. This would include stepping on the device and cracking it, a pet chewing it up and other scenarios not related to a craftsmanship defect.
Price Comparison of TapNCharge to Other Wireless Chargers
A good way to understand if you're getting value from your wireless charger purchase is to compare it to highly-rated, best-selling ("Amazon's Choice") wireless chargers on Amazon:
TOZO W1 Wireless Charger (7.5W to 10W): $19.99
Yootech Wireless Charger (5W to 10W): $28.99
ZealSound Wireless Charger (5W to 10W): $39.99
The main difference between these three devices and the TapNCharge is wattage. The Amazon chargers can provide more power to charge iPhones (7.5W) and Samsung phones (10W).
If you own an iPhone or a Samsung phone, these chargers may be the better choice for you because they'll charge your phone faster than the TapNCharge. This is a great benefit because it helps you offset some of the tradeoffs of performance for convenience.
The Bottom Line: Is the TapNCharge Right for You?
The TapNCharge's strength is that it uses well-established technology to charge your phone. Qi charging is the industry standard, which is what you want when you're looking for wireless charging options.
In our opinion, this device will work for some people and not for others:
Who It's Good For
Convenience Is Your Top Priority: If your goal is to have the most convenient option for charging your phone regardless of performance, the TapNCharge will meet your needs.

You Have a Cluttered Work Desk: Plugging this wireless charger in behind your desk and placing it in an inconspicuous spot ensures you get the benefit of charging without adding to the mess. Also, when you remove your phone from the charging pad, you don't have to worry about a charging cord falling behind your desk.
Who It's Not Good For
You Charge Your Phone Next to Your Bed: The TapNCharge's LED lights may be a distraction for you or your partner if you're light sleepers or you have a hard time falling asleep.

You Use Your Phone Often: Constantly taking your phone off the TapNCharge will further disrupt an already slower charging process. You would need to leave your phone on the charging pad to use it, whereas a cord would charge your phone faster and allow you to move your phone around during use.

Your Phone Has Poor Battery Life: If your phone's battery drains quickly, you will charge it more often than the average person. The TapNCharge's slow charging times will require you to keep your phone on the pad longer, which can be frustrating.
Worst company ever.

By Kim P.

,

Franklin, TN

,

Mar 23, 2020
Verified Reviewer

I received 3 units. I gave away 2 for Christmas. They never worked. When I sent them back for a refund, TapNCharge said they were damaged. If that's the case, they were damaged when I received them. Oh, and I sent them back within 30 days. So, no refund. Please do not use this company. I don't want anyone to get ripped off like I got ripped off.

If anyone has a lawsuit with this company, please contact me and I will jump on board!

Bottom Line: No, I would not recommend this to a friend

---

Advertisement

---