Tasting Room Reviews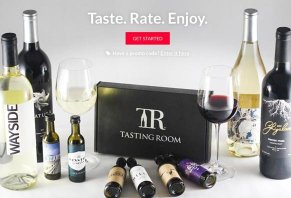 Tasting Room makes wine selection easy by sending you a shipment of wine every two months based on the way you review an initial shipment of six sample-size bottles of wine.
What Is Tasting Room?
Tasting Room is a wine subscription service that sends you 12 bottles every two months.
What makes the service unique is that Tasting Room crafts your wine shipments based on the tasting notes you provide about a 6-bottle tasting shipment they send you when you sign up. While you answer a trio of questions about flavor preferences, it's the tasting flight that really hones their understanding of your tastes.
Tasting Room is the brainchild of Lot 18, a New York-based wine retailer who launched in 2010. According to Lot 18's website, they specialize in offering an "extensive collection of expertly curated wines."
According to the Tasting Room website, all wines you receive in your shipments are available for purchase through Lot 18.
So, is Tasting Room a good wine service that will leave you floating on clouds of vino-induced bliss, or is it just another half-hearted business trying to sell you sour grapes?
We're going to find out the answer to that question by figuring out how Tasting Room works, what kind of wines they offer and what people are saying about them.
How Does Tasting Room Work?
As we mentioned in the introduction, Tasting Room gets a general idea about your flavor preferences by asking you a series of three questions: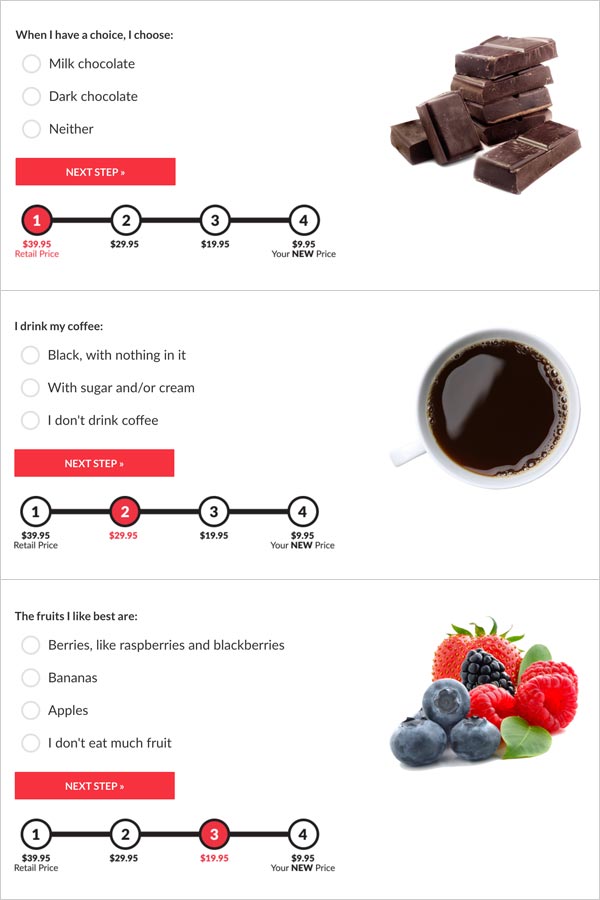 Screenshots of tastingroom.com
These questions are designed to get your basic taste patterns down and pair you with wines you'll most likely enjoy. Once Tasting Room gets your answers, they'll ask you to sign up for their service so you can get your first shipment underway.
Now, remember that the wines you're getting in that first shipment aren't full 750ml bottles, but 187ml bottles known as splits; it's the same size as the little wine bottles you buy on an airplane.
Why the Little Bottles?
This six-bottle tasting flight is meant to be a more in-depth exploration of your flavor profile. Once you finish up with these wines, Tasting Room wants you to rate the wines you sampled.
This step, as we said earlier, is really unique. Tasting Room is able to do this because of a special machine that can move wine from a big bottle to a little one without sacrificing quality.
Here's how they describe the philosophy behind their sample method:
"If we were to ask you which you prefer among Mozart, Bach, Brahms, Beethoven and Wagner, you might struggle to think of each composer's music before telling us which you like. If we were to let you listen to samples of their best work, you'd have an easier time making choices – and wine works in exactly the same way."
After you rate the wines you sampled, Tasting Room generates a "wine profile", which is an explanation of which wines work best for your palate.
Your next shipment of wines will be sent out after you rate your wines and receive your profile. Little bottles these are not – you're getting two, six or 12 750ml-bottles of wine specifically chosen based on your wine profile.
Shipments usually take between two to 10 days to arrive, depending on where you live. Since it's an alcohol shipment, someone who is 21 years or older must sign for the wine when it arrives.
Tasting Room does not ship to Arkansas, Alaska, Hawaii, Kentucky Oklahoma or Utah.
You Can Change Tasting Room's Suggested Wines
Wine's a tricky thing. What one person loves, another person hates. What one person recommends, another person avoids like the plague.
So, let's say you view the wines Tasting Room will ship and you think, "I hate all of these." According to Tasting Room's website, all you have to do is go to your account, view your suggested wines and choose your own combination of bottles.
You Can Get a Credit for Wines You Don't Like
If you aren't happy with some of the wines you drink, you can contact Tasting Room via email.
According to their FAQ's, they'll give you a credit to your account equivalent to the price of the bottle you didn't like.
You also have the option of having Tasting Room send out a replacement bottle of a different kind of wine.
You Can Return a Shipment, But It Will Cost You
Tasting Room allows you to return your shipment on two conditions: None of the bottles can be open and Tasting Room will subtract the cost of shipping from your refund.
If you received a shipment that's damaged, Tasting Room may request a photo of the damage so they can process any exchanges or refunds.
If your shipment is undeliverable or your refuse it, you'll be refunded but will have to pay for the return shipping and a $15 restocking fee.
What Kind of Wines Does Tasting Room Ship?
Tasting Room's wines are chosen from 11 different countries:
The United States
Argentina
Chile
Portugal
Spain
Italy
Germany
France
Australia
New Zealand
South Africa
Tasting Room's members get to choose from at least 66 different wines from these various regions.
Their "Bottle Shop" link includes the wines you can choose. If you click on a particular wine, you'll go to a page devoted to that wine with really helpful information:
Flavor profile: Oak, fruit, acidity, body
Tastes like: Similar fruit/ food/ mineral tastes
Pairings: Foods that pair well
Region: Map of where the wine comes from
In our opinion, these individual pages are very helpful if you want to get to know a wine as you decide what you want to receive in your next shipment.
If you feel overwhelmed by all the wines, you can filter your search by color, country, and variety.
How Good Are Tasting Room's Wines?
So here's the big secret behind wine and wine ratings – sometimes even the experts can't tell the difference between cheap and expensive.
Now, many wine experts have tremendous palates and can point out remote flavors the average person can't. And, for the most part, they can tell the difference between low-grade swill and the good stuff.
However, there've been a considerable amount of studies and anecdotes about how our pre-conceptions of a wine can change our evaluation of it. If you think you're drinking an expensive wine, you're more likely to rate it higher than a wine you think is cheap.
Let's apply this to Tasting Room. They sell you wines you know nothing about until you pay for your first shipment. At that point, you're going to find wines that, most likely, aren't available in your grocery store.
They're "exclusive", in that sense; all you know about these wines is what Tasting Room tells you. So, if they say the wines you're getting are usually $20 but you're getting them for $13 because they've cut out the middle man, you're more likely to think you're getting a good deal.
Also, we've noticed that Winc and Tasting Room emphasize the design aspect of their labels and their packaging. This is another marketing technique that gets you to believe the wine is good because the label is cool.
In this sense, Tasting Room has already won you over. Whether you like the wine or not is a formality – they've already convinced you that you will.
What Other Consumers Are Saying About Tasting Room
During our research for this review, we checked out some of the comments left on a My Subscription Addiction review of a 2013 wine shipment from Tasting Room.
One of the more spirited negative reviews bashed Tasting Room for sending low-quality wines and for charging $9.99 for the wine samples you receive when you sign up. Here's an excerpt from that review:
"I am a member of several high-quality wine clubs and Tasting Room is not one of them. I should've known it was a scam wine club when it was a requirement to pay for the 6 sample bottles. A wine club with confidence in their wines would've provided the sample bottles for free. Not Tasting Room. Well, the wife and I sampled all six bottles and for one of the few times in our lives we completely agreed… They all sucked!"
In our opinion, this review is a little harsh. The emergence of wine-subscription services like Winc and Tasting Room have come about not to cater to wine snobs or connoisseurs, but to provide an easy way for the uninitiated to find their footing in the wine world.
We also believe the comment about the charge for the tasting shipment is unwarranted – that Tasting Room asks you to pay $9.99 for six small bottles isn't a scam.
Rather, it's a simple way for you to hone your tastes without having to buy an entire bottle of wine. And remember, finding the right wine for your tastes isn't an easy task. Bright Cellars and Winc accomplish this through a preliminary quiz; this leaves room for a lot of error.
However, in our opinion, Tasting Room tries to eliminate as much error as possible by calibrating your shipments based on your reviews of actual wine, not just answers to a taste quiz.
The goal here is to get you the wines you like without the hassle. We think Tasting Room takes a smart approach by asking you to review real wines to meet their goal of pairing you with vino you'll like.
Customers Complained About Autoship
Another common complaint we saw was that customers were surprised that Tasting Room sent them a full shipment of wine after they signed up for the tasting shipment.
"Tasting Room gets your credit card info when you sign up for the trial of tiny sample bottles of wine," one reviewer wrote. "You are told you will be offered great deals on wine. You are not told they will autoship it to you."
Tasting Room's FAQ's section, however, is clear about the matter.
"After rating your kit, unless you cancel, you'll receive your first shipment of wine," their Membership FAQ page says. "Your first shipment will be processed as quickly as possible after you rate your kit – typically the following day."
If you don't rate your tasting kit within 30 days, Tasting Room says they'll ship you a case of 12 wines.
In our opinion, you shouldn't sign up for the $9.99 tasting kit unless you want them to ship you a case of wine.
Now, if you get your first case of wine and decide that you'd rather shop at local stores to get your grape on, you can cancel your account by calling Tasting Room between 10 a.m. and 6 p.m. EST, Monday-Friday, at 888-929-2827.
Our Final Thoughts About Tasting Room
As we've mentioned several times in our review, we think that Tasting Room's sample-kit approach to honing your preferences is a novel way to send customers wines they'll like.
However, this method of marketing is tricky because you'll be sent a shipment of wine as soon as you review the samples you received.
This is an important fact to keep in mind, especially if you set your preferences to 12-bottle cases instead of 2-bottle cases or 6-bottle cases. A dozen bottles will set you back at least $150, which would be a very unwelcome surprise if you weren't expecting it.
See Also: Your Ultimate Guide to the World of Discovery Commerce
As for the wines themselves, it's really hard to say if they're worth the price tag Tasting Room puts on them.
Wine is tricky in that a dozen people could have a dozen different opinions about one wine. So, while one Tasting Room customer may love a French red, you might hate it. Keep this in mind as you order from Tasting Room.
Folks looking for a fun, affordable way to find good wine may be disappointed, for example, if they want interesting white wines but only have three or four to choose from at the $13 price point.
If you think Tasting Room is a good fit for you then, in our opinion, you just might be happy with the service. Temper your expectations, though. There is a certain amount of risk involved – you could love all the wines you get or you could despise them.
If you're a little skeptical of Tasting Room, then take a few moments to read through our reviews of Bright Cellars and Winc.
Just like this review, our reviews of those service work through how those services work, what customers are saying about them and other important aspects of their subscriptions.
Should you be in the mood for wine, cheese, and meat, you might be interested in our review of Wine Down, another wine subscription service.
Terrible customer service, and very hard to cancel subscription.

By Chris S.

,

California

,

Jan 22, 2019
Verified Reviewer

So I ordered the "6-bottle" deal and when it came, they were 6 of the smallest bottles you've ever seen, no big deal. So I decided that they weren't for me, so I canceled my subscription. Flash forward a month when my credit card is charged $186.00! Well, I call Tasting Room and they said, "well, your shipment is already sent out, so all you can do is refuse the shipment." So the day comes and the wine never shows up. I call Tasting Room and they tell me that they have proof of delivery and MY signature! Well, I don't live there, my girl does, so there is no way that I signed for it. They tell me that they will not give me a refund and can only send me a replacement.

Stay away!

Bottom Line: No, I would not recommend this to a friend

---

Terrible customer service

By Eric W.

,

Maryland

,

Nov 21, 2018
Verified Reviewer

After being members for over a year, we received a terrible, dusty, beat-up box of wine. I wrote them before touching the wine that this was some old returned shipment. They swore it was not. But each and every bottle opened tasted like vinegar. It was disgusting. And their customer service is terrible. They don't refund or do anything to make you happy. I will continue to try to find ways to actually review this - because it's actually hard to get a review out on these clubs. Don't waste your money!

Bottom Line: No, I would not recommend this to a friend

---

Advertisement

---

Not a decent bottle in the lot

By Valerie M.

,

Camas, WA

,

Sep 10, 2018
Verified Reviewer

I was hoping to fill my wine cellar up a bit through Tasting Room as the concept sounds good, right? Unfortunately, the wines they sent in the kit were all pretty bad, so I should have known the case sent after would be equally as bad. How is it I can get a great drinkable wine at the grocery store for $10-12 but can't through a wine club? There are too many choices on the shelves, so I tend to buy what I know and was just hoping to find just as good wine in different varieties around this same price point. I am sad to say I didn't find it with the Tasting Room...

Bottom Line: No, I would not recommend this to a friend

---

Not good

By John P.

,

Nevada

,

Jun 29, 2018
Verified Reviewer

I signed in because they stated they would send me "free" samples. The "free" samples cost $10.77, they are only 50ml each, not enough to make a decision. However, they wanted me to sign in to PayPal.

Four weeks later they sent a case of wine that I did NOT WANT!

If you try to return the shipment, they will charge you for "restocking and their shipping." So you'll be out over half of the cost. Total cost was $184.00, which is over $15 a bottle.

Some of their wine is just ok, but I do not like white wine! Most of it is CHEAP WINE! With plastic corks. They must get great deals on wine that won't sell. White wine should be consumed within two years of vintage. If you buy a bottle of Chardonnay 1956, you are a FOOL!

Do not do business with these people!

Bottom Line: No, I would not recommend this to a friend

---

Advertisement

---