Tasty One Top Reviews
Claimed This company has claimed this profile, is getting alerted on any new customer reviews entering this page, and may engage in dialogue with its customers to address their matters.

Companies cannot pay money or provide goods in order to remove or alter customer reviews.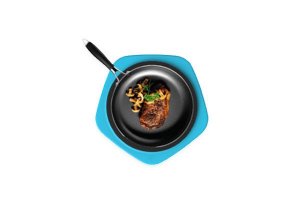 The Tasty One Top is a smart induction cooking surface capable of syncing to the Tasty mobile app to provide step-by-step cooking for over 1,700 recipes.
What is the Tasty One Top?
Calling itself the most versatile appliance in your kitchen, the Tasty One Top is a smart induction cooktop that aims to make cooking a more streamlined experience with features designed to take the guesswork out of preparing your favorite recipes.
Specifically, the product is designed from the ground up to work with the Tasty iOS app (they mention that an Android OS version is in the works) in order to sync information that will help you prepare your dish to perfection.
The One Top is brought to you by BuzzFeed Product Labs, the social news juggernaut's consumer product-focused initiative, in collaboration with GE Appliance's FirstBuild. It features a hexagonal design ("Because Instagram," as the company puts it) and works with all compatible pots and pans. Pro tip: To see if yours will work, stick a magnet to the bottom and see if it holds easily. If it does, you're good to go.
This is because the One Top relies on a cooking method called induction cooking, which uses electromagnetic fields to heat the pot or pan you are cooking with directly, instead of the cooktop itself.
The device combines this functionality with a precision thermometer that they say will allow you to have greater control over the way you prepare your meals than ever before.
The device isn't a one-trick pony, however; the makers of the One Top claim that it can handle a variety of different cooking styles, including pan, deep, and stir-fry, as well as slow cooking and even sous vide. That last one is made possible by the device's ability to hold liquid temperature to within one degree of accuracy.
So clearly, there's a lot of appeal here for those looking to break into cooking more at home, especially for those who feel a bit intimidated and overwhelmed by the learning curve often associated with getting great results in the kitchen. With that said, let's take a closer look at what it's actually like to use the product below.
How the Tasty One Top Works
The real value from the Tasty One Top seems to come in when it's used alongside the Tasty mobile app–though it doesn't have to be. Still, the app features some interesting conveniences that seem as though they may genuinely change the way you cook your food.
For instance, let's say you've browsed the Tasty app's impressive collection of over 1,700 recipes, and you've settled on a fantastic-looking steak with sautéed vegetable dish. With a few clicks, you can connect the One Top to your phone via Bluetooth, select the thickness and desired level of doneness for your meat, and boom; the One Top will automatically heat itself to the optimal temperature, alerting you when it's ready to rock.
Meanwhile, the app's innovative "Step-By-Step" mode will guide you through the process of adding the necessary ingredients in, all the while intelligently alerting you to things like "Add in the vegetables" and "Flip the steak now" when it's time to do so.
Finally, using the included internal thermometer, the app will let you know when your meal is cooked to perfection, due to its ability to monitor both the temperature of the meat and that of the pan you are using itself.
The Tasty One Top certainly seems as though the device has potential to help you hone your prowess while learning the art of cooking, but a few additional features included within the device and its companion app make it an even more compelling offer.
For instance, when you've decided on what's for dinner, the app has an "Export Ingredient List" feature that allows you to easily transfer the list to your Notes app, email, or just about anywhere else for convenient shopping.
Don't feel like using a Tasty recipe? No problem; the One Top can be operated manually using the capacitive-touch buttons on the front of the device's engineered crystal glass surface.
Tasty One Top Pricing, Availability and Return Policy
As of this writing, the Tasty One Top was available for pre-order exclusively through its main website. The device was listed at $149.00 when we looked, and included free shipping with a stated delivery of November 2017.
Your credit card will be charged upon checkout. The company also offers a deluxe option including a four-piece Premium Induction Cookware set for $184.00. In either case, the device itself is available in either a blue or black variant.
As for the return policy on the One Top, the FAQ section lists that all orders are covered by a 60-day satisfaction guarantee. If you are returning due to a fault in the product itself, the company will foot the shipping bills, but if you simply find that the One Top isn't for you, you'll be required to pay any fees incurred to get it back to them.
Tasty One Top vs. Other Smart Cooking Devices
The Tasty One Top may look like a completely unique device at first glance, but as usual for innovative products, there are other options to consider elsewhere online. A simple Google search for "smart induction cooktop" reveals several different products, including the Paragon Smart Cooking System and the Hestan Cue Smart Induction Burner.
Amongst these competitors, the One Top stands out for a few specific reasons. For one, though the Hestan Cue does come with its own smart recipe app, it simply can't come close to the Tasty app's variety and brand recognition in terms of the recipes that are provided.
Also, the Cue only allows the use of their own first-party cookware, whereas the One Top (as well as the Paragon) can be used with any induction-compatible pots and pans.
Finally, perhaps the most significant selling point of Tasty's offering is its attractive asking price relative to the competition. Both the Hestan Cue and the Paragon go for $300 and $400, respectively, making the One Top feel like a steal in comparison, especially when framed against the 1,700 recipes included in the mobile app (with more being added daily).
In general, if you are searching for the best induction-style cooktop for your needs, ask yourself the following leading questions in order to help you settle on the right product:
How skilled are you in the kitchen? The Tasty One Top seems to be ideal specifically for those who are still relatively new or inexperienced with cooking at home, though the device can certainly be used by anyone. Meanwhile, the Hestan Cue seems to be targeted towards a more experienced professional, with less of a focus on "done-for-you" features.
Do you love the recipes found on Tasty's social media platforms and app? If you already cook and enjoy these recipes as it stands, it makes sense that getting a product that's specifically designed to prepare them to perfection would be a worthy investment to make.
How much space do you have to work with? We can see the Tasty One Top being ideal for those who live in tight quarters, as its one-size-fits-all construction allows you to cook dishes to perfection–even when there's no stovetop to be found.
The Bottom Line: Will the Tasty One Top Really Make It Easy to Cook All Your Favorite Recipes?
Based on everything that we've learned about the Tasty One Top, we can certainly see how it might be just what those who are new in the kitchen need to build their confidence and learn to become more comfortable cooking in general.
The convenient shopping features and step-by-step cooking instructions provide by the companion app compliment the automated features of the device itself particularly well when used together, and it's clear that this is how the manufacturer intended the product to be used.
We can still see users enjoying the device without using the app, but much of its inherent appeal is lost when you reduce it to "just" an induction cooking surface.
Overall, as consumers ourselves, we're optimistic and excited about the Tasty One Top.
Have you used the Tasty One Top? We want to hear from you! Leave a review below and share your experiences with other HighYa readers.
Tasty One Top - ehh...

By KC

,

Washington DC

,

Mar 12, 2018
Verified Reviewer

So it will not work without an iPhone. It supposedly has manual settings, but those work haphazardly. In addition, most Tasty recipes are written with pre-steps where you have no idea what temp to set the device too. They would have done so much better as too have actual temps plus MEDIUM-HIGH (eye-roll). Avoid and buy a digital model from Amazon.

Bottom Line: No, I would not recommend this to a friend

Mar 15, 2018

Hey KC!

Thanks for your honest feedback and review. I'm sorry your initial experience with Tasty One Top was not a positive one, due to a lack alternative mobile device options and digital capabilities when not using the app. I did want to let you know that you can now use your iPad to cook your favorite One Top meals. To use your iPad with your One Top, just update to the latest version of the Tasty app (1.11 or later).

Unfortunately we don't have any updates in regards to Tasty and Android just yet. But, this is our highest priority right now and we're working on it. We should have an update for you in the coming months, so stay tuned and we'll update you here.

From the limited information you shared, it sounds like you reviewed our Direct Mode help article. Since we measure how much power is being sent to the one top, not specific temperatures we can not give an honest cooking temperature without the usage of the Tasty app. We can only give those estimated ranges such as "Medium-High." We do plan on expanding this chart in the future with examples of foods you can cook at certain power levels.

We appreciate your taking the time to share your thoughts. Please let us know if you have any additional questions or concerns related to using the One Top. You can reach out to us by email at help@tastyshop.com to my attention.

-Matt from Tasty

---

I really like it, but...

By Cole

,

Raleigh, NC

,

Feb 4, 2018
Verified Reviewer

I'm a big fan of the One Top. It's the first induction cooker I've owned, it works well, heats my pots and pans quickly, and looks good in blue. It's worked flawlessly right out of the box, and with the iPhone app, I used the sous vide function to perfectly cook 18 ribeyes for New Years Eve dinner with friends. I have no real complaints about the limited number of recipes because I really just got it to be both an induction cooker and sous vide, I don't much care about the auto-recipe portion.

Now the bad news: The advanced functions of the cooktop ONLY work with the iPhone. Android user? You're screwed for now, even if you have an iPad, as the iPad version of the app also doesn't work with the one top as of this writing. It's been out for some time now, and they still haven't put out a One Top functional Android app, and it's starting to get pretty ridiculous. I was lucky enough that my girlfriend uses an iPhone so that we could test out a lot of the functions, but if she's not home when I want to start something in the sous vide, it's not getting done. This is a huge problem.

Bottom Line: No, I would not recommend this to a friend

Mar 15, 2018

Hey Cole!

Thanks for being a fan of the One Top and for your review! We love to hear that you used the Sous-Vide option. Our chefs have been adding more, and more Sous-Vide recipes lately to encourage our home chefs to try cooking with this method!

We've been hard at work and couldn't be more excited to let you know that you can now use your iPad to cook your favorite One Top meals. To use your iPad with your One Top, just update to the latest version of the Tasty app (1.11 or later). Unfortunately, we don't have any updates in regards to Tasty and Android just yet. But, this is our highest priority right now and we're working on it. We should have an update for you in the coming months, so stay tuned and we'll update you here.

We appreciate your taking the time to share your thoughts and hope the iPad availability is enough to hold you over until the Android app is released. Please let us know if you have any additional questions or concerns related to using the One Top. You can reach out to us by email at help@tastyshop.com to my attention.

- Matt from Tasty

---

Advertisement

---

False advertising

So I pre-ordered two of the One Tops after reading the advertisements.

I'm a kitchen gadget and gizmo junkie, and I really like the option of the temperature probe attached and viewable and controllable via the app.

Well, a few weeks after receiving it I finally had the chance to try it out. I giddily set it on my counter then grabbed my iOS device to download the app in prep for Bluetooth pairing.

Now is where the false advertising comes in. The One Top does not work with the iPad. Rather the app is not compatible for One Top use via iPad.

The manufacturer clearly stated it is only iOS compatible at this time. Nowhere in the advertisement do they state it is only iOS iPhone compatible until you dig thru the troubleshooting page and/or contact customer support.

Since my iOS device is not compatible at this time, I pretty much paid for a hot plate. I can't do precision cooking or Sous vide without a functioning temperature probe.

Very disappointed.

Bottom Line: No, I would not recommend this to a friend

Mar 14, 2018

Hey Tracy!

Thanks for your review and feedback, it is our most valuable tool as we strive to bring the best products into your kitchen. I'm sorry your initial experience with Tasty One Top was not a positive one, due to the iPad app availability and feeling mislead by iOS compatibility. Exposing the One Top to the iPad was one of our top customer requests upon initial launch. Being a gizmo junkie myself, I can see how frustrating that may have been.

We've been hard at work, and couldn't be more excited to let you know that you can now use your iPad to cook your favorite One Top meals. To use your iPad with your One Top, just update to the latest version of the Tasty app (1.11 or later). To update, open the iOS app store and search for "Tasty".

If you have any further questions related to using your One Top on iPad just shoot us an email at help@tastyshop.com. We'd love to help!

Thank you for having us in your kitchen. 

- Matt from Tasty

---

Don't waste your time or money

By Kate P

,

Texas

,

Jan 12, 2018
Verified Reviewer

Like many other people, I was extremely excited when I ordered the Tasty One Top. However, after months of waiting, I was extremely disappointed when the product arrived. Like others said, there are only 20 recipes to choose from that work with the one top, and they are all very basic like grilled chicken breast, steak, and salmon (most of the things which are pretty basic to cook with a simple thermometer and stove top). After digging for more instructions inside the app, I was able to find some misleading FAQs stating that "One Top-friendly" recipes were available in the app, which I couldn't find any of, even after I searched for the specific "One-Top friendly" recipe pictured in the FAQ. Apparently, I could use this with non-One Top recipes, but essentially I would just be cooking with a thermometer.

SO disappointing, and I think many other people will be returning the product as well. Save yourself the frustration and just buy a $10 food thermometer until they figure this out!

Bottom Line: No, I would not recommend this to a friend

Mar 14, 2018

Hi Kate,

Thanks for your review and feedback. I'm sorry your initial experience with Tasty One Top was not a positive one and did not meet your expectations due to the recipe selection.

Since your review was posted we now have 40+ step-by-step recipes specifically designed for the One Top (including new Sous-Vide options!). We're very committed to evolving the One Tops recipe portfolio over time for our customers! Our chefs have largely been focusing on adding basic recipes for everyday use, as well as mixing in more complicated recipes on a weekly basis.

We heard from other users about the inability to find the 100's of One Top Friendly recipes, so the product team worked to make that easier. All these recipes can now be viewed in the One Top tab under the "One Top Friendly" button, or by searching "One Top Friendly" from the discover menu. Just make sure you have updated to the latest version of the Tasty app and you connect to the One Top first.

Please let us know if you have any additional questions or concerns related to using the One Top, just reach out to help@tastyshop.com to my attention and we'd love to help!

-Matt from Tasty

---

Advertisement

---

Excellent on manual mode

Tucson, AZ

,

Jan 9, 2018
Verified Reviewer

I ordered the set ($184), and everything was received as expected. It works great! Good heat distribution and easy to operate.

I enjoy cooking, so I'm not much into "app" cooking; I do my own sautés, etc., thus, no opinion on the app, since I haven't used it.

The pot is a good size, and I enjoy making hot chocolate with it!

Bottom Line: Yes, I would recommend this to a friend

Mar 14, 2018

Hey Arsenio!

Thanks for your review and feedback. We're so glad you're enjoying your experience with the One Top and direct cooking! If you ever decide to give the Tasty app a try and have questions, just shoot us an email to help@tastyshop.com to my attention. We're all ears and would love to help!

We really appreciate you taking the time to provide your review, we'll pass on the good word to the team.

-Matt from Tasty

---

No Android app?

By Susan Gove

,

New Hampshire

,

Jan 9, 2018
Verified Reviewer

I pre-ordered the Tasty One Top and have received it. Now I have found out that the Android version is "forthcoming." I'm a staunch Android user and disappointed that this fact was not emphasized. Does anyone know how long it will be before the Android version is available?

Bottom Line: No, I would not recommend this to a friend

Mar 14, 2018

Hi Susan,

Thanks for your review and feedback. It is our most valuable tool as we strive to bring the best products into your kitchen. I'm sorry your initial experience with Tasty One Top was not a positive one, due to Android app availability. I will pass your feedback on the Android along to our team and appreciate your taking the time to share your thoughts.

Unfortunately, we don't have any updates in regards to Tasty and Android just yet. But, this is our highest priority right now and we're working on it. We should have an update for you in the coming months, so stay tuned and we'll update you here.

Please let us know if you have any additional questions or concerns related to using the One Top, just reach out to help@tastyshop.com to my attention and we'd love to help!

Thanks for having us in your kitchen.

-Matt from Tasty

---

Very disappointing.

I was so excited to get this but have been very let down and disappointed.

As another reviewer mentioned, there are only 20 recipes available.

Secondly, I ordered the cookware set and after only ONE use, the non-stick coating is flaking off of one of the pans, rendering it completely useless.

Also, I used the large pot to make hard boiled eggs, but after 20 minutes the water still hadn't come to a boil. I had to finish the eggs on my regular stove top.

I would return the whole thing or complain, but there is no customer service number listed.

Bottom Line: No, I would not recommend this to a friend

Mar 14, 2018

Hey Deborah,

Thanks for your review and feedback. I'm sorry your initial experience with Tasty One Top was not a positive one. I will pass your feedback along to our team and appreciate your taking the time to share your thoughts.

Since your review was posted we now have 40+ step-by-step recipes specifically designed for the One Top (including new Sous-Vide options!). In addition, there are 100s of original Tasty recipes that use the precision cooking temperatures to get your best results. These original recipes can now all be viewed after connecting to your One Top and selecting the One Top Friendly button on the One Top tab.

On almost all counts, induction cooking on the One Top should be faster than a stove top. The amount of time it takes to heat a pot of water depends on the size and shape of the pot or pan, the amount of food or water, and many other variables. If you continue to have issues heating your pan, we recommend checking that your cookware is induction compatible, and not warped or curved, as that will not heat evenly, and would take longer to heat your pot.

Based on the limited information available to me on HighYa, I am unable to see if you've contacted our support team, but replacing that cookware is something we can definitely help with. Please reach out to help@tastyshop.com to my attention and we'd love to help!

-Matt from Tasty

---

Disappointed in lack of recipes

By Jon S

,

Houston, TX

,

Jan 7, 2018
Verified Reviewer

I received the Tasty One Top as a much anticipated Christmas present. I agree with the reviewer that mentioned we were promised access to over 1700 recipes (presumably all of Tasty's recipes, or at least a large number of them), and only approximately 20 work fully with the device. There are a handful of others that are labeled "One Top Friendly" and work partially with it, but it is a very small handful, and I am unable to count how many because you can't use that tag as metadata to search in the app (even though you can search on other similar tags - e.g. "Under 30 minutes"). Sadly I have not found one thing I was wanting to cook and had the ingredients for, that I was able to cook thus far. I haven't seen any new recipes added yet either (trust me, I've been looking).

Bottom Line: No, I would not recommend this to a friend

Mar 14, 2018

Hi Jon,

Thanks for taking the time to share your feedback and review. It is our most valuable tool, as we strive to bring the best products into your kitchen. Since your review was posted, we now have 40+ step-by-step recipes specifically designed for the One Top (including new Sous-Vide options!). We're very committed to evolving the One Tops recipe portfolio over time for our customers! Our chefs have largely been focusing on adding basic recipes for everyday use, as well as more complicated recipes weekly.

In addition, there are 100s of original Tasty recipes that use the precision cooking temperatures to get your best results. These original recipes can all be viewed by connecting your One Top, then tapping One Top Friendly button in the One Top tab. Just make sure you have updated to the latest version of the Tasty app.

I will pass your feedback along to our team and appreciate your taking the time to share your thoughts in this review. Please let us know if you have any additional questions or concerns related to using the One Top, just shoot us an email at help@tastyshop.com.

Thanks for having us in your kitchen.

-Matt from Tasty

---

Works just as easily as I was expecting

By Joe

,

Jan 2, 2018
Verified Reviewer

I would be giving this a 5/5 rating, but unfortunately, as of 12/29/17, there is no Android App. Once I get that, it will be a 5/5 for sure.

Other than that, this thing is amazing. Easy for someone cooking for one or two most.

Bottom Line: Yes, I would recommend this to a friend

Mar 14, 2018

Hey Joe!

Thanks for your feedback and review. It is our most valuable tool, as we strive to bring the best products into your kitchen. We're so glad you're enjoying your experience with the Tasty One Top. I completely agree with the ease of use when cooking certain items like steaks in my own kitchen.

Unfortunately, we don't have any updates in regards to Tasty and Android just yet. But, this is our highest priority right now and we're working on it. We should have an update for you in the coming months, so stay tuned and we'll update you here.

We appreciate your taking the time to share your thoughts. Please let us know if you have any additional questions or concerns related to using the One Top, just shoot us an email at help@tastyshop.com.

Thanks for having us in your kitchen.

-Matt from Tasty

---

Misleading

I bought a Tasty One as a family Christmas gift because I love Tasty recipes and was thrilled with the idea that this device would help us more easily prepare meals. I read that we'd have access to 1700 recipes.

In reality, once we got it set up and synched, we found there are only 20 recipes available to work with the Tasty One! Only 20! I looked up the Q&A, and it said it would be adding recipes daily, but how long is that going to take? We spent almost $200 for this for only 20 recipes?! I am more than disappointed and I feel that I got ripped off.

Bottom Line: No, I would not recommend this to a friend

Mar 14, 2018

Hi Kimberly,

Thanks for your honest feedback and review. It is our most valuable tool, as we strive to bring the best products into your kitchen. Since your review was posted, we now have 40+ step-by-step recipes specifically designed for the One Top, and we'll continue to add more weekly. We're very committed to evolving the One Tops recipe portfolio over time for our customers! In addition, there are 100's of original Tasty recipes that use the precision cooking temperatures to get your best results. These recipes can all be viewed by tapping One Top Friendly button on the One Top tab. Just make sure you have updated to the latest version of the Tasty app.

I will pass your initial feedback along to our team and appreciate your taking the time to share your thoughts in this review. Please let us know if you have any additional questions or concerns related to using the One Top, just shoot us an email at help@tastyshop.com. We are all ears and would love to help keep you cookin.'

-Matt from Tasty

---

Paid for, have not received cooktop

I purchased in November, and it is two days before Christmas, and the cooktop is nowhere to be seen. I have emailed to complain and was told I would receive a tracking number soon. Again, two days before Christmas, no tracking number and no cooktop. I received the cookware, but without the cooktop they are worthless.

Again, two days before Christmas and my son will not have his gift to open on Christmas morning!

I will never buy from this company again and will be complaining to the BBB, Yelp, and on Facebook!

Bottom Line: No, I would not recommend this to a friend

Mar 14, 2018

Hi Linda,

Thanks for your review and feedback. I'm sorry your initial experience with Tasty One Top was not a positive one, and I understand your frustration with the delays in shipping with the One Top. I will pass your feedback along to our team and appreciate your taking the time to share your thoughts.

Based on the limited information available to me on HighYa, it seems you did end up receiving the One Top prior to Christmas. If you have any more questions or need anything at all, just shoot us an email at help@tastyshop.com - we'd love to help!

-Matt from Tasty

---