Tax Defense Network Reviews
Claimed This company has claimed this profile, is getting alerted on any new customer reviews entering this page, and may engage in dialogue with its customers to address their matters.

Companies cannot pay money or provide goods in order to remove or alter customer reviews.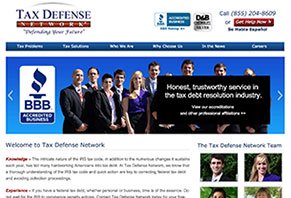 Using a variety of tried-and-true methods, Tax Defense Network may be able to reduce your IRS tax burden, help you pick yourself up, and move on with your life.
About Tax Defense Network
In business since 1997, Tax Defense Network claims to "defend your future" by helping to clear your IRS tax liens, bank levies, and wage garnishments, and can even assist with payroll tax issues, unfiled taxes, and penalties and interest assessed by the IRS.
According to the company, Tax Defense Network assigns each client their very own special "tax force team" and unlike much of the competition, also employs an in-house tax attorney.
As such, Tax Defense Network claims to serve more than 4,000 nationwide taxpayers per month and to have resolved over $125 million in client debts. Because of this, they've received a variety of awards, including a 2014 honoree for the Better Business Bureau's Torch Award for Ethics, as well as #1 Choice for Tax Relief by BestDebtCompanies.com.
If you're being hounded by the IRS to pay back taxes, it can be an immensely stressful situation. After all, it's a very real possibility that you could lose your income, your business, and even your home. But can Tax Defense Network provide some relief? Consider the following:
Tax Defense Network's IRS Solutions
Overall, Tax Defense Network offers 6 primary tax relief solutions:
Installment Agreement – Allows you to make regular payments to the IRS until your debt is paid in full, which is often based on "the taxpayer's income, allowable monthly expenses, and the time remaining in their Statute of Limitations." According to Tax Defense Network though, any installments will come with penalties and interest.
Offer in Compromise – If the IRS may not be able to recoup the full debt based on the Statute of Limitations, whether or not an individual owes the debt, or because "unfair or inequitable" financial hardship, they may agree to settle the debt for less than the amount owed.
Penalty Abatement – Similar to an Offer in Compromise. Although with a Penalty Abatement, the IRS only waives some or all of the penalties associated with the debt. In order to qualify, you'll need to show reasonable cause, such as death of a family member, serious health problem, lost or destroyed records, and more.
Innocent Spouse Relief – If a spouse did not know "there was an understatement of taxes," if all of the liability can be assigned to the spouse, and "It would be unjust to hold the innocent spouse responsible for the actions of the liable spouse," you may qualify for Innocent Spouse Relief.
Currently Not Collectible – If you're experiencing economic hardship and cannot pay your outstanding tax debt, you may qualify for a temporary halt in collections. However, once the IRS sees that your economic situation has improved (e.g. returning to work, recovering from an illness, etc.), then they will likely resume their collection attempts.
What is Tax Defense Network's FIRE & ICE Philosophy?
According to Tax Defense Network, they utilize a FIRE & ICE philosophy for each one of their clients. This means that you'll be Fully Informed with Realistic Expectations, without any exaggerated claims.
In addition, the company claims to be focused on providing an Ideal Client Experience, which involves no retainer fees, an excellent refund policy (more about this in the Pricing section), and a no-pressure agreement.
Tax Relief Network's Gold Star Client Care
In addition to their FIRE & ICE philosophy, Tax Defense Network also claims to employ a Gold Star Client Care department that ensures their clients "are always receiving superior service," and to "help address any concerns our clients may have when going through the sometimes difficult tax resolution process. These concerns are studied and analyzed, and the solutions formulated are passed on to all client-facing departments to prevent the same problems and concerns for future clients."
Other Tax Relief Options
Finally, keep in mind that when it comes to IRS tax relief companies, you have a wide variety from which to choose, including 911 Tax Relief. To see for yourself, simply type "tax relief" into your favorite search engine.
You can also read through ConsumerAffairs's Tax Relief Services Comparison for a quick and easy guide that can point you in the right direction.
Can You Believe All the Customer Reviews for Tax Defense Network?
At the time of our research, there were 42 customer complaints for Tax Defense Network on PissedConsumer, most of which appeared to reference a lot of money paid for very few services, as well as a high employee turnover rate (case would be constantly transferred to different people within the company). However, Tax Defense Network claims that many of these negative reviews are fake.
There were also 53 customer reviews on TrustPilot, with an average rating of 9.4 stars. There, common compliments revolved around success dealing with the IRS, courteous and helpful staff, and speedy results.
Tax Defense Network LLC is based out of Jacksonville, FL and held an A+ rating with the Better Business Bureau, with 45 closed complaints as of 5/29/15. Overwhelmingly, the most common complaint was failure to resolve tax issues.
There were also 854 customer reviews for Tax Defense Network on the BBB website, 845 of which were positive. Of the negative reviews, the most common cited low value for the money and failure to resolve tax issues.
Tax Defense Network Pricing & Refund Policy
The fees Tax Defense Network will charge for their services depends on a variety of factors, especially your overall tax burden. With this said, most of the online customer reviews that referenced pricing claimed that Tax Defense Network typically charged between $1,000 and $4,000 for their services.
Despite claiming to provide "an excellent refund policy" on their FIRE & ICE Philosophy page, there wasn't any additional information available on the Tax Defense Network website. In order to clarify, we contacted a service representative through live chat, who wasn't able to provide any additional details.
With this said, in order to ask questions of find out how much your tax relief will cost, you can contact Tax Defense Network at (855) 204-8609.
Can Tax Defense Network Solve Your IRS Problems?
Chopping to the point: Ultimately, the potential solutions offered by Tax Defense Network and the overall outcome is highly dependent on your specific circumstances. As such, while one person may have great success, another may not.
With this said, Tax Defense Network appears to have a primarily positive online customer reputation, and their website provides a good deal of usable information you can utilize to make your decision.
However, with some many IRS tax relief companies out there, you'll definitely want to do your research before deciding on Tax Defense Network.
---
Fraud and very bad customer service

Overall Experience:

Folks STAY AWAY from this company, they are a definite fraud. I have initiated a tax case with these people in September 9, 2019. First they tried to get me to obtain a loan of $6K to pay for their services upfront at an interest rate of 14 percent through one of their 3rd party vendors. I set up a payment plan instead. Well, $2K invested and 8 months later, these people have accomplished absolutely nothing, multiple analysts (Siedah Lake, Ryan Godwin, Tracy Montero) rotated in and out, calls and emails provided no substantive information from the day the case was intimated. After about 4 months in calls and emails were not returned at all, no way to check the status of your case online through their website. This will not be the last review I post. I will also set up a case with BBB, I will do everything in my power to take down this fraudulent company to ensure no one else gets ripped off.

Bottom Line: No, I would not recommend this to a friend

---

Scam

By Lauren K.

,

Largo, FL

,

Jan 8, 2020
Verified Reviewer

Overall Experience:

Their behavior is fraudulent. I canceled service almost four months ago and they have recently taken $810 from my checking account. They admitted to the error with a lousy excuse - but does not make up for bank overdraft fees. Terrible customer service, beware!

Bottom Line: No, I would not recommend this to a friend

---

Advertisement

---

Very unsatisfied

By Paulo R.

,

Florida

,

Oct 10, 2019
Verified Reviewer

Overall Experience:

They promised to stop collection by the IRS. Four months later it has not stopped until I got a new attorney.

I did not agree with their calculation of ability to pay. If I did, I would be paying the same amount as what the IRS was collecting.

I got a new attorney and the collection stopped right away and we agreed with the ability to pay calculation.

Bottom Line: No, I would not recommend this to a friend

---

DO NOT USE THEM

By Tim G.

,

California

,

Aug 6, 2019
Verified Reviewer

Overall Experience:

I was just handed another tax collection from the state that was supposedly taken care of according to the Tax Defense Network.

You cannot trust them, use a local company who has an office you can walk into.

Bottom Line: No, I would not recommend this to a friend

---

Advertisement

---

Simply not satisfied

By Lois R.

,

Texas

,

Jun 24, 2019
Verified Reviewer

Overall Experience:

This was our second year dealing with this company. The first we used them, it was ok even though we felt like their price was very expensive. They talked nice/friendly so I signed up another year. That was a mistake. I called several times to follow up on what was going on and asked for my case worker to return my call. She never did. When I call and complained, they would just switch me over to another caseworker that didn't return calls either.

My main problem is they sure suck the bank draft out on time but they don't have time for the customer. In my opinion, they have been extremely poor.

I asked my caseworker if she can email me something to follow it up with a phone call. She never did. I was told they would contact me on a certain day but they wouldn't.

I'm writing this review in the hope no one will have to go thru this. I don't feel that I got my money's worth. Something needs to be done about this company. The rating you see online is not what you get. I don't see how they can maintain good standing with BBB.

Whoever reads this review, please don't be fooled like I was. To me, they are a scam.

Bottom Line: No, I would not recommend this to a friend

---

Ripped off, BEWARE.

By Laura H.

,

Jacksonville, FL

,

May 6, 2019
Verified Reviewer

Overall Experience:

I called the Tax Defense and they promised me they could get my back taxes lower, which they did the opposite - they put me in deeper debt. They charged me $3,000, which they pretended to be concerned about my situation but it was all lies. Then they did my 2017 taxes which they didn't use all my deductions, they cost me to owe another $3,000 to add to my $10,000, so now I owe over $13,000. I'm no longer working as self-employed and I got a lien on my property, IRS took my refund of federal and state I could have paid IRS $147.00 a month instead of this long and would have been much better off.

Bottom Line: No, I would not recommend this to a friend

---

Scam artists

By Jodell F.

,

Minnesota

,

Mar 20, 2019
Verified Reviewer

Overall Experience:

They take advantage of people in need and are all attentive and helpful until they get your money. Then you have to beg for information and paperwork showing what they've done! Which is a big fat zip zero nada! They then argue and lie and try to blame you for lack of action. Don't bother, do your own work with the IRS.

Bottom Line: No, I would not recommend this to a friend

---

Horrible

By Sherri K.

,

Vermont

,

Mar 14, 2019
Verified Reviewer

Overall Experience:

This has been the longest process and worse than dealing with the IRS, we owe more now than when we started. We never get return calls weeks and months go by with no answers to our emails. This place is a joke, charged us over $3k and have done absolutely nothing for us yet. They ask us for the same information over and over, we do all the work, and get absolutely ZERO resolution. We now have two very large payments - one to the IRS and one to this worthless company. DO NOT USE THEM. Go to a real tax attorney, this company will do nothing for you.

Bottom Line: No, I would not recommend this to a friend

---

Do not use this company

By Carrie L.

,

Jonesborough, TN

,

Jan 21, 2019
Verified Reviewer

Overall Experience:

I paid Tax Defense Network $3000 to settle my tax debt. They did not help me reduce the debt I owed as they stated they would. So I ended up paying the full debt plus $3000. They were not efficient in completing my file. I had to stay on them to complete it. Essentially, I could have settled my tax debt myself. The IRS will work with you and help you. They guide you through the appropriate forms to file. Also, they are willing to help you resolve the debt.

Bottom Line: No, I would not recommend this to a friend

---

RIP OFF!

By Tammy C.

,

Seattle, WA

,

Dec 13, 2018
Verified Reviewer

Overall Experience:

Customer service is great while they are collecting your money each month. Once they have your money ($6500) they do nothing but tell you what you owe the IRS, and then that amount is incorrect, and they are ticked off at you for challenging them on it, then they don't contact you again and just leave you hanging. Total thieves! How do I sue? I got NOTHING!

Bottom Line: No, I would not recommend this to a friend

---

Tax

By Hala H.

,

Dallas, TX

,

Oct 18, 2018
Verified Reviewer

Overall Experience:

They are thieves, they took from me, three thousand dollars. I have a problem with my taxes and they promised me to solve it for me and for 11 months now they didn't do anything. And they took my money.

Bottom Line: No, I would not recommend this to a friend

---