TaxAct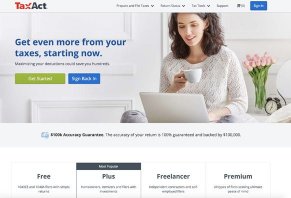 TaxAct's online tax software is priced at four different tiers ranging from free to $59.99. The site's options provide good value for freelancers and the self-employed as well as those looking for audit protection.
TaxAct Review: Is It the Best Online Tax Software for You?
TaxAct is an online tax software product whose various pricing tiers cover most tax situations that you'd find yourself in, ranging from free simple returns for W-2 workers to paid returns for complex situations like freelancing, self-employment, investments and more.
The site's four pricing tiers are Free, Plus, Freelancer and Premium – we'll explain what those tiers include in a few seconds.
TaxAct started back in 1998 and was the resurrection of a failed software called Personal Tax Edge. Since then, the software has emerged as one of the top websites to use to file your taxes.
At this point, I think it's important to ask, "So what?" So what if TaxAct is one of the most popular tax sites? Popularity doesn't guarantee that TaxAct or any other product or service is right for you.
This review will focus on that one aspect: Is TaxAct the best online tax software for you?
To answer that question, we're going to look at what TaxAct offers, how it compares to other tax software and what users are saying about their experience with the service.
At the end of our review, we'll give you a quick section about the site's general pros and cons.
TaxAct's Five Tiers: Free, Basic+, Deluxe+, Premier+ and Self-Employed+
Every tax site you go to has price points that offer more features as you move from a lower price to a higher price. All of these sites start at free and escalate from there; TaxAct is no different.
Free
Free tax returns are provided by all major tax sites. Though they share this tier in common, each site has a different set of requirements in order for you to file for free.
In order to file for free on this site, you have to meet one of the following standards, according to the IRS:
Your adjusted gross income is $55,000 or less and you're 56 or younger
You're eligible for the Earned Income Tax Credit (EITC)
The site won't tell you at the beginning of your return if you qualify for the free version which is why we're going to explain the tax talk in the bullet points we listed.
"Adjusted gross income" is what your income is after most of your deductions; it's not your net take-home pay.
The EITC is given to individuals and couples who meet certain income maximums ranging from $15,270 for single people without kids to $54,884 for married couples with three kids or more. You can get all the details at the IRS' EITC page.
The main drawback of the Free version is that it doesn't meet the needs of the average American homeowner because the deductions associated with owning a home aren't included.
Pro tip: State filing is free for this version.
Basic+: $2.95
This filing tier is a middle ground between more complex tax situations and free filing. It doesn't include options for homeowners, investments, self-employed or business owners. However, it doesn't have the income cap of the free version and allows you to include dependents.
The tier caters to taxpayers with children, education-based deductions (tuition, student loan interest, etc.) and those who will take the standard deduction instead of an itemized deduction.
As far as support goes, Basic+ gives you access to unlimited support via the TaxAct app. Your support takes place over email, though. You can't get phone support – this is reserved for higher-priced tiers.
Deluxe+: $29.95
TaxAct's free version or Basic+ aren't a good fit for homeowners but the Deluxe tier is because it's designed for taxpayers who own homes and those who make charitable donations.
More than 64% of Americans owned a home in 2018 and around 24% claim charitable donations. So, there's a really good chance that most taxpayers will have to use at least Deluxe+, if not the other tiers. In this sense, the Free version is very limited and the numbers say you won't qualify for it.
This tier allows you to claim deductions for the interest you've paid on your mortgage, property tax payments, mortgage credit certificates, and your charitable donations.
Premier+: $34.95
For anyone who doesn't have freelancer income, this tier of filing is going to be the most comprehensive. It includes a variety of income streams, according to TaxAct:
Foreign bank accounts
Stocks
Home sales
Rental properties
Royalties
Priority support
Compared to Deluxe+, this tier of filing has two main differences. First, it has a much wider breadth of allowable investments, whether they be stocks or rental properties. In addition to that, authors and musicians will be able to file any royalties they earn.
Finally, you'll get top-notch support from TaxAct, which includes the ability to connect with a TaxAct tax pro who can share your screen and help guide you through each question. This can be a tremendous help for those who haven't filed at this level of complexity before and want the advice of a professional about how to answer confusing questions.
Self-Employed+: $49.95
This tier is designed for self-employed workers who earn 1099 income. It offers deductions that freelancers usually take, including the home-office deduction and the cost of any utilities used specifically for working from home.
Other great deductions available through this tier include mileage you drive for work that doesn't get reimbursed as well as money you spent on advertising, website design and business cards.
All of these are included in what's called a Schedule C, a tax form most often used to calculate deductions for freelancers and the self-employed.
If you're a little worried that you'll forget which deductions you can get, remember that TaxAct's software will guide you through those deductions and help you claim what you should claim.
Also, you'll receive a financial planning report that will help you understand what you can do in the upcoming tax year to maximize your deductions and reduce your tax bill.
Downloadable Version
The big secret that most consumers don't know is that TaxAct has four tiers of downloadable software you can use to file taxes: Basic ($24.95), Deluxe ($84.90), Premier ($89.90) and Self-Employed ($104.90).
The price is higher the first year for all tiers – $89.90 for Premier and $104.90 for Self-Employed, for example – but you get five free returns included in that price. Per year, that's about $17.98 for Premier and $20.98 for Self-Employed.
Compared to a year-to-year online filing, these downloadable versions can save you hundreds of dollars over the course of five years.
These versions provide a guided tax return like the online version, but only the Freelancer package gives guidance through business and farming deductions.
Pro tip: TaxAct charges $37 for state taxes. The downloaded software gives you your first state-tax filing for free before charging $37.
TaxAct vs. Other Tax Software Companies
In our comparison of the popular online tax software companies, we found that TaxAct's pricing was among the best and that its freelancer package provided good value along with the Freelancer package from TaxSlayer.
As far as pricing goes, here's a table that helps you see how this site compares to TurboTax, TaxSlayer, and H&R Block:
| | TaxAct | TurboTax | TaxSlayer | H&R Block |
| --- | --- | --- | --- | --- |
| Low Complexity | Deluxe+: $29.95 | Deluxe: $39.99 | Classic: $17 | Deluxe: $29.99 |
| Medium Complexity | Premier+: $34.95 | Premier: $59.99 | Premium: $37 | Premium: $49.99 |
| High Complexity | Self-Employed+: $49.95 | Self-Employed: $89.99 | Self-Employed: $47 | Self-Employed: $79.99 |
| State Taxes | $19.95 - $39.95 | $39.99 | $29 | $36.99 |
| iTunes App Rating | 4.3 stars from 540+ reviews | 4.7 stars from 178,000+ reviews | 4.7 stars from 300+ reviews | 4.7 stars from 8,600+ reviews |
TaxAct is an interesting choice for tax software because it has some clear advantages and disadvantages when you compare it with other tax sites. For example, their self-employed tier is cheaper than TurboTax and TaxSlayer but their state tax fee for that tier makes it $22 more than TaxSlayer even though their self-employed federal returns only $2 more.
Furthering the intrigue is the fact that they offer a Basic+ level that's less than $3 and could be an alternative to certain taxpayers who aren't quite simple enough for the other sites' free versions but not so complex they feel like paying $39.99 to TurboTax or $29.99 to H&R Block.
We also like how their self-employed tier comes with year-round tax support for free, which makes it unique from TaxSlayer.
TaxAct's app doesn't get quite the scores that the other sites do in the iTunes store but, at an average rating of 4.3 stars, there's a good chance you'll have a positive experience.
In general, we think that the data shows that TaxAct is affordable tax software for those who have simpler returns and live in a state with no income tax. However, those who live in states that charge income tax may find better value with TaxSlayer.
Public Opinion About TaxAct
At the time of publishing, we read through 65 reviews of TaxAct on Yelp, where it had an average rating of 1.5 stars.
Complaints about the site noted that there were issues with importing W-2's, unhelpful customer service calls with long wait times and charges for importing forms from the previous year.
We can vouch for the long wait times. As preparation for this review, we called their customer service line to ask a question and were told our wait time was 1 hour, 59 minutes and 17 seconds.
To their credit, they gave us the option of getting a callback. We chose that option but were out of the office when the call came and we missed it.
TurboTax and H&R Block provide live chat support, a very helpful feature if you need questions answered while you're working on your return.
A Quick Word About TaxAct's $100,000 Accuracy Guarantee
TaxAct's site often mentions their $100,000 accuracy guarantee. If you get a smaller refund than you should as a result of an error in the site's software, they'll pay you the difference and cover up to $100,000 for costs related to an audit.
The fine print on this offer points out that the company is only liable for mistakes if they were the direct result of a software error. The guarantee doesn't cover errors you make, whether you enter the wrong information, change the amount that the software generates or you purposely enter false information.
Based on what we read in the fine print, we think the $100,000 guarantee will rarely come into play as most mistakes are made by the user, thus invalidating the guarantee.
Final Thoughts About TaxAct: Pros and Cons
We believe TaxAct's greatest strength is its pricing structure. The site's Premier+ and Self-Employed+ provide tons of value for those who don't live in a state that charges income taxes.
If you're a freelancer, we suggest signing up for TaxAct in January, as prices go up after that.
Another advantage is that their downloadable software presents a great year-to-year value, as we pointed out earlier.
As for the downsides of TaxAct, we can speak from experience when we say you probably won't get a quick response from their customer service phone number. As we pointed out, the wait was almost two hours long. You have the option of getting a callback, but make sure you're around your phone to pick it up.
Also, their state tax prices are higher than TaxSlayer's top tiers, which is an important thing to point out considering TaxAct and TaxSlayer are the budget tax filing options compared to the higher prices from H&R Block and TurboTax.
If you feel like you need to do some more research before you decide which tax software is best for you, read through our guide to the best tax software. In the guide, we do an expert analysis of the four tax sites we mentioned in this review. We also provide recommendations for which tax software is best for which types of taxpayers.