TaxSlayer
This company has claimed this profile, is getting alerted on any new customer reviews entering this page, and may engage in dialogue with its customers to address their matters.

Companies cannot pay money or provide goods in order to remove or alter customer reviews.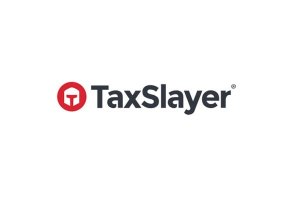 Summary
TaxSlayer's affordable tax software packages provide an easy tax prep process and the opportunity to pay reasonable prices for upgraded support.
Pros
Phone and email support included with all software packages
Access to tax pros costs only $20
You can claim student loan interest and education credits with the free package
Audit assistance available for all packages
Some packages offer one-on-one help from IRS-certified support reps
Cons
Help section's search tool doesn't always provide helpful results
No live chat support for two most basic packages
TaxSlayer Review: Is It a Good Tax-Filing Software for You?
TaxSlayer is a tax preparation service with affordable pricing and extra benefits that make filing your taxes a simple process.
All of TaxSlayer's software packages are less than $50. They cover everything from basic tax returns to complex returns you'd file as a business owner or private contractor. As you fill out your return, you'll have options to upgrade your package to get faster support, expert advice, and audit assistance.
Use our in-depth review to understand what makes TaxSlayer such a good value and why it could be a good fit for you.
Supported Forms
TaxSlayer supports a wide variety of tax forms, including the following common documents:
W-2 and W-2G
Schedules: A, B, C, D, E, EIC, F, H, K-1, R, and SE.
1040, 1040ES, 1040SR, 1040V and 1040X
Forms 1098 and 1098-B/C/DIV/E/G/INT/K/MISC/OID/Q/R/S/SA/SSA
Form 2555: Foreign Earned Income Credit
Form 4562: Depreciation and amortization
Form 5498: IRA contributions for individuals
Form 5695: Residential energy credits
Form 8396: Mortgage interest credit
Form 8829: Business use of home
Form 8889: Health savings accounts
Form 8962: Premium Tax Credit
Packages and Pricing
| | Simply Free | Classic | Premium | Self-employed |
| --- | --- | --- | --- | --- |
| Federal filing price | $0 | $17 | $37 | $47 |
| State filing price | $0 | $29 | $29 | $29 |
| Audit assistance | No | No | Yes | Yes |
| Phone support | Yes | Yes | Yes | Yes |
| Live chat | No | No | Yes | Yes |
| Access to enrolled agents | No | No | Yes | Yes |
| Priority support | No | No | Yes | Yes |
| W-2 import | Yes | Yes | Yes | Yes |
| Can households with income above $100,000 use it? | No | Yes | Yes | Yes |
Simply Free
You can use this software package if you meet the following requirements:
Your taxable income is $100,000 or less
You file a W2
You claim the standard deduction (no itemized deductions)
You don't claim dependents
You file as single or married filing jointly
The free option also includes education credits and the student loan interest deduction. This is one of the main advantages of this filing tier.
This tier includes unlimited phone and email support, too.
Classic
This tier includes several common tax situations, including:
Homeowners
Investors
Business owners
Self-employed
Students
Parents
Retirees
Itemizers
Like Simply Free, this package provides phone and email support.
It's an excellent fit for you if you don't qualify for Simply Free but want to keep costs low, and you don't need the live chat and tax expert features of the more expensive software packages.
Premium
You're paying more for this tier because you get phone, email and live-chat access to priority support. Also, you can speak one-on-one with an IRS-certified tax expert.
The IRS certification means the expert has specialized training in tax help and preparation. Their knowledge makes them better equipped to answer your questions and help you.
This package is an excellent fit for you if you aren't self-employed but have multiple deductions you want to make sure you do right.
These deductions would include the Earned Income Tax Credit, mortgage interest, mortgage certificates, capital gains, and losses, as well as dividends and any payouts from stocks or crypto.
Self-Employed
The Self-Employed option includes phone, email, and live chat. One notable feature that makes it different from Premium is the expertise your support team has. You'll get access to enrolled agents with specialized knowledge of self-employed returns.
Enrolled agents are authorized by the IRS and can represent you in audit cases, as well as provide in-depth advice about tax forms and tax laws.
Their expertise is much more in-depth than an IRS-certified representative, as "enrolled agent" is the highest credential the IRS offers to individuals who don't work for them.
If you need to consult TaxSlayer's enrolled agents, you can send an email. The agent will respond to you within 24 hours, although TaxSlayer says response times can be as quick as a few hours.
Other features of this package include:
Guided help for 1099 income and small business deductions
Reminders to pay monthly estimated taxes
Features and User Experience
I tried the software and found the user experience to be simple and approachable. The software is clean and easy to use.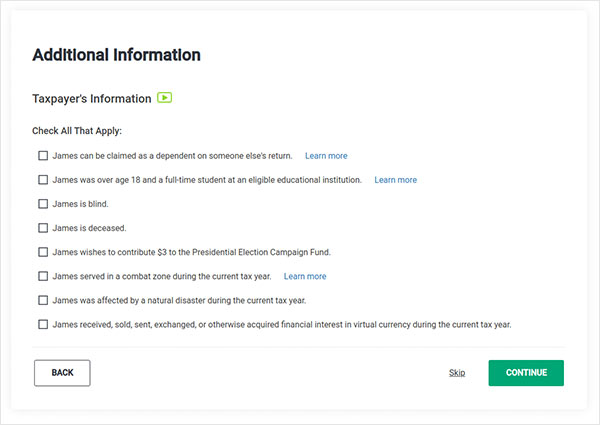 I found the search tool in the help menu to be a little clunky. For example, when I typed in "What is a home office deduction?" the software gave me a list of somewhat unrelated topics. However, it did not give me a result that explained what the home-office deduction is.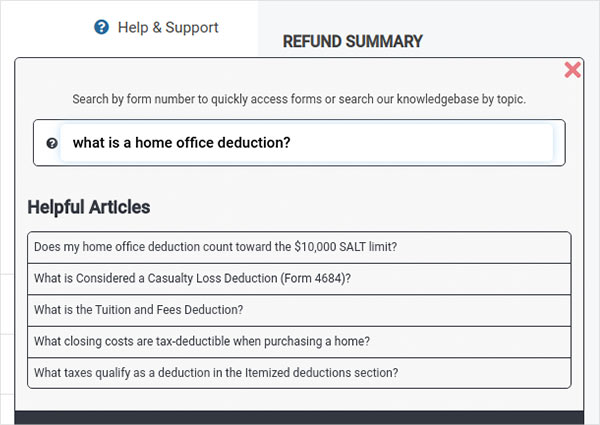 Overall, I found the software to be user-friendly.
However, the imprecise search tool can cause problems if you tend to ask questions as you prepare your tax return. You may need to rely on the software's phone and email support to answer your questions.
If this concerns you, you should anticipate using TaxSlayer's phone and email support to get answers.
Also, consider upgrading to the Premium or Self-Employed options because of their live chat and one-on-one advice from tax experts.
Support
You get a phone and email support no matter which software package you choose. Upgraded versions of TaxSlayer software include live chat and access to tax experts.
Your phone support is your resource for questions you have about your return. However, phone agents will not walk you through your return step-by-step.
Live-chat is the better option for you if you want help through each section of your tax return.
If you're self-employed, TaxSlayer's tax experts can provide in-depth help that goes beyond what phone support and live chat can give you.
Audit Assistance
Every paid software package comes with some form of audit assistance. If you receive an audit notice from the IRS, TaxSlayer's audit reps will advise you on how to correspond with the IRS. They help you understand what the IRS' notices mean and why the IRS is asking for certain tax forms.
Accuracy Guarantee
If you have to pay IRS penalties or interest as the result of a TaxSlayer software miscalculation, you're entitled to reimbursement of those fees.
Keep in mind that you qualify for this only if the error is the software's fault and not the result of you entering incorrect information.
Max Refund Guarantee
TaxSlayer will refund your fee if you filed with a different software company and receive either a bigger tax refund or a lower tax due.
You have 60 days from the day of your filing date via the other software to request a refund.
TaxSlayer vs. Turbo Tax
How much do you want to spend?
TaxSlayer's prices are lower than TurboTax for every software package.
Do you want access to tax experts?
Both tax prep options give you paid access to tax experts. TaxSlayer will charge you $37 for access to IRS-certified tax pros and enrolled agents, while TurboTax will cost between $90 and $180 for access to its CPAs.
Do you want audit protection?
TaxSlayer and TurboTax both offer audit protection. They both provide correspondence and representation in hearings. Their prices are nearly identical, too.
Can you file for free?
You can file for free via both software platforms, but TaxSlayer has fewer limitations about who can file for free.
For example, TaxSlayer's income limit is $100,000, whereas TurboTax's limit is $69,000. Also, you can claim student loan interest deductions with TaxSlayer, which you can't with TurboTax.
Takeaway
The main differences between TaxSlayer and TurboTax are price and access to tax experts. If you want to correspond via email and video chat with a CPA, TurboTax is your best choice. Beyond that, TaxSlayer is the better option.
Their packages are significantly cheaper than TurboTax's while offering the same smooth user experience. And if you feel like you want a tax expert's advice, TaxSlayer's reasonably-priced support upgrades will meet your needs.
The Bottom Line
When it comes to pricing and support, there is no better online tax preparation option than TaxSlayer. For less than $50, you get software that covers all major tax situations, provides audit assistance, and gives you live chat and one-on-one support from tax experts. They offer good value.
Free filers, homeowners, investors, freelancers, contractors, and business owners are all a good fit for TaxSlayer's tax prep software.
Customer Reviews
Posted on Oct 19, 2019
Buggy software, scammy payment system
A W-2 that I entered into their system just disappeared from the return after I submitted it. I recommend using a different service, as you cannot trust them to properly populate the paperwork for you.
Also, they have become really scammy in recent years concerning payment.
Bottom Line: No, I would not recommend this to a friend
Posted on Apr 30, 2019
TaxSlayer is a rip-off.
TaxSlayer is a rip-off. They don't care about their customers. They give you false information, then once they get your money, they don't care about delivering good service.
Just because I did not renew with them they would not give me access to any of the software I purchased in prior years, although it cost me thousands of dollars. I had to purchase software with another company because their software had become unaffordable due to the changes in the law and taxpayers who are now using self tax preparation software. After being with them 18 years they were very cold and refused to work with getting the software I purchased. Be careful when buying software from them. They don't give you a copy on a disc or a product key. They make you purchase it again. That's wrong and unfair to your customers. They don't care about loyalty, only a dollar.
Bottom Line: No, I would not recommend this to a friend
Posted on Apr 23, 2019
Tax day fail for TaxSlayer
We all know tax day can be stressful. Should most of us have filed our taxes before the deadline of 4/15/19? Probably. But nothing stimulates action like a deadline. As the procrastinator that I am with 4 children and 2 jobs, I began my taxes on Tax Day yesterday at 7 pm. Since it usually only takes me a couple of hours, I was not worried. Until Tax Slayer three a wrench in the gears. Not only did the Refund Estimator Tool not work until 11:30 PM, the Tool that transfers your info from Federal to State was broken as well! After waiting an hour and speaking with customer service, their answer to the issue was that I should file an extension! No apology, no accountability, just an unhelpful suggestion which doesn't help the situation if you OWE money to the government because of independent contractor's tax. Terrible advice, because if you don't pay what you owe by the deadline, you get taxed a penalty! As a tax software company, your ONE JOB is to ensure your customers can efficiently and effectively complete their taxes using your software, whether it is January 1st or April 15th. The fact that your infrastructure failed on the biggest day of the year for your company is bad enough. The lack of accountability on top of it is maddening.
I ended up copying over all the tax information to TurboTax and finished my taxes at 11:45 pm. No issues with TurboTax. Never using TaxSlayer again.
Bottom Line: No, I would not recommend this to a friend
Company Response from TaxSlayer
Apr 24, 2019
Hi Matt, we sincerely apologize for the issues you encountered. Please know that our internal teams have worked tirelessly to ensure this issue doesn't happen again. This is not the typical TaxSlayer experience and we are committed to helping you slay your taxes should you need us in the future.
Posted on Mar 6, 2019
Tax Advance/Green Dot Card scam
TaxSlayer is misrepresenting the terms from the Green Dot card you must sign up for if you want to get your Federal Tax Refund Advance back in as little as 24 hours. They have the following qualification criteria posted on their website:
What are the eligibility requirements for TaxSlayer's Refund Advance?

To be eligible, you must have a W-2 and a current government-issued photo ID. Your eligibility also depends on your federal tax refund amount, verification of your identity, underwriting standards, and other criteria. Other terms and conditions may apply. TaxSlayer's Refund Advance is not available to Vermont or Illinois residents.
What they DON'T disclose is that your Federal Refund amount must be at least $1,500 to get the Advance. This amounts to a usury tax, as you have to pay a fee for the card. Anyone who is applying for a refund advance likely needs the money for emergency expenses. I myself, was trying to use it to assist a good friend who was drastically affected by the 35 day Federal Shutdown and couldn't pay their rent. To omit a criteria that applies to any and ALL applications smacks of false advertising and purely bad business. BEWARE!
Bottom Line: No, I would not recommend this to a friend
Posted on Feb 2, 2019
TaxSlayer shady business
I've used this company since 2015. Never had any issues with filing, fees, or advances until this year. The website is set up to guide you each step of the way. 2018 fees consist of a $17 fee to process your tax, then an additional $89 to process. WHAT A RIP OFF this is, the first year I've ever had to pay over $100 to process my taxes. The second disaster comes after you have elected to accept the advance and you're given two option to receive your funds - Direct Deposit or Green Dot. I chose Direct Deposit but noticed there were never any funds deposited. I called customer service in reference to this matter ONLY TO BE TOLD because I chose the option to have my funds direct deposited and not a prepaid Green Dot card, I was no longer eligible. So, my first question is, why am I still being charged an $89 processing fee for an advance I'm not receiving?!
Bottom Line: No, I would not recommend this to a friend
Posted on Mar 6, 2018
TaxSlayer lost me in 2018! RefundNOW sucks!
I've used Taxslayer for over ten years. Upon completing my return, I applied, and so I thought I also qualified for the refundNOW $1000 option.
After 48 hours, and I hadn't received a deposit, I began to do extensive research only to find negative review after negative review.
I learned that many people were told by TaxSlayer reps, there was nothing they could do. TaxSlayer has a major lawsuit in 2015, a hacker stole several people's info and filed fraudulent returns. I went back to read the agreement I signed and leaned the bank who's was associated with TaxSlayer is 3rd party, and they open an account in your name using your personal information all with false pretenses and no expectation to deposit your monies within 48 hours.
Many people were lied to, and I will not be using TaxSlayer again, EVER! I don't really know I will get my $25 back, but I will! I also want all of my information rescinded from this Red River Bank. Customer service is no longer a factor for businesses I see.
Bottom Line: No, I would not recommend this to a friend
Posted on Feb 26, 2018
Scam
I wish I could give them less than one star! They are scamming people into filing using their paid version (which you must use to even apply for their refund now loan), with no intention of giving them a loan on their return!
I normally file with TurboTax, but I was roped into filing with them because I was under the impression that I could receive a loan on my return. After starting the filing process, nothing was ever mentioned about the refund now loan! Nothing! I assumed it must be after filing that it would show me SOMETHING related to it, but I was wrong. They had successfully conned me into paying to file based on an expectation they never intended to fulfill. To make matters worse, when I called them a few days later to give them a chance to explain and rectify this, I was told I didn't qualify for the loan, and that's why I never saw anything about it once I started filing. It would have been nice if they had mentioned that to me before I finished filing!
I asked for a refund on the cost since I would have never gone through with it if I had known I'd been denied the loan and was told I would get a response in a week. That was almost a month ago, and I haven't heard anything from them. I will be calling the BBB first thing Monday morning.
Bottom Line: No, I would not recommend this to a friend
Posted on Feb 9, 2018
TaxSlater promotional scam
TaxSlayer is scamming people with their promotions as far as receiving a loan if you file with them. I filed a few days ago and was denied the loan. The loan is not credit score base. But the website doesn't tell you it's third-party based and they have no reason for denying you. Out of 10 people, 3 of you may receive it. I feel like they are praying on people's lives and well-being with their deception.
Bottom Line: No, I would not recommend this to a friend
Posted on Feb 7, 2018
TaxSlayer 2018 refundNOW is NOT a refund now!
I filed my taxes on February 3, 2018. I received a $1200+ refund. I had two W2's from legitimate companies, and I am a single filer. I clicked the box to have a $25.00 fee deducted from my refund by the bank that handles the refundNOW loans. I heard nothing on Monday, so I waited until Tuesday, February 6th to contact them. I first sent an email and got a message that someone would answer in 72 hours, which isn't fast since I paid for the premium account to get priority service. So I called customer service and was told: "Your refund wasn't high enough to receive a refundNOW loan." There was no warning and no place did I find the information as to the qualifying factors to receive the loan. And they won't give an advance of even $500.00 on a $1200+ refund? SCAM.
Bottom Line: No, I would not recommend this to a friend
Our Promise to You
In order to safeguard you and ensure helpfulness and relevance, our compliance team manually assess every customer review before it goes live.
We have a zero-tolerance policy for fake reviews, and companies cannot control or alter any reviews at any time.