TB12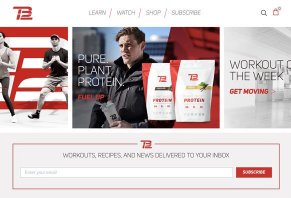 Founded by Superbowl champion Tom Brady, the TB12 method is a fitness app and lifestyle approach designed to help you reach your peak performance.
TB12 Review: Will It Really Help You Reach Your Fitness Goals?
Designed and inspired by the fitness regime of six-time Superbowl champion Tom Brady, the TB12 method claims to be a natural and holistic training system that combines nutritional guidelines with muscle pliability work, cognitive health, proper hydration, and resistance band training to help you achieve your peak fitness.
According to the TB12 website, Tom Brady witnessed the impact of sports injuries on his friends and teammates and saw how short-term solutions for treating their symptoms lead to reoccurring injuries and impaired performance. He founded TB12 as a more sustainable approach to sports training, and he credits the method for the longevity of his career and quick injury recovery times.
The TB12 website and premium app are based off Brady's bestselling book, The TB12 Method. Both the website and app promise to provide you with personalized training advice and a holistic wellness plan that will reduce your injury risk, boost endurance, and help you get the most out of your body.
Does the TB12 method make sense, or is it merely a way for this Superbowl champion to cash in on his fame? Let's look closer at the details of this plan to find out.
What Are the Components of the TB12 Method?
According to the brand's website, the TB12 method is a fitness approach that consists of 12 principles for peak performance. These principles primarily relate to nutrition, hydration, mental abilities, and post-exercise care.
Below is more information about the central tenants of the TB12 fitness method: muscle pliability, resistance band workouts, proper hydration and nutrition, and cognitive health.
Muscle Pliability
The TB12 brand defines muscle pliability as the idea that muscles should stay soft to avoid injury, and they state the best way to keep them this way is to avoid traditional weight training and partake in specialty massages.
Pliability isn't the same as flexibility, but rather is a way to maximize performance and training to prevent injury. Pliability training before and after workouts, the site explains, helps you get the most out of your body.
The idea of muscle pliability purportedly originated with Alex Guerrero, Brady's personal body coach. The TB12 website quotes Tom Brady as saying "Pliability is the crucial missing leg that will complete and complement your workouts."
Resistance Band Workouts
The TB12 website tells us that Tom Brady doesn't lift weights, but instead trains with resistance bands. It's his view that big, bulky muscles are too dense, which makes them stiff and slows down athletes while putting them at higher risk of injury.
His program advocates for resistance band training as a versatile way to turn any space into a personal gym and target any muscle group. TB12 resistance band-based workouts on the brand's app are purportedly specific to every client and their unique health goals.
Proper Hydration and Nutrition
The TB12 method advocates for nourishing your body with a variety of healthy foods and electrolyte-infused beverages sold in the TB12 online store.
The general idea is that hydration is linked to pliability, and that healthy muscles must remain at least 75% water. Our bodies lose natural minerals throughout the day, so the TB12 method claims it's crucial to replenish them, especially after working out.
Cognitive Health
The company considers the brain to be pliable like a muscle, and that cognitive wellness is critical for maximizing athletic performance and general wellbeing.
That's why the program advocates for athletes to spend time training their brains for peak performance by optimizing their sleep schedules and by paying attention to the amount of media they consume.
The brand recommends that TB12 members utilize their brain training software BrainHQ to improve their memory, sharpen focus, improve people skills, boost intelligence and increase overall brain speed.
Alternative Opinions About TB12
Business Insider tells us that Tom Brady is known for his somewhat unconventional fitness and nutrition stances, including the importance of muscle pliability for injury prevention and for avoiding grains, refined sugar, most fruits, and plants in the nightshade family. Brady also purportedly drinks 32 glasses of water per day and practices deep muscle massage on a regular basis.
Do these practices make sense for improving sports performance? An article from the New York Times draws some critiques.
Specifically, the report challenges the premise of muscle pliability and states that soft muscles tend to be sick – not in peak form. Likewise, the article notes that Brady and his fitness mentor Guerrero haven't published clinical trials about muscle pliability. Minimal independent research had been conducted about the condition at the time of writing.
Likewise, while the TB12 diet won praise for promising a plant-based organic diet, the Times suggested it was too restrictive and eliminated numerous foods that benefit athletes, including tomatoes, dandelion greens, beef, butter, and artichokes.
What does this mean for the effectiveness of the program? In short, the TB12 method is high on promises but a little short on the peer-reviewed research to back them up.
While Brady prefaces most of his health claims by saying they are merely methods that worked for him, we think it's important to remember that the TB12 is just one approach to health and fitness among many.
About the TB12 App
We spoke to a TB12 brand representative who told us that the iOS app offered personalized workout programs that are tailored to your goals and physical abilities (an Android version is coming soon).
The app provides instruction for over 400 exercises, including a library of resistance band workouts designed to increase muscle pliability. The app also includes menu ideas, meal and smoothie recipes, and snack suggestions.
When you sign up for the app, you have the option to choose a free account or to pay $9.99 per month ($100 a year) for premium access.
The website tells us that premium subscribers will receive a training plan that's customized to their preferred sport and that it adjusts the workouts to keep pace with their improvements over time. Premium subscribers also gain access to expert guidance from Brady and Guerrero as well as full access to the TB12 content library.
It's possible to try premium for one week for free before your account will be enrolled in an annual subscription. Both the yearly and month-to-month subscriptions renew automatically unless you cancel them at least 24 hours before the end of the subscription period.
What Products Are Available from the TB12 Store?
At the time of writing, these were some of the products offered for sale on the TB12 website:
Pliability
To keep your muscles limber, the brand offers products designed to soothe soreness, including a Pliability "starter pack" ($260), vibrating pliability roller ($160), and vibrating pliability sphere ($150).
Workout Gear
The TB12 brand offers workout gear ranging from a resistance band kit ($160), performance mat ($50), jump ropes ($80), weighted vest ($55), agility ladder ($45), and medicine ball ($75).
Hydration and Supplementation
The TB12 method advocates for proper hydration and offers a 1-lb whey protein supplement ($50) and 50ml electrolyte infusion ($15 for twenty servings or $65 for a five-pack subscription).
Nutrition
You can purchase a variety of TB12- endorsed nutrition products, including twelve-count packs of superfood snacks in sweet or savory boxes ($50), 12-bar packs of protein bars ($40), and eight-bag variety packs of grain-free granola mixes ($40).
The brand has also paired with the vegan meal kit company Purple Carrot to offer a range of meals designed to provide plant-based protein to athletes for peak performance ($78 per week for three two-serving meals).
Cognitive
TB12 offers an app for boosting cognitive performance known as BrainHQ. The brand offers both a free version and a premium version for $14 per month or $96 per year. The free account provides access to four exercises across two different brain domains, and the premium subscription gives you 29 exercises across six different brain regions. You also gain access to personal training and challenges designed to improve specific, pre-determined skills.
Apparel
You can purchase TB12-branded workout gear ranging from caps to tech shirts and sweatshirts, all priced from $25–$80.
About the TB12 Center
For those around the East Coast, you can learn more about the TB12 method at the TB12 Sports Therapy Center in Foxboro, Massachusetts.
At the center, coaches work one-on-one with clients to help them improve their physical abilities and reach their fitness goals.
The center offers personalized programming that integrates the tenants of the method like muscle pliability work with hydration, nutrition, cognitive health and resistance band training for optimized performance.
TB12 Center appointments are available for the general public, though they typically have a waiting list. You can learn more or make an appointment by going to the contact page or contacting info@tb12sports.com.
Customer Reviews of the TB12 App
To get a sense of what other people think about the TB12 program and app, we took a quick look at a Men's Health review and app ratings in the iTunes store.
In a 2018 Men's Health review of TB 12, reporter Amy Schlinger had mixed opinions. She critiqued the personalized plan the app developed for her by calling it generic, and that the videos didn't feature Tom Brady in any form.
She also noted that the app added pressure to spend more money on TB12 products to enhance your results -- the hydration section had a bullet point about the benefits of TB12 electrolytes.
While the information on the app seemed valuable, Schlinger concluded that it didn't seem personalized or unique enough to justify the $20 per month subscription fee.
The Apple App Store also offers insight into what TB12 users think of the program. After 183 reviews, the app had a ranking of 4.6 stars at the time of writing. Many people praised the quality of workouts, though they wished there were better ways to learn about individual exercises separate from a sequence.
However, we also noticed some comments that the app was low quality and relatively clunky and that fitness programs like Peloton and Obe Fitness offered a more immersive workout experience that kept people motivated to stick to the routine.
Our TB12 Method Review: Does It Make Sense?
There's no questioning Tom Brady's impressive sports record, but does the TB12 app hold up to the same level of scrutiny? Our research into the app shows that it offers a comprehensive fitness plan for losing weight and improving your sports performance.
There's little doubt that following Brady's advice to cut added sugar, processed foods, and alcohol from your diet while committing to exercise more will make you healthier. Where the plan potentially falls into trouble is regarding its unsubstantiated claims about muscle pliability and excessive dietary restrictions, as the New York Times article we referenced earlier pointed out.
Another point of consideration is that the app's goal is to get you using TB12-branded workout equipment and health food, much of which doesn't come cheap. Likewise, some of the reviews we read about the app stated that the value it offered wasn't unique enough to justify the price tag.
If you're interested in the TB12 method, we think that you should consider this program the start (not the end) of the research process. There are plenty of other web-based fitness plans you might find is a better fit for you, including Obe Fitness, V Shred, and Peloton Digital.