Team Treehouse Reviews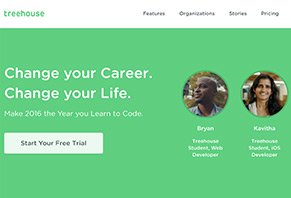 Using 1,000+ expertly crafted video lessons, Team Treehouse's educational website can help you sharpen your coding skills—or help you land an entry-level job.
About Team Treehouse
Want to learn a new skill set? One that—if you work hard to master—will almost guarantee you a good-paying job for years to come? If so, programming might be right up your alley. But why?
Today, our world is more software-based than ever. From TVs to toasters, everything's connected through code. But in order to make all this software work, programmers need to write the code that runs it. And by 2020, there will be 1 million unfulfilled programming jobs in the US alone!
However, unless you're able to invest in a college education, how can you gain the skills you need to add to the workforce and give yourself a leg up?
Enter Team Treehouse. Founded in 2011 with 1,000+ videos to date, this educational website makes it easy for everyone, from beginner to advanced, to learn coding. And through their courses, you'll learn real-world skills that can be applied directly to the job market.
Perhaps best of all, you can accomplish this in just 30 minutes a day, without having to purchase any special books, hardware, or software.
Sure, it's true that what you learn on Team Treehouse could open new doors, whether it's a new job or a new way of looking at the world. But is it worth the expense? Are their customers satisfied? How good are Team Treehouse's Techdegree programs? Are there some things you should keep in mind? Here, we'll help you find answers to these questions here, and more!
First up? Let's take a deeper dive into everything Team Treehouse has to offer.
How Team Treehouse Works
Over the years, Team Treehouse's 1,000+ expertly-created videos have been used by more than 172,000 students in 190 different countries to learn web design, coding, game design, and different programming languages (including Swift, Apple's app-programming language, not to mention Android-based content). Each of which is broken into smaller chunks (known as Stages), which can make the information easier to digest.
All of these lessons are taught by industry experts with years of experience in their fields, who are excited about what they do and are passionate about helping students achieve their goals, whether this is just learning something new, landing a new job, getting a promotion, or anything else.
In fact, many businesses have used Team Treehouse to provide a one-stop-shop tech education to their entire organizations (anywhere from 5 employees to more than 1,000).
Team Treehouse's Cost vs. Benefit Ratio
But whether you're an individual or a giant corporation, Team Treehouse claims that in most cases, they can help you start building websites and apps after about a month (or about 45 hours of lesson time). Compare this to full-time study at a college, which could take around six months.
On top of this, everything is self-contained within the Team Treehouse website, so you won't need to purchase any special books, hardware, or software (although if you want to learn iOS coding, you will need to own a Mac). You'll even be able to code directly in your browser.
On top of this, Team Treehouse's iPad app gives you full access to your account and learning materials while you're on the go. You can even code on your iPad, far away from your laptop or PC.
Taken together, Team Treehouse claims that with less time and effort, you can gain all the knowledge you need, at a "fraction of the price of college or university tuition."
How else does the company claim to be unique?
How Team Treehouse Claims to Be Different
Each Team Treehouse video can be viewed individually, or in the recommended order as part of an overall Track (i.e. a "guided path set by the people teaching the content"). This way, whether you're starting from the ground up or need to find a specific lesson about an advanced topic, everything's available whenever you want.
If you're following a set Track, you'll be able to practice what you learn through quizzes and interactive Code Challenges (more about this shortly), which can help you better retain the information and use it on your future projects. And as you complete these tests, you'll gain points and earn skill badges, which are viewable to the entire Team Treehouse community—even employers!
Stuck on a certain topic? You can reach out to this same community to ask questions and learn from one another.
On top of their large existing library, Team Treehouse releases new content weekly, which you can learn about by visiting the Content Roadmap section of their website, or by signing up for email notifications. Because Team Treehouse makes it a point to cover the latest developments in technology, you can always rest assured their content is fresh and never lagging behind the times.
Sure, these all sound like great benefits, but how much will they cost you?
Team Treehouse's Membership Plans
There are two different Team Treehouse membership plans available:
Basic Plan: $25/mo – This gives you access to Team Treehouse's full video library, Code Challenge Engine, and members-only forums.

Pro Plan: $49/mo – Includes everything in the Basic Plan, in addition to bonus content (such as talks from industry leaders), and the ability to download videos for offline learning.
Regardless of the plan you choose, your membership will come with a 14-day trial option, which is completely free of charge (you will need to enter a credit card number during signup). This will give you access to all of Team Treehouse's content for two weeks, after which it will automatically roll to a paid subscription.
Even after this occurs though, you'll never have to sign a contract and you can cancel at any time.
Team Treehouse students also get access to a variety of discounts and deals, including a 90-day free trial to FreshBooks, 40% off WooRanks, 60-day AWeber trial, and much more. For a fill list, be sure to visit the Perks page.
If you need to contact Team Treehouse's customer support, they can be reached at help@teamtreehouse.com. Some of us here at HighYa have dealt with customer service before, and have always had a positive experience.
Now that we've talked about how Team Treehouse claims to work, let's find out if they live up to it in the real world.
I Give Team Treehouse a Try
First, let's talk about navigating around the Team Treehouse website, and then I'll dig into my learning experience.
Signing Up For a Team Treehouse Account
Overall, I found that signing up for a Team Treehouse account was simple and straightforward; I just entered my first and last name and email address, chose a password, and entered my credit card information. Then, I pressed 'Enter' and I was ready to go in moments.
Choosing the Right Track
After entering my credentials, I was asked a few questions to gauge my level of experience and overall goals, such as:
What is my coding skill level is (none at all, beginner, or advanced)?
What am I looking to build (e.g. mobile or web apps, websites)?
… and more (you can always go back and change your answers at any point).
Based on my responses, Team Treehouse recommended a program they thought would best meet your needs. In this instance, it recommended that I try the iOS Development with Swift 2.0 Track.
After answering a couple questions, Team Treehouse recommended this Track based on my experience level and overall goals.
From there, I clicked on the 'Get Started' button, which immediately took me to the first lesson in the series. Or if I preferred, I could have gone back, changed some (or all) of my answers, and checked out Team Treehouse's different recommendations.
Navigating My New Account
For now, let's say that this Track is exactly what I was looking for. But if I wasn't ready to begin, I could click on the top button in the toolbar (the one that looks like tree branches on the left-hand side of the screen), which would take me to my Home page.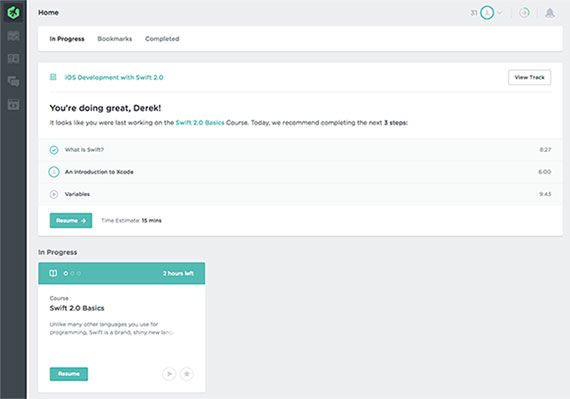 An example of what you'll see on your Team Treehouse Home page.
There, I could see which Tracks I had in progress, as well as the different video lessons in the track, their topic, and their length. If I had bookmarked or completed any courses, these would have been viewable by simply clicking on the 'Bookmarks' or 'Completed' links.
In the upper right-hand corner, clicking on my profile picture (which will show a generic image until a custom one is uploaded) allowed me to view my total points, skills, experience, and achievements/badges. In this same area, I could view notifications and jump right back into my current Track.
Moving back over to the left-hand navigations area, here's where I could view all the different Tracks offered by Team Treehouse, as well as their entire library, gain access to the community, and view any Workspaces I've set up (areas where I can code, check my work, and watch my code in action).
My Experience with Team Treehouse
First, a little bit of background about me. About a decade and a half ago, I took several web development courses that included classes in HTML and Javascript, as well as some light Java. And with the exception of HTML on rare occasions, I haven't really used any of these skills in a very long time.
So, even though Team Treehouse recommended a different Track based on my preferences, I went ahead and changed (which is super easy from the home page) to their Front End Web Development Track. This way, I wouldn't start out as a complete newbie, which might provide some of our experienced readers with a more thorough review.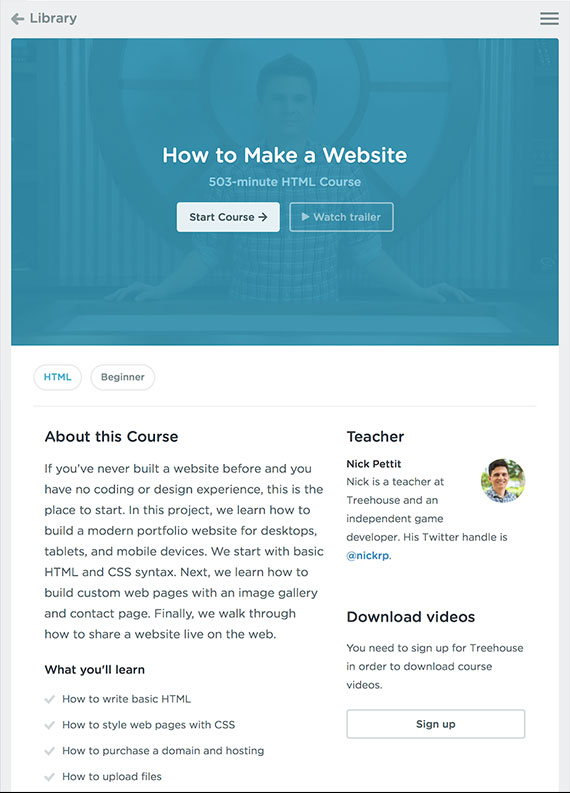 I ended up choosing Nick Pettit's "How To Make a Website" course based on past experience.
Diving in to Team Treehouse's Web Development Track
The first thing you'll do in any Team Treehouse Track is to watch an introductory video. In fact, this is what you'll be doing a lot of throughout each lesson, as the instructor starts with the basics and work up from there. According to their press kit, Team Treehouse centers their content around small, incremental steps, so it made sense that most of these videos lasted anywhere between 7 and 9 minutes.
My initial impression was that Nick presented the material slow enough that even a complete beginner could catch on, but quick enough that if you already knew everything, you wouldn't necessarily need to fast forward. The pace struck a nice balance.
As you're watching videos, you'll see a blue navigation bar above that shows you how many videos remain in the lesson, as well as when you'll take quizzes or go through Code Challenges. The latter of which is handled directly in Team Treehouse's Workspace environment (no extra coding software required!).
If need be, you can get help after a lesson or re-watch the video for a refresher. If you successfully complete your work, a check mark will appear and you'll be one step closer to completing the entire lesson.
While watching videos, the timeline at the top lets you know where you're at in the lesson.

My first Code Challenge! You'll be able to type your answer directly into your browser, and then have the system read your answer.
In addition to the easy manner in which the information was presented, it really was gratifying watching my points increase and my badges accumulate after each Challenge. In other words, it was great motivation.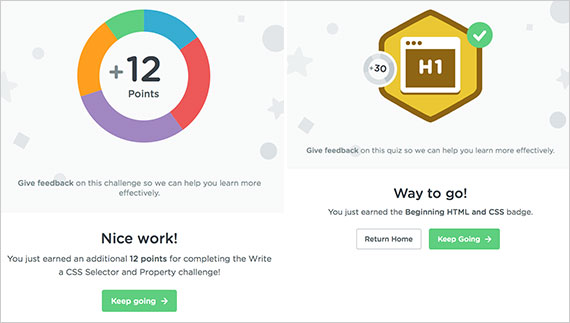 It's nice to see different badges and other rewards pop up after completing a section, and I definitely found it motivating.
Finally, after spending about two hours on two different lessons, completing two main lessons, and scoring high enough on several Code Challenges and quizzes, I learned how to code the following: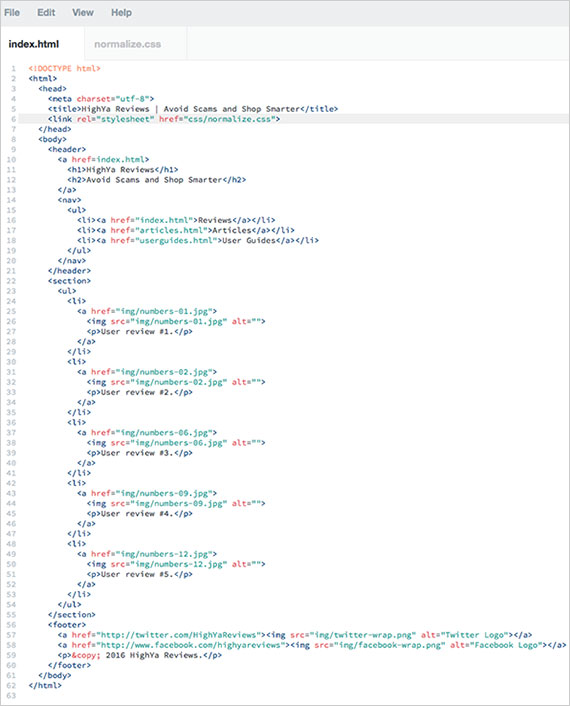 Starting from scratch with a blank page, this is the code I learned over the course of a couple hours. I really felt like I learned it, too!
Granted, these are just the results. But overall, what did I think of the process?
Did I Enjoy Learning with Team Treehouse?
Here are some of my main takeaways about Team Treehouse's learning environment:
What I Liked
In just a couple hours, I felt like I got a great refresher on HTML and CSS (no Javascript or Java just yet), and that it was a solid use of my time. In fact, I'd be hard-pressed to say that I could recap the same amount of information in a similar amount of time, and be able to put everything into practice.

The video quality (including scripting, sound, and even backdrop) was very professional and extremely well done. Videos were short but informative, so I felt like I absorbed a lot in very little time. In just a few lessons, I had already covered HTML and CSS (and even wrote some code), as well as some web design fundamentals.

It was nice having everything in one place (no flipping back and forth between programs to watch videos, code, etc.). In fact, except for downloading lesson files, Team Treehouse provides a completely self-contained learning environment. Still, even though you might not flip back and forth a lot, I'd still say that the bigger your screen is, the more pleasant your experience will be.

Points and badges definitely kept me motivated. Not to mention the fact that they're viewable by other community members, and maybe even employers!
Just a Couple Areas for Improvement
In some video sections, I found my eyes glazing over. It didn't seem like the presenter (or more accurately, their script) made the topic interesting. Sometimes the content was engaging, and other times it came across as very rote.

Even in the first video or two, some higher-level language was used that a complete newbie to the topic might not grasp right off the bat. Although teacher's notes are included below each video, in many cases, these words weren't referenced or explained.

Also, if you fail a quiz, you'll have the opportunity to retake it. However, you'll probably have many of the exact same questions, which might not help you learn as well (versus just memorizing the answer).
A Few Days Later …
I liked that Team Treehouse emailed me every couple days afterward, letting me know where I left off, what they recommended doing next, and about how long that step would take.
And I found the information on my account's home page just as useful (not to mention motivating):
Logging into my account a few days later showed me exactly where I left off and what I should do next. The motivational message was great, too!
But this is just one person's humble experience. What are other online reviewers saying about Team Treehouse?
What Is Team Treehouse's Techdegree?
Recently, Team Treehouse rolled out their Techdegree programs, which promise to help you obtain the skills you need to launch a new career as a developer. How?
Instead of you having going back to school and complete a Computer Science program, a Team Treehouse Techdegree focuses on delivering the "right portfolio of skills and experience" that can help you go from beginner to job-ready in just 6 to 12 months.
Each of Treehouse's six Techdegrees are developed by industry professionals and, like their other content, you'll learn through a series of on-demand video classes, interactive quizzes, and code challenges. You'll also complete 12 projects throughout the course, which will "showcase the range of skills you need to be job-ready" and leave you with a polished portfolio upon completion:
Front End Web Development – Learn skills such as HTML, CSS, JavaScript, Development Tools, all aimed at creating online user experiences. Includes 24 courses, 145 quizzes, 185 challenges, and will take 6-9 months (150-190 hours) to complete.* According to Team Treehouse, the estimated starting pay for a Front End Web Developer is $51K.

Full Stack Javascript – Here, you'll learn Development Tools, JavaScript, Databases, HTML, CSS, and more in order to launch a new career with an average starting pay of $65K per year. Includes 31 courses, 199 quizzes, 211 challenges, and takes 7-12 months (240-480 hours) to complete.

Java Web Development – You'll acquire new skills with Databases, Java, Development Tools, HTML and more, with an average starting base salary of $70K per year. This Techdegree involves 15 courses, 89 quizzes, 104 challenges, and takes 6-12 months (200-240 hours) to complete.

Python Web Development – Skills you'll learn here include Python, Development Tools, HTML and more over the course of 6-11 months (190-230 hours).

iOS Development – Budding iOS developers will learn "everything you need to know to build a strong technical foundation" over the course of 6-12 months (220-260 hours).

Android Development – Over 6-9 months (150-190 hours), you'll learn all about Android and Java. Upon graduation, you could earn a starting salary of $70K.
*Important note: How long it takes to complete any Techdegree depends on how well you perform on your assignments. For example, if you submit projects every 2 weeks and pass on your first try every time, the fastest you could complete any Techdegree is 6 months. If it takes more time to submit your assignments and/or you don't pass on the first go, it could take longer.
During your Techdegree program, you'll use GitHub as a code repository for your projects, which will be peer or professionally reviewed, depending on your choice (more about this next). You'll also have full access to a Slack channel that can put you in contact with other students who can provide support and advice, along with 2 one-on-one Zoom video chats with a mentor, per month.
Finally, your Techdegree comes with a proctored final exam in order to ensure you've mastered the necessary skills to move forward.
How Much Do Team Treehouse Techdegrees Cost?
Each Team Treehouse Techdegree comes with a 7-day free trial, although this doesn't include mentorship or project submission or review. After your trial ends, you'll be billed one of the following (you'll make this choice in advance when signing up for your Team Treehouse account):
$99/mo: No access to project reviews or Slack channel
$199/mo: Includes custom curriculum, proctored final exam, exclusive Slack channel, a portfolio of 12 real-world projects, official Techdegree certificate, and peer project reviews.
$399/mo: Adds access to pro project reviews, along with 1-on-1 mentorship
Team Treehouse Reviews: Does It Have a Solid Online Reputation?
HighYa's Team Treehouse Review
Based on our original Team Treehouse review, 23 HighYa readers gave the company an average rating of 4.5 stars. In most cases, customers seemed pleased with how their lessons made complicated subjects straightforward and easy to understand, in addition to engaging topics, and the ability to proceed at their own pace. Several also noted that everything from the website to their classes and videos are well designed.
In fact, there was only one HighYa review lower than 3 stars, which referenced that they didn't feel like they learned any creativity in the coding. In other words, they were just told what to do, not how to think about the problem.
Team Treehouse vs. the Competition
One thread on the Team Treehouse forum compared the site to several competitors, including Lynda.com, Skillshare, Udemy, and Coursera. Overall? They seemed to appreciate Team Treehouse's small, bite-sized videos that pack a lot of punch, and that you can quickly land paying gigs with what you learn.
Compared to other options, they felt Team Treehouse's prices provided much more value for the money, the quality of their instruction was consistently higher, and that their content helped them learn the fastest. But one user didn't like the fact that you start coding before you actually learn what you're doing, and another didn't like the slow pace of their videos.
On another Team Treehouse forum thread, a lot of users provided feedback about the company's claim that they could help get you "job ready" in three months, versus paying $50K for a Computer Science degree. Although several expressed their skepticism about this claim, in many instances, users seemed to agree that the website could help you land and entry-level position (e.g. Junior Coder) in just a few months.
However, they all agreed you that you need to be hungry and willing to learn as much as you can "outside the box."
SkilledUp.com's Review
SkilledUp.com liked the fact that all of Team Treehouse's videos are in a logical, chronological order, that each video is split into short segments, and that you can watch the instructor's screen as they code. This way, you'll be able to see what the coding looks like, learn what it means, and then do it yourself through Code Challenges and quizzes following each lesson. Overall, they noted, "Enormous time and care has been put into each video."
Team Treehouse Feedback from Other HighYa Team Members
In addition to me, several other members of the HighYa team have used Team Treehouse to learn new coding skills. In fact, some of us have even been following their progress since day 1!
Overall, we think it's been pretty impressive watching them grow and reach the point they're at today. We can certainly foresee them continuing to expand, add more classes and features, and continue reaching a broader audience.
Sure, there seems to be a lot of positive online feedback for Team Treehouse. But does this necessarily mean they're the right option for you?
Should You Join Team Treehouse?
As someone with a limited coding background, I found Team Treehouse easy (and enjoyable) to use, highly informative, and full of quality content. And whether I was looking to land a new job or just sharpen my skill set, I'd find them difficult to beat.
And based on their almost wholly positive online reputation, it seems that most of their others customers would say much of the same.
But I also recognize that everyone's different, especially when it comes to teaching styles. What works well for me might not work for you, and vice-versa. But the good news is that you can give them a try without paying a dime—just set a reminder to cancel your trial before it rolls over to a paid subscription!
Given all of this, do I think "learning with Treehouse for only 30 minutes a day can teach you the skills needed to land the job that you've been dreaming about"? If you're willing to put in the time to build a well-rounded coding skill set, I'd at least say that Team Treehouse will point you in the right direction.
Pro tip: At HighYa, we've dealt with our fair share of work at home scams, which often present "opportunities" that end up costing you more money (and time) than you'll make. However, working as a developer could be a very real work-at-home opportunity, and it seems like Team Treehouse could definitely help you get there.
Do you think that what you learned on Team Treehouse helped you land a better job? Whatever it is, tell us about your experience by writing a review below!
HighYa's Editorial Disclosure: Previously this URL page contained links to Team Treehouse page that if clicked by readers and they would make a purchase, HighYa would earn a commission, they have been removed and HighYa is no longer earning off commission For more info, click here.
You get what you pay for

By John

,

Grand Rapids, MI

,

Jan 30, 2017
Verified Reviewer

I used Team Treehouse for about a year and a half. I dived into JavaScript, HTML, and CSS. I also used it to learn some Ruby basics before moving on to a different service.

The fact is, you get what you pay for. After over a year of working on Treehouse, I realized that they don't really dive into anything deep. Concepts like the keyword "this" or pass by reference/value (which are often fundamental to really understanding a language) are given a couple of short videos (called Deep Dives), but they never actually contain anything deep, at least in my opinion.

Having moved on to another subscription service that stresses the importance of understanding fundamentals (and drills them over and over and over, instead of just glossing over a bunch of topics to say that you now have "experience" in these fifteen or twenty areas), I realized that the method that Team Treehouse uses to teach students programming concepts is woefully inadequate for anyone looking to rise above all of those would-be programmers who have a smattering of knowledge in a dozen different areas.

In short, you get what you pay for. And while I do think that Team Treehouse helped me get some traction in programming, I would recommend another subscription service.

Bottom Line: No, I would not recommend this to a friend

---

Pretty Slow

By Clayton

,

Tampa, FL

,

Nov 21, 2016
Verified Reviewer

This is one of the resources I came to when I first started learning to code. The structure is really nice, as far as how they organize the courses and the topics/lessons inside of each course.

But when you watch a video, make sure you brew a couple gallons of coffee or maybe some meth. I didn't find anything engaging.

A lot of the teachers are pretty cheesy and I felt like I was being talked to like I was a kid or stupid. It's better than something like Udemy because of the consistency but the quality really isn't there. I also found the excessive over-explaining pretty distracting.

If you are a beginner and need someone to walk you every single step of the way, this may be a good option. Another side note, as with most courses online, their 'Advanced' definition of code is pretty weak. For example, they don't cover in depth CSS transitions and animations, which a lot of the higher quality websites have on them.

In my opinion, this is the course for the absolute beginner who needs a very slow approach and doesn't want to take his or her knowledge to a genuine developer level.

Bottom Line: No, I would not recommend this to a friend

---

Advertisement

---

Treehouse is awesome, and I am a total newbie.

By Jake Hopkins

,

St. Louis, MO

,

Sep 24, 2016
Verified Reviewer

I started using Treehouse to learn front-end web development not even 90 days ago. 90 days ago, I couldn't tell you what a "programming language" was. Much less what CSS3, HTML5, or Javascript was. Treehouse has REALLY exceeded my expectations, by making code approachable, even for a rookie like me.

Their format of videos, challenges, and quizzes helps the information stick. I can code a web page completely on my own now. Also, a big bonus, their customer service is awesome (no they aren't paying me).

I get lighting fast responses to all my questions, and they're always super friendly. I'll be starting on a Tech degree soon, and am confident I'll be working in the IT field this time next year.

Bottom Line: Yes, I would recommend this to a friend

---

There's nothing like it

By John Perry

,

Salt Lake City, Utah

,

Apr 22, 2016
Verified Reviewer

They're constantly adding tons of videos and always up to date with the latest trends and code versions.

Bottom Line: Yes, I would recommend this to a friend

---

Advertisement

---

Maybe not a scam, but very difficult to opt out.

By Rod

,

America

,

Feb 18, 2016
Verified Reviewer

I started the 7 day trial, and what I hate is, sites that are beautifully designed require a credit card to for the trial, but they hide the "I want to opt out of this site" option. If there are so many nice big rounded buttons, why not add one that says "Cancel Trial"?

I also thought it was annoying that they started with binary code. I don't know how the engine works in my car, and I can still drive it perfectly. Tell me one designer who thinks about binary?

When I had questions, they got back to me immediately. But when I asked them how to opt out, they were silent. I was forced to take all the money out of my debit card, to ensure I won't be billed, and if they do bill me, my bank can confront them about it.

Rule number 1 is, don't make it easy for someone to join your site, but hard for them to walk away. If you expect people to trust you with their credit card, don't make the opt out process so vague.

Bottom Line: No, I would not recommend this to a friend

---

The Most Colorful Web Development Knowledge on the Web

By Jennifer Kendrick

,

Lafayette, LO

,

Aug 18, 2015

Upon learning about Treehouse, I thought it was going to be just like one of the other learning sites. You sit down, you code, you leave, and then you retain nothing. I was completely wrong.

Treehouse introduces a fascinating way to teach code/development by interacting with its students through inspirational videos. The videos are colorful, rewarding, and offer the newest information regarding today's web standards.

What I liked most about Treehouse is that they are not afraid to teach you their latest innovative musings. With keeping up to date web standards in mind, they offer the most pragmatic approach to adapting and implementing semantic and brilliant code styles.

Being a developer who always wants to be in the know, Treehouse has helped me keep on top of my game while not being over burdened and feeling dumb.

Treehouse is amazing.

Bottom Line: Yes, I would recommend this to a friend

---

Amazing Way to Learn How to Code

By Albert Borges

,

Richmond, VA

,

Aug 18, 2015

A lot of sites have fake reviews about their products to make it seem like they have a good product. Let me tell you now that all these reviews are authentic. I'm a week into Team Treehouse and I'm baffled. I've learned so much in so little time. Beforehand, I would teach myself a lot of stuff through Google, wasting hours. With team Treehouse, all the latest programming knowledge is at the tip of your fingertips.

This is truly amazing even revolutionary. I would highly recommend this software to anyone. The only reason I wouldn't recommend is of the fear of other people getting too good at coding.

P.S. I am a student and I got a great discount. I had the choices between $9/month or $90/year. I choose the year. I was skeptical at first but I am glad I did. And when summer ends and I don't have enough time, I can just pause my account.

I love team Treehouse.

Bottom Line: No, I would not recommend this to a friend

---

Very good for web design

By Hans Tomas

,

Jul 31, 2015

I learn a lot about web design from Team Treehouse courses. They are really simple and easy to understand. But I have also tried Code School which is similar platform like Treehouse. I think best results can come from combining both of them. Code School also offers a month trial.

Bottom Line: Yes, I would recommend this to a friend

---

Team Treehouse Is Awesome

By T. Miller

,

Ann Arbor, MI

,

Jul 15, 2015

Team Treehouse is awesome. I was able to make my first iPhone App within two weeks of starting. The great Team Treehouse teachers can make even the most complicated programming subjects seem easy.

Bottom Line: Yes, I would recommend this to a friend

---

Just plain awesome

By Alexandre Juca

,

Angola

,

Jul 4, 2015

Initially, I was skeptical about starting a course at Treehouse. I did some research though and had two choices either Audacity or Treehouse. I chose the tree. It just grew on me. From the first day I was in love with programming for android. I learnt a lot of things that I can use in my own projects. I didn't need to be explained in detail because I already knew Java and the rest was available on the Google developer site. I would definitely recommend this to a friend.

Bottom Line: Yes, I would recommend this to a friend

---

Valuable Technical Guide

By Leela Narasimha Reddy

,

India

,

Jun 20, 2015

I was looking for a valuable technical information and I found Treehouse. It's really excellent and awesome. I learned so many new things and gained confidence from the tree house valuable materials. Looking more from the Team Treehouse.

Bottom Line: Yes, I would recommend this to a friend

---