Teaspressa Reviews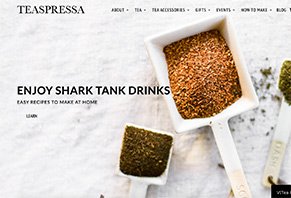 Teaspressa's patent pending concentrated tea shots can provide the caffeine kick of coffee, along with the health benefits of tea, without causing dehydration.
About Teaspressa
Have you ever wanted to enjoy your tea like you would a premium coffee beverage? Or, would you like the same amount of caffeine as a cup of coffee, but without the dehydration or headache?
So did Allison DeVane, which is why she created Teaspressa, a company that manufactures concentrated shots of premium tea that can be made—and enjoyed—like traditional coffee preparations, such as lattes, macchiatos, and cappuccinos. This way, you'll be able to explore the soothing aromas and dynamic flavors of different teas, while enjoying the same consistency of coffee. In fact, the company claims that many consumers can't even tell they're drinking tea!
On top of this, you'll be able to achieve the unique health benefits of each of Teaspressa's teas and get a caffeine boost, without the headaches, jitters, or crashes often associated with coffee.
You've got to admit that Teaspressa has a wide appeal; from casual tea drinkers and those looking to part ways with coffee, to more adventurous tea aficionados searching for new experiences. But even if you fall into one of these camps, does this necessarily mean you should try Teaspressa? Is it unique?
You've got questions, and we'll help you uncover some important answers in this review. To begin, let's talk about Teaspressa's details.
How Is Teaspressa Made?
According to Teaspressa, their concentrated tea shots are made using a special pressure extraction method that provides a "robust body," similar to coffee, along with full flavors, but without losing any of the health benefits.
Compared to regular tea, the differences don't end there. Why? Because you won't be able to brew Teaspressa's teas using traditional methods (including tea brewers, Keurigs, or espresso machines). Instead, the company recommends using a Moka Pot, French Press, or Pour Over (their How to Make section provides detailed guidance for beginners, as well as recipes). Keep this in mind, because if you don't already own this equipment, you'll need to factor it into your budget.
To this extent, Teaspressa claims to manufacture a soon-to-be-released machine that feature patent pending tea concentration technology (perhaps to brew better cups of their tea?), although no additional details were provided at the time of our research. We'll be sure to check back often and update this review as soon as we know something more.
Each pouch (more about this next) of Teaspressa loose leaf tea makes 15-17 servings. This information will also be listed under each blend's description, along with pairing suggestions.
How Much Do Teaspressa's Products Cost?
Teaspressa products are priced as follows:
Individual 4oz Tea Pouches (available in Manhattan Black, Charles Grey, Green Gold, & Cape Town): $12 each
Stovetop Moka Pot: $23
Tea Starter Kit (includes 2 loose leaf blends of your choice and a Moka Pot): $42
Complete Tea Starter Kit (includes all four loose leaf tea blends and a Moka Pot): $65, plus free shipping
In addition to these one-time purchases, you can also sign up for Teaspressa's V.I.Tea Club, which replenishes your loose leaf tea on a monthly recurring basis. You'll start with 4 initial heritage tea jars (the same tea found in pouches, just in a fancy jar) and will receive 4 refill pouches every month.
3-Month Membership: $40/mo
6-Month Membership: $35/mo
12-Month Membership: $32/mo
All Teaspressa products come with a 10-day refund policy (from the date of purchase), less S&H charges. Keep in mind this only applies to products in new and unused condition with original packaging and the original box. In order to request a refund, Teaspressa's customer service department can be reached at info@teaspressa.com.
Do Customers Like Teaspressa? Is It On Amazon?
Teaspressa was a very new company at the time of our research. As such, outside of the company's Facebook page (where it had a 4.6-star average rating based on 27 votes), there was very little online customer feedback. In fact, there even weren't any reviews yet for Teaspressa's loose leaf packets sold through Amazon.
However, the Phoenix New Times visited Allison DeVane's Tea & Toast Co. counter (more about this next) located in Phoenix, AZ, where they tried a Teaspressa latte and some food. While the reviewer enjoyed the food, they claimed you should "skip" the Teaspressa:
"A few sips in, we discovered that this drink is a poor substitute for real espresso. It simply tasted like English-style tea, but with foamed milk. Our conclusion: Teaspressa is not too special. The one positive about it was that it did have the right amount of caffeine kick and that kept us adequately buzzed for the rest of the day."
Allison also appeared in season 7, episode 20 of the popular Shark Tank TV show, which originally aired on 2/26/16. There, she was looking for funding to boost her website and fully develop her patent pending extraction technology.
Overall, all of the Sharks either felt Allison's idea wasn't fully developed or clearly conveyed. As such, they offered her some advice and words of encouragement, but didn't end up investing in Teaspressa. Just who is Allison DeVane, anyway?
Who Is Teaspressa's Founder, Allison DeVane?
Allison founded Teaspressa in January 2015 after she found she could no longer enjoy coffee frequently, which often caused headaches. Since she'd worked "in the coffee and tea industry for 9 years" (there's no mention in what capacity), Allison knew that tea could represent a healthy alternative for consumers like her. After all, it could provide the same caffeine kick as coffee, but without the dehydration headache.
Allison also found that, using her patent pending extraction technology, she could create concentrated tea that featured a similar thick consistency, making it fuller, tastier, and perhaps more attractive to a wide audience. This, in conjunction with Allison's desire to become a business owner, led to the creation of Teaspressa.
Given everything we've talked about here, should you give Teaspressa a try?
Is Teaspressa Everything It's Cracked up to Be?
Although the company is completely legitimate and offers a 10-day refund policy on their products, as soon as they're opened or used, you won't be able to get your money back. Obviously, you can't try Teaspressa without opening one of their packages, so once you try it, you buy it.
Second, if you're a casual tea drinker without a Moka Pot, French Press, or Pour Over, you'll have to purchase additional equipment just to give Teaspressa's loose leaf teas a try, which can quickly increase your overall cost.
The bottom line is that, while there are hundreds of online recipes that can teach you how to make concentrated tea, as well as others for making coffee-tea blends, there simply isn't anything out there quite like Teaspressa. So, if you're looking for something exactly like it, only you can decide whether or not it's worth rolling the dice.
Did you decide to give Teaspressa a try? Be sure to tell the world about it by writing a review below!