TechWatch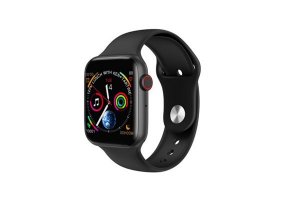 The TechWatch smartwatch looks like the Apple Watch but lacks the app functionality and consistent performance Apple Watches are known for.
TechWatch Review: What to Know Before You Buy
TechWatch is an Apple Watch knock-off promising the same functionality as popular smartwatches at a fraction of the price.
If you've shopped for the Apple Watch recently, then you know one of the primary obstacles to owning one is the price. A new Apple Watch costs $399. The TechWatch eliminates this hurdle by selling its watch for less than $100 without sacrificing important features.
TechWatch's reasonable price solves the cost issue related to name-brand smartwatches. However, you need to know if the watch's performance is equal to its price.
In this review, we'll help you understand if this watch's combination of price, features, and performance are right for your needs.
Features
The TechWatch comes in two colors, black and white, and includes the following features:
Heart rate monitor
Step counter
Sleep monitor
Sedentary monitor (alerts you if you're sitting too long)
Bluetooth calling
Phone locator
HD touch screen
Compass
Customizable home screen (analog or digital)
Music controls
Accepts SIM cards
The key feature here that makes this watch different than the Apple Watch is that the TechWatch can have its own 4G or 3G SIM card. It functions as its own phone. So, if your phone battery dies and you need to make a call, you can remove your SIM card and place it into your watch.
The watch will work independently of the phone, allowing you to listen and speak during calls.
The watch can handle up to 400 contacts either through syncing with your phone or you entering contacts manually.
If you want to access the heart rate, step and fitness information the watch tracks, you need to log into the watch's FunDo app.
The watch's battery lasts three to five days on a 70-minute full charge.
To connect your watch to your phone, you'll need to download an app called "Fundo." Go into the app and select the "Add Device" option in the "More" menu. Tap "Watch_LE" to add your watch.
Then, tap on your watch's Bluetooth icon, turn on Bluetooth and select your phone from the list of available devices.
TechWatch's instruction manual warns that your Bluetooth connection's strength and consistency will change depending on which phone you have. If you experience connection issues, you should restart your watch. Press and hold the power button for 10 seconds to restart.
Price, Return Policy and Warranty
One watch: $79
Two watches: $145
Three watches $189
All three price tiers include free shipping. It can take up to 21 days for your watch to arrive. If it takes longer than that, you can go to the company's tracking page, enter the TRD number on your invoice and find out the shipment's status.
Return Policy
You have 30 days from the day you receive your watch to make a return. You can start the process by emailing customer service at support@maxdeals.ltd.
Tell them you are returning the watch. Then, put the watch and its original packaging in the shipping box and send it to MaxDeals Returns, 231 Greymon Dr., West Palm Beach, FL, 33405.
Finally, send another email to customer service telling them you've sent the return. Provide the return's tracking number, too.
Warranty
You have the option of buying a three-year extended warranty for $37.99. The warranty covers broken parts and watches that stop working despite being in perfect physical condition.
The warranty doesn't cover any damage due to "external manipulation," which includes damage that results from you trying to take the watch apart or remove parts from it.
TechWatch customer service told us that you should "send pictures and video as proof" that the parts or watch broke on its own.
Analysis of Customer Reviews
We analyzed tech demos of the watch as well as customer reviews of the Fundo app to give you a sense of what you can expect from this watch:
Common Compliments
Looks Like an Apple Watch: Reviewers say that the watch looks very similar to an Apple Watch. So, if your goal is to find a knockoff that looks as realistic as possible, this watch will meet your needs.

Call Functions Work Well: Customers are happy with the watch's call capabilities.
Common Complaints
Connection Issues: One of the main themes was that the Bluetooth connection was unreliable. Also, Samsung Galaxy owners, in particular, complained about connection issues.

Watch Apps Don't Work: There are multiple reports of users who said some apps may not do anything, while other apps won't load and will display an error message.

Doesn't Add iTunes or Google Play Apps: Despite what the watch's website says, users aren't able to download apps to the watch. This is a major drawback and a key differentiator between TechWatch and an actual Apple Watch.

Notifications May Not Disappear: Several reviewers noted that notifications don't always disappear and that the "12PM LUNCH WITH KEN • TARTINE" message on the home screen never disappeared.
Review Takeaways
In our opinion, the numerous red flags we found among customer reviews of the watch and its corresponding app are concerning.
These red flags impact the watch's function to the point that only a fraction of its apps will work as they should. This will most likely cause you a lot of frustration.
There's a good chance the money you save buying an imitation Apple Watch won't be worth the limited function the watch gives you.
The Bottom Line: Is the TechWatch the Right Option for You?
Based on our research, there is too much evidence of user frustration, app glitches, and connectivity issues to recommend buying this smartwatch for its apps and fitness tracking.
---
Disappointing

By David M.

,

United Kingdom

,

Jun 22, 2020
Verified Reviewer

Length of Use: 3–6 months

Overall Experience:

The strap came off after 3 months. I glued it back. Then the other came off.

The supplier said it is only guaranteed for 30 days...though paperwork claims 1 year!

Also, heart readings are random and definitely not accurate.

Sleep readings are useful and the step counter works.

A bit Mickey Mouse!

I bought this watch from MaxDeals!

Bottom Line: No, I would not recommend this to a friend

---

Watch out!

By Rosa Z.

,

Punta Gorda, FL

,

Feb 18, 2020
Verified Reviewer

Overall Experience:

I was excited when I first ordered the watch on December 14th. I waited to get it for over a month. Then it finally came and boy what a rip-off. I don't know Chinese and couldn't get it to change to English. I returned the watch immediately and sent it to the address in Palm Beach, Florida the reviewer wrote on his website. Back and forth with emails from them to this day and they still have the watch and my money. I sent them the tracking receipt they sent me in an email, said they couldn't read it so I sent them the number. They told me I had to be approved. And once I was approved I would get my money back. It is now February 17th and still no money. They said I needed to send the watch to China? Not what it says on the instructions. The watch isn't very good. The instructions come with the watch but are very brief and do not explain entirely. Well, live and learn. Never again!

Bottom Line: No, I would not recommend this to a friend

---

Advertisement

---

Not worth the money

By Kerri D.

,

Australia

,

Feb 15, 2020
Verified Reviewer

Overall Experience:

I purchased TechWatch and found it to be nothing like described. Battery lasted less than 2 days, features did not work, and those that did were inaccurate. Company would not respond to emails. Thank goodness for PayPal protection. I was one of the lucky ones and have a full refund.

Bottom Line: No, I would not recommend this to a friend

---

Rip off and waste of money

By Lisa P.

,

Victoria, Australia

,

Feb 6, 2020
Verified Reviewer

Overall Experience:

We ordered three of these watches, after two months, one watch is still working. One has a broken strap, one stopped working after using for two weeks. They are a scam and rip off company, with no offer for fixing or refund for the watches that don't work!

Bottom Line: No, I would not recommend this to a friend

---

Advertisement

---

TechWatch

By Louis R.

,

Montreal, Canada

,

Feb 5, 2020
Verified Reviewer

Overall Experience:

Purchased this product about two months ago. The battery barely lasts a day. Voice connection to Siri does not work well. Phonebook connects intermittently to my iPhone. Essentially good to tell time and receive notifications. Using the watch for calls is not recommended as the voice quality in and out is insufficient. The supplier Max Deals did not respond to my request for a refund for over a week. I called their number every single day for seven days. Was eventually given a discount of 50%. Even at that, this watch is truly not worth the purchase compared to other items on the market.

Bottom Line: No, I would not recommend this to a friend

---

Bad instructions

By Dan W.

,

Cold Lake, Alberta, Canada

,

Jan 31, 2020
Verified Reviewer

Overall Experience:

I like the watch style. Had a hard time getting the watch to par with my Samsung S8. Finally did but could not get it to go to English. Date and time were good for two days and then the time is wrong. Unless you can give me a website with better-operating instructions I would not recommend this watch to anyone.

Bottom Line: No, I would not recommend this to a friend

---

Some positives but one major issue - watch failed to charge after three weeks of use

By Glenn C.

,

Worcester, MA

,

Jan 30, 2020
Verified Reviewer

Overall Experience:

Ordering process - Very easy and simple. Took over two weeks to be delivered. The price point was quite good and their reasoning on the price made sense to me on their website.

Battery - Charges very fast. I ran it the first week without pairing the watch to my phone and it only needed one charge. After pairing it with the Fundo app, the battery life significantly declined on the watch and my phone.

A major issue: One day, I noticed the watch was signifying 0% battery and put the charger in. The battery icon flashed on the screen and I left it alone. About an hour later, I checked and the watch was totally dead. I tried to charge using different plugs, different cables, and even directly from my laptop to no avail. I notified their support contact email address and their response was a simple apology. Very poor.

Watch look and feel: The watch is very slim and looks quite sharp. The watch face is really sharp and responds well to the touch. You did have to touch the icons very precisely but I think that is something you have to get used to with a smartwatch.

Documentation: This is my first smartwatch and the documentation wasn't that clear. I figured out a lot of the icons simply by fooling around with the watch. The booklet was barely helpful and the app wasn't much better.

Overall: Since the battery failed so quickly (after only 3 weeks) and the company had a very poor response, I would rate this watch 1 out of 5. I guess you get what to pay for.

Bottom Line: No, I would not recommend this to a friend

---

Poor choice

By Mick D.

,

United Kingdom

,

Jan 28, 2020
Verified Reviewer

Overall Experience:

Adverts are too good to be true and they are. Poor choice of smartwatch, not worth the money. Some apps don't work e.g., heart rate monitor very variable and inaccurate, steps inaccurate. Far too hype for a poor watch. Do not buy.

Bottom Line: No, I would not recommend this to a friend

---

SCAM! BEWARE!

By Sujani K.

,

Toronto, Ontario, Canada

,

Jan 22, 2020
Verified Reviewer

Overall Experience:

I have ordered for 2 Nos TechWatches and canceled the order UXJRVBC1CA but they have deducted my money and never delivered the watches! There is no customer care! Email bounces back!

Bottom Line: No, I would not recommend this to a friend

---

Basically good but with shortcomings

By Frank Y.

,

Sunshine Coast, Queensland, Australia

,

Jan 21, 2020
Verified Reviewer

Overall Experience:

I have "Icons currently not supported, Capture not working, History still empty, Heart rate not accurate at all." (I have 65 and watch said 88.) Steps and distance out by 25%. Have got many of the functions working but without accuracy - how to change any settings, or if it is possible?

The charge lasts only 1 day. No description of icons and how to use them or settings you can change. Need this information or a website. The company answered when I asked how to change the language from Spanish to English - having finally connected to Bluetooth this was automatic.

Good potential but I am struggling.

Bottom Line: No, I would not recommend this to a friend

---

Battery

By Sammye W.

,

Houston, TX

,

Jan 21, 2020
Verified Reviewer

Overall Experience:

The battery on this watch lasts less than 24 hours. I spoke to someone on the website and their solution is to disconnect the Bluetooth.

With no Bluetooth connection, I don't get phone calls or texts and that is the reason I purchased it. Very disappointing.

Bottom Line: No, I would not recommend this to a friend

---