Teforia Reviews
Claimed This company has claimed this profile, is getting alerted on any new customer reviews entering this page, and may engage in dialogue with its customers to address their matters.

Companies cannot pay money or provide goods in order to remove or alter customer reviews.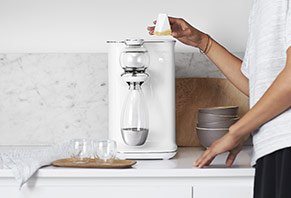 Branded as an "intelligent infuser", Teforia is a brand new, high-tech way to automatically bring out the richness and depth of flavor of your loose leaf tea.
About Teforia
Teforia is an intelligent infuser that "reads" each tea package and automatically brews it based on optimal steeping time, infusion temperature, tea varietal, ratio of tea leaves to water, and number of infusions.
Teforia accomplishes this using the company's proprietary Selective Infusion Profile System (SIPS™), which is claimed to "combine the ancient knowledge of tea masters with advanced machine-learning technology."
In other words, Teforia will automatically brew a perfect cup of tea every time, so you can experience the true character of each blend, as well as an unprecedented purity and depth of flavor.
To complement your infuser, Teforia also stocks "the freshest and rarest collection of teas" from around the world, grown in areas free of pesticides and pollution.
Really into tea? If so, then Teforia's almost certainly on your radar. But before you make the leap, you want to know as much as possible, which is exactly why HighYa exists.
First up, is Teforia meaningfully different that other electronic infusers?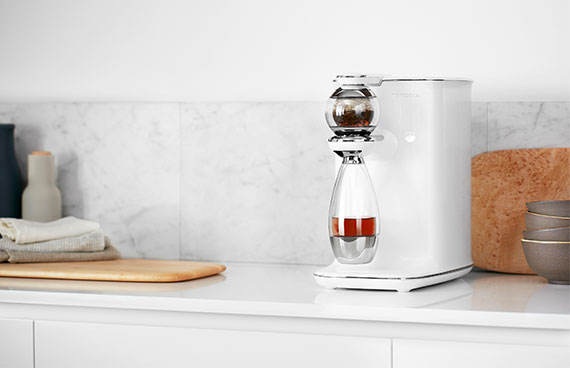 Teforia Infuser. Image: Teforia Co.
How Is Teforia Different Than the Competition?
If you search for "electric tea infuser" online, you'll quickly find that you have a lot of options to choose from—even ones that are programmable like Teforia.
However, Teforia CEO Allen Han likens bringing his product to the tea world to the introduction of Tesla in the eco-friendly vehicle industry. Much like Tesla, Teforia is a no-compromise approach in a previously stagnant market. Before Tesla, the eco-friendly vehicle was accepted to be ugly and low performance. Tesla changed all that. In the same way, Teforia is changing the perception of what's possible for tea brewing.
Compared to these other options, Teforia claims to be different in several ways:
iOS and Android apps that provide wireless connectivity with your smartphone
Smart Packaging of pre-measured loose leaf tea, with a uniquely flavorful selection. Note: Teforia can also work with any brand of loose leaf tea, although you might not receive the "optimized" flavor provided by the packets.
The ability to personalize preferred tea recipes (including caffeine or antioxidant levels) and program them as your favorite for "easy, repeatable results."
Personalized recommendations based on your unique preferences
A beautifully designed, easy-to-clean, stain-resistant borosilicate glass carafe and infusion globe made of high impact, BPA free plastic, which keeps your tea warm and ready for sharing
The ability to explore different teas from around the world and share your experiences
Keep all of this in mind, because we'll come back around to it shortly.
For now though, will you pay a steep price for all these innovations?
Teforia Preorder & Pricing
At the time of our research, Teforia was set to be shipped during Spring 2016, although you could preorder the infuser at a cost of $649 (which will increase to $1,299 afterward).
Important note: Through third-party overviews about the infuser, we learned that Teforia will ship with Smart Packets of pre-measured teas. However, there was no indication how much replacements would cost at the time of our research.
Compare this price with other programmable tea infusers, and you'll quickly learn that even with its temporarily lower price, it still costs 6X as much as these options. Once the price goes up, you can double that number.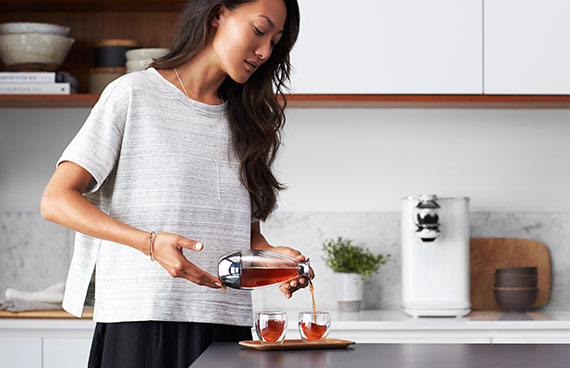 Teforia Carafe. Image: Teforia Co.
If you place an order for Teforia but get cold feet, you can obtain a full refund before it ships by sending an email to help@teforia.com.
After it ships, Teforia will come with a 30-day refund policy, less shipping and handling charges, gift wrap fees, and taxes paid. It will also feature a 2-year warranty against defects in materials and workmanship under normal use (the use of any non-dried, non-plant-based material will immediately void your warranty).
Given all of this, is Teforia right for you? We'll wrap everything up in a second, but first, let's get personal.
Teforia: From a Personal Perspective
I'm what you'd call a tea aficionado. I really enjoy the ritual of brewing tea and take a great deal of pride in the process, and like to think that all my friends can expect a great cup of tea whenever they visit my home.
And as someone who's passionate about brewing tea, I know there are five main parts for achieving great-tasting results:
Good loose leaf tea
Good (i.e. filtered) water
A solid understanding of the appropriate water (infusion) temperature for the specific tea you're brewing, in order to extract the optimum flavor
Knowing how long you need to steep the tea to achieve the desired caffeine levels
Understanding the appropriate tea to water ratio
Now, as much as I love tea, beautifully designed products, and technology, the real value of Teforia is that it takes all the guesswork out of this equation. In other words, Teforia seems to be able to take an average tea padawan and turn them into a tea master.
Even then, you'll still probably need to tweak the different aspects via the Teforia app in order to brew the perfect tea. I can also foresee this app adding a lot of little conveniences, such as saving settings for different users in the same household.
Pro tip: One of Teforia's portfolio selections is Samovar Tea, which I'm a big fan of, so I often order from their San Francisco location.
In addition to their great tasting teas, all of Samovar's teas have directions printed directly on their packaging, including the tea/water ratio and brewing times. In my humble opinion, their teas turn out just about perfect every time. And when I get distracted on occasion and over-steep my tea, it can be easily corrected.
In a nutshell, Teforia is a beautifully designed machine, the people behind it really seem to know their teas, and they appear to be partnered with great tea companies.
However, unless you're really into tea, I'm not sure Teforia's ultra-steep price can be justified. And if you are into tea, then you probably already know how to brew a perfect cup.
Would I love to get Teforia as a gift? Most definitely! But would I buy Teforia for myself? Not at this price.
Lastly, keep in mind that good tea is expensive, and you should factor in this additional cost if you're looking to make the switch to Teforia. In my opinion, if you're not looking to buy high-quality tea, then I don't see much sense in purchasing Teforia in the first place.
P.S. On the rare occasion that I'm busy or feeling a little lazy, the auto-brewing feature of this Breville tea maker automates much of the process. But if you value the tea-drinking experience, will traditional infusers like this provide anything close to Teforia?
Our Conversation with Allen Han, Teforia's CEO
To really get a handle on precisely what distinguishes Teforia from the competition, we had the opportunity to talk with CEO Allen Han. He gave us a lot of great insight—not just into Teforia, but the passion behind product as well—so we felt it was important to share what we learned.
The Story Behind Teforia
According to Allen, the way we make tea is very archaic. In fact, outside of the invention of tea bags in 1903, we've been stuck in a rut, brewing tea essentially the same way for the past 5,000 years. And compared to other cooking methods (even brewing coffee!), this is extremely rare.
So, in 2013, Allen began working on Teforia, with one goal in mind: to make the best cup of tea possible, and to make the process simple. No compromises and nothing ordinary; he's out to change how the world makes and enjoys tea.
Teforia vs. the Competition
If there is a "heart" to Teforia that helps it accomplish this, it's the proprietary Selective Infusion Profile System (SIPS™), which we talked about above. This allows you to change the profile of your tea in an unimaginable number of ways. How? By allowing you to adjust 200+ major chemical compounds in your tea, including caffeine and antioxidant levels, fruitiness, and much more.
In fact, Allen claims that Teforia's SIPS has been shown to provide 113% more antioxidants than a standard infuser!
This is what really separates Teforia from the rest of the pack—even options like the Breville we referenced earlier. Allen claims that infusers like these, while convenient, follow a standard process that only reveals one note, without any of the complexity.
Teforia then takes this a step further with its app. Here's a brief overview of how the process works:
How Teforia Brews the Perfect Cup of Tea
First, Teforia will automatically read the size and shape of your tea leaves. Based on this information, it will then come up with a pre-set recipe.
Next, the brewing process begins, which will infuse your tea leaves five different times. Compared to other infusers that just shoot water through your leaves, Allen claims that Teforia's unique process will really bring out their "symphony of flavor."
Based on the results of this first batch, you'll be able to provide feedback through Teforia's app. The infuser will then "learn" what you prefer, and by the third batch, your results should be perfect.
From there, you'll be able to save these settings for future use, share your recipe with the community, and even download recipes from other users.
During our conversation, Allen provided a good example of how this technology can really bolster the tea-drinking experience: Allen noted that if he drinks caffeine in the afternoon, he might experience insomnia later that night.
To avoid this, he started using a low caffeine extraction recipe in the afternoon. After only a few batches, his Teforia app recognized that he only drank low-caffeine tea at a certain time of day, and made that his default setting. Of course, Allen can fine-tune this whenever he wishes.
At this point, we think it's pretty clear that Teforia isn't like any other infuser on the market. So, the next logical question to Allen was: "Despite this difference, how much value will Teforia really provide?" Here's what he had to say:
What About Teforia's High Price?
As with most high-end products, it's often more about overall value than it is about the price tag, and Teforia doesn't seem to be any different.
In a nutshell, Teforia is out to be the best tea infuser ever. One that takes the worry and guesswork out of the process, keeps the tea leaf as natural as possible, and brews the perfect recipe each and every time. According to Allen, "tea is a journey," and Teforia can help you "explore and enjoy tea on a level you've never experienced before."
Ultimately, Allen claims that it comes down to a lifestyle choice. If you take into consideration how much money you already spend on tea, and that you're only getting half the value with traditional brewing methods, Teforia's ability to fine-tune your recipes can be a game changer. One that can provide an immense amount of value if you place a lot of importance on what you drink.
The Bottom Line
Regardless of how much tea you drink, it can be agreed that Teforia might represent a huge leap forward in tea technology; one which can bring out the full richness of the leaves and redefine the tea drinking experience. There just isn't anything else like it currently on the market.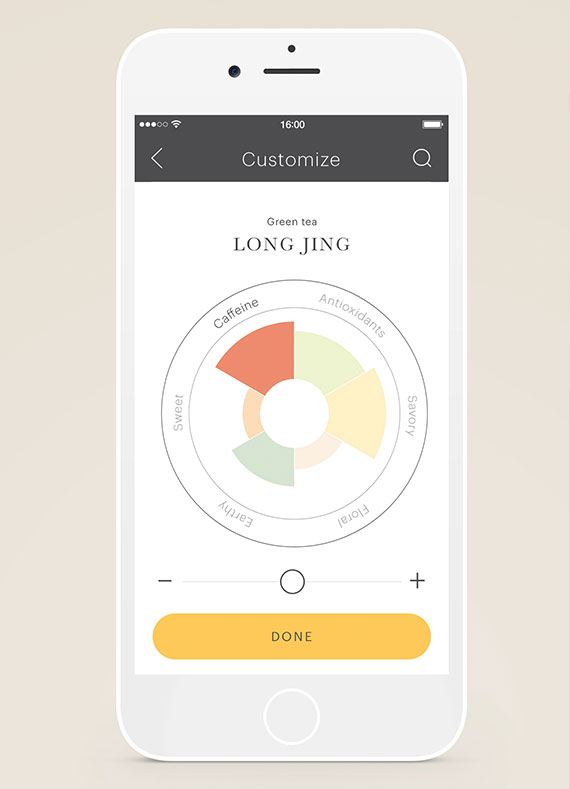 Teforia iPhone App: FlavorWheel. Image: Teforia Co.
First, Teforia's price is a huge stumbling block. Sure, it will almost certainly brew a more enjoyable cup of tea, its smartphone connectivity and automatic brewing will make the process simple yet fun, and it's beautifully designed.
But at more than 12X the cost of most other tea infusers (after release), this might be difficult for the average consumer to justify.
Do You Have a Well Developed Palate?
Second, even if you're undeterred by Teforia's price, unless you're an avid tea aficionado and have a well-developed palate, you might not be able to enjoy the full richness that the infuser provides.
With this in mind, who might benefit most from Teforia? As we mentioned above in our conversation with CEO Allen Han, it's going to be someone who really values what they drink. Whether this will only be attractive to very experienced tea drinkers with fine, well-developed palates (versus the everyday, casual tea drinker) remains to be seen.
For example, even the author of this Wall Street Journal article, who drinks tea twice daily, every day, said he couldn't justify the price. And just about the only way he could is if he were "running a specialty tea shop, or a Michelin-starred restaurant."
On the other hand, Tea for Me Please had an opportunity to sit down with Allen earlier this year, as well as to taste the results Teforia produced. Here's how she summed it up:
He brewed a vibrantly green matcha dusted sencha using room temperature water in both devices and the difference between the two was extraordinary. The color of the liquor was a dramatically deeper shade of green in the cup made by the Teforia. What really blew my mind was the taste. Teforia's cup had a rounder, fuller mouth feel with a much more pronounced umami factor. Allen was kind of enough to give me the rest of the tea in a to go cup and I can tell you that I was definitely in heaven sipping it on the subway.
In the meantime, do you thoroughly enjoy the tea-drinking experience? Do you love tweaking recipes in your search for the perfect cup? If so, Teforia might provide an immense amount of value, since there's nothing else like it on the market.
But if you're only a casual tea drinker who can't tell the difference between an Oolong and a Pu-erh, you might want to hold off until the price moves more in line with the rest of the competition.