Temi The Personal Robot Reviews
Claimed This company has claimed this profile, is getting alerted on any new customer reviews entering this page, and may engage in dialogue with its customers to address their matters.

Companies cannot pay money or provide goods in order to remove or alter customer reviews.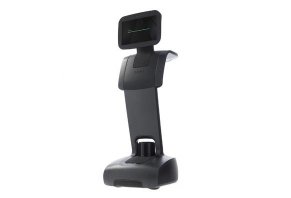 Temi is a mobile personal robot that claims to seamlessly enter your life using proprietary ROBOX technology for human-like interaction, a suite of sensors, and social media integration.
What Is Temi?
Temi—short for "technology for me"—is advertised as the first truly intelligent, mobile personal robot for the home or office that places you at the center of your technology, whether connecting with friends and family online or via video, or interacting with your smart home devices.
In addition to acting as an assistant, the robot's state of the art AI, voice recognition, and facial tracking technology provides intuitive human interaction that learns your preferences and "seamlessly enters your life."
Temi also features a system of sensors and cameras—including flawless autonomous navigation, 360° depth perception, and dynamic path planning—that are said to navigate even the most complex environments, while playing music, answering calls, telling you about the weather, enabling hands-free and heads-up video conferencing, and even ordering takeout.
There's no doubt that Temi's 'coolness factor' is off the charts. But is it worth the price? In other words, can you expect a lot of value for your money when it comes to this unique personal robot? Let's start by taking a closer look at its functionality.
How Does the Temi Smart Personal Robot Work?
Temi comes in at 3' 3" high, 14" wide, 18" deep, approximately 25 pounds, and according to the robot's FAQ, it's "as stable as a chair and as strong as a coffee table."
A top button turns the robot on and off, which is outfitted with 13mp cameras, an HD microphone array, a powerful sound system, and a QHD 10" display screen that automatically detects whether you're sitting, standing, or lying down and adjusts its position accordingly. Its smart tray is designed to carry small, light objects (e.g., water bottle, keys, glasses, etc.) and can also charge your smartphone.
Temi is powered by a lithium-ion battery that will last approximately eight hours, at which point the robot will automatically navigate back to its charging dock.
Speaking of which, Temi features a patented ROBOX module that's said to "enable flawless autonomous navigation [including alternate paths and object avoidance] and advanced AI to promote a deeper level of human-like interaction."
In fact, according to Digital Trend's Jenny McGrath, "As Temi starts following you around, the robot is constantly updating its map and learning the fastest path between two places. Its depth sensors and camera are sophisticated enough to tell if you dropped a business card on the carpet and then decide whether roll over it or go around."
It can move smoothly on any indoor surface, such as carpeting, hardwoods, and tile, can recognize your face and voice, and is constantly learning the preferences of everyone in your home or office.
"For example," the website explains, "when you ask Temi to go to the kitchen, it will learn the best way to get there by seeing your route." It even knows when to be serious, when to joke around, and when it's appropriate to engage in small talk.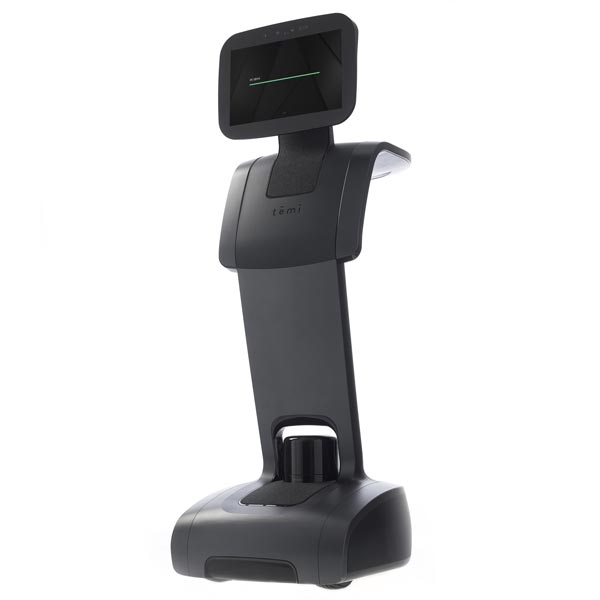 Combining their patented ROBOX navigation and interaction module with a high-quality sound system, video and photo capabilities, Wi-Fi and Bluetooth connection, and an open-source Android OS, the Temi personal robot is positioned to fundamentally change how technology seamlessly integrates into our life. Credit: Roboteam
Temi's Android open platform operating system (with an app that works on all Android and iOS devices) allows third-party developers to create new and unique skills and apps that can help maintain the robot's innovation, including everything from education and medicine to the gaming and security industries. Using your home's Wi-Fi and its built-in Bluetooth compatibility and 4G/LTE card, you can also control the robot remotely.
Additional features include:
The ability for all members of the family to operate, from young children to older adults (Temi currently only understands English, although we're told additional languages are in the works)
Connection to common home automation systems such as Apple Home, Google Echo, and the Nest Thermostat. Similarly, we're told new devices and services are always being added.
A high-quality sound system that can act as your personal DJ
The ability to control smart home devices with your voice
The option to act as your personal photographer and videographer
Access to games, interactive videos, and the latest news and sports from your favorite online sites
Interactively learn new languages, math, and other fun topics
The ability to contact "a doctor or health expert 24/7 from your sofa or bedside"
An app store where you can download games, apps, and new skills as they become available
We spoke with a company representative, who advised that Temi requires absolutely no maintenance. In the rare instance where a malfunction occurs or other maintenance is needed, a technician will arrive at your home or office by appointment and repair the robot on the spot, under their warranty policy (more next).
Furthermore, we learned that Temi automatically returns to its docking station when it's not in use, or when it's running low on battery power (up to eight hours of continuous use per charge), and that updates are automatically transmitted over the air during hours when the robot is least likely to be in use.
From a privacy perspective, all data gathered by Temi is said to be protected using "top regulation and quality standards with smart technology components that protect devices from hacking threats," including encryption when sent over the internet and while stored in the company's Amazon Webs Services (AWS) cloud platform.
How Much Does Temi Cost?
Temi The Personal Robot is available for purchase on their website for $1,99 or on Amazon for the same price. Both options come with free shipping.
Temi offers a 30 day no-hassle money-back guarantee. They will cover the cost of you shipping them back the unit if you're unsatisfied. They also provide a one year limited warranty on any defective units and/or parts.
What Do We Know About the Company & Individuals Behind the Temi Personal Robot?
As a company, Roboteam was co-founded by CEO Yossi Wolf in 2009, which, according to their Crunchbase bio, has traditionally developed and manufactured "cutting edge, user-oriented, multi-purpose, unmanned platforms and controllers for Defense, Law Enforcement, and Public Safety missions."
The website indicates that Yossi came up with the idea for Temi after watching his grandmother shake so severely that it impacted her day-to-day life, which caused him to wonder "if there was an easier way for her to connect with her loved ones in today's world."
Temi vs. Other Personal Robots
While the in-home consumer robotics industry is in its infancy, there are several personal assistant models currently available. Here are relatively similar products that we compared Temi with.
The Aido Robot Assistant
Like the product in question, Aido is supposed to come with features like home automation, security, entertainment (including a 2" woofer with a tweeter), voice activation, autonomous navigation w/obstacle avoidance, facial recognition, remote monitoring and operation via iOS and Android apps, and a smart charging dock.
It also includes additional features like an HD multimedia and interactive projector, as well as auto balance algorithms for its single-rollerball movement. However, by all appearances, Aido has fallen off the market.
Buddy the Companion Robot
Similarly, the Buddy smart robot displays animated facial gestures via an embedded 8" tablet, features ground, object detection, temperature, and rangefinder sensors; dual speakers, an 8-10 hour battery life, navigation and obstacle avoidance, an open source SDK, speech and facial recognition, and smart home and multimedia functionality.
Unlike Temi, it uses head and neck rotation to coincide its head movements with its speech, and features RGB LEDs, a home security feature that sends alerts in unusual situations, and a modular hardware platform that opens up the possibility of future expansion.
It's not currently for sale, though, with no re-release date noted on their website.
Our Final Thoughts About the Temi Robot
Temi comes with a meaningfully higher price tag, so only you can decide if its patented ROBOX module, 10" QHD interactive screen, tray, and smartphone recharging capability will deliver meaningfully more value.
Amazon contains only 16 reviews at this time, although fairly mixed.
With all of this said, we'd like to thank the company for their quick, thorough responses to our questions, which we think is a positive sign of what you might expect after becoming a customer.