Tempur-Pedic Reviews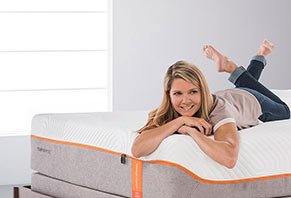 In business since 1992, Tempur-Pedic's line of mattresses combine different types of memory foam, including Tempur material, to help you sleep better.
About Tempur-Pedic
Using a proprietary formulation, Tempur-Pedic mattresses promise to deliver a different type of memory foam that responds to your body, minimizes pressure points, and reduces motion transfer to help you sleep undisturbed.
Specifically, their Tempur-Breeze cooling material channels excess heat away from your body and out of the mattress, while the moisture-wicking fibers in their SmartClimate System keep you cool as well.
In some models, Tempur-Pedic's softer Tempur-ES material offers comfort and support, whereas Tempur-HD delivers more precise support. And if you're looking to add coils to your sleeping surface, their Tempur-Response could be more to your liking.
Regardless of which model you choose, all Tempur-Pedic mattresses come with an EasyRefresh top cover that zips on and off for washing and are designed to work with a firm, stable foundation or an adjustable base.
Tempur-Pedic has been a big name in the mattress industry for years, but does this mean their products will change the way you sleep? Will they deliver more value than the lower-priced competition?
A mattress is no small investment—not to mention you'll sleep on it every night for the next 8-10 years—so find out here whether or not Tempur-Pedic should make it onto your short list.
Tempur-Pedic's Mattress Lineup: What Are They Made Of?
Tempur-Pedic offers a wide variety of mattress models, nearly all of which feature similar-sounding names. As a result, it's easy to become confused.
In fact, even after closely investigating each of these models, we had a hard time finding meaningful differences between them.
To help you make sense of it all, we've featured all of Tempur-Pedic's models below, outlined the key differences between them, and included cross sections where appropriate.
Tempur-Flex Series
This hybrid mattress features a core that delivers a traditional "springy" mattress feel, with Tempur layers on top that provide faster response and more cushiony support that quickly adapts to your body.
Tempur-Flex Prima
A medium-firm mattress that delivers several layers of Tempur material around a hybrid core for fast adapting comfort and support.
Base Layer – Supports the Tempur material above while helping to disperse heat.
Dynamic Support Layer – Consists of densely-packed precision coils that work with the Response layer above to react to your body's movements.
Response Layer – Quick-responding material that supports your body and evenly distributes weight.
Comfort Layer – Here, the top layer of Tempur-ES material promises to provide personalized comfort and support.
SmartClimate System – An inner cover treatment that's supposed to deliver "cool-to-the-touch" comfort.
Wrapped around these layers is a premium fabric cover made from high-loft, super-stretch material that wicks away moisture, with gray upholstered sides.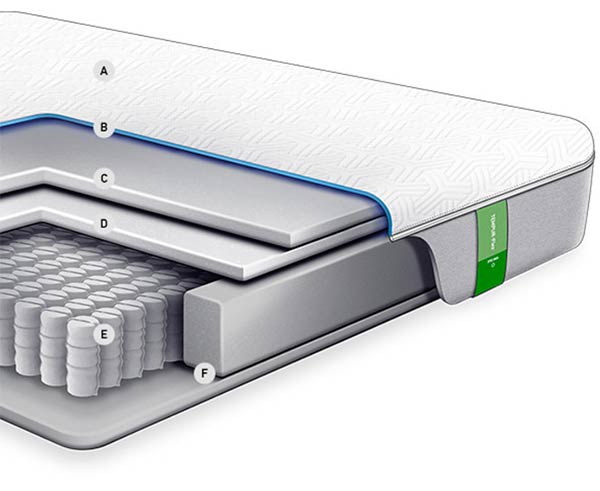 Tempur-Pedic's Tempur-Flex mattress series feature a lower layer of densely packed precision coils. Image credit: Tempur-Pedic
Tempur-Flex Supreme
Identical to the Prima model, with two exceptions: 1) It provides medium firmness and 2) is wrapped in a durable EasyRefresh top cover, which zips on and off for easy washing.
Tempur-Flex Supreme Breeze
This medium-firm model infuses the Tempur-ES material found in the Comfort Layer with PureCool to draw away excess heat.
It also features a cooling cover made of a lightweight, breathable performance fabric that implements "innovative cooling technology" to deliver a more comfortable sleeping surface.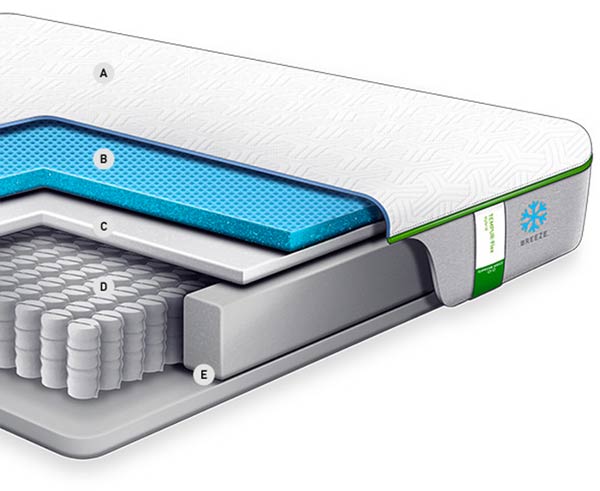 With the Tempur-Flex Supreme Breeze model, the Comfort Layer is infused with PureCool material to help keep you comfortable. Image credit: Tempur-Pedic
Tempur-Flex Elite
A medium-soft option that features the same EasyRefresh cover as the Supreme model, but with the thickest Comfort layer of precision coils available (no specifics listed), along with a thicker Comfort Layer.
Tempur-Contour Series
If you prefer firm support in every layer of your mattress, while reducing pressure points and cradling your body, the Tempur-Contour's thick core might be right for you.
Temper-Contour Supreme
An extra-firm mattress that delivers a denser feel for added support:
Base Layer – Disperses heat and supports the Tempur material above.
Support Layer – Tempur material to provide support and evenly distribute body weight.
Comfort Layer – Instead of the densely-packed precision coils found in the Tempur-Flex series, Tempur-Contour models feature Tempur material that "determines the mattress feel and level of TEMPUR-Adapt."
SmartClimate System – Two layer construction to draw moisture away and provide coolness.
EasyRefresh Top Cover
​Tempur-Pedic's Temper-Contour mattresses feature 5 different layers of foam to provide firm support. Image credit: Tempur-Pedic
Tempur-Contour Elite
This model appears to be identical to the Tempur-Contour Supreme, but with a highly-conforming Tempur-HD material found in the Comfort layer, giving it a medium-firm feel.
Tempur-Contour Elite Breeze
While the medium-firm Contour Elite Breeze model features the same Comfort Layer of Tempur-HD as the Elite model, here, it's infused with PureCool material to maintain feel while drawing away excess body heat.
Considering its name, this model interestingly doesn't feature Tempur-Pedic's SmartClimate System, although it does include a lightweight and breathable, cooling cover.
The Temper-Contour Elite Breeze mattress features a Comfort Layer with PureCool material to improve cooling. Image credit: Tempur-Pedic
Tempur-Contour Rhapsody Luxe
Except for its medium-firmness, the Rhapsody Luxe model appears identical to the Supreme, except for its medium-firmness.
Tempur-Cloud Series
As its name might suggest, with its extra-plush top layers of Tempur material, the Tempur-Cloud series seems geared toward those who prefer a softer feel, while maintaining adaptive support and pressure relief.
Tempur-Cloud Prima
Tempur-Pedic's Temper-Cloud Prima model is a lower-priced, medium-firm option featuring five layers:
Base Layer – As with the other models, this serves as a base for the Tempur material above, while also helping to disperse heat.
Support Layer – Another layer of Tempur material, this one designed to evenly distribute body weight.
Comfort Layer – The defining difference for the Cloud series, here, you'll find a layer of Tempur-ES material to improve feel.
SmartClimate System – The same system found on other models, which draws away moisture and keeps you cool during the night.
Premium Fabric Cover – A high-loft super-stretch cover featuring gray upholstered sides.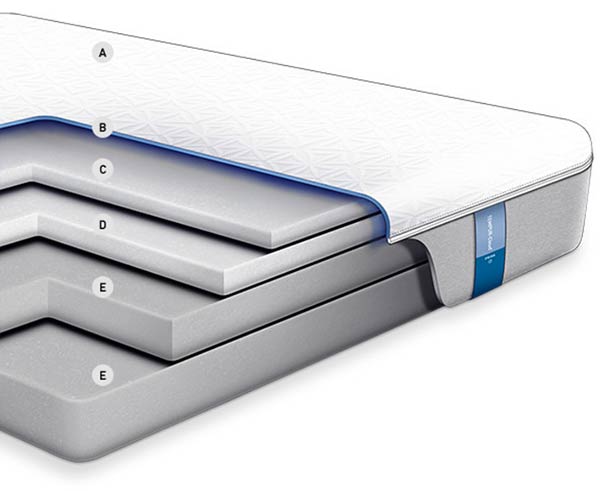 The defining difference for the Tempur-Cloud mattress series is the inclusion of Tempur-ES material in the Comfort Layer. Image credit: Tempur-Pedic
Tempur-Cloud Supreme
For extra pillowy softness (or a "pillowy feel without a pillow top," as the company tells us), the Tempur-Cloud Supreme model features added Tempur material in the EasyRefresh top cover.
Tempur-Cloud Supreme Breeze
This model provides the same pillowy softness, but adds a performance fabric cover for cooling comfort, along with PureCool in the Comfort Layer.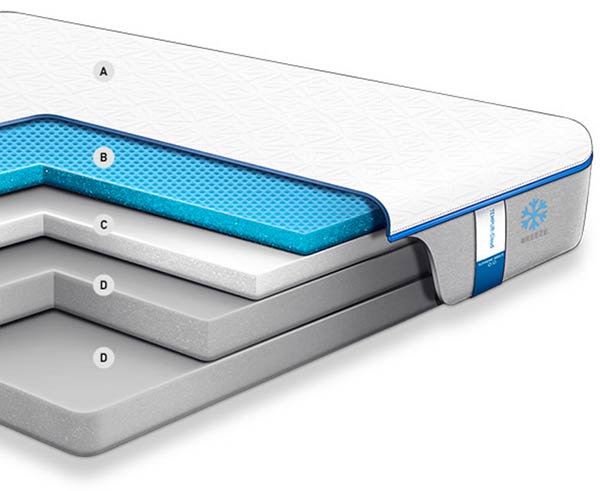 The added PureCool material in the Supreme Breeze's Comfort Layer promises to provide cooler, more comfortable sleep. Image credit: Tempur-Pedic
Tempur-Cloud Elite
Features a thicker Comfort Layer for extra-soft support, while still providing even weight distribution and pressure relief.
Temper-Cloud Luxe Breeze
A soft mattress that gets rid of the SmartClimate System layer and includes a performance cooling cover.
The Tempur-Pedic GrandBedTempur-Pedic GrandBed
Tempur-Pedic calls their GrandBed "extravagantly comfortable" and "exquisitely tailored," with two responsive comfort layers and more Tempur material than any of their other models.
Surrounding these layers, you'll find a blended silk-cashmere cover with elegant tailoring and diamond-embossed side panels.
Now that we've covered all of Tempur-Pedic's models, let's talk price.
How Much Will You Pay For a Tempur-Pedic Mattress?
Tempur-Pedic's different models are priced as follows:
Tempur-Flex: $1,599 – $6,398
Tempur-Contour: $1,699 – $6,998
Tempur-Cloud: $1,199 – $8,398
Tempur-Breeze: $2,999 – $8,398
GrandBed: $7,499 – $8,599
In addition to their mattresses, Tempur-Pedic sells a complete line of related accessories, such as:
Foundations: $699 – $1,999
Pillows: $66.75 – $149.25
Sheet Sets: $51.75 – $141.75
Pillow Cases: $18.75 – $29.25
Comforters & Coverlets: $149.25 – $299.25
Protectors & Covers: $21.75 – $187.50
Related: Does Your New Mattress Need a Box Spring?
Regardless of the model you choose, all Tempur-Pedic mattresses come with free white glove delivery. This means someone will bring the mattress (and frame or foundation, if applicable) into your home, set everything up, remove packing materials, and remove your old mattress and box spring if you like.
Tempur-Pedic provides 90-night trials (you'll need to sleep on it for at least 30 nights) and 10-year limited warranties (be sure to keep your purchase documents in a safe place!) on all their mattresses.
0% APR financing was available for 48 months at the time of our research through Affirm.
Tempur-Pedic has hundreds of retail locations all around the US if you'd like to see (and lay on) their mattresses in person, or you can call (888) 811-5053 to speak with a sleep expert.
Are Tempur-Pedics customers finding these prices deliver a solid level of value?
What Are Tempur-Pedic's Customers Saying In Their Reviews?
Tempur-Pedic.com
As a company, Tempur-Sealy International has been manufacturing mattresses since 1992, so we encountered a ton of online customer feedback during our research.
On their website alone, we found well over 1,000 customer reviews for Tempur-Pedic's mattresses, although no average ratings were listed. There, most compliments referenced improved sleep and overall comfort, and that results were in line with the high price.
On the other hand, common complaints referenced preference-related concerns like excessive heat and too firm/soft feel, as well as high price.
The company had an A+ Better Business Bureau rating and 221 closed complaints (as of 12/9/16), most of which appeared related to comfort issues (specifically sagging and indentation) and customer service/warranty issues.
In all instances, the company responded quickly in an effort to find a resolution.
Consumer Affairs
410 reviewers gave Tempur-Pedic an average rating of 2 stars on ConsumerAffairs.com. Again, most complaints discussed comfort-related issues and high price.
Sleep Like the Dead
SleepLiketheDead.com aggregated 1,850+ Tempur-Pedic bed owner reviews, more than 1,600 of which related solely to their memory foam models.
While their memory foam/spring hybrid beds (the Tempur-Flex models we covered earlier) received higher ratings, most complaints referenced the much higher price and the amount of off-gassing (the chemical-ish smell that's present when the mattress is new).
Other common complaints discussed weight, the amount of sink (difficult to move around), and long break-in times.
On the up side, Tempur-Pedic's mattresses seem to be known for their quality and craftsmanship, lifespan, sleep comfort, and overall customer satisfaction. Let's carry this thought over to the next section.
Tempur-Pedic vs. Sleep Number & Other Mattress Companies
Regarding price, Sleep Like the Dead's review aggregation found that "Tempur-Pedic can be two times (or more) pricier than mattresses with similar benefits and owner satisfaction."
This includes many of popular online-only mattress companies we've reviewed over the years, including Casper, Tuft and Needle, Novosbed, Leesa, Lull, and others.
Quickly glancing at these reviews, you'll generally find they come with equally high customer feedback as Tempur-Pedic's models, although some cost 80 percent less, only feature 2-4 layers of different foams, and might not come with the same attention to detail.
In this regard, Sleepopolis compared the Casper mattress with the Tempur-Pedic Cloud Supreme Breeze. They found that, while the Tempur-Pedic was clearly well designed and featured quality materials, these differences didn't justify the much higher price.
Next, although Sleep Number is perhaps one of Tempur-Pedic's closest competitors, their mattresses couldn't be more different.
Whereas Tempur-Pedic's mattresses are made of foam (and sometimes coils), Sleep Number's mattresses feature foam and air bladders, which can be added or removed using an electric pump to customize comfort.
From a price perspective, Sleep Number's lowest priced mattress came in at $799, which was exactly half the price of Tempur-Pedic's comparable model.
Sleep Number mattresses come with a 25-year warranty, while Tempur-Pedic's come with a 10-year warranty.
How Can You Tell If a Tempur-Pedic Mattress is Right For You?
Since you're thinking about purchasing a Tempur-Pedic mattress, we think there are a few key factors you'll need to address before making an informed, empowered decision:
Model Differences
First and foremost, it's important to point out that sleep preferences are highly personal. What I find comfortable you might find unbearable, and vice versa.
This is the primary reason why so many mattress models exist; we all sleep differently and have our own ideas of comfort.
However, it's nearly impossible for most of us to tell any meaningful differences between all these manufacturers and the various models they offer.
In fact, as we quoted Jerry Epperson of investment banking firm Mann, Armistead, and Epperson in Why Are There So Many Online-Only Brands?, "You have to be a strong marketer to be in the mattress industry, because you're really selling identical rectangular slabs. And the consumer has no clue what's inside."
To this extent, outside of the springiness provided by the coils in Tempur-Pedic's Tempur-Flex models, or the cooling PureCool material in their Breeze models, there isn't a cut-and-dry difference in each of the company's mattresses, or how this will impact your sleep.
The good news is that there are hundreds of Tempur-Pedic retail locations around the country, where you can lie on their mattresses for as long as you like before making a decision.
The Tempur Foam
Regardless of the manufacturer, everyone these days claims to feature some kind of proprietary foam that delivers one set of benefits or another.
In the case of Tempur-Pedic, it's their viscoelastic Tempur material. According to the company, it responds to your weight, shape, and temperature to provide customized support and comfort, regardless of your sleeping position.
The problem? You could replace the word "Tempur" with any other company's claims, and they'd be indistinguishable from one another. Granted, Tempur-Pedic was the memory foam originator back in the early 90s, but enough time has passed to allow other companies to mimic the same traits, without the associated price.
Speaking of which…
The Price Factor
If you take a look at the descriptions on their website, as well as what's shown in the cutaway images, it's next to impossible to tell any meaningful differences between the Tempur-Cloud Luxe Breeze ($4,699 for a Queen model) and the Tempur-Cloud Supreme Breeze, which is $1,200 less expensive.
Similarly, outside of firmness, what's the difference between the Queen Tempur-Contour Supreme ($2,199) and the Queen Tempur-Contour Rhapsody Luxe at $3,499?
To help find some answers, we called and spoke with a Tempur-Pedic Sleep Expert, who let us know that the Luxe Breeze model features 50% more Tempur-Cloud material on top than the Supreme Breeze, as well as the Tempur-HD material for the support layer.
For the Rhapsody Luxe model, the Sleep Expert let us know it uses the Tempur-HD material as a top layer, for a plush, soft feel with the support of a firm bed. Whereas the Contour Supreme model does not.
Are any of these factors worth the $1,200 difference? What's more, will you get a better night's sleep on a $3,600 Tempur-Pedic mattress than on an $800 option from an online-only manufacturer?
There's no way to know without sleeping on one, which is why it's positive that Tempur-Pedic provides 90-night in-home trials.
Just keep in mind that, for the money, this is a (sometimes much) shorter trial than many other online-only mattress companies and a similar warranty, with a customer reputation for off-gassing (note: unless you go with a much more expensive natural latex mattress, you probably won't be able to completely avoid this with any memory foam mattress, regardless of the manufacturer).
Did you sleep better on your Tempur-Pedic mattress? Did you find the higher price provided a meaningfully better value than other options? Give us all the details by writing a review below!
Read Next: How to Buy a Mattress Online: Save Time & Money by Knowing What to Look For
Awesome!

This is a great product. I bought my first Tempur-Pedic in 2004. I loved it. It got a little saggy about 6 months ago, after 14 years. I contacted their warranty team and got a brand new mattress at the fraction of the cost. I am super happy with the purchase, not to mention amazing nights of sleep!

Bottom Line: Yes, I would recommend this to a friend

---

Advertisement

---