Ten Percent Happier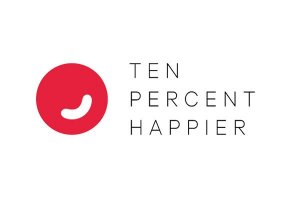 Ten Percent Happier is the name of a meditation book, podcast, and app from ABC newscaster Dan Harris, all of which are meant to help meditation skeptics find meaning in the practice.
Ten Percent Happier Review: A Complete Overview
What Is Ten Percent Happier?
Ten Percent Happier is a meditation community established by ABC newscaster Dan Harris.
As he recounts in his popular book that goes by the same title, Harris was a lifelong skeptic of meditation until he experienced a panic attack live on the stage of Good Morning America and realized he needed to make a change.
Harris's convoluted journey led him to discover the benefits of mindfulness through meditation, and he launched a crusade to show other skeptics the benefits of personal meditation practice.
Today, you can read his books 10% Happier and Meditation for Fidgety Skeptics, use the Ten Percent Happier meditation app, or listen to the Ten Percent Happier podcast.
In this article, we'll look closer at what's offered in the app and the podcast to help you discern whether Harris really holds the secret for getting you to meditate regularly and become happier in the process.
How Does the Ten Percent Happier App Work?
The Ten Percent Happier App is available for Apple and Android devices and is free to download. The app is designed for all levels of meditators, though it specifically caters to those who are new to the idea and skeptical that it can provide any value for them.
When you first download the app, you'll need to specify your current familiarity with meditation (are you new to the idea or do you have a regular practice), and your preferred time of day for meditating.
You can set a reminder at this point if you want to establish a set meditation time.
Next, you'll select the reason why you are interested in the app, choosing from options like better sleep, learning the basics, becoming happier, increasing your focus, reducing stress, and improving relationships.
From there, you'll watch a brief intro video from founder Dan Harris that recounts his journey into meditation and the benefits you can experience from it. You can then opt to try the app's full features for free for seven days.
After that time, you'll be billed $99.99 per year for membership.
Once enrolled, you gain access to dozens of courses about meditation that range in topic from mastering the basics to lowering your stress levels, convincing skeptics, improving focus, getting in touch with your emotions, becoming 10% nicer, and more.
These courses range in length from a week to over 24 days, and most include intro videos with Harris and the meditation professional.
Within these courses are guided meditation sessions that can range in length from five minutes to over half an hour.
According to the Ten Percent Happier website, the company puts tremendous emphasis on choosing their meditation teachers. They claim all of their experts have decades of meditation practice and consistent personal meditation routines as well.
Beyond courses, you can also choose from standalone meditations sorted into topics such as "New and Noteworthy," "Great for Beginners," "Stress," "Happiness," "Waking Up," and more.
Another option is to choose an unguided meditation, which lets you set a timer for anywhere from five to 60 minutes.
The company website states that the app contains more than 350+ guided meditations for every mood and experience level. The app also offers a "Daily Dose" meditation, which is a featured practice selected by the editors.
You can also select from a series of meditations designed to improve sleep. These last from 5 to 45 minutes and are meant to help you doze off faster for both your midday naps and night of rest.
Also included in the app is a series of talks designed to teach you more about meditation and the theories behind it. Most of these talks are shorter than ten minutes, and they are shared by the Ten Percent Happier meditation experts.
Who Are the 10% Happier Meditation Teachers?
The Ten Percent Happier app showcases the meditation talents of dozens of meditation experts. Some that are highlighted on the website include the following:
Anushka Fernandopulle: Anuskha spent four years in full-time intensive training for meditation in monasteries and retreat centers across the United States, India, and Sri Lanka and has more than 25 years experience meditating on her own.
Sharon Salzberg: Considered to be a prominent figure in the world of meditation, Sharon is credited with playing a crucial role in making meditation mainstream in the west. She is a meditation teacher and New York Times best-selling author.
Joseph Goldstein: Considered by the Ten Percent Happier community to be one of the most respected meditation teachers in the world, Joseph Goldstein is the co-founder of the Insight Meditation Society and has been practicing and studying meditation since 1967.
A Look at Customer Reviews of the Ten Percent Happier App
Google Play and the Apple App store show that most Ten Percent Happier app users are thrilled with the app.
It receives a rating of 4.7 to 4.8 stars out of five on both platforms, and many reviewers commented that the app was a game-changer for them that helped them finally establish a consistent meditation practice.
Some noted that they appreciated how easy the app made it track their sessions over time and provided easily accessible provided statistics about their daily average meditation sessions.
This kept many users motivated to continue their streaks on days when they otherwise wouldn't have wanted to meditate.
Others appreciated the straightforward approach to meditation the app took, as it made them feel okay about being skeptical and unsure whether the practice would be right for them when beginning.
We noticed that a few reviewers found it valuable to start with the one-minute courses for meditation beginners, even though they initially thought one minute was too short to glean any benefits from meditation.
One reviewer mentioned that she used the one-minute meditation in her classroom to control rowdy students.
The most common negative comment we noticed was that people thought the app was too expensive.
However, a lot of reviewers acknowledged the price was consistent with what they would pay for other meditation apps. They believed it was worthwhile for the quality of content and convenience of meditating with experienced teachers at any time.
Ten Percent Happier vs. Popular Meditation Apps
While there are dozens of meditation apps available for starting your practice, two of the most popular options available today include Headspace and Insight Timer. How do they stack up against Ten Percent Happier?
First, Insight Timer is a free meditation app that contains more than 20,000 meditations and a robust self-meditation timer that includes options for music and bells to keep your mind from wandering.
The platform allows meditation experts to submit their recorded meditations, and users can rank them after each session.
If you pay for Insight Timer Premium ($60/year), you'll gain access to the app's meditation courses as well as other features including the ability to download meditations, access the Daily Insight meditation, and control more audio features.
Though the sound and overall quality of the recordings can vary based on who submits them, Insight Timer offers the most robust free collection of meditations that we've found.
Headspace is another popular meditation app with a key difference from Ten Percent Happier and Insight Timer. It includes meditations from just one source, founder Andy Puddicombe.
Many people appreciate that this gives Headspace a consistent message within all the meditations, while others find it limiting.
To use the app in a meaningful way, you'll need to pay for premium ($95.88 annually). This gives you access to Headspace meditations, courses, and "sleepcasts"' which are ever-changing stories designed to lull you to sleep.
Of these apps, the right option for you depends on your priorities. If you're interested in exploring a lot of different styles of meditation and can sacrifice a studio-quality experience, Insight Timer is an incredible option.
If you want a more polished program that gives you access to top meditation teachers and short information sessions to help you better understand your practice, you'll find a lot to like about Ten Percent Happier.
The Bottom Line: Should You Sign Up for 10% Happier?
Now let's summarize. In our view, Harris uses his news anchor experience with aplomb by creating a high-quality meditation app and insightful podcast.
This app is designed for people who never thought they'd be caught dead meditating. In that way, it eliminates a lot of the hesitation that skeptics bring with them to the practice.
The meditation sessions themselves are considered enormously beneficial by those who use the app, and podcast fans find Harris's snappy questions and conversation guidance to make for easy, informative listening.
You'll need to pay $99 per year to use this app, and that's $40 more than Insight Timer's premium package, and $99 more than their robust free offerings.
That's one reason why we think Insight Timer makes sense for the beginning meditator who doesn't want to put any money down until they've had the chance to commit to a practice.
If, however, you are passionate about learning how to meditate and want the guidance from a platform that's willing to meet you where you're at, then you'll likely find a lot of value from downloading the most recent episodes of Harris's podcast, "Ten Perc and signing up for a free trial of his app.