Ten X Razor Reviews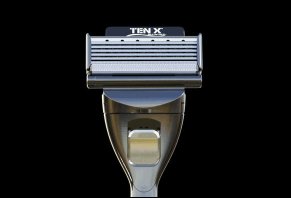 With two five-blade replacement cartridges on each swiveling head, the Ten X Razor promises to deliver a better value, as well as a better overall shaving experience.
What Is Ten X Razor?
Ten X Razor's unique dual-head design features two five-blade razor cartridges on each side, which can be turned 180 degrees with the click of a button. Click the button again, and the used cartridge ejects and then resets, allowing you to insert a fresh one.
Worried about safety? While you're shaving, Ten X's blade shield will protect the blades on the reverse side from dulling, as well as keep you safe from unwanted cuts.
Together with its Living Hinge Technology that "provides a precision shave on both sides of the razor at any angle," the website advertises the razor will help you save time while still accomplishing a close, clean, comfortable shave. And since each head contains 10 precision blades that last twice as long as regular cartridges, you'll save money, too.
But is it necessarily the future of shaving? And more importantly, is it the best shaving option for you? Stick with us for a couple of minutes, and we'll help you find some actionable answers.
How Do Razor Blades Shave Hair?
The science behind shaving is straightforward: As the blade passes over the hair, it lifts it up and out of the follicle. Once the hair is cut close to the skin, it slides back beneath the follicle, providing a 'baby smooth' feel until the hair regrows above the surface once again.
Writing for HowStuffWorks, however, Susan L. Nasr points out there's very little clinical evidence indicating that using more than one blade—whether related to Ten X or the hundreds of other multi-blade razors—can necessarily deliver a closer or otherwise 'better' shave.
"Few scientists have bothered to study razor types or blade number and the quality of the shave," she says. "The lack of research makes it easy for companies to claim that more blades give the best shave."
Instead, "blade number seems to matter less than your overall shaving technique for avoiding nicks and irritation." In fact, Washington Post's Brian Palmer indicates there's concern that an excess number of blades can actually remove more skin than hair, increasing the propensity for redness and irritation.
Nonetheless, a quick online search will show that many mainstream manufacturers offer five (and even six) blade razors, all of which promise to deliver a better shave. We'll find out whether or not any of these models are competing for the same customers as Ten X in a moment, but let's first discuss price.
How Much Does Ten X Razor Cost?
One Ten X Razor system is priced at $19.99, plus free S&H. This includes five additional razor cartridges (for a total of six), a toiletry bag, shave butter, and post-shave balm.
What about replacement cartridges? A Ten X representative advised us that their marketing team is currently working on specific offerings and finalizing the package design and pricing, which is slated for release in the upcoming months. However, they emphasized that since each order includes a year's worth of blades, customers will not be in the market for additional replacement cartridges for some time.
The manufacturer provides a 60-day refund policy on all Ten X Razors, which you can request by calling 904-888-4182, or by sending an email to support@tenxrazor.com.
Ten X Razor vs. Competing Disposable Razors: Which Delivers the Best Value?
Outside of double-sided safety razors (and similar medical versions used for surgery prep), we didn't encounter any dual-face multi-blade disposal razors like Ten X during our research. So, if you're looking for something exactly like it—including its Living Hinge Technology, ability to turn 180 degrees with a click, and blade shield—it's the only game in town.
But, while we didn't test any models firsthand during our research, we don't think the main question relating to Ten X—or any other razor, for that matter—necessarily relates to working as advertised. Instead, it's more about the level of value it'll deliver.
After all, this is one of Ten X's primary advertising claims. So, let's quickly run some numbers across a handful of scenarios.
Scenario 1: A four-pack of Gillette Fusion 5 refills (chosen at random) comes with an MSRP of $20, or $4 per cartridge. The company advertises each one will last about a month (depending on how large of an area you're shaving and the thickness of your hair), if used three to four times per week. In all, you'd spend about $48 per year in replacement cartridge costs.
Scenario 2: You purchase 16 Pace 6 series cartridges directly from Dorco, at the cost of about $35. This would bring your per-cartridge (or per-month) cost down to roughly $2.19, or $26.28 per year.
Scenario 3: At $19.99 for a total of 12 razors (six dual-headed replacement cartridges), you'll pay about $1.67 per cartridge with Ten X. This comes to $20.04 on an annual basis.
Now, let's pull all of these details together as we wrap everything up in the next section.
Our Final Thoughts About Ten X Razor
Of the three scenarios above, we can see that Ten X's per-cartridge price comes in at less than half that of Gillette. However, compared to options like Dorco, Ten X might save you less than $4 per year. Ultimately, only you can answer whether or not this is enough to make the switch.
Stepping away from value, while Dorco is an established manufacturer, we weren't able to find any additional information about the company behind Ten X, other than they're based out of Estero, FL and have been in business since 2017.
And based on our experience writing about thousands of products, their nonfunctional customer support isn't necessarily a good sign, either. Not to mention that this didn't allow us to learn more about the availability of additional replacement cartridges, as well as their cost, which strongly impacts overall value.
Finally, we'd wonder if Ten X's second razor might prevent hair and other accumulated debris from easily rinsing away, potentially creating clogs and a breeding ground for bacteria and other microbes.
However, according to the company representative we spoke with, its blade shield technology performs two functions: First, it protects the blades on the reverse side, so they remain sharp. Second, it allows for sufficient space between the blades and the shield, so that water flows freely when rinsing.
They noted that these details will be included in their follow-up commercial, which is set for release in a few months.
With all of this said, based on what we learned from the website, commercial, and the Ten X representative, it seems the company is passionate about providing a unique, convenient, and high-tech shaving experience to customers, while also ensuring that any questions and concerns are promptly addressed. They also stand behind the razor with a 30-day satisfaction guarantee, which should be more than enough time to figure out if it works for you.
But if your primary goal is to shave your budget, based on what we learned in our brief example above, their cartridges aren't meaningfully less expensive than some traditional five-blade replacement cartridges. As such, only you can determine if the roughly $4 annual savings (compared to at least some competitors) represents enough of a savings for you to make the switch.