TextNow Reviews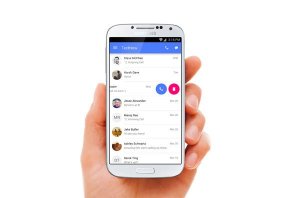 TextNow offers a low-cost data plan as well as several other data plans that provide users access to Sprint's mobile networks at prices that are significantly cheaper than AT&T, Sprint, T-Mobile and Verizon.
What Is TextNow?
TextNow is a Canada-based wireless provider who offers non-data and data plans ranging in price from free to $39.99 per month.
The company claims that the $39.99 unlimited data plan they offer is the most affordable on the market. They also claim to be the "first-ever freemium wireless company" because you can make calls for free through their app.
According to a June 2018 press release from the company, Text Now has more than 100 million app users.
"TextNow is experiencing tremendous momentum as it becomes one of the most popular low-cost wireless carriers. More than 100 million people have already downloaded the TextNow app or purchased a TextNow device or SIM Card to save hundreds on their phone bills each year," the release says.
Will TextNow save you hundreds on your phone bill? Is their $39.99 unlimited data plan the best one around? These are questions we are going to answer in this review by examining the plans the company offers and how those plans compare to T-Mobile, Sprint, AT&T and Verizon.
At the end of our review, we'll wrap up with a quick overview of the company's pros and cons and provide our research-based recommendation of who we think is a good fit for TextNow wireless services.
TextNow's Phone Plans: App-Based and Wireless
As we mentioned earlier, TextNow offers two types of plans: app-based and wireless.
The app-based plans are what you sign up for when you want to use the TextNow app to make phone calls and send texts over WiFi. In that sense, it's similar to a messaging app like WhatsApp. The big difference is that TextNow gives you a number anyone can call, whereas WhatsApp limits calls to only those who have the app.
TextNow's app-based options give come in a free version and a premium version that costs $2.99 per month. Both the free and premium versions give you a phone number and provide voicemail, as well as international calling and conference calls.
The premium version has four distinct advantages over the free version:
Caller ID
Voicemail transcription
Unlimited photo and video history
Call forwarding
We believe the main advantage here is that the premium version eliminates ads and provides group texting, as an ad-free experience and the ability to create text groups are common needs for mobile users.
However, remember that both of these options – free and premium – only work on WiFi networks; they don't give you access to TextNow's wireless network.
The company's wireless plans range from $9.99 to $39.99 based on how much data you want to pay for each month. TextNow uses the Sprint network.
Here's the breakdown of how much data you get in relation to the plan prices. Each tier includes unlimited talk and text:
$9.99/mth: No data
$19.99/mth: 2 GB data
$29.99/mth: 5 GB data
$39.99/mth: Unlimited data
The $9.99 plan offers one crucial advantage over the app-only plans: You don't have to be connected to WiFi or open the app in order to make phone calls.
We'd consider this plan the bare-minimum for the average user because it gives you the capability of making a phone call wherever you find reception.
The next three plans all include LTE data plans. Once you surpass your limit – 2GB, 5GB and 23GB on the unlimited plan –- then TextNow knocks your data speed down to 2G.
According to tech site Ken's Tech Tips, the typical 2G download speed is 0.1 Mbps to less than 0.1 Mbps, whereas LTE download speeds tend to average 15 Mbps but can peak at 100 Mbps. As you can you see, the difference is significant.
Should you exceed your LTE allowance, you'll notice an instant difference. Considering how reliant we are on using our phones for data-heavy apps and browsing, there's a good chance that dropping down to 2G will render your phone useless because of the frustratingly slow speeds.
Now, it's important for us to point out that the $39.99 plan isn't a true unlimited plan. Once you use 23 GB of data, you'll be switched to 2G speeds.
How likely is it that you'll hit that 23 GB limit? According to research firm NPD Group, in 2017, the average user of an unlimited data plan consumed 31.4 GB of data each month, representing a 67-percent increase over 2016, in which the average monthly consumption was 25 GB.
What this tells us is that there's a really good chance that you'll max out your data allotment for TextNow's unlimited plan. It's not a guarantee, of course, but if the averages provided by NPD are accurate, then you should expect to hit your 23 GB limit, at which point TextNow will drop your data speed to 2G.
All of TextNow's phone plans are month-to-month; they don't require a contract. At the time of publishing, TextNow was offering free SIM cards with a plan purchase. Normally, the cards are $5.
Pro tip: TextNow offers a family plan in which you get three unlimited lines for $100, which represents a $20 discount if you were to get those three lines separately. The 23GB rule applies to each line.
Financing Your TextNow Phone
You have the option of buying an unlocked phone from them, too, at discounted prices for new customers.
If you choose to finance your phone, you'll have to do so when you sign up for your plan. Your financing plan will take place through a company called Affirm, who will set your monthly payments for your loan.
APR's range from 10% to 30% but Affirm's FAQ page notes that some customers may get 0%. When you buy a phone that's $100 or more, you can repay your loan over three, six, nine or 12 months.
For phone purchases between $50 and $99, you can repay in three or six months.
Affirm does a soft credit check to determine your eligibility for a phone loan, which means the check won't affect your credit score.
How TextNow's Unlimited Plan Compares to the Competition
Unlimited plans are the industry standard now among the major wireless companies, so comparing pricing is relatively easy. The table below shows you how much an unlimited plan is for one line and whether or not there's a cap on the data they allow you to use;
| | TextNow | Verizon | Sprint | AT&T | T-Mobile |
| --- | --- | --- | --- | --- | --- |
| Monthly price | $39.99 | $75 | $60 | $80 | $70 |
| Taxes/fees incl. | Yes | No | No | No | Yes |
| Data cap | Yes, 23 GB | No | Yes, 23GB | Yes, 22GB | Yes, 50GB |
| Streaming service | None | None | Hulu | HBO | None |
Based on our research, we believe that TextNow offers the best value out of all the wireless providers listed here.
Price-wise, it is by far the cheapest plan, even if you account for the streaming services included in some of the other plans.
As for the data cap, their 23GB limit is the same as Sprint (they share the network) and 1GB more than AT&T.
Verizon's $70/month unlimited plan has no cap on data but their fine print notes that your speeds could slow if there is congestion in the Verizon network. Exactly how often these congestions and slower speeds occur is unknown.
Also, TextNow doesn't require a contract from you.
One could argue that the big carriers have the advantage of not charging you interest if you make payments on your phone but, in most cases, the payments go towards a phone lease, meaning you never actually own the phone.
The mobile carriers are hoping your trade in your phone when the newer model comes out, therefore keeping you in a cycle of monthly phone payments without you actually owning a phone.
The Final Word: Pros and Cons of Using TextNow
Based on our research, we believe the main advantage of using TextNow for an unlimited wireless plan is price. You're paying $39.99 a month to get unlimited 4G LTE on the Sprint network, which is $20 less per month than what you'd pay for the same plan on Sprint.
You won't get any free subscription services with your TextNow account but, even if you accounted for the cost of one service like Netflix, you'd still pay less for both than you would for any of the other wireless carriers who offer a streaming service with their monthly plans.
The downside to TextNow is that the service doesn't do in-house financing. Rather, they have at third-party finance phones with an interest rate, in most cases, of 10% to 30%.
Also, their repayment periods max out at one year, so if you were looking to finance a $400 phone, your payments per month are going to be higher than they'd be if you were leasing a phone through AT&T, Sprint, T-Mobile or Verizon.
In general, we think that the data shows that TextNow is an excellent choice for someone who wants an affordable unlimited data plan and can bring their own phone to the contract to avoid the interest you'd pay if you had to finance your phone through TextNow's third-party lender.