Than Merrill Reviews
Claimed This company has claimed this profile, is getting alerted on any new customer reviews entering this page, and may engage in dialogue with its customers to address their matters.

Companies cannot pay money or provide goods in order to remove or alter customer reviews.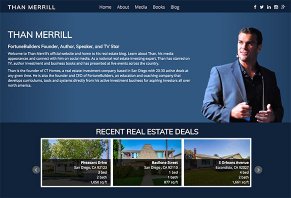 As the founder of FortuneBuilders and a prolific author, Than Merrill claims to be able to help you launch your real estate investing business and achieve your financial goals.
---
2-hour sign-up Saturday

By Mark B.

,

Inglewood, CA

,

Jan 28, 2020
Verified Reviewer

Overall Experience:

My wife and I went to the free meeting today in Culver City and signed up (at a cost) for the 3-day teaching class. From what I've read, it is a segway to the masters class ($15 -$50K) for up to 6 people. That's not going to happen for us! I think if you have a basic understanding of real estate, these extra tools will help in getting a productive investment/flipping real estate business going. Anyway, we'll see how it goes in February!

After the intro, it's all up to you what you do with it!

Bottom Line: Yes, I would recommend this to a friend

---

Excellent information

By Larry H.

,

Farmington Hills, MI

,

Nov 23, 2019
Verified Reviewer

Overall Experience:

I'm very happy with the wealth of knowledge that is being presented to me since becoming a Mastery Student, the support system is outstanding and our entity is set up and ready for business! Our immersion weekend was outstanding and we've taken to the field to review homes, the deal analyzer is such an amazing tool. Our coach along with the education videos and webinars has helped us to develop our business with confidence, I'm all in with this system and excited to keep learning and implementing the information into our new business. I look forward to boot camp in Atlanta and can't think of a better way to start a new year and life! Thank you and I appreciate everybody's help.

Bottom Line: Yes, I would recommend this to a friend

---

Advertisement

---

Full Immersion Training...amazing experience!

By Ed C.

,

Georgia

,

Nov 20, 2019
Verified Reviewer

Overall Experience:

First, let me start by thanking Than, Paul and Konrad for their vision and for creating such an amazing company.

The FortuneBuilders Mastery program is second to none.

Their educational platform provides everything that you need to succeed as a RE investor.

You have access to a full curriculum that covers everything from A to Z, assigned a business start-up/accountability coach, on-demand coach calls, daily webinars, and periodic in-person classes and seminars.

Last week, I attended our 2-day full immersion class. We spent one day in class and one day in the field going through several homes and working on accessing needed repairs. Our instructor Bill Hook was with us every step of the way to answer questions and provide guidance. This hands-on approach was very valuable and an excellent experience. It actually prepares you to access the properties' potential for deals and make offers the minute you leave the class.

Next is our boot camp from 1/1 - 1/7/2020 and I am definitely looking forward to the synergy that I have experienced thus far.

In summary, if you have a serious interest in real estate investing and are ready to make that leap of faith...look no further...this is the program for. An amazing family!

Bottom Line: Yes, I would recommend this to a friend

---

Recent Boot Camp - Dallas

By Donna B.

,

Taylors, SC

,

Oct 23, 2019
Verified Reviewer

Overall Experience:

Attended the Marketing Boot Camp and the Acquisitions/Wholesale Boot Camp along with my daughter. We learned so very very very much and enjoyed the classes as well getting to meet these leaders.

Leaders were fun and interesting while presenting a great amount of information. I know it is their goal to give as much information as possible in this allotted time, however, taking a 10-min break at about the 1 hour and 1/2 mark instead of going 2 or more hours before breaking would help with the attention span. Two plus hours is too long.

Thank you for these awesome opportunities to learn how to do this business the correct way!

Bottom Line: Yes, I would recommend this to a friend

---

Awesome boot camp - awesome staff

By Scott R.

,

Houston, TX

,

Oct 22, 2019
Verified Reviewer

Overall Experience:

Me and Susan loved the boot camp, we learned a heck of a lot and had a great time. All the staff was so awesome, from Jeff to all the people in the booths. Can't wait for the next one. Unfortunately, we can't make it to San Diego but will be in Las Vegas and then Atlanta. Thank you so much for giving us this opportunity and changing our lives. God bless you.

Bottom Line: Yes, I would recommend this to a friend

---

Not totally upfront

By Gayle D.

,

Long Island, NY

,

Oct 14, 2019
Verified Reviewer

Overall Experience:

I attended the free seminar to learn about investing in real estate property. The class did offer good information but they seemed focused on convincing you or getting you in a mindset to spend the amount of money they are asking for their classes. Honestly the next set of classes for 3 days I was at were a surprisingly reasonable rate. They also allowed you to invite two people for $197. The facilitator continues to impact the audience with remembering how much money they had spent for their college education, so when they drop the amount of the course for their future classes it will be more acceptable to those in attendance. Remember how much money you invested in your education, some of you spent over $100,000, some of you spent $70,000, suggesting what they offer to charge for their classes will be nothing compared to what one spent on their college education. Well, I wanted to go home and research a little more and check out reviews, which I had not done. And most of the people felt like I felt the free seminar was motivating hopeful for a future in real estate property investing. One review mentioned that the next step, the Master Class, is between $50,000 to $80,000. Pretty much the cost of a college education. That is the deceiving part that I did not like. Which puts these guys in a class with everyone else trying to make money selling their training courses for over-the-top amounts without really showing us how to do it. Just making money off of selling their courses not a real concern for an individual success in real estate investing. Those interested in real estate investing will have to do like the majority of people and learn from other trainings more affordable yes they will be some mistakes along the way but that's all part of the learning process.

Bottom Line: No, I would not recommend this to a friend

---

Free 2 Hour Seminar, 3 Day Workshop, Mastery

By Aisha A.

,

Newark, DE

,

Sep 21, 2019
Verified Reviewer

Overall Experience:

I attended the free 2-hour seminar with my husband expecting it would be an up-sell event for something bigger and I was right. The something bigger was a 3-day event for about $200 for two people. I've done a couple of real estate deals before and what impressed me in the 2-hour seminar is the introduction to "systems" that this organization has put in place that streamlines much of the process and is tried and true so we purchased the seats for the 3-day event. I expected the 3-day event to give us access to some of these tools they teased us with at the free seminar, but it didn't. It was a great motivational event and mind setting weekend (which I didn't need) and a lot of up-selling for the "Mastery" program - the big-ticket item ($30,000-$50,000 - which on the surface sounds ludicrous) that gives you access to the many systems this organization has built, as well as education on how to utilize them for up to 6 people (a little over $8,000 per head) for over one year of coaching and hand-holding, as well as unlimited access to an online education system and all the systems they've created to streamline real estate investing and reduce risks. To be honest, $50,000 is hard for anyone to pay out...but then what would one pay for a year's tuition and business coaching...and for a group of up to six people? When you look at how stellar the organization is, the quality of the human resources they employ, the quality and amount of systems you gain access to, the amount of education at your disposal...is it worth it...that depends on YOU...are you willing to put in the time and effort needed to learn and apply what they have to offer? If you aren't then don't waste your time. This is truly only for those serious enough to hit the pavement hard and put in the effort. By doing so, there is real potential to build a business in real estate investing...this is not a "get rich quick scam"...this is an "are you ready to learn, work hard, apply what has been offered and put in your every effort to be successful with guidance" opportunity. Anyone who thinks you'll walk out with easy wealth is naive and should just stay home...those who are serious, this is an awesome organization that is sharing its experience - for a price, as you'd expect any educational institution would charge.

Bottom Line: Yes, I would recommend this to a friend

---

Advertisement

---

Immersion with Rick

By Sarah R.

,

El Paso, TX

,

Sep 12, 2019
Verified Reviewer

Overall Experience:

Rick was fantastic. He had great energy and enthusiasm. Rick really was encouraging in helping us to move forward. He brought in other Mastery Students, which was great for networking in the area. I felt like he really wanted us to succeed, and would do all he could to give us the tools to do so.

Bottom Line: Yes, I would recommend this to a friend

---

Full Immersion

By David W.

,

Miami, FL

,

Sep 10, 2019
Verified Reviewer

Overall Experience:

The Full Immersion was outstanding! The hands-on part was very good.

It gave us the opportunity to learn how to inspect a house in a timely manner. He also taught us what to look for and the importance of taking pictures. It was a confidence builder. I enjoyed it.

Bottom Line: Yes, I would recommend this to a friend

---

Inspired

By Ann M.

,

New York

,

Sep 8, 2019
Verified Reviewer

Overall Experience:

Attended the Internet Quick Start and Wholesaling boot camp. I left inspired to get to work to use the tools and process that we discussed. I will definitely attend more and will be going to Ignite in December. It is definitely worth the time to go!

Bottom Line: Yes, I would recommend this to a friend

---

Attended Internet Quickstart Academy, and Acquisitions and Wholesaling Bootcamp, Marketing Systems Bootcamp

By Ronald N. M.

,

Marshfield, MA

,

Aug 30, 2019
Verified Reviewer

Overall Experience:

After joining Fortune Builders as a Mastery Student in October of 2018 my son and I were not able to attend a Bootcamp Summit until Orlando 2019. We have been doing all of our due diligence to get our business, Family Home Buyers, up and running. All the while we were out honing in our skills to become successful real estate investors in a competitive market. When we were finally afforded the time to book and attend a summit we were thrilled. We divided and conquered got 3 of the best (they are all great) summits done.

Both of us came out of the 6 Days invigorated and ready to hit the road and make some deals. Keep your eyes on this small family business, Family Home Buyers, we are coming to a neighborhood near you!

Thanks! Than, Jeff, Paul, Linda and all of the Fortune Builders staff. Awesome event!

Bottom Line: Yes, I would recommend this to a friend

---

I really enjoyed it and learned a lot.

By John W.

,

Houston, TX

,

Aug 30, 2019
Verified Reviewer

Overall Experience:

I really liked the smaller class size than the previous 3-day course. The instructor John Garrner was very personable and made a lot of information that was being thrown at us easier to absorb. I came out of the class feeling confident in being able to attempt to do a repair estimate and cost analysis on my own.

Bottom Line: Yes, I would recommend this to a friend

---

Advertisement

---

Highly recommend!

By Cindy D.

,

South Carolina

,

Aug 20, 2019
Verified Reviewer

Overall Experience:

We went to the Orlando, Florida Summit, learned so much! We were there for 5 FULL days of education of some of the most qualified instructors, over 8 hours and some days 9 hours. Worth it all! The highlight was meeting Paul Esajian, WOW! Rex Crain was there, a motivational and inspirational speaker, one of the BEST speakers I have heard and seen in my lifetime, he was so worth the wait! We learned and met so many people while there. We are so excited for the next Bootcamp and Ignite! So much to learn and so glad we joined Fortune Builders.

Bottom Line: Yes, I would recommend this to a friend

---

Another stellar event

By Tracy R.

,

Louisiana

,

Aug 20, 2019
Verified Reviewer

Overall Experience:

This past weekend I attended the Commercial Academy and the Syndication Symposium. I feel like I just finished a semester at university. The amount of actionable information was incredible, and I feel prepared to embark on our first commercial syndication. Gotta go - got to find money and find deals!

Bottom Line: Yes, I would recommend this to a friend

---

Unless you have $30,000 to $50,0000 it's a total waste of time

By Joel M.

,

San Angelo, TX

,

Jul 17, 2019
Verified Reviewer

Overall Experience:

The $197 three-day class is not a class at all, it's a clever three-day sales pitch to try and upgrade your membership to the Master membership that costs between $30,000 & $50,000 where they claim to mentor you one on one. I was misled to think the three-day class was an actual class.

Extreme waste of time.

Bottom Line: No, I would not recommend this to a friend

---

Life changing experience!

Overall Experience:

Truth be told, we came into this with skepticism. We did not know what to think or expect from it. The free class alone was eye-opening, and created a curiosity of the possibilities that this journey could give us! At that point, we had to try the 3-day workshop; we always like to give ourselves a chance. Honestly, the personal financial education alone was worth the money we had invested! We now understand our budgets at a deeper level and how our income and expenses are actually functioning. And I'll tell you something, that truth can hurt the worst. LOL. We've already started making changes in our current everyday lives to make a better future for ourselves and our children because that has always been our main goal. Amen! This has been a lot fun so far, and I cannot wait to see where our path takes us!

Bottom Line: Yes, I would recommend this to a friend

---

One word...AWESOME!

By Lisa C.

,

Texas

,

Sep 6, 2018
Verified Reviewer

Overall Experience:

I attended the 3-day workshop this past weekend. It was jammed packed with information to assist you in being successful and changing your mindset. If you have the opportunity to attend it's a game (Life) changer!

Bottom Line: Yes, I would recommend this to a friend

---

Advertisement

---

Amazing

By Miguel Q.

,

The Woodlands, TX

,

Sep 6, 2018
Verified Reviewer

Overall Experience:

I loved every minute of it and can't wait to start the experience of actually doing it. And even though we didn't get into mastery this time, I'm hoping one day we can make it into mastery because I plan on making this not only my job but also my hobby. Thank you for the 3-day course, I will definitely take it again.

Bottom Line: Yes, I would recommend this to a friend

---

Acquisitions and Wholesaling Bootcamp

By Aaron R.

,

St. Louis, MO

,

Jul 24, 2018
Verified Reviewer

Overall Experience:

Quite honestly I was unsure what I got myself into when we became Mastery students in June. This is a big paradigm shift for me. The presentation of FortuneBuilders systems by Than Merrill has given me the confidence to find/follow leads then perform quick evaluations through my understanding of the Leadsheet and Repair Estimator. I am also growing in confidence to make offer and approach lenders using scripts and suggestions Than has offered. Look out KCMO! We are getting anxious and educated...

Bottom Line: Yes, I would recommend this to a friend

---

Life-changing

By Terry T.

,

Newark, NJ

,

Jul 22, 2018
Verified Reviewer

Overall Experience:

This event was a life-changing event for me mentally. It truly opened my eyes to the opportunities that are there for me and my family to take full advantage of. I'm truly looking forward to securing my space in the Fortune Building Family for years to comes. Can't wait to get started!

Bottom Line: Yes, I would recommend this to a friend

---

Great learning experience

By Dana H.

,

Fort Wayne, IN

,

Jul 22, 2018
Verified Reviewer

Overall Experience:

I first attended the two-hour free workshop which opened my eyes to areas of real estate investing that I had not known about. I couldn't wait until the end to sign up for the three-day workshop. It covers general details of every aspect of investing in real estate. It was a great experience for someone like me who had no experience and very little knowledge of how it works.

We went through several examples of deals, raising capital, rehabbing and wholesaling contracts. They talked about the master's program for guidance and learning. Cody and the team were friendly and experienced and knowledgeable. We even had fun moments as well. I learned a great deal. The three-day workshop is well worth the money. The jump start and Master programs cost a lot of money and make it tough for some people to get in. It is in those programs where you will learn the details of how to do the deals. I'm hoping I can find a way to do it.

Bottom Line: Yes, I would recommend this to a friend

---

Very positive experiance.

By Anthony S.

,

Pennsylvania

,

Jul 16, 2018
Verified Reviewer

Overall Experience:

I do not have the time to go into every thing I learned. Generally, I do not endorse things because everyone's experience is difference but for overall education and information on building wealth in Real estate, it was incredibly informative. I would do it again knowing what I know now, having gone through the experience it was very valuable to me. I have not worked so hard learning and I enjoyed it.

Bring your spouse if you attend this, the learning opportunity is amazing.

Bottom Line: Yes, I would recommend this to a friend

---

Advertisement

---

2 hour "free" seminar a total waste of time

By Lacinda T.

,

Cedar Rapids, Iowa

,

Jul 15, 2018
Verified Reviewer

Overall Experience:

Pretty much everything that was said during this 2 hour free seminar was stuff that is common knowledge. I couldn't believe the number of people that actually signed up for the 3 day seminar. All they are doing is handing their hard earned money over to these people. The only thing I got out of the free seminar is that everyday I receive at least 300 spam emails now. Wish I never would have signed up for this.

Bottom Line: No, I would not recommend this to a friend

---

Wonderful experience

By Deante H.

,

Raleigh, NC

,

Jul 11, 2018
Verified Reviewer

Overall Experience:

I enjoy the 3-day workshop Than and his team put together. I was looking for a way to get everything started up, a blueprint, and I got just that. Of course, I wish I would have gotten into Mastery, but a little challenge wouldn't hurt anybody. The teachers, mentors even, were detailed, and thorough, a little fast, in my opinion, he was going in and out of topics fast with the loads of wonderful info we received. I appreciate what you did to me and hope this notebook won't be a book on the shelf collecting dust.

Bottom Line: Yes, I would recommend this to a friend

---

Charlotte Bootcamp Summit

By Bob T.

,

North Carolina

,

Jul 8, 2018
Verified Reviewer

Overall Experience:

The first Charlotte Bootcamp Summit was a great event. Attendance was strong, updated content on Rehab Bootcamp and Money Academy (Scott) was great. The Marketing Academy with Linda Pederson was inspirational.

I brought on a new partner, Ernie Cavasinni, who attended the Rehab Bootcamp and was blown away.

The experience was a much-needed reset, and Fortune Builders continues to overdeliver!

Bottom Line: Yes, I would recommend this to a friend

---

Charlotte bootcamp

By Larry J.

,

North Carolina

,

Jul 3, 2018
Verified Reviewer

Overall Experience:

I attended the Marketing Systems Bootcamp and the Acquisition & Wholesale Bootcamp. Both boot camps were very informative, but most of all, they were exhilarating and energizing. I will be attending more boot camps.

Bottom Line: Yes, I would recommend this to a friend

---

Three-day seminar

By Condie G.

,

Las Vegas, NV

,

Jun 24, 2018
Verified Reviewer

Overall Experience:

Lots of informative information that we already knew. The problem for me was the speaker; he really has nothing to do with Than and his company other than a motivational speaker who works the same real estate deals. Don't get me wrong, he was terrific and what he said makes sense. I was totally captured by his charisma and salesmanship. However, for the amount of money they are asking, I want an owner or member who is flipping, turning, selling, rehabbing at the meeting showing me proof it is being done. Hearsay means nothing to me, show me the proof. For the $50K they should put it in my first flip, sale or rehab. Now that would make me comfortable and ready to rock and roll. When you go to a University, you get scholarships which you start paying after you graduate. We already paid $200 to hear things we already knew.

Bottom Line: No, I would not recommend this to a friend

---