Than Merrill Reviews
Claimed This company has claimed this profile, is getting alerted on any new customer reviews entering this page, and may engage in dialogue with its customers to address their matters.

Companies cannot pay money or provide goods in order to remove or alter customer reviews.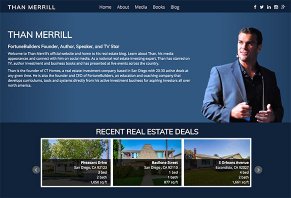 Than Merrill is an expert in real estate investment and an entrepreneur who's started CT Homes LLC, FortuneBuilders, a pair of charitable organizations and a capital funding group.
About Than Merrill
Than Merrill is a real estate investor and author who oversees CT Homes LLC and is the founder of FortuneBuilders, a high-priced program that teaches students everything they need to know about making real estate investment a career. He's also a star of the HGTV series "Flip This House".
Than's website is ThanMerrill.com, a resource where you can learn more about him and his various business ventures (more on that in a few minutes).
Than is pretty well-known in the real-estate investment world – his company conducts seminars across the United States. In that sense, Merrill's programs are similar to other real estate investors we've reviewed, including Nick Vertucci & Scott Yancey
However, understanding a businessperson goes beyond just their business or businesses. It's important to know things like:
How did they get into real estate?
How legitimate is their expertise?
What businesses or programs do they offer?
To get answers to these questions we did some research and also interviewed Than.
Who is Than Merrill?
Than was born in Fresno, Calif., and attended college at Yale University. Than was a strong safety for Yale's football team.
Than went on to play two seasons in the NFL: one with the Chicago Bears and one with the Tampa Bay Buccaneers. He also played two seasons in Amsterdam and Barcelona with NFL Europe.
Than's football career ended when he suffered a knee injury in 2003.
At that point, Than realized he was "just as passionate about real estate as he was about football," his website says.
Than told us that, around the time he transitioned from football to real estate, he read a book called "The E-Myth: Why Most Businesses Don't Work and What to Do About It" by Michael E. Gerber.
"The book was about designing franchise-like systems that can be replicated and utilized," Than said.
In the context of real estate, this meant creating systems of purchasing, contracting and managing properties that could be replicated and given to others to do the same thing.
That replication of Than's system didn't come until later in his career. He launched his real-estate investment venture in the early 2000's with colleagues Paul Esajian and Konrad Sopielnikow.
They named their business CT Homes LLC, a moniker that they still use today.
Over the next few years Than and his partners learned the ups and downs of real estate. They made mistakes and scored success.
Eventually, Than was able to create a systems-focused approach to the way his company handled investment properties and other areas of real estate.
Inspired by Gerber's E-Myth book, Than launched FortuneBuilders, his avenue for sharing the systems and methodologies that brought him success at CT Homes LLC.
"My business partner and I have been in the trenches for 14 years. We took a very systematic approach to developing a business," Than said. "Today our real estate business has 15 people working our office and 30 or more projects at one time."
Than Merrill's Expertise and Experience
One of the questions you should always have about a particular business personality or reality-TV star is, "How legit are they?"
FortuneBuilders in Inc.'s Top 5000
As we'll talk about in a few minutes, FortuneBuilders is one of the companies that Than started. FortuneBuilders made two appearances in the Inc. 5000, a list of the 5,000 fastest growing companies in the United States.
In 2010, FortuneBuilders was #62 on the list. In 2011, it was #104 and in 2012 it maintained its top-500 standing at #457.
Revenue-wise, FortuneBuilders has done pretty well based on Inc.com's rankings.
CT Real Estate, LLC
We'll cover this business in a few minutes, but we want to take a moment here to note that FortuneBuilders isn't Than's only business. He also founded CT Real Estate LLC, a San Diego-based company involved in many different aspects of real estate.
Here are a few of their specialties:
Foreclosure avoidance
Solving title issues
First-time homebuyer programs
Credit repair
Vacant properties
Bank-owned properties
As Than told us, he's been in the business and bought/sold many properties. So, based on these facts and our own research, we believe that Than Merrill is a legitimate real estate expert.
Than Merrill's Books and Businesses
Than has either written or helped with several real estate books and has launched several real estate companies.
Than's Books
Based on what we found at Amazon.com, Than has one book he wrote himself and a book he wrote with Michael Gerber.
Than's title is "The Real Estate Wholesaling Bible: The Fastest, Easiest Way to Get Started in Real Estate Investing."
According to the book's description on its Amazon page, it will help you "learn how to make money wholesaling real estate without having to swing a hammer or deal with tenants."
The description basically sums up wholesaling – you find a home you think you can sell quickly and, at the same time, you find a seller who wants to buy the home you've got your eyes on. The transaction, in theory, is quicker and more risk-free than a flip.
At the time of publishing, "The Real Estate Wholesaling Bible" had an average of 4.4 stars from more than 85 reviews.
Than also helped co-write a real estate version of Gerber's E-Myth book called, "The E-Myth Real Estate Investor: Why Most Real Estate Investment Businesses Don't Work and What to Do About It".
The book touches on what Than mentioned earlier – creating systems and protocol that lead to a successful real estate investment business.
At the time of publishing, the book had an average of 4.3 stars from more than 50 reviews on Amazon.
Than's Businesses
As we mentioned earlier, Than's first business venture was CT Homes LLC. It started on the East Coast and then expanded to San Diego.
Since we've already mentioned that business a couple times, we'll skip ahead to his other businesses: FortuneBuilders and Grand Coast Capital.
FortuneBuilders
FortuneBuilders is the realization of Chad's many years in the real estate business, he told us. Along the way, he's come up with systems and software that greatly reduce (although do not eliminate) the risk of wholesaling and rehabbing properties.
Those systems and software are at the core of FortuneBuilders, Than's "college" of sorts for individuals interested in making a career out of real estate.
While individuals can attend two-hour or weekend-long seminars on real estate investment, they get the most in-depth information, Than told us, when they sign up for FortuneBuilders' Mastery program.
This program is designed to make you an expert – if you're willing to put in study time – in nine crucial aspects of real estate investment:
Real estate appraisal/due diligence
Marketing
Escrow
Financing
Construction management
Property management
Property disposition
Business management
People management
"I love investing and I'm an educator; that's always been my calling," he said. "My parents were teachers: dad was a university professor and my mom was a dance teacher."
But, just like a college education, the FortuneBuilders Master isn't cheap. Based on some reviews we've read from Highya.com and real estate investing sites, you can expect to pay in the neighborhood of $15,000-$25,000 to get started.
From there, the education begins. Workshops, software and one-on-one coaching sessions groom you to be an expert in the nine areas we mentioned.
If you want to learn more about FortuneBuilders, head to our review of the program.
Grand Coast Capital Group
While FortuneBuilders is an educational program and CT Homes LLC is an all-purpose real estate company, Grand Coast is strictly an investment firm specializing in specific loans for real-estate investors:
Renovation loans: For house flips
Bridge loans: For wholesale deals
Construction/development loans: For builders and developers
Small-balance commercial loans: An alternative to bank and bridge loans
FortuneBuilders Gives
FortuneBuilders Gives is the charitable wing of Merrill's businesses.
According to the program's website, FortuneBuilders Gives "provides opportunities for children of all ages and backgrounds to lead active and healthy lifestyles through involvement in sports and activities."
FortuneBuilders Gives has worked with the Equal Footing Foundation, Habitat for Humanity, the Red Cross and other organizations, its website says.
Future FortuneBuilders
Merrill's Future FortuneBuilders is a literacy program designed to set kids up for success through a solid education.
"Our goal with FFB is to help our society break from the vicious cycle caused by lack of financial literacy and to provide teens with the financial knowledge and resources necessary to succeed," the group's website says.
Our Final Thoughts About Than Merrill
Than Merrill's portfolio of real estate companies and charitable organizations is pretty impressive and certainly unique among the real estate investment experts we've reviewed on this site.
Merrill's most famous business, FortuneBuilders, was featured in Inc.com's top-5,000 fastest growing business in the United States three years in a row. Than's website offers a real-estate seminar that, upon further investigation, funnels you to his FortuneBuilders program.
His original business, CT Homes LLC, has a small staff but, according to Merrill, has around 30 transactions happening at once.
We weren't able to gather much information about Grand Coast Capital Group, but we do know via at least one source – blogger Frugal Vagabond – that Grand Coast is the group that FortuneBuilders seminar presenters say is the lending group who finances the deals FortuneBuilders students transact.
Based on our conversations with Than, this makes sense. His business is based on systems he's built over the past few years – having an "in-house" lending group makes things much easier for his FortuneBuilder students.
FortuneBuilder's two children's programs are, in our opinion, what set the company apart from other competitors.
Now, the real question here is whether or not Than Merrill is someone you'd trust to go into business with. To answer that, we suggest reading your review of FortuneBuilders, as you probably won't have a need for CT Homes or Grand Coast.
If you don't want to take the time to read through our review, don't worry. We'll condense it down to a few sentences.
FortuneBuilders' Mastery program is what you'll need to enroll in so that you can get a comprehensive education in real estate investment. If you think you can become an expert by attending a weekend seminar, you'll be disappointed.
The Mastery program comes at a cost, so keep that in mind. Than told us on numerous occasions that those who succeed in the program are people who enjoy routine, are comfortable with risk and are willing to dedicate themselves to daily learning about real estate investment.
2-hour sign-up Saturday

By Mark B.

,

Inglewood, CA

,

Jan 28, 2020
Verified Reviewer

My wife and I went to the free meeting today in Culver City and signed up (at a cost) for the 3-day teaching class. From what I've read, it is a segway to the masters class ($15 -$50K) for up to 6 people. That's not going to happen for us! I think if you have a basic understanding of real estate, these extra tools will help in getting a productive investment/flipping real estate business going. Anyway, we'll see how it goes in February!

After the intro, it's all up to you what you do with it!

Bottom Line: Yes, I would recommend this to a friend

---

Excellent information

By Larry H.

,

Farmington Hills, MI

,

Nov 23, 2019
Verified Reviewer

I'm very happy with the wealth of knowledge that is being presented to me since becoming a Mastery Student, the support system is outstanding and our entity is set up and ready for business! Our immersion weekend was outstanding and we've taken to the field to review homes, the deal analyzer is such an amazing tool. Our coach along with the education videos and webinars has helped us to develop our business with confidence, I'm all in with this system and excited to keep learning and implementing the information into our new business. I look forward to boot camp in Atlanta and can't think of a better way to start a new year and life! Thank you and I appreciate everybody's help.

Bottom Line: Yes, I would recommend this to a friend

---

Advertisement

---

Full Immersion Training...amazing experience!

By Ed C.

,

Georgia

,

Nov 20, 2019
Verified Reviewer

First, let me start by thanking Than, Paul and Konrad for their vision and for creating such an amazing company.

The FortuneBuilders Mastery program is second to none.

Their educational platform provides everything that you need to succeed as a RE investor.

You have access to a full curriculum that covers everything from A to Z, assigned a business start-up/accountability coach, on-demand coach calls, daily webinars, and periodic in-person classes and seminars.

Last week, I attended our 2-day full immersion class. We spent one day in class and one day in the field going through several homes and working on accessing needed repairs. Our instructor Bill Hook was with us every step of the way to answer questions and provide guidance. This hands-on approach was very valuable and an excellent experience. It actually prepares you to access the properties' potential for deals and make offers the minute you leave the class.

Next is our boot camp from 1/1 - 1/7/2020 and I am definitely looking forward to the synergy that I have experienced thus far.

In summary, if you have a serious interest in real estate investing and are ready to make that leap of faith...look no further...this is the program for. An amazing family!

Bottom Line: Yes, I would recommend this to a friend

---

Recent Boot Camp - Dallas

By Donna B.

,

Taylors, SC

,

Oct 23, 2019
Verified Reviewer

Attended the Marketing Boot Camp and the Acquisitions/Wholesale Boot Camp along with my daughter. We learned so very very very much and enjoyed the classes as well getting to meet these leaders.

Leaders were fun and interesting while presenting a great amount of information. I know it is their goal to give as much information as possible in this allotted time, however, taking a 10-min break at about the 1 hour and 1/2 mark instead of going 2 or more hours before breaking would help with the attention span. Two plus hours is too long.

Thank you for these awesome opportunities to learn how to do this business the correct way!

Bottom Line: Yes, I would recommend this to a friend

---

Advertisement

---

Awesome boot camp - awesome staff

By Scott R.

,

Houston, TX

,

Oct 22, 2019
Verified Reviewer

Me and Susan loved the boot camp, we learned a heck of a lot and had a great time. All the staff was so awesome, from Jeff to all the people in the booths. Can't wait for the next one. Unfortunately, we can't make it to San Diego but will be in Las Vegas and then Atlanta. Thank you so much for giving us this opportunity and changing our lives. God bless you.

Bottom Line: Yes, I would recommend this to a friend

---

Not totally upfront

By Gayle D.

,

Long Island, NY

,

Oct 14, 2019
Verified Reviewer

I attended the free seminar to learn about investing in real estate property. The class did offer good information but they seemed focused on convincing you or getting you in a mindset to spend the amount of money they are asking for their classes. Honestly the next set of classes for 3 days I was at were a surprisingly reasonable rate. They also allowed you to invite two people for $197. The facilitator continues to impact the audience with remembering how much money they had spent for their college education, so when they drop the amount of the course for their future classes it will be more acceptable to those in attendance. Remember how much money you invested in your education, some of you spent over $100,000, some of you spent $70,000, suggesting what they offer to charge for their classes will be nothing compared to what one spent on their college education. Well, I wanted to go home and research a little more and check out reviews, which I had not done. And most of the people felt like I felt the free seminar was motivating hopeful for a future in real estate property investing. One review mentioned that the next step, the Master Class, is between $50,000 to $80,000. Pretty much the cost of a college education. That is the deceiving part that I did not like. Which puts these guys in a class with everyone else trying to make money selling their training courses for over-the-top amounts without really showing us how to do it. Just making money off of selling their courses not a real concern for an individual success in real estate investing. Those interested in real estate investing will have to do like the majority of people and learn from other trainings more affordable yes they will be some mistakes along the way but that's all part of the learning process.

Bottom Line: No, I would not recommend this to a friend

---

Free 2 Hour Seminar, 3 Day Workshop, Mastery

By Aisha A.

,

Newark, DE

,

Sep 21, 2019
Verified Reviewer

I attended the free 2-hour seminar with my husband expecting it would be an up-sell event for something bigger and I was right. The something bigger was a 3-day event for about $200 for two people. I've done a couple of real estate deals before and what impressed me in the 2-hour seminar is the introduction to "systems" that this organization has put in place that streamlines much of the process and is tried and true so we purchased the seats for the 3-day event. I expected the 3-day event to give us access to some of these tools they teased us with at the free seminar, but it didn't. It was a great motivational event and mind setting weekend (which I didn't need) and a lot of up-selling for the "Mastery" program - the big-ticket item ($30,000-$50,000 - which on the surface sounds ludicrous) that gives you access to the many systems this organization has built, as well as education on how to utilize them for up to 6 people (a little over $8,000 per head) for over one year of coaching and hand-holding, as well as unlimited access to an online education system and all the systems they've created to streamline real estate investing and reduce risks. To be honest, $50,000 is hard for anyone to pay out...but then what would one pay for a year's tuition and business coaching...and for a group of up to six people? When you look at how stellar the organization is, the quality of the human resources they employ, the quality and amount of systems you gain access to, the amount of education at your disposal...is it worth it...that depends on YOU...are you willing to put in the time and effort needed to learn and apply what they have to offer? If you aren't then don't waste your time. This is truly only for those serious enough to hit the pavement hard and put in the effort. By doing so, there is real potential to build a business in real estate investing...this is not a "get rich quick scam"...this is an "are you ready to learn, work hard, apply what has been offered and put in your every effort to be successful with guidance" opportunity. Anyone who thinks you'll walk out with easy wealth is naive and should just stay home...those who are serious, this is an awesome organization that is sharing its experience - for a price, as you'd expect any educational institution would charge.

Bottom Line: Yes, I would recommend this to a friend

---

Immersion with Rick

By Sarah R.

,

El Paso, TX

,

Sep 12, 2019
Verified Reviewer

Rick was fantastic. He had great energy and enthusiasm. Rick really was encouraging in helping us to move forward. He brought in other Mastery Students, which was great for networking in the area. I felt like he really wanted us to succeed, and would do all he could to give us the tools to do so.

Bottom Line: Yes, I would recommend this to a friend

---

Full Immersion

By David W.

,

Miami, FL

,

Sep 10, 2019
Verified Reviewer

The Full Immersion was outstanding! The hands-on part was very good.

It gave us the opportunity to learn how to inspect a house in a timely manner. He also taught us what to look for and the importance of taking pictures. It was a confidence builder. I enjoyed it.

Bottom Line: Yes, I would recommend this to a friend

---

Inspired

By Ann M.

,

New York

,

Sep 8, 2019
Verified Reviewer

Attended the Internet Quick Start and Wholesaling boot camp. I left inspired to get to work to use the tools and process that we discussed. I will definitely attend more and will be going to Ignite in December. It is definitely worth the time to go!

Bottom Line: Yes, I would recommend this to a friend

---

Attended Internet Quickstart Academy, and Acquisitions and Wholesaling Bootcamp, Marketing Systems Bootcamp

By Ronald N. M.

,

Marshfield, MA

,

Aug 30, 2019
Verified Reviewer

After joining Fortune Builders as a Mastery Student in October of 2018 my son and I were not able to attend a Bootcamp Summit until Orlando 2019. We have been doing all of our due diligence to get our business, Family Home Buyers, up and running. All the while we were out honing in our skills to become successful real estate investors in a competitive market. When we were finally afforded the time to book and attend a summit we were thrilled. We divided and conquered got 3 of the best (they are all great) summits done.

Both of us came out of the 6 Days invigorated and ready to hit the road and make some deals. Keep your eyes on this small family business, Family Home Buyers, we are coming to a neighborhood near you!

Thanks! Than, Jeff, Paul, Linda and all of the Fortune Builders staff. Awesome event!

Bottom Line: Yes, I would recommend this to a friend

---