The Blood Pressure Solution Reviews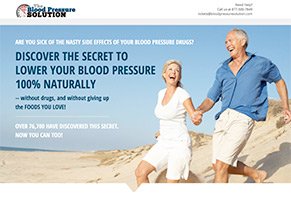 The Blood Pressure Solution e-book unveils 19 "master ingredients" found in common foods that can balance your health and reduce your high blood pressure.
About The Blood Pressure Solution
The Blood Pressure Solution by Dr. Marlene Merritt is a 100% natural way of reducing your blood pressure, without the nasty side effects associated with many blood pressure medications, and without giving up the foods you love.
All of this is accomplished by focusing on 19 "master ingredients," such as olive oil, beetroot juice, and traditional Chinese tea, which can supply your body with what it needs to "restore balance to your health." But why is this necessary in the first place?
According to Dr. Merritt, the plague of high blood pressure can be attributed to our "modern toxic environment," which entails the high-sodium, high-sugar foods we eat, the polluted air we breathe, and the chronic stress we regularly experience.
In turn, the 19 key foods found in The Blood Pressure Solution are claimed to "block, blunt, and replace the toxic culprits in our modern environment," resulting in lower blood pressure. Which is why it's been used by over 76,000 people to date!
At this point, you've got some important questions about The Blood Pressure Solution: Is it really a "solution" at all? If so, what kinds of benefits can you realistically expect? And will these benefits be worth the price you pay? We're here to help you uncover some answers.
To make sure we start off on the right foot, let's first talk about the causes of high blood pressure.
What Is High Blood Pressure? What Causes It?
Here's how the National Institutes of Health explains it:
"Blood pressure is the force of blood pushing against the walls of the arteries as the heart pumps blood. High blood pressure, sometimes called hypertension, happens when this force is too high."
Blood pressure is measured by two numbers, which are displayed similar to a fraction; e.g. 110/70 (read as "110 over 70"). The top number is called systolic, which references pressure as the heart beats, while the bottom, known as diastolic, which references pressure when the heart rests.
Normal blood pressure is anything under 120/80, but unless it's extremely high, you probably won't experience any side effects.
However, you might have a higher tendency to develop high blood pressure if you use tobacco, are over the age of 45, have a family history of HBP, aren't physically active, consume too much sodium, and more.
Both of these mean that it's extremely important to regularly check your blood pressure and speak with your doctor, especially if you're prone based on lifestyle and/or genetics.
In the meantime though, is there any information contained in The Blood Pressure Solution that can help?
How Will The Blood Pressure Solution Reduce Your Blood Pressure?
Here's where things get interesting. And by interesting, we mean vague. Why?
Because despite all the wordiness on the e-book's home page, we're basically only told that it unveils 19 "master ingredients" that can help counteract high blood pressure cause by our poor diets and toxic environments.
What are these ingredients? We're just told about olive oil, beetroot juice, and a "traditional Chinese tea." Are there other foods?
Not that we're told on The Blood Pressure Solution's website. But in general, if you're looking to reduce your blood pressure, most doctors recommend reducing sodium and increasing the amount of calcium, magnesium, and potassium you intake.
This can be accomplished through foods like white beans, fat-free plain yogurt, kiwi, bananas, red bell pepper, and many more.
Is this actually what's contained in The Blood Pressure Solution? Without any legitimate online reviews at the time of our research, there's no way to be sure. But can we learn anything from customer feedback for nearly identical products?
What's the Deal with Health-Based E-Books Like BP Solution?
Here at HighYa, we've reviewed dozens of books that claim to be revolutionary and cure otherwise incurable conditions using only specific foods. The consensus?
Like The Blood Pressure Solution, most customers rate these e-books very poorly, claiming that the information they contained didn't live up to the hype in their sales videos.
In many instances, customers claimed they could find the exact same information elsewhere online, but completely for free (remember this point, because we'll come back to it in a second).
In other situations, customers claimed that they never received their order (whether a hard copy or a digital version), and that support was completely unhelpful.
Is this what you'll experience with The Blood Pressure Solution? Again, it's impossible to say, but we'd certainly keep it in mind before placing your order. Speaking of ordering, how much does The Blood Pressure Solution cost?
The Blood Pressure Solution's Cost
The Blood Pressure Solution is priced at $47. As an e-book, you'll be able to download a copy immediately after purchasing, and you'll also receive a hard copy through the mail.
On top of this, you'll get 5 additional downloadable bonuses:
The "99 Foods" report
The Blood Pressure Solution grocery list
21 step-by-step recipes
The simple secret to monitoring your own blood pressure
How to get the truth from food labels
The Blood Pressure Solution is brought to you by Primal Health LP, an affiliate-based company based out of Plano, TX, who offers a 60-day refund policy. Customer service can be reached at 877-300-7849.
Now that we've covered the basics of high blood pressure, the content (probably) found in The Blood Pressure Solution e-book, and its price, let's wrap everything up.
How Much Value Will You Get from The Blood Pressure Solution?
Here at HighYa, we rarely focus on price alone. Why? Because if a product gets you where you need (wherever that might be), even if it costs more than some other options, then it probably provided a solid value. And that's ultimately what we're all about.
So, from this perspective, do we think The Blood Pressure Solution book will provide you with good value?
Based on the poor customer feedback for dozens of other e-books just like it, we have our doubts. In fact, based on our experience, we think you'd probably be able to find much of the same information online at no charge whatsoever.
However, if you feel like rolling the dice, Primal Health does seem to stand behind The Blood Pressure Solution with a 60-day refund policy, and the company had an A- rating with the Better Business Bureau at the time of our research (although interestingly, most of their 43 closed complaints referenced problems obtaining refunds).
Do not buy - scammed and spammed!

By P G.

,

Pennsylvania

,

Dec 16, 2019
Verified Reviewer

First off, the newsletter was advertised as free for 30-days and then you could cancel or continue for a monthly fee - they charged me immediately for this. Secondly, the day after I bought this I started receiving all kinds of sex, live girls, male enhancement products, and all other kinds off offensive material. I am receiving about 40-50 emails per day - that now hit my inbox and I now need so spam filter everything. I am returning the product - if this is the rig-raff they do business with I have no wish to participate in even trying the product now. I have reported to my credit card company and the BBB and hopefully, this review stops someone else from buying this product and opening themselves to this lousy company.

Bottom Line: No, I would not recommend this to a friend

---

Check the BBB on this company

By Chris R.

,

Salt Lake City, UT

,

Oct 3, 2019
Verified Reviewer

Primal Labs gave me a cut-rate deal on "blood pressure vitamins." It did lower my BP a little. Not much. But I was also taking a lot of the ingredients on Puritan's Pride already. After 6 months taking Primal Lab's product I got sick 3 times. I'm not saying it made me sick. I'm saying my immune system went down. After going back to Puritan's Pride which is a combination of 6 pills instead of 2 (not exactly the same ingredients but close). I have not been sick for over 1 year. For what it's worth? Also, they ripped me off! The guy on the phone said nothing about a newsletter by email with recipes that charges my card every month. But that's what he signed me up for without telling me. A year later I realize Primal Labs is charging my card every month for something worthless I wasn't even looking at! It was going into my spam folder for heck's sake! Anyway, this company will act like they are honorable and trustworthy and they will fight that you paid for and agreed to a news letter. But I did not. And if you read reviews I'm not the only one to claim this.

Please don't buy from companies that use a person's CC as an easy monthly income without their knowledge until they figure it out. There are too many of these companies out there ripping people off this way. This company is one of them!

Bottom Line: No, I would not recommend this to a friend

---

Advertisement

---

Eye-opening

By Paula S.

,

Maryland

,

Feb 25, 2019
Verified Reviewer

Great book, very eye-opening. Some of this seems to contradict old conventional recommendations that are slow to change, but this book is based on solid science. I've heard Dr. Merritt speak and she is a walking library. Really knows her stuff and is very detailed in researching quality medical studies about nutrition and most importantly their strengths and weaknesses!

Bottom Line: Yes, I would recommend this to a friend

---

Very happy!

By Aileen B.

,

Mississippi

,

Jan 27, 2019
Verified Reviewer

This book and the information it contains has been a blessing to me and my husband. My blood pressure was extremely high when I went to the emergency room. I was put on blood pressure medicine, which was something I wanted to avoid. Once I ordered and received the Blood Pressure Solution and read the entire book, I felt there was hope. By following Dr. Merritt's advice, my blood pressure is 121 over 71. I am so thankful for this information. There is no scam involved.

Bottom Line: Yes, I would recommend this to a friend

---

Advertisement

---

Scam alert

By Charles C.

,

Atlanta, GA

,

Jun 15, 2018
Verified Reviewer

This product is a total waste of money. Info is readily available elsewhere. And the BP medicine (Lisinopril) prescribed by my doctor works fine for me and thousands of others with little or no side effects. I suspect some of the positive reviews placed here are plants by the money-hungry people behind this scam. AVOID.

Bottom Line: No, I would not recommend this to a friend

---

Not worth the postage they charge

By Ron Alford

,

New York City, NY

,

Mar 14, 2018
Verified Reviewer

This book came to me via a very long video sales pitch that is tantamount to the long life vitamin and health food pitches that have become rampant on the internet.

The sales pitch is far better than the book. It appears that the long-term sales pitch was created by the Tony Robins sales and marketing clan that moves emotions to what they call "ACTION NOW." I was promised a detailed shopping list, meal planner, and three other things that I have forgotten. Nothing came with the book.

To get a FULL refund for this book, I called the 877 number and sat on hold for over 25 minutes when a lady wanted to know my first and last name after I told her I wanted my money back. She offered to allow me to keep the book for a 50 percent discount to salvage the sale, I told her the book was not worth $5, and I wanted my money back. She said that she would refund all but the postage and handling, which was and is much more than the book is worth. Having written and published three similar books, I know that they still made a profit on a their 100 percent guarantee. And I was looking forward to the things promised in the Video Pitch. I am disappointed.

Bottom Line: No, I would not recommend this to a friend

---

More than just a book

Since most of the reviews lament the price of the book rather than the effectiveness of the program, here's an update of what is offered at this wiring for the $47+ shipping:

- The 99 Foods That Naturally Lower Blood Pressure, a $24.99 value.

- How To Monitor Your Blood Pressure At Home, a $19.99 value.

- The 7-day Meal Plan, a $19.99 value.

- The 7-day Meal Plan Shopping List, a $9.99 value.

- How To Read A Nutritional Label, a $14.99 value.

And of course...

- The Blood Pressure Solution guidebook itself, $47.

And don't believe there isn't a refund option. Refunds are available by simply emailing to support@bloodpressuresolution.com with the subject line "money back," and you'll have your $47 refunded.

YES, most of this information is available through internet searches. So for me, the book was a modest price for sparing me hours of searching and researching the subject. The meal planner, shopping guide, and other bonus features made the convenience complete.

Bottom Line: Yes, I would recommend this to a friend

---

Great results!

I found Marlene Merritt's material through Primal Lab, and I am so glad I did. I followed Marlene's advice and diet (which makes perfect sense to me, as I was already eating for good health) in order to lower my blood pressure and get off medication. On my most recent visit to my doctor, I had a normal reading for my age group, and I am now off the meds and plan to continue this routine. I also feel better than ever.

Bottom Line: Yes, I would recommend this to a friend

---

I believe this is a scam

I had watched the Blood Pressure Solution video, and at the end, I was completing the order request form and after I entered my credit card information, my screen disappeared. I asked them to call me, which they did, but would not even care to listen to the problem we were having. I would suggest to others NOT to give out your credit card on this site. Too many seniors like us get ripped off everyday just like this.

Bottom Line: No, I would not recommend this to a friend

---

BP book

By Eric Smith

,

Louisville, KY

,

Oct 10, 2017
Verified Reviewer

I think books like this are dangerous. They appeal to people who are desperate to get off medications, but it's an unsafe practice to imply the things that are implied in this book and in this video. I think that it's a crying shame someone would prey on people's fears and anxieties and health problems by presenting something like this. In reading the other reviews, it seems to be the same old stuff. It's very dangerous some of the ideas.

Bottom Line: No, I would not recommend this to a friend

---

Had great results

By Patri

,

Texas

,

May 11, 2017
Verified Reviewer

My husband was having stroke level blood pressure for over a month taking the max blood pressure meds that his doctor allowed. We ordered the info and after only three days following the recommended menu, my husband returned to the doctor and his blood pressure was 118/65, and he is no longer taking the meds that were affecting his eyesight and causing a cough. He has been off the meds for almost a month and still has a cough off and on.

Bottom Line: Yes, I would recommend this to a friend

---