The Blood Pressure Solution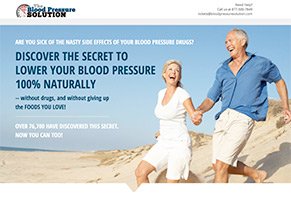 The Blood Pressure Solution e-book unveils 19 "master ingredients" found in common foods that can balance your health and reduce your high blood pressure.
About The Blood Pressure Solution
The Blood Pressure Solution is a book by Dr. Marlene Merritt that claims to provide natural ways of reducing your blood pressure, without the nasty side effects associated with many blood pressure medications, and without giving up the foods you love.
All of this is allegedly accomplished by focusing on 19 master ingredients such as olive oil, beetroot juice, and traditional Chinese tea, which can supply your body with what it needs to "restore balance to your health."
According to Dr. Merritt, the plague of high blood pressure can be attributed to our "modern toxic environment," which entails the high-sodium, high-sugar foods we eat, the polluted air we breathe, and the chronic stress we regularly experience.
In turn, the 19 key foods found in The Blood Pressure Solution are claimed to "block, blunt, and replace the toxic culprits in our modern environment," resulting in lower blood pressure. Which is why it's been used by over 76,000 people to date!
At this point, you've got some important questions about The Blood Pressure Solution: Is it really a "solution" at all? If so, what kinds of benefits can you realistically expect? And will these benefits be worth the price you pay? We're here to help you uncover some answers.
How Will The Blood Pressure Solution Reduce Your Blood Pressure?
Here's where things get interesting. And by interesting, we mean vague. Why?
Despite all the wordiness on the e-book's home page, we're basically only told that it unveils 19 "master ingredients" that can help counteract high blood pressure caused by our poor diets and toxic environments.
What are these ingredients? We're just told about olive oil, beetroot juice, and a "traditional Chinese tea." Are there other foods?
Not that we're told on The Blood Pressure Solution's website. But in general, if you're looking to reduce your blood pressure, most doctors recommend reducing sodium and increasing the amount of calcium, magnesium, and potassium you intake.
This can be accomplished through foods like white beans, fat-free plain yogurt, kiwi, bananas, red bell pepper, and many more.
Is this actually what's contained in The Blood Pressure Solution? Without any legitimate online reviews at the time of our research, there's no way to be sure. But can we learn anything from customer feedback for nearly identical products?
What's the Deal with Health-Based E-Books Like BP Solution?
Most customers rate these e-books very poorly, claiming that the information they contained didn't live up to the hype in their sales videos.
In many instances, customers claimed they could find the exact same information elsewhere online, but completely for free (remember this point, because we'll come back to it in a second).
In other situations, customers claimed that they never received their order (whether a hard copy or a digital version), and that support was completely unhelpful.
Is this what you'll experience with The Blood Pressure Solution? Again, it's impossible to say, but we'd certainly keep it in mind before placing your order. Speaking of ordering, how much does The Blood Pressure Solution cost?
The Blood Pressure Solution's Cost
The Blood Pressure Solution is priced at $47. As an e-book, you'll be able to download a copy immediately after purchasing, and you'll also receive a hard copy through the mail.
On top of this, you'll get 5 additional downloadable bonuses:
The "99 Foods" report
The Blood Pressure Solution grocery list
21 step-by-step recipes
The simple secret to monitoring your own blood pressure
How to get the truth from food labels
The Blood Pressure Solution is brought to you by Primal Health LP, an affiliate-based company based out of Plano, TX, who offers a 60-day refund policy. Customer service can be reached at 877-300-7849.
Now that we've covered the basics of high blood pressure, the content (probably) found in The Blood Pressure Solution e-book, and its price, let's wrap everything up.
How Much Value Will You Get from The Blood Pressure Solution?
Here at HighYa, we rarely focus on price alone. Why? Because if a product gets you where you need (wherever that might be), even if it costs more than some other options, then it probably provided a solid value. And that's ultimately what we're all about.
So, from this perspective, do we think The Blood Pressure Solution book will provide you with good value?
Based on the poor customer feedback for dozens of other e-books just like it, we have our doubts. In fact, based on our experience, we think you'd probably be able to find much of the same information online at no charge whatsoever.
However, if you feel like rolling the dice, Primal Health does seem to stand behind The Blood Pressure Solution with a 60-day refund policy, and the company had an A- rating with the Better Business Bureau at the time of our research (although interestingly, most of their 43 closed complaints referenced problems obtaining refunds).
---
Great results, but you need the meal plan

By Helene

,

New York

,

Aug 25, 2016
Verified Reviewer

You need to get the meal plan to work this and the company believed in that so much that they have me the meal plan for $10 per month. My blood pressure when I started the diet was in the stroke zone -- 180 over 98. I did not want to go on medication but promised myself that if I could not lower my BP within 6 weeks -- when I was due for a physical -- I would go on the meds. Within two weeks of this diet I was down 20 points and by the end of the 5 weeks in the normal range -- 120 over 75 or 80 and occasionally 116 over 65 or 70. This diet is for real, I have to adjust it to include a bit of grain, but I am very pleased with the results. That $50 investment has led to a year so far without even considering taking a med. By the way, I used to be scared to death to get my blood pressure taken due to it being high. Dr. Marlene recommends a wrist monitor. Now I take it three times a day just for fun.

Bottom Line: Yes, I would recommend this to a friend

---

Had great results

By Patri

,

Texas

,

May 11, 2017
Verified Reviewer

My husband was having stroke level blood pressure for over a month taking the max blood pressure meds that his doctor allowed. We ordered the info and after only three days following the recommended menu, my husband returned to the doctor and his blood pressure was 118/65, and he is no longer taking the meds that were affecting his eyesight and causing a cough. He has been off the meds for almost a month and still has a cough off and on.

Bottom Line: Yes, I would recommend this to a friend

---

Advertisement

---

Very happy!

By Aileen B.

,

Mississippi

,

Jan 27, 2019
Verified Reviewer

This book and the information it contains has been a blessing to me and my husband. My blood pressure was extremely high when I went to the emergency room. I was put on blood pressure medicine, which was something I wanted to avoid. Once I ordered and received the Blood Pressure Solution and read the entire book, I felt there was hope. By following Dr. Merritt's advice, my blood pressure is 121 over 71. I am so thankful for this information. There is no scam involved.

Bottom Line: Yes, I would recommend this to a friend

---

Eye-opening

By Paula S.

,

Maryland

,

Feb 25, 2019
Verified Reviewer

Great book, very eye-opening. Some of this seems to contradict old conventional recommendations that are slow to change, but this book is based on solid science. I've heard Dr. Merritt speak and she is a walking library. Really knows her stuff and is very detailed in researching quality medical studies about nutrition and most importantly their strengths and weaknesses!

Bottom Line: Yes, I would recommend this to a friend

---

Advertisement

---

Great results!

I found Marlene Merritt's material through Primal Lab, and I am so glad I did. I followed Marlene's advice and diet (which makes perfect sense to me, as I was already eating for good health) in order to lower my blood pressure and get off medication. On my most recent visit to my doctor, I had a normal reading for my age group, and I am now off the meds and plan to continue this routine. I also feel better than ever.

Bottom Line: Yes, I would recommend this to a friend

---

More than just a book

Since most of the reviews lament the price of the book rather than the effectiveness of the program, here's an update of what is offered at this wiring for the $47+ shipping:

- The 99 Foods That Naturally Lower Blood Pressure, a $24.99 value.

- How To Monitor Your Blood Pressure At Home, a $19.99 value.

- The 7-day Meal Plan, a $19.99 value.

- The 7-day Meal Plan Shopping List, a $9.99 value.

- How To Read A Nutritional Label, a $14.99 value.

And of course...

- The Blood Pressure Solution guidebook itself, $47.

And don't believe there isn't a refund option. Refunds are available by simply emailing to support@bloodpressuresolution.com with the subject line "money back," and you'll have your $47 refunded.

YES, most of this information is available through internet searches. So for me, the book was a modest price for sparing me hours of searching and researching the subject. The meal planner, shopping guide, and other bonus features made the convenience complete.

Bottom Line: Yes, I would recommend this to a friend

---

Control your blood pressure naturally

I was disappointed with the book. It contained numerous grammatical errors throughout the book, and it was a paperback book of only 97 pages. It did contain many facts, but nothing new that I haven't already read in many other health books. I felt that the book was very overpriced for being $47. There were no meal plans or recipes, like I find in other health books. Other health books that I have purchased were much cheaper in price, and had much more quality, were without grammatical errors, and had three times the information in a hard back cover. On top of the high price of the book, I had to pay an additional costly shipping charge, whereas other books that I have ordered were shipped for free. I felt it was not a good deal, and not worth the amount that I had to pay.

Bottom Line: No, I would not recommend this to a friend

---

The blood pressure solution

By Matthew

,

Dallas, TX

,

Mar 6, 2016
Verified Reviewer

It was vague. I wasted 62 bucks on book plus paid shipping and handling. There was a lot of buzz words and no real good news. There were options just to buy their primal source supplements at a reduced price. Thanks, I guess.

Bottom Line: No, I would not recommend this to a friend

---

Waste of money

By Doug Reed

,

Omaha, Nebraska

,

Apr 3, 2016
Verified Reviewer

This is way overpriced, and mostly drivel. The first 35 pages have nothing to say, and the book is small (I read it in an hour). There is no real news, just nutritional information, which most of us have already read. This book should cost $10.00 with free shipping, at best. Or it should be sold next to the Enquirer Magazine at the supermarket checkout stand.

Bottom Line: No, I would not recommend this to a friend

---

"Control your Blood Pressure Naturally"

Totally surprised when I received my 6" x 9" paperback book from Dr. Marlene Merritt, of The Blood Pressure Solution organization at a charge of $47.00 for the paperback book with a shipping charge of $9.99 -- for a total spent of $56.99.

The information in this book could easily be found in any of the brochures/medical magazines found in your local doctor's office, There is nothing special in her paperback pamphlet that would justify that ridiculously exorbitant price!

The prices that were charged borderline on being close to highway robbery. It is really a shame to take advantage of people who put their trust in the word "Doctor".

Bottom Line: No, I would not recommend this to a friend

---

Click bait, long video, same old thing

By Jax

,

Sep 12, 2016
Verified Reviewer

I saw a bait ad for this while browsing so I click it to see if it's the same as all the others and I was right. During the whole LONG video I just knew they wanted to charge a crazy price for a book I can find for 10 bucks at a books a million or other branded company store or even one dollar if I look in a thrift store. Looking around the site it doesn't say the price but I see Shipping at the bottom so they don't want to help for free.

In the book it's just the same information you find anywhere else and someone in the comments is right about all the grammar in the book. It's like they just wrote a bunch of filler things because they believe no one will read it or most just skim thru it and never notice.

The doctor is good but it's bad she is forced to put her name on something like this. Don't blame her, it's the corporate who suggested it to her.

Bottom Line: No, I would not recommend this to a friend

---