The Boss Blender Reviews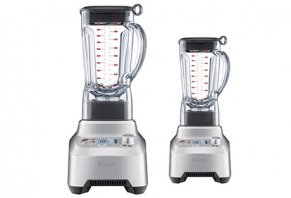 The Boss Blender is claimed to be a high-velocity blender that provides superior blending power while transferring less heat to your food.
About The Boss Blender
The new Boss Blender by Breville claims to be an easy to use high-velocity super blender that features a ProKinetix blade and bowl system which creates up to 50% smaller particles than traditional blending, while also preventing the buildup of heat at the bottom of the bowl. Because of this, Breville claims that the Boss Blender can infuse your foods with a super fine texture, increase absorption of nutrients, and provide an unmatched mouth feel.
How the Boss Blender Works: It's All About the Curves
In order to accomplish this, the Boss Blender's pitcher is curved at the bottom, which is claimed to help circulate ingredients up and away from the blades more quickly, thereby reducing how often your ingredients "bounce" against the blades and create unnecessary friction. In addition, the Boss Blender's curved blades are claimed to help liquids aerate properly before too much heat builds up.
Finally, the blender also uses a soft start to avoid creating steam bursts cause by friction between the blades and the food you're blending, while also pulsing at the end of the cycle to release any steam bubbles that may have accumulated during the blending process.
If you're looking to gain a better understanding of how the Boss Blender works before committing to a purchase, be sure to visit Breville's YouTube page for a variety of videos.
The Boss Blender's Specifications
The Boss Blender's base is constructed of heavy duty die-cast metal, and the Titan jug is claimed to be BPA-free. Inside the jug, the blender's 3 powerful stainless steel blades are contoured to the base, which are powered via a 1,500W 2HP motor in order to maximize cutting power.
Speed is controlled using a 12-speed manual control knob, which ranges from super slow to high speed milling. You'll also find that the Boss Blender features 5 one touch programs, including smoothie, green smoothie, frozen dessert, soup, and pulse/ice crush, in addition to a dedicated auto clean function, timer, and a pause button. Whichever mode you're using, the Boss Blender is claimed to feature a large back-lit LCD panel that shows you the exact speed your food is being processed at, without any guesswork.
Once you're finished, the Boss Blender's 68oz shatterproof jug with Breville Assist Lid is claimed to be easy to open, while still ensuring a tight seal during operation. The Boss Blender also features push-in cord storage to remove any unsightliness from your kitchen counters after cooking is complete.
Boss Blender Pricing & Refund Policy
The Breville Boss Blender is priced at $599.99. With your order you'll also receive:
Blending with the Boss Appliance Science & Recipes Book
Cook'n Recipe Organizer App
Flexible Spatula to assist with removal of ingredients after blending.
Frozen Dessert Tamper helps push down frozen food into the blades.
The Boss Blender comes with a 30-day refund policy, as well as a 7-year limited warranty against defects in product material or workmanship. Keep in mind that in order to be eligible for a refund, your Boss Blender will need to be unused and in its original packaging, including any accessories, manuals and documentation.
In order to initiate the refund process or file a warranty claim, you'll need to contact Breville's customer service at 866-273-8455 to obtain an RMA number.
Note: If you'd prefer to get up close and personal with the Boss Blender before making a purchase, the exclusive retailer is Sur La Table. However, if purchased there, remember that the refund policy may differ.
What Do Other Consumers Have to Say About the Boss Blender?
The Boss Blender is a very new product, therefore there were no online customer reviews at the time of our research.
However, Breville USA based out of Torrance, CA holds an F rating with the Better Business Bureau, based on just 10 closed complaints (as of 10/10/14). It appears that Breville has failed to respond to 7 of these complaints, which could be a primary reason for the company's low rating.
Looking at some of Breville's other (albeit lower priced) blenders, based on reviews found at Amazon.com, they appear to have a primarily positive reputation, with most customers—even those who were ultimately dissatisfied—appearing to be pleased with their performance.
However, many of these same customers also complained that their blender's gasket would eventually begin leaking, and that the bearings under the blade had a tendency to seize after just a few months of use. When this occurred (across more than one model), some customers claimed that customer service was very helpful, while others complained that the company was unwilling to help address the problems.
Bottom Line: Is the Breville Boss Blender Worth the High Price?
Considering the Boss Blender's very high price, this model is certainly more targeted toward professional cooks and passionate at-home amateurs. As such, if you're an "everyday" chef, the Boss Blender's additional capabilities might not come in very handy, and may provide a low price-to-value ratio. If this sounds like you, then you may be better served by one of Breville's lower priced models.
Great blender

By Joe

,

Arizona

,

Oct 6, 2015

Also bought mine at Bed Bath & Beyond. Awesome blender. Makes hot soups, smooth smoothies, chops, minces, frozen desserts, nut butters, nut milk, etc. Also, the blender comes with a 7-year warranty. To the first poster, I would like to know what $40 blender could do that? The only blenders that come even close are Vitamix or Blendtec.

Bottom Line: Yes, I would recommend this to a friend

---

Way too expensive.

By Ravee

,

Chicago

,

Aug 11, 2015

There are better blenders under US $40 that will outperform this blender. It all depends how you choose a blender, what type of heavy work you do with it, how you maintain the product etc. I will not recommend any blender that is more than US $60 anytime.

Bottom Line: No, I would not recommend this to a friend

---

Advertisement

---

It's great

By Dan

,

Dallas TX

,

Jun 12, 2015

Hi. I bought this three days ago. I've tried the Vitamix 5300 and Blendtec before I got this one. I'm going to keep it. I like it a lot and it may not look as nice as the Vitamix but it does everything I want and find it blends smoother than the Blendtec​ and it overcomes some of the shortcomings of the Vitamix. I got mine at Bed Bath and Beyond. And it is great. No regrets and I use it regularly.

Bottom Line: Yes, I would recommend this to a friend

---