The Light Phone Reviews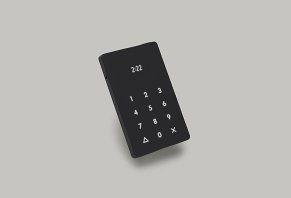 About the size of a credit card and only able to make and take calls, the soon-to-be-released Light Phone promises to help you temporarily disconnect from your smartphone.
About The Light Phone
Designed to be used as little as possible as a seamless extension of your smartphone, the credit card-sized Light Phone only allows you to make and take calls.
For those times you don't need the internet in your pocket, but do need a little peace of mind, the unlocked 2G GSM Light Phone is all about minimalization.
Its intentionally limited functionality removes texting from the equation and features just ten speed dials, vibrate and ringtone modes, and a desktop app with Mac, Windows, and Linux support, while allowing you to keep your same number. In addition, you'll only be charged a minimal fee of $5 per month to use The Light Phone.
Based on its diminutive design and limited features, it's clear that The Light Phone might be able to help you "leave your smartphone behind and enjoy peace of mind," as claimed on the device's website.
But is this what you're really getting for your money, or are you being sold an image, more so and than a real-world solution to overstimulation? The Light Phone raises some interesting questions, and here, we'll help you find some answers.
Let's start with the device's central thesis.
What Problem Is The Light Phone Looking to Solve?
You only need to walk out your front door to know that we're a smartphone-obsessed culture. The Internet is bloated with videos of people getting into all sorts of uncomfortable situations because they were more focused on their phone's screen than what was going on around them.
Given this, it's no wonder that a recent fact sheet posted by the Pew Research Center revealed 95% of Americans own a cell phone of some kind, which is up a whopping 77 percent from six years earlier in 2011.
Specifically, 81 percent of U.S. adults own a smartphone, which we use an average of about 1.75 hours per day to consume various types of media.
But what if you could get this time back by removing the temptation of a smartphone in the first place? Would we be able to appreciate more of the real world around us and increase your quality of life?
After all, as noted on the device's website, The Light Phone is centered around the idea that "Time and attention are two of the most important things we take for granted."
How Does The Light Phone & Desktop App Work?
Available in Matte White or Matte Black colors, The Light Phone is an unlocked 2G GSM phone that weighs in at 1.25 ounces, features a basic OLED display, uses a SIM card to function right out of the box, and provides 45-90 minutes of talk time (depending on connection). Because it doesn't rely on Bluetooth, the phone will work equally well regardless of its proximity to your smartphone.
The manufacturer tells us you'll set up the phone through a desktop app on your computer (lightphoneapp.com), starting with a text to your existing smartphone. This text will contain two numbers, that "when dialed will turn ON/OFF call forwarding accordingly."
Note: Obviously, this means that your existing carrier must support call forwarding in order to forward your smartphone calls to The Light Phone. We'll talk about additional potential limitations shortly.
Here's a quick overview of the process:
Turn on your Light Phone and plug it into your computer using the included SB cable.
Download the app.
Add your contacts (up to 10 speed dials).
Verify your smartphone's number via text. Once verified, The Light Phone will use your existing phone number for outbound calls.
Save the numbers you receive to your contacts.
Unplug and enjoy.
When you're ready to return to using your smartphone, turn off call forwarding to your Light Phone.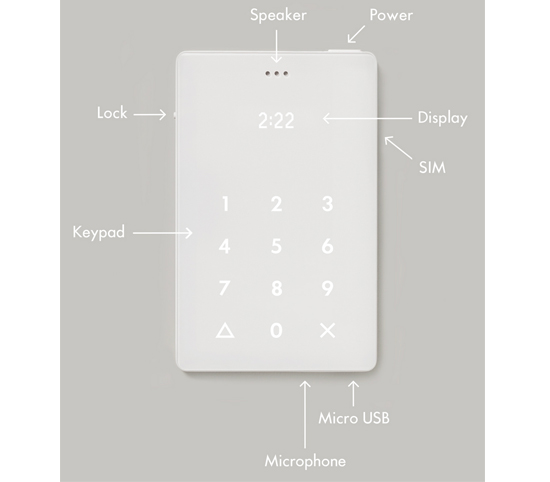 The Light Phone only offers the ability to make and take calls, with limited additional features, like ringtone on/off, incoming/outgoing calls, clock, missed calls, and mode. Image credit: The Light Phone?
According to the company's FAQ, The Light Phone's battery will last about 2-4 days on standby, depending on signal strength. As such, the company recommends fully charging before 'going light.'
In a nutshell, The Light Phone only features two modes:
Paired – Only available to U.S. customers, this mode sends calls through the company's cloud platform to act as a seamless extension of your smartphone.
Standalone – Here, The Light Phone uses its own SIM card (versus the cloud) to directly call out, "like an unlocked standalone device." This also means you won't be able to mask your existing phone number.
Are there any other potential limitations to The Light Phone? Let's take a look.
Does The Light Phone Have Any Limitations?
Although The Light Phone is SIM-based, they don't offer SIM cards to international customers, which means you'll need to purchase something locally, if applicable. Even then, the cloud software platform will not be available and therefore unable to mask outgoing calls with your primary number.
Specifically, the company's FAQ indicates the following regions do not support 2G: Australia, Singapore, Japan, and Korea.
Furthermore, since The Light Phone was specifically designed as a second casual phone, it shouldn't be considered a primary, standalone option. Further, you can currently only forward one phone to The Light Phone and any voicemails won't be accessible (except directly from your smartphone).
Important note: Based on their marketing approach and materials, it seems like The Light Phone is geared toward an outdoor aesthetic. However, the device's FAQ notes that "Sunlight will significantly reduce the visibility of the display and keypad," so it might not be ideal in bright light.
Similarly, the FAQ also clarifies that "Emergency calls from your phone may not be possible in some areas or circumstances" and that "In less populated areas, the weaker digital signal deployed on higher frequencies may not be sufficient to reach a cell tower."
As a result, they recommend, "Before traveling in remote or undeveloped areas, plan an alternate method of contacting emergency services personnel."
Potential limitations aside, what will you pay for the minimalization provided by The Light Phone?
How Much Does The Light Phone Cost?
The Light Phone is currently available for pre-order at $150 and includes a SIM card (U.S. orders only) and a micro USB cable. The estimated ship date is the end of May 2017, although the original date was June 2016 (a common occurrence with crowdfunded projects).
In addition to the purchase price, the cost of using the company's service is $5 per month in the U.S. However, all Light Phone pre-orders will come with five months of free service "as a thank you for your patience."
No refund or warranty details were listed on the companywebsite at the time of our research, so we sent an email to info@thelightphone.com. Here's the quick response we received:
"We are currently replacing any Light Phones that are defected and refunding pre-orders that are still open."
Are There Any Light Phone Reviews?
The Light Phone got its start through a May 2015 Kickstarter campaign, where the fledgling product raised more than $415K.
Since it hadn't been released at the time of our research, there weren't a whole lot of firsthand reviews. We did find one detailed hands-on review on Business Insider, where the author appreciated its light weight and slim, credit card-sized profile while on a trip to the grocery store. So light, in fact, that they couldn't even feel it.
While this granted them the opportunity to "enjoy the sunshine and pleasant temperatures" and "exist in the moment," they missed being able to listen to music, whether directly or through a built-in app.
They didn't have any complaints about call quality, and while they mentioned that The Light Phone wasn't designed to replace an iPhone, they found that "the novelty of being smartphone-free wears off after a few hours," and that it was a hard transition.
"Plus, for $150, it's a steep price to pay for such a limited gadget, even one as stylish and cool as this," they noted.
50 Campfires provided us with a quick unboxing video, where they noted that the company went all out on the attractive outdoor-themed packaging. They found The Light Phone effortless to set up and noted that most carriers should be able to forward calls.
They didn't experience any problems with test calls, although they emphasized that it's "not quite as clear as a smartphone, but perfectly fine." If you have a few minutes, the video's worth watching:
https://youtu.be/FRGDhy4bv14
From a company perspective, The Light Phone was founded by Joe Hollier and Kaiwei Tang in 2014. Joe is a Brooklyn-based multi-disciplinary artist (filmmaker, designer, director, and entrepreneur) who helped design The Light Phone, while Kaiwei also comes from a design-heavy background.
Does the Light Phone Have Any Competition?
Even if you search online for a "basic cell phone," you'll find that many models still feature large color screens, online access, onboard music storage, the ability to text message, and many even come with at least basic games (think Solitaire). In other words, even a 'basic' modern cell phone makes The Light Phone look like some Stone Age relic by comparison.
In short, it doesn't currently appear to get more basic than The Light Phone.
In an ironic shift of perspective, though (even compared to a few short years ago), you'll have to pay for The Light Phone's simplicity. Whereas many basic cell phones can be purchased for just a couple bucks (or even come free with a signed contract), the phone's $150 price tag could certainly be considered steep.
Our Final Thoughts About The Light Phone
In our opinion, there's little room for argument that The Light Phone features a fantastic minimalistic marketing approach and slick packaging design to invoke a minimalistic aesthetic. By challenging the status quo and helping us (at least temporarily) disconnect from our overconnected world, the company seems to signal a forthcoming change in perspective.
But, in light of today's world, we have to ask:
Are you ready to pay $150 for a second phone—especially one that might only be used for a few hours per week?
Is it wise to increase your overall expenses just to disconnect from technology?
Despite its fantastic marketing approach, does The Light Phone really just represent our culture's obsession with buying more and believing that it will provide us with less?
Some of these are deeper questions than others, but the bottom line is that only you hold the answers.