Mevo Camera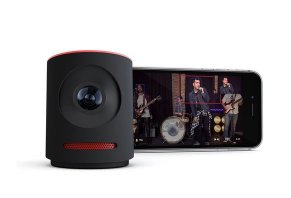 The Mevo Camera from Livestream helps take the hassle—and high cost—out of streaming live video with its easy setup, iPhone controls, and on-the-fly editing.
Mevo Camera Review: Is It Worth It?
The Mevo Camera gives you the ability to stream live, high definition video to your customers, fans, and friends. You'll also be able to edit your video on the fly directly from the Mevo app, record and store your video, and even share clips via YouTube, Facebook, email, and more.
But here's the thing: With Mevo, you can do all of this by yourself, without having to lug around a rig or pay a professional crew for help. You'll be able to set up and start recording in seconds, while its small size makes it portable and discreet, so you won't have to worry about it distracting from your event.
All of this means that The Mevo Camera "puts the power of a multi-camera setup in your pocket" and "pro-level production at your fingertips."
If you just browsed through Mevo's website, then your mind's probably spinning with all the creative possibilities this streaming camera can open up. But is The Mevo Camera really right for you? Is it worth the money? What considerations should you keep in mind? We'll cover all of this (and more) in this review.
The Mevo Camera's Features
There's no arguing that Mevo is feature packed, so instead of overwhelming you with a bunch of information at once, we've split everything into four easy-to-read sections below.
Mevo's Tech Specs
The Mevo Camera is small (2.5" high and 2" in diameter), uses a 150-degree all-glass lens with image stabilization, a 4K sensor with 12.4 megapixel resolution (at 30 frames per second), and built-in stereo microphones.
Powering The Mevo Camera is an internal 1,200mAh Li-ion battery with 1 hour of run time (this can be increased up to 10 hours using the Boost accessory, which we'll talk more about in a moment).
On Mevo's exterior, you'll find a speaker, magnetic base, 24-color LED light ring on top, and micro-USB and SD card slots on the back.
When streaming HD content, Mevo automatically adapts to network conditions in order to maximize quality (known as adaptive bitrate).
Features You'll Find in the Mevo Camera
While the Mevo Camera itself records and streams your video, most of the heavy lifting is handled by the iPhone app; or what the company calls "your personal video editing suite." Why? Because the app gives you the ability to cut/crop (just tap on the screen), zoom (pinch), pan (drag), and use in-app filters to enhance or customize your shots—all on the fly.
And if you want a hands-off approach, you can just tap on the subjects in your shot and let Mevo's people detection and movement tracking take over. In fact, Mevo can take up to 9 shots from just one camera (again, we'll come back to this shortly)!
According to the company, your Mevo Camera can be set up in seconds, and you'll be able to add and mix an audio source via your iPhone's microphone jack when using the Mevo app. And while you're recording, the LED light ring will keep you informed about your Wi-Fi connection, battery life, and more.
The Mevo Camera's Pro Version
The Mevo Camera comes in white or black colors, and in Basic and Pro versions. The Pro version includes all of the same features found in the Basic version, with the addition of their Boost accessory.
In a nutshell, Mevo's Boost is a cylinder the same circumference as the camera, but is roughly 2.5 times taller. It attaches directly to the bottom of Mevo and provides the following additional features:
Up to 10 hours of filming, with only a 5-hour recharge time.
You'll also be able to simultaneously charge any USB accessory, including your iPhone.
The Boost features a water resistant flap, which gives you the ability to shoot indoors or outdoors, rain or shine.
10/100 mbps Ethernet port
LTE ready (note: This only works with Verizon 4G LTE USB Modem UML295. No other modems are currently supported.)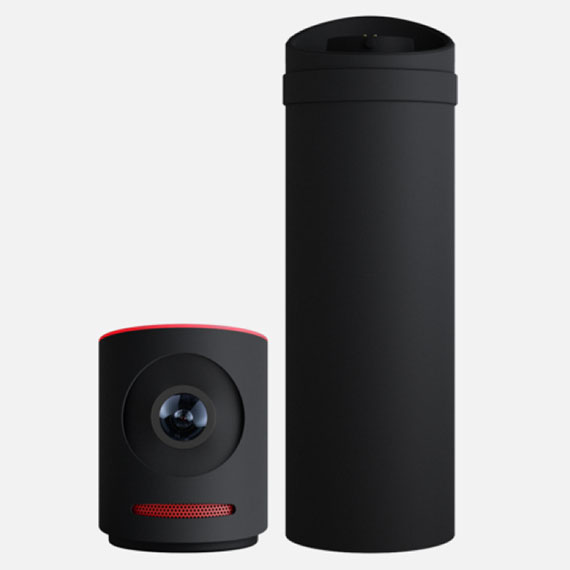 ​The Mevo Camera is on the left, with the optional Boost accessory shown on the right.
Mevo's Developer Capabilities
If you know how to code and are looking to really take your Mevo Camera's capabilities to the next level, their SDK (software development kit) offers the ability to create your own production control application(s) on any Linux, OSX, iOS, Android, or Windows-powered device.
What can you do with this feature? The sky's the limit, really, but here are a few examples from the Mevo website:
Automate Mevo recording/streaming triggers
Enhance Mevo's computer vision capabilities for your specific application using your own OpenCV (or other) algorithm driving Mevo's realtime virtual camera control API
Platform for video engineering education
Video hackathons
Art Installations
Mevo's beta SDK version will be available on Github in Summer 2016, although you can subscribe for updates in the meantime.
Mevo Camera Cost
Here's what you'll pay:
Mevo White: $199 (retail $399)
Mevo Black: $199 (retail $399)
Mevo Pro: $399 (retail $649)
Note: The Mevo Camera can be shipped internationally, but will only come with a US power adapter.
For these prices, your Mevo Camera will include everything you need to start your production:
Universal mount for mic stands and tripods
10 foot USB cable
16 GB microSD
Adjustable K&M stand (only with Pro version)
From a software standpoint, you'll need an iPhone 5 or later running iOS 9 or higher. You can store video directly on your iPhone or the included 16 GB microSD card, but to stream video you'll need a Livestream subscription, which start at $9 per month.
The only refund policy on the Mevo website was for Livestream's subscription services. And although the device comes with a 1-year limited warranty, no additional information was available.
Who Might Benefit Most from The Mevo Camera?
Here at HighYa, we review a ton of products every month, including new tech like The Mevo Camera. And if there's one thing we've learned, it's that every consumer has different needs—and since your satisfaction depends on how well a product meets your needs, let's start from viewpoint:
Do You Need To Have a Mevo Camera To Stream Video?
The short answer: No, but you also won't gain access to Mevo's unique features.
The detailed answer: When it comes to streaming video, you basically have four main components; 1) the camera, 2) a device that can send its signal to 3) a computer, as well as 4) a streaming service.
With a rig like this, at minimum, you'd probably need one person to operate the camera and another to edit the live video (such as cropping, adding effects, etc.), along with a computer and the appropriate software. Ideally, you'd probably also need someone to do sound (hold mics, move around the room, and so forth). And if you needed multiples shots at once, you'd need more than one camera.
So, if you're looking to just stream video, you have hundreds of options, which you can see for yourself by typing "streaming cameras" into your favorite search engine. In fact, if you already own a non-streaming camera, you can purchase separate hardware (like Livestream's Broadcaster) that allows it to stream live video.
Alternately, if you're looking for the least expensive options, you can stream video from your PC or smartphone using options like the Meerkat app, and even Facebook.
With this in mind, Mevo offers a twofold advantage:
First, through Mevo's app, you'll be able to control the camera, edit your video, add effects, capture sound, and stream live, all from a single device, which greatly cuts down on the amount of equipment you need and vastly expands your creative options.

Second, its easy setup and use means that you won't need more than one person, simplifying the process and keeping your production costs down.
How Much Life Will You Get Out of Your Mevo Camera?
The Mevo Camera uses an internal 1,200mAh Li-ion battery, which is a popular option in many electronic devices (and even yard maintenance products), due to their high energy density and low maintenance.
However, even if they're never used, lithium-ion batteries typically only last 2-3 years before they stop holding a charge. And since Mevo's battery doesn't seem to be replaceable (not to mention that this would be far outside their warranty), you may not get more than a couple years of use out of your Mevo Camera before needing to replace it.
Your Audio Quality Needs
Next, Mevo seems to feature decent 65dB MEMS stereo microphones, but there's no indication if they're omnidirectional or unidirectional. In either instance though, they're probably not the best choice for recording much more than close-by speech, and certainly not for recording live concerts (despite what some of the images on the Mevo website might lead you to believe).
But The Mevo Camera doesn't have a built-in mic input, basically leaving you with two options:
Plug an external microphone into your phone. Since your phone only has one mic input, this means you're limited to just one microphone. Or,

Plug your phone (which isn't a great sound source, either) into a separate soundboard.
While these considerations might not be high on the list of most amateurs, they're definitely something to think about if you're a pro (or aspire to become one).
Putting Mevo's "Multiple Shot" Capability into Perspective
Yeah, it's super cool that Mevo can take multiple shots from the same lens, but there are some limitations to consider.
First, all your shots will be from the same angle. And if you want multiple angles (say, one from each corner of the room), you'd need multiple cameras—but the Mevo app currently supports only one. In other words, you're limited to a single camera.
Also while Mevo's camera can pan and zoom, all your shots will be from the same height, unless you manually adjust the stand while streaming.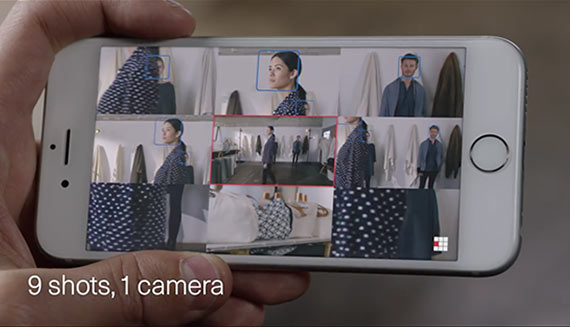 Yes, Mevo can take multiple shots from a single lens, but it does come with limitations.
The Bottom Line: Is Mevo Camera Right for You?
Taking everything we've learned here together, it's clear that a streaming camera like Mevo has nearly infinite uses, whether you're a professional looking to add to your repertoire, a semi-pro looking to step up your game, or an amateur who just needs basic functionality and point-and-shoot ease of use.
But based on its price, functionality, and limitations—not to mention your intended use—only you can decide whether or not it's worth taking the plunge. The good news is that you now have what you need to make an informed decision! But the Mevo Camera comes from an industry leader with years of experience and positive customer feedback, and they appear to stand behind their products.