The Oxford Income Letter Reviews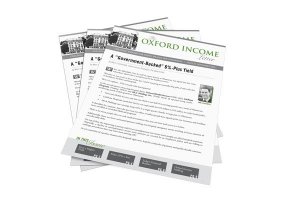 By focusing on dividend stock investing, Marc Lichtenberg's The Oxford Income Letter claims to help subscribers earn a passive income with minimal weekly work.
About The Oxford Income Letter
The Oxford Income Letter promises to provide subscribers with cutting-edge insight, along with dividend stock picks and analysis, that can help create an income portfolio that rakes in $1,000 or more per week.
Whether you're just starting out, are thinking about retiring, or are already retired, editor Marc Lichtenfeld tells us that his system only requires an internet connection, a small starting stake, and less than four hours per week.
From there, you could start collecting just days from now. Just pick out those opportunities that work best for your situation, we're told, and this simple strategy pretty much runs itself.
According to Marc, he and his Oxford Income Letter team dig into tens of thousands of different investment opportunities each month, and select only a handful that looks promising using the company's computer-based analysis and statistical modeling. Then, these businesses are screened with a Cash Flow Indicator (CFI), which reveals their current and future cash positions.
Finally, after reading the newsletter, you'll be able to tap into these already successful businesses and get a piece of the action.
Sure, this all sounds simple and straightforward, but is it? Even then, does the information you'll obtain with your subscription really represent a perfect retirement business, as claimed on the website?
If you watched the entire hour-long "Perfect Retirement Business" promotional video, you might have been disappointed by the lack of tangible information provided about the Oxford Income Letter. What, exactly, will you get for your money? Let's dive in and find out.
How Does the Oxford Income Letter Work?
Marc tells us in the promotional video that it focuses on dividend stocks, which companies pay shareholders an annual 'fee' to own. Motley Fool explains: "For example, if you owned $1,000 of a stock and it paid a 3% dividend yield, you'd get $30 a year just for owning it."
"Technically speaking," they add, "dividends are a redistribution of a company's earnings directly to its shareholders."
In the instance of The Oxford Income Letter, Marc applies his 10-11-12 System to dividend stocks, which The Tao of Wealth reports is intended to "give 12% average annual returns and generate 11% yields after 10 years of investing." This system was originally outlined in Marc's book, Get Rich With Dividends: A Proven System for Double-Digit Returns.
One Stock Gumshoe reviewer provided some meaningful insight into additional strategies implemented in The Oxford Income Letter when reporting that Marc also focuses "on the FCF [free cash flow; calculated as operating cash flow minus capital expenditures] and relative valuation [the use of similar, comparable assets in valuing another asset; often used in real estate]."
In a nutshell, based on what we learned from the Letter's site, as well as third-party investing websites, it appears Marc will provide OIL subscribers with a list of companies each month that they might want to consider purchasing dividend stocks in.
How Much Does the Oxford Income Letter Cost?
You'll pay $249 for 12 monthly issues of The Oxford Income Letter, along with The Oxford Income Weekly (provides updates on current recommendations) and Oxford Email Blasts (short emails featuring urgent new recommendations and opportunities). Important: Subscriptions will automatically renew until you call to cancel.
Your Perfect Retirement Business kit will also include the following special reports:
"Start Collecting Weekly Payouts With the Retirement Cash Calendar"
"How to Claim an Extra $130,000 in Social Security"
"How to Achieve a Seven-Figure Retirement Account... Even if You Think It's Too Late"
The Oxford Income Letter comes with a 90-day money back guarantee, although you'll get to keep all special reports. In order to request one, The Oxford Club's customer support department can be reached at 800-305-3980.
Oxford Income Letter Reviews
Considering that The Oxford Income Letter has been in publication for many years, we found surprisingly little online subscriber feedback during our research.
Reviews on Stock Gumshoe seemed to be mostly positive, though, with many claiming it's worth the money and provides fairly reliable recommendations.
On the other hand, one Reddit reviewer found that the Letter came with "lots of additional stock alert offers that appear incredibly scammy." Another found it odd that Marc would share these winning strategies, instead of making an incredible amount of money by keeping them secret.
From a company perspective, The Oxford Club held an A rating with the Better Business Bureau and 37 closed complaints, as of 10/16/17. Overall, most of these appeared to reference profits that weren't as high as promoted, information that's not worth the price paid, and difficulty obtaining refunds. In each instance, a representative responded with a resolution.
The parent publishing company, Agora Financial, Inc., wasn't rated with the BBB as of this same date, although they did have 28 customer reviews (89 percent of which were negative) and nearly 130 closed complaints. Most of these referenced the same issues.
Since The Oxford Income Letter is largely based on the 10-11-12 System found in Get Rich With Dividends, the book had an average Amazon rating of 4.2 stars, based on 70+ reader reviews. Overall, most compliments appeared related to good information, effective strategies, and ease of understanding.
On the other hand, common complaints referenced that it takes more work than advertised, that it's a long-term approach, which might not be ideal for older investors, and that there's limited advice for picking stocks (versus just choosing those recommended in the newsletter).
Who Is Marc Lichtenfeld?
In addition to his books, Marc is the senior editor of The Oxford Income Letter, editor for other publications like Tactical Trader Alert, Lightning Trend Trader, and Chairman's Circle Breakout Alert; Income Specialist at The Oxford Club, and frequent contributor to InvestmentU and SeekingAlpha.com.
After earning his degree from University at Albany, SUNY, Marc previously worked as a senior equity analyst at Avalon Research and an equities analyst at Weiss Research.
How to Decide If The Oxford Income Letter Is Right for You
A quick online search will reveal that there are dozens of companies offering hundreds—perhaps thousands—of different investing newsletters. Some of these are free, while others, like The Oxford Income Letter, cost subscribers hundreds of dollars per year. How can you choose the best option for your needs?
Writing for Forbes, Peter Brimelow reports that most newsletters tend to focus on market anomalies; or, "peculiar areas where the market does not seem to discount information immediately, and can be exploited to achieve superior returns."
However, these anomalies don't necessarily represent a 'better' investment, as he emphasizes that beating the market average is extremely tough. As such, it could be considered a red flag if a publishing company claims to consistently make spectacular profits with their newsletter recommendations.
Pro tip: Marc Hulbert tracks gains since inception for many of the most popular investing newsletters. While the average stock market return is currently seven percent, you'll find that most of the highest performers only average between 12 and 14 percent.
From there, Investopedia's Brian Perry recommends starting by identifying newsletters that align with whatever investing strategy you're considering. He also notes that you'll need to account for the cost of your newsletter subscriptions when tallying your overall profit, and that you should never take all of your investing advice from a single publication.
Our Final Thoughts About The Oxford Income Letter
The Oxford Club seemed to have a mostly positive online customer reputation at the time of our research, as did Marc Lichtenfeld's book Get Rich With Dividends, much of which The Oxford Income Letter is based on.
On top of this, authoritative sites like Investopedia indicate that calculating relative stock valuation on free cash flow could be a more accurate method than focusing solely on earnings.
But like any other type of investment forecasting, they also point out that there is a measure of risk involved, and that dividend stocks tend to be long-term investments that might not be ideal for those looking for quick returns.
With all of this in mind, The Oxford Income Letter comes with a 90-day refund policy, which should be more than enough time to figure out whether or not its recommendations align with your strategy. Again, though, be sure to maintain realistic expectations and base your decisions based on multiple authoritative sources.
Total scam

I recently found out my father, who suffers from early-stage dementia, was scammed out of $6,000 by this organization. I called and asked for a refund, but they said no, said that he agreed to all the terms (this when he doesn't even know he signed up for it). I asked for a partial refund since some time has passed as this is way too much for my father to be able to afford but they said all they could do was stop charging him the annual maintenance ($125! Like that will make a difference).

Their supervisor, Devin, was rude and made it sound like it was my father's fault. Of all the newsletters out this, I think this is the most ruthless. I was hoping to avoid having to spend time on this but I have a law firm and I will be pursuing legal means in Maryland against this firm as I suspect they purposefully prey on the elderly. My sister owns a large digital marketing firm, and she said she will dedicate someone to spread the word online about this company to avoid more retired people from getting scammed by this so-called organization. What a shame that there are companies like this.

Bottom Line: No, I would not recommend this to a friend

---

Advertisement

---