The Purple Pillow Reviews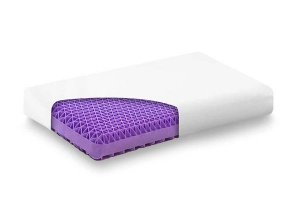 Made from a proprietary, food grade Hyper-Elastic Polymer and triangular Smart Comfort columns, The Purple Pillow claims to help reduce head and neck pressure for improved sleep.
About The Purple Pillow
Advertised as the world's first no-pressure bed for your head, The Purple Pillow uses a patented comfort grid system that promises to cradle your head and neck, without losing shape, whether you're a back, side, or undecided sleeper.
As a result, the website tells us your head will relax into the pillow, your spine will experience all-night gentle comfort, and you'll put an end to constant fluffing. And with its patented, breathable design, they claim you'll sleep cool and stop waking up hot and sweaty.
Based on what we learned from the product's commercial, it certainly seems like The Purple Pillow's design could provide a unique sleep surface. But does this necessarily mean that you expect it to make your pillow problems a thing of the past, as claimed on the website?
Let's help you find some actionable answers, starting with an in-depth look at how the pillow works.
Taking a Closer Look at The Purple Pillow's Design Features
The Purple Pillow is 24" x 16" x 3" in size and weighs about 10.2 pounds. A primary reason for this weight is the patented Hyper-Elastic Polymer (a non-toxic, food grade material) used to construct their head-specific triangular Smart Comfort Grid, "which creates walls that can support or fold, depending on how much pressure it receives."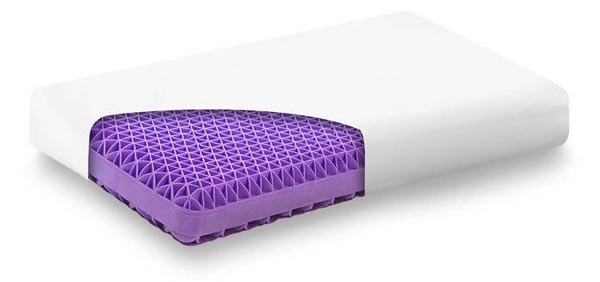 The Purple Pillow's triangular columns provide ultra-precise head and neck support, while the soft cover is made from 88% polyester, 3% nylon, and 9% spandex mesh. Credit: Purple Innovation, LLC
This column design is also said to allow free airflow for a temperature neutral sleeping experience (especially when compared to memory foam pillows), as well as prevent moisture from becoming trapped and allergens from accumulating.
Together, with its reinforced edges and softer center, the company tells us that you'll achieve optimal spinal alignment and support. And when it comes time to clean, simply wash the pillow in warm water with gentle dish soap and allow it to air dry.
How Much Does The Purple Pillow Cost & Where Can You Buy?
The Purple Pillow is priced at $99 and comes with free S&H within the contiguous U.S.
It was also available through Amazon at the time of our research for a price of $170.95, with free shipping as well.
All direct orders come with a 100-night no pressure guarantee, free returns, and a one-year warranty against defects caused by faulty workmanship or materials. Customer support can be reached at 888-848-8456 or info@purple.com.
What Can We Learn from Consumer Reviews of The Purple Pillow
The Purple Pillow got its start via a 2016 Kickstarter campaign, where it went on to raise more than $2.6 million from 17,000+ backers. Since that time, it's garnered 5,300+ reviews on the company's website at the time of our research, who had given it a cumulative average rating of about 4.5 stars.
There, common compliments related to increased comfort, improved sleep, and reduced pain. On the other hand, the relatively few complaints frequently revolved around discomfort, heaviness, and high price.
On Amazon, we encountered another 100+ customer reviews for The Purple Pillow, who had cumulatively given it an average rating of 3.2 stars, with many of the same compliments and complaints. However, it's important to point out that many complaints also referenced the Air Booster System, which is no longer offered.
Back in January 2017, Sleep Sherpa had a chance to use The Purple Pillow in the real world, and reported that it had "a unique feel," remained temperature neutral, and provided noticeable pressure relief. However, the noted that they "woke up several times during the night because [their] ear felt a little sore."
The Sleep Judge also had a chance to review The Purple Pillow, reporting that it has a low loft, medium firmness level, and a very good cooling effect. However, they also felt it was heavy and awkward and could be too thin, depending on your shoulder width.
From a company perspective, Purple Innovation, LLC is based out of Alpine, UT, has been in business since 2015, and also manufactures the popular Purple Mattress. They held a B rating with the Better Business Bureau, based on six customer reviews and 23 closed complaints, as of 1/25/18. Most referenced customer service issues, although a representative responded in each instance.
Are There Other Gel Polymer Pillows Competing With Purple?
During our research, we didn't encounter any other pillows that matched Purple's design. Instead, the closest options we found was constructed primarily of memory foam, with a shallow top layer of gel used for cooling.
So, the question becomes: Will The Purple Pillow's triangular columns deliver more comfort than your existing pillow?
The bottom line is that no single pillow from any manufacturer will work for every sleeper. We all have our own needs and preferences, which can often be addressed in a multitude of ways. But if you have chronic pain or are experiencing insomnia, be sure to involve your physician in the decision-making process.
With this said, with the help of professionals, we've learned in the past that a good place to start is picking a pillow based on your preferred sleeping position.
For example, back sleepers might prefer something with medium firmness, and a "fluffy-yet-squishy" feel with extra loft or height in the bottom third to cradle your neck. On the other hand, side sleepers might benefit from a center cavity design and maximum firmness, while stomach sleepers might do best with a very thin, ultra-malleable pillow (or even no pillow at all).
How does all of this relate to The Purple Pillow? Let's answer this question in the next section as we wrap up the article.
Our Final Thoughts About The Purple Pillow
At more than 10 pounds, The Purple Pillow definitely isn't a lightweight option compared to traditional models.
And combined with its proprietary Hyper-Elastic Polymer and flat, rectangular design, this means it's likely suited best for back (and perhaps side) sleepers, as well as for those who don't feel the need to mold their pillow in different shapes throughout the night.
As we outlined above, though, sleep in general—and choosing pillows specifically—is a highly personal process, so what works fantastically for one person might be a complete disaster for another.
Given this, it's positive that Purple allows customers to try their Pillow for 100 nights and return it for free if they're not satisfied. This way, you get to use it in your home, and won't lose much more than a bit of your time for giving it a try if it doesn't match your preferences.