Waldorf Astoria Los Cabos Pedregal Reviews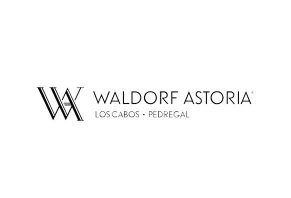 Summary
Tourists from all over the world are drawn to Cabo San Lucas, Mexico for a vacation at The Waldorf Astoria Los Cabos Pedregal. Learn how the resort that defines luxury and indulgence.
Waldorf Astoria Los Cabos Pedregal Review: Our Honest Experience
"Welcome to The Resort at Pedregal," said a uniformed staff member, as he pressed two perfectly chilled margaritas into our hands.
My wife and I had just stepped out of the Escalade that had provided sanctuary after a harrowing arrival at Cabo San Lucas International Airport in Mexico and were already stunned by the views from the resort's open-air lobby.
As our luggage was whisked away to our suite and another concierge guided us to check-in, we quickly realized that The Waldorf Astoria Los Cabos Pedregal (formally known as The Resort at Pedregal) was not a place where things are done by halves.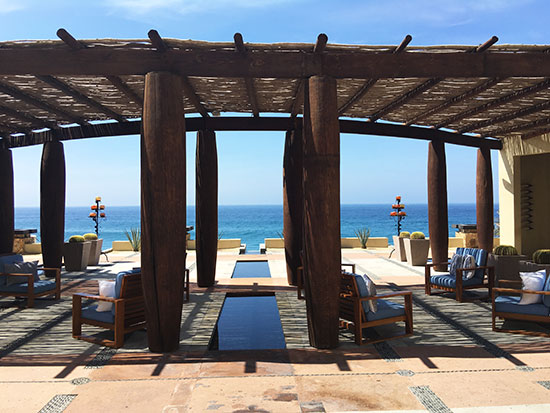 The Resort of Pedregal Front Lobby
Are you considering heading to Cabo San Lucas for a resort vacation? Before we indulge in seaside dining, private pathways, and all the things that make The Waldorf Astoria Los Cabos Pedregal so exquisite, let's backtrack just a tad to walk you through how we arrived.
The Waldorf Astoria Los Cabos Pedregal: Where The Basics Are Anything But
I'd been browsing Expedia for last-minute getaways when I came across a package deal for The Waldorf Astoria Los Cabos Pedregal that started—five days/ four nights and two roundtrip tickets for $2900.
The price was steep, but I was curious and searched for information about the resort online. I learned that each of the luxury resort's 66 rooms feature views of the Pacific Ocean and surrounding cliffs, in addition to fireplaces, terraces, and pools.
When it came to amenities, I couldn't imagine any accommodation topping The Waldorf Astoria Los Cabos Pedregal's impressive list. Why? Two infinity pools with coastal views, an organic spa, and a cliff-perched restaurant with outstanding views, just to name a few.
Even the dining options sounded divine. The Waldorf Astoria Los Cabos Pedregal's Executive Chef is Yvan Mucharraz, who has worked at some of the most notable restaurants around the world—one of which was the French Laundry in Napa.
After researching the resort's average price per night (between $375-$625), and flight prices for the time we had planned to travel (mid-July), we decided to splurge.
What to Expect When You Arrive in Cabo San Lucas
In preparing for our trip, we decided to spring for an optional transportation service provided by the resort (that previously-mentioned Escalade), as opposed to haggling with local taxi drivers once we arrived.
After booking transport, our concierge from the resort has sent an email with advice for navigating the airport after getting off our plane. The most important was that we should expect to run into a large group of taxi drivers and 'helpers' awaiting tourists getting off the plane—but that it was best to ignore this group.
Our best bet to avoid getting drawn in, our concierge advised, was to keep our heads down and basically run outside.
Despite reading about what to expect, we were still overwhelmed by the bottleneck created by countless people and stalls trying to sell us services as soon as we exited the luggage area. Boy, they weren't kidding with that warning!
Even the meeting zone is ringed stall-to-stall with booths promoting car rentals, tourist excursions, hotels, show tickets—if it's sold in Cabo, someone is trying to sell it to you as soon as you hop off the plane.
The best method for navigating your way through the crowd is to walk as quickly as possible, looking straight ahead, without making eye contact or stopping for anyone—which is exactly what we were doing until a man in an airport uniform caught my wife's attention.
The man flashed his badge and asked where we were going. When my wife explained that we had prearranged transportation, he lied and said that we were in the wrong terminal. Then, to try and keep us there, he started to tell us some 'fun facts' about the area.
As it became more apparent that he was running a scam, I started to grow frustrated. But, in the commotion of the airport and this man's incessant talking, it was difficult to get my wife's attention.
Then the uniformed scammer started to criticize the resort we had booked by suggesting that it was mostly timeshares, and that we'd be bored there. Of course, he had just the solution! Once we realized he was trying to sell us activities, we grabbed our things and simply started walking away, letting his voice fade into the noise of the crowd.
And, wouldn't you know? As soon as we stepped outside, we spotted the driver holding our name on a card and felt an immediate sense of rescue.
Bottom line on arriving in Cabo San Lucas? Don't stop for anyone! You're under no obligation to stop, talk, or buy from any individual—even if they're wearing a uniform. Additionally, have a game plan for the transportation as soon as you arrive, that way you're not a sitting duck for scammers.
Arriving at The Waldorf Astoria Los Cabos Pedregal
There are two routes from Cabo San Lucas International Airport to The Waldorf Astoria Los Cabos Pedregal: The scenic road that winds along the coast, or the more direct, inland road. Our driver took the latter, but the trip still gave us picturesque views of beautiful mountains and scenic farms.
Being chauffeured through the area in an air-conditioned Escalade that was stocked with chilled water was completely comfortable. Our driver was friendly, but not overly chatty. And, looking out the windows, we definitely got the sense that we were in another country, but it was nothing like the 'third-world' Mexico that you're shown on nightly news channels.
About 15 minutes into the trip, a steep cliff dotted with large, luxurious homes appeared on the horizon—this is Pedregal.
Located on the very southern tip of the California Baja Peninsula, Pedregal was designed to be the most luxurious residential area of Cabo San Lucas. The development includes private homes owned by the rich and famous (including Madonna), timeshares, and The Resort, which is frequented by Lady Gaga (we missed her by just five days!), Bill Gates, Ewan McGregor, and Charlie Sheen.
There's only one way into the Pedregal community: A 1000 foot tunnel through the base of the mountain separates Pedregal from downtown Cabo.
The tunnel is an easy five to seven-minute walk, or two-minute drive (golf carts are standing by to ferry you from one end to the other), but it does a nice job of seeming to lead you into another world devoid of development and crowds.
Once our car pulled up to the main entrance, we were greeted and handed our two margaritas. As we were transported by the large, open-air space and breathtaking view, our luggage was whisked away.
We were escorted to check-in by Patrick, who would remain our concierge throughout our stay.
It's worth mentioning here that Patrick was incredibly helpful and friendly. But, also, that everyone we encountered at the resort was so warm and kind (while giving the overall impression that each detail has already been taken care of), that you can't help but feel like you're already having an incredible time from the minute your foot touches the resort's grounds.
Exploring Our Suite at The Waldorf Astoria Los Cabos Pedregal
Walking from the lobby to our suite, we were mesmerized by the grounds. Pristine, ambling pathways, immaculate landscaping that combined native cacti, decorative grasses, and succulents, were framed by an ocean view every step of the way.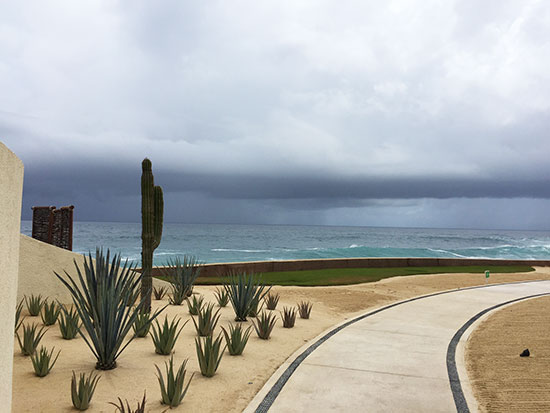 The Resort of Pedregal Walkways
'Ocean View Deluxe King' was the style of suite we'd reserved. But, upon entering the room, we decided those words didn't do it justice. Grand, immaculate, sweeping—that's what immediately comes to mind when entering your suite at The Waldorf Astoria Los Cabos Pedregal.
The interior design was flawless. High ceilings featuring exposed beams of rich, dark wood complimented Spanish-Colonial-inspired touches, such as beautiful french doors. Those elements played contrast to crisp, clean lines and modern furniture.
The bathrooms were equally beautiful, featuring an open shower, double sinks, and hand-crafted tiles—all of which was pristine. (We were so impressed that we even checked under the bed for dust, and couldn't find a speck!)
The Resort of Pedregal Bathroom. Image Credit: www.theresortatpedregal.com
A complimentary bottle of Jose Cuervo Platine Reserva tequila, peanuts, and limes were set out for our enjoyment. The suite was also made even more impressive with thoughtful touches, including a mini fridge stocked with fresh juices and waters.
We also came to look forward to extras such as afternoon deliveries of Coronitas (which, somehow, taste ten-fold better south of the border), chips, and guacamole to the room—all of which is complimentary and restocked daily. (Except for the tequila, which is limited to your arrival.) Even if you don't polish off the beer, they'll bring more!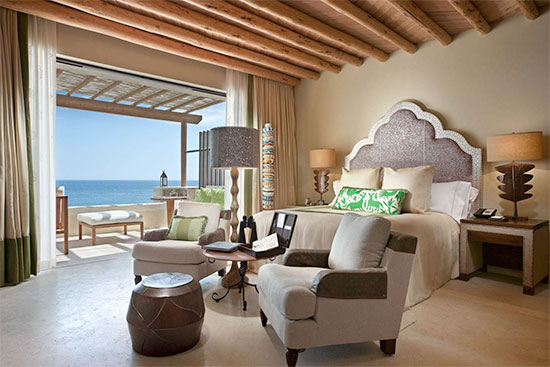 The Resort of Pedregal Room. Image Credit: www.theresortatpedregal.com
All of these details were explained by our concierge, who gave us a final tip before leaving us to relax in our suite: There were many places to eat at the resort, including the ability to order pool-side and, of course, room service.
However, the two main restaurants did require dinner reservations. Especially if we should want to catch the spectacular sunset views while we dined, so to make sure and call ahead.
Dining at Don Manuel's
The first night, we headed to Don Manuel's, The Waldorf Astoria Los Cabos Pedregal's signature restaurant. Though guests are invited to dress casually, the service was anything but—it's fine dining through and through.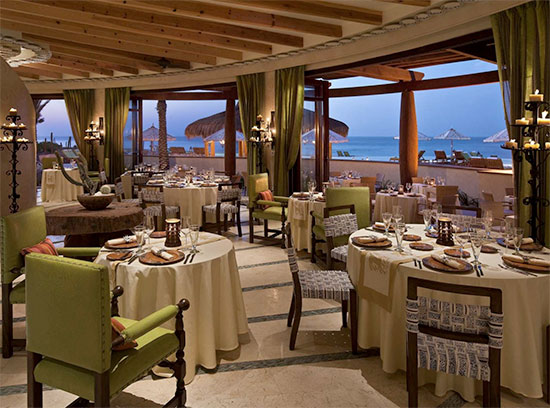 Don Manuel's Restaurant. Image Credit: The Waldorf Astoria Los Cabos Pedregal
Here's what we ordered:
Heirloom tomato salad, with compressed cucumber, pumpkin seed and Chile Morita dressing ($15.00)
Seared blue fin tuna with roasted eggplant purée, cremini mushroom, cauliflower salad, roasted leek, dijon mustard, and bonito broth ($33.00)
Cerdo Pelón Pibil—Slow roasted pork with salsa and plantain tortillas ($34.00)
The food was impeccable. More so, the exceptional quality and variety of the menu were matched, or even eclipsed, by the terrific service.
Let me put it this way, servers in America could learn a thing or two about service from The Waldorf Astoria Los Cabos Pedregal's staff. We all understand that professional wait staff and customer service are trained to be friendly and that it's their goal to provide a good impression, both as representatives of their establishment and, in part, to get a tip.
The staff at The Waldorf Astoria Los Cabos Pedregal make you feel as if it's their life's passion to ensure that you have a splendid, memorable time, no matter if you're dining in a restaurant or lounging by the pool. While we experienced this throughout our vacation, service is always most notable during dining, as the waitstaff's warmth and professionalism added to every meal.
The only aspect of The Waldorf Astoria Los Cabos Pedregal that warrants caution are the prices. For example, I was offered a 230-year old tequila at $115 a shot. (I declined, only because I'm not familiar enough with tequila to be able to appreciate what made it unique.)
But, even less exorbitant indulgences can quickly add up. Our margaritas were $13 a piece, dinner for two was easily $150, and the next morning's breakfast came up to $70.
Also, note that a 15% gratuity is automatically added to each order or meal. Additionally, a 16% Federal tax is then automatically added the final check—though neither are tacked onto dining costs outside of the resort. (We'll touch on venturing out in as a means to cut costs in a bit.)
Despite the high costs, the final check never detracted from our experiences at The Waldorf Astoria Los Cabos Pedregal. The way we looked at it, those meals weren't just enjoyable in the moment, but were memories that we'd cherish for years to come.
However, if someone planning a getaway at the resort were unprepared for their prices, it could definitely dampen your enthusiasm for the dining experience!
Dining Seaside at El Farallon
Don Manuel's might be The Waldorf Astoria Los Cabos Pedregal's signature restaurant, but El Farallon provides the resort's signature ocean views.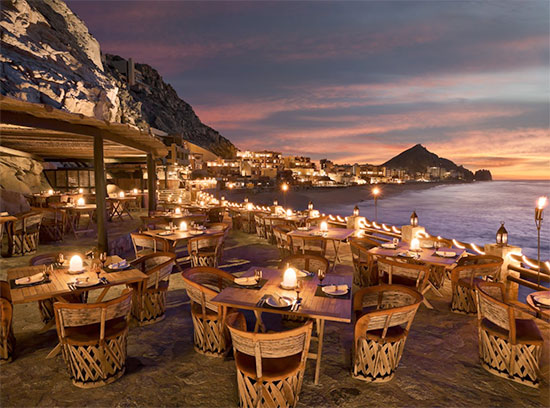 The Resort of Pedregal El Farallon. Image via The Waldorf Astoria Los Cabos Pedregal
The restaurant is named 'el farallon' because of its physical presence. In Spanish, it means 'a rock that comes out of the ocean'—likely because the phrase 'the most breathtaking views and exquisite menu you've ever experienced' would be too hard for tourists to pronounce.
El Farallon creates magic by combining cliff-side seating with a menu brimming with a bounty of freshly caught seafood. How fresh is emphasized by the manner in which guests make their selections.
On the way to being seated, we were guided through an area that can only be described as an aquarium to pick out our favorite fish. After being seated, you're guided through the remaining selections, as each meal comes with your choice of seafood, along with an appetizer, two sides (choose from six), and dessert.
As with dinner at Don Manuel's, the service at El Farallon was exceptional. Plates were taken away at the right moment, leftovers didn't linger, beverages were always refilled at just the right moment—all of which came together to create a seamless experience that ensured you had nothing else to focus on but your happiness.
What's There to Do During the Day
When you're not eating at one of Pedregal's restaurants, there's still plenty to do at the Resort, itself.
Guests can explore the many walkways the wind throughout the resort, or walk down to the beach. One thing to note: Because the resort is located on the tip of Baja's peninsula, the beach is too rocky for safe swimming. There is a sandy beach a taxi-ride away, approximately five miles. However, anyone looking to dip their toes will have to stick to the resort's two infinity pools.
Luna y Mar: The Waldorf Astoria Los Cabos Pedregal's Award-Winning Spa
If you're in the mood for extra pampering, the resort features an on-site spa named Luna y Mar. Before the area was demolished by storms several years ago, it had been rated as one of the best world-wide—a distinction they're working hard to earn again after the resort's recent restoration.
My wife made an appointment at Luna y Mar for two services: a pedicure and a tension relief massage. Both of which, she explained, were beyond blissful. Here's what to expect:
A Luna y Mar spa experience begins normally enough at check-in, as a staff member walks you through the spa to show you all of the amenities that you have access to all day—even if you've only scheduled a single service.
There is a dry heat sauna, steam sauna, ice sauna, and a warmed dipping pool. The staff member explains the most beneficial order in which to dip, and also gives you a quick tour of an additional open-air pool that links around different platforms for resting and lounging.
Should you care to stay for long enough to lunch, guests can order from a healthy menu for in-spa meals. There's also a separate tea menu, for spa guests who'd like to detox for the day, and a nap room with several beds for anyone who'd like to slip into a state of total relaxation. The ambiance from wall to wall is one of complete serenity, from the decor right down to the pleasant but subtle scent.
The services began with a traditional Mexican foot bath to soothe your toes. While dipping your feet, a warmed pillow is placed on your shoulders, and you're given a steaming cup of tea to sip.
What of the service itself?
"It's amazing. The massage room she walked me kinda the outside spa/pool area, with the whole side of the room a window, it's was so relaxing.

I've gotten massages a bunch of times (I'm kind of a massage junkie), and the masseuse did an amazing job there. Because I got the tension relief massage for the hour, she focused on my shoulders and back, and used strong pressure, like I had requested, but also didn't leave out my hands, arms, feet and head. She also did some cool stretches with my arms and back. The oil she used wasn't as oily as some of the other massages I've gotten, and she would use warm clothes on my shoulders and head to help with the muscle tension. The massage left me feeling lighter and super relaxed."
Lose Your Sunglasses at Pedregal? Not A Problem.
Another experience we had worth noting was how the resort handled what happened when something did go wrong.
One of my treasured possessions is a pair of Ray Ban sunglasses purchased for me by my wife. They're valuable and sentimental, so I'm sure never to lose track of where I place them.
Of course, saying 'never' tempts fate and, wouldn't you know, after an afternoon of margaritas and being distracted by the beautiful view, we returned to our room to realize my sunglasses were nowhere to be found.
While we continued to search, I called the front desk, which, in turn, called the pool-side bar where we'd been lounging. Within 60-minutes, a staff member knocked on our room door and handed me a bundle. My sunglasses had been carefully wrapped in paper and set aside by the staff until they knew who the pair belonged to, at which point they were brought right to our room.
Exploring Downtown Cabo San Lucas
While guests at Pedregal could easily spend days lounging around the grounds or in the spacious private suites, Cabo's downtown is also ripe to be explored just on the other side of the resort's tunnel.
Getting there is simple: either walk through the tunnel or hop on one of the golf carts standing by to make the short trip even faster.
If you've never visited a tourist area in Mexico, downtown Cabo San Lucas very well might defy your expectations! We immediately noticed how clean and wide the sidewalks were, how well everything was kept up, and how safe (almost quaint) the area felt.
There's also plenty to do: Souvenir shops are everywhere, but so are pharmacies (which sell many items over the counter that would require a prescription in the US), a wide variety of cool looking bars and restaurants. There's even a Ruth's Chris Steakhouse!
If you're in the mood to shop, downtown Cabo also offers several malls that look no different than your local shopping centers inside. Each features stores from well-known brands like Abercrombie & Fitch, Victoria's Secret, and Bath & Body Works. There are even plenty of Starbucks and McDonald's, if you need a quick coffee fix or McMuffin.
Also worth noting that everyone was very friendly. Even crossing the street, cars would stop and allow you through. And, while I was surprised by how much Spanish I was able to remember from school, everyone we encountered was equally happy to speak to us in English.
We spent an afternoon perusing shops and market stalls, grubbing on authentic tacos, and exploring the finer side of steak at an Argentinian steak house. While there's plenty to note about downtown Cabo itself, for the sake of keeping this short, we wanted to mention one main reason why you might want to explore outside the resort: It's significantly cheaper.
Our taco lunch cost a grand total of $12 for two. Our dinner was just more than $60 for two steaks and two glasses of wine. (An equivalent dining experience in America would have cost $180.) What about service? While it would be difficult for any establishment to meet the standards set by The Waldorf Astoria Los Cabos Pedregal, it was still top-notch, just as you'd expect from a fine dining experience in near home.
Sure, dining in Cabo lacks the austere luxury of The Waldorf Astoria Los Cabos Pedregal's restaurants. However, it also provides a chance to give your credit cards a break. Should you plan to explore, several important things to note:
We found that dollars were accepted everywhere and never felt the need to exchange our funds into pesos. (Despite what scammers at the airport advised.)
We used cash whenever possible, and found it important to always have plenty of singles, five-dollar, and ten-dollar bills on hand. That's because your change is typically in pesos, and we wanted to minimize how much currency we'd have to exchange.
That being said, we did use one of two credit cards at times. One had zero fees. But, even the secondary card only charged us a minimal 3% for each transaction.
Both in and outside of the resort (but, most definitely inside) tipping is expected. Not just at the end of your meal, but be prepared to always have a few dollars in your palm for any service, including the aforementioned golf carts.
Bottom line on exploring outside Pedregal? The time we spent in downtown Cabo cost only a fifth of what eating and drinking does inside the resort. The area was clean, vibrant, and felt safe. Additionally, dollars were readily accepted everywhere, so don't be afraid to explore past the tunnel.
Final Thoughts on The Waldorf Astoria Los Cabos Pedregal
Although we didn't want to leave, checking out was also a breeze. A bill that included the meals, drinks, and services we'd ordered throughout the stay came to our room. There's also an additional space to tip the staff that attended your room. We weren't surprised by the total, as we'd kept track of our spending throughout, and the final amount owed was accurate.
Our time at The Waldorf Astoria Los Cabos Pedregal was most definitely an indulgence. But, for those who are looking for the perfect destination that defines 'getting away from it all,' it now tops our list for top spots to recommend.
From the minute we stepped out of our transportation and were guided through initial check-in, to the nightly turn-down service (which, yes, included those little mints on the pillow), the return of my glasses, and the memorable meals we shared, the resort's service is flawlessly executed so that you're always in seventh heaven.
Really, it's so good, you want to shed a tear.
In fact, if we had one complaint regarding The Waldorf Astoria Los Cabos Pedregal, it would be our fear that the experience has ruined us by setting impossibly high standards for the next place we go! After all, how many resorts go multiple extra miles to make you feel like royalty? Not many—and the experience is one we're sure to remember for years to come.
Would we recommend you visit The Waldorf Astoria Los Cabos Pedregal? Absolutely—the service, resort grounds, meals, and suites gave us memories that we'll cherish for years. If you're thinking about visiting, just remember to also ready your checking accounts because visiting cloud nine doesn't come cheap.
Customer Reviews