The Zebra Reviews
Claimed This company has claimed this profile, is getting alerted on any new customer reviews entering this page, and may engage in dialogue with its customers to address their matters.

Companies cannot pay money or provide goods in order to remove or alter customer reviews.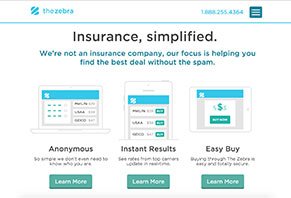 The Zebra is a online company that allows you to compare auto insurance rates from more than 200 of the top carriers, without the hassle or unwanted spam.
About The Zebra
Founded by Joshua Dziabiak and Adam Lyons, The Zebra is an auto insurance comparison website that provides instant, real-time quotes from hundreds of car insurance companies in seconds, including USAA, GEICO, State Farm, AAA, Allstate, and many more.
And because the process can be completed anonymously, The Zebra claims to help you find the best deals without the spam. As such, the company dubs itself "the Kayak for auto insurance."
Let's be honest; if you've spent any time searching online for auto insurance comparison websites, you're probably a bit jaded. After all, many of these types of companies simply capture your information and then sell it to independent agents, who will continuously contact you. But is TheZebra.com any different, and is it worth your time?
We'll answer these important questions in a moment, but let's first take a look at how The Zebra works.
How Does TheZebra.com Work?
After landing on The Zebra website, you can begin obtaining personalized auto insurance quotes by choosing the year, make, model, and trim (if known) of your vehicle.
Then, after calculating your results, the website will display all your insurance carrier options on the right-hand portion of the screen, as well as pricing information. On the left-hand side of the screen, you'll be able to enter additional relevant information such as your birthdate, marital status, gender, age first licensed, whether or not you're currently licensed and insured, citations/accidents, vehicles, other drivers in the household, and more. After you've entered this information, you can press the "Update" button to refresh your list of available insurance companies and the associated premiums.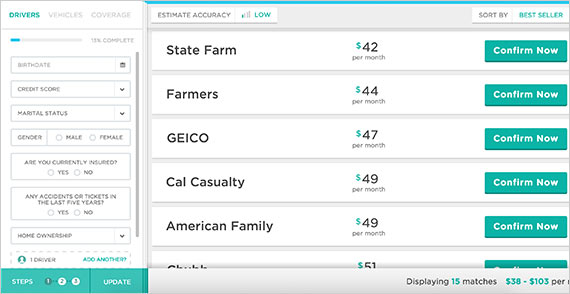 An example of some of the many questions The Zebra will ask in order to provide you with a list of carriers and premiums. Once you've entered all your information, you'll receive a list of available insurance companies and their policy premiums.
Based on the amount of information you've entered, The Zebra will display an "estimate accuracy" ranging between low and high that's continuously updated throughout the process. Once you get about halfway through, TheZebra.com will ask if you want to save your progress by entering your email address.
Finally, once you're finished entering all your information, you can click on the Confirm Now button next to the company you're interested in applying with. Once you do this, a popup will appear that asks for your contact information in case your chosen option isn't available for one reason or another.
You'll also be prompted to contact a TheZebra.com licensed agent in order to confirm your quote, help uncover any additional savings, and—presumably—help you purchase a policy (we'll talk more about this in a moment).
The Zebra Is Not an Insurance Company
The Zebra is not an insurance company. Instead, they help match you with insurance carriers who can provide you with the best coverage and rates based on your specific needs.
The Zebra's Estimates Are Not Guaranteed
Also, as we've mentioned in many of our other insurance comparison website reviews, the rates displayed on The Zebra's website are wholly dependent on the information you provide. In other words, if you neglected to list an accident or citation, a young driver in the household, or any other "big ticket" items, it can drastically alter your premium.
On top of this, many auto insurance carriers have moved to multi-variant rating (also known as predictive modeling) systems over the past few years, which means that seemingly inconsequential factors, such as quote vs. effective dates, can impact your premium. This also goes for credit rating (also known as insurance score), which is something that The Zebra doesn't factor into their automated quoting system.
When It Comes to Insurance, Price Isn't King
Keep in mind that although it's tempting to always pick the lowest-priced auto insurance option, the few dollars you save each month might come back to bite you in the event of a claim. This is because some carriers will provide added policy benefits (such as replacement cost coverage, uninsured/underinsured motorist, and much more) that could translate into thousands of dollars once a claim occurs.
For more details, we might recommend reading through Consumer Affairs' Auto Insurance Buyer's Guide.
The Zebra.com Difference
Unlike the other sites mentioned above though, The Zebra doesn't appear to be a lead generation company that sells your information to independent agents. Instead, it appears that once you've chosen a specific company, you'll have to contact The Zebra directly and speak with a licensed insurance agent, who will then presumably sell you the chosen policy.
In other words, it appears that The Zebra essentially acts as its own lead generation website, after which, one of their agents will help you find an auto policy that meets your needs. However, once you've purchased a policy, it's unclear whether The Zebra will continue to act as your agent (e.g. for billing questions, policy changes, etc.), or if this will be handled by the insurance company directly.
Are The Zebra Customers Pleased with the Service?
Although The Zebra has been in business since 2013, there weren't any online customer reviews available at the time of our research. The company has been featured in a variety of popular publications, including Inc., Forbes, Wall Street Journal, TIME, and more, where their ease of use and the ability to compare most of the top carriers were the top-cited compliments.
From a company perspective, The Zebra based out of Austin, TX and holds an A+ Better Business Bureau rating, with no closed complaints (as of 3/26/15).
The Zebra Pricing
The Zebra is completely free to use.
Once you've completed your quote, you can contact a licensed agent by calling 855-255-4364.
Should You Use The Zebra to Purchase Auto Insurance?
When it comes down to it, The Zebra appears to outshine other auto insurance comparison websites by providing you with real-time estimates, as well as the ability to purchase a policy directly through them once complete. On top of this, since The Zebra provides a completely in-house experience, you won't have to worry about having your information sold to third-parties, and the resulting spam and unwanted sales calls.
However, keep in mind that your quote is only as accurate as the information you input, so before putting too much stock in your online quote, make sure you contact The Zebra to verify that your rates are accurate.
Great experience

By Ann B.

,

Rockdale, TX

,

Apr 7, 2020
Verified Reviewer

The rep was so very helpful and polite, gave her my info and she found the best insurance for me and saved me money! Now I have better insurance for less money even with renter's insurance included. I am very satisfied and happy.

Bottom Line: Yes, I would recommend this to a friend

---

Review

By Chris M.

,

Georgia

,

Mar 31, 2020
Verified Reviewer

The service was great but the days and days of phone call from the time you press "send" is overbearing. You tell them you have already been helped and they're still like "I can beat whatever price they gave." I'm like "OMG, enough already."

Bottom Line: No, I would not recommend this to a friend

Apr 1, 2020

Hello Chris -

Thank you for taking the time to review The Zebra and we're so pleased you were able to get great service from our Agents. However, I did want to point out that The Zebra is not responsible for these follow-up phone calls. The Zebra does not collect your phone number during the quote process and therefore cannot connect you or have third-parties contact you. It is likely, that if you used other comparison websites, you gave your phone number there and they are now trying to contact you to beat the price you got from our service.

It's beyond unfortunate. It is exactly this type of experience that we want our customers to avoid which is why we no longer ask for a phone number when you're comparing with The Zebra. We're sorry that our competition isn't similarly concerned with your privacy.

- Daniel W.

---

Advertisement

---

Great experience

By Benjamin W.

,

Salt Lake City, UT

,

Mar 31, 2020
Verified Reviewer

This is the second time I've used Zebra.com and the first time which was over a year ago, good experience. This time I worked with a representative and he did an amazing job. He is thorough, professional, and very personable. I am in management in a similar type of industry and conduct many interviews...I'd hire him in a heartbeat. Thanks for your help, rep and Zebra.com...next time I'm considering my insurance options my first call will be to you all. Thanks again for your help.

Bottom Line: Yes, I would recommend this to a friend

Apr 2, 2020

Hello Benjamin -

First of all, welcome back to The Zebra! Thank you for reaching out about your experience and highlighting one of our super awesome licensed agents. We're here if you need us again. - Sola K.

---

Awesome service

By Brad M.

,

Yukon, OK

,

Mar 31, 2020
Verified Reviewer

The representative made getting new auto insurance through The Zebra easier than any insurance experience I have had before. He provided me with exactly what I was looking for and even found ways for me to save money on my down payment, monthly payments, and even my deductible. I will definitely come to The Zebra for my insurance needs and will request this rep to handle my business. This rep and The Zebra will definitely be referred to anyone I hear thinking of changing auto insurance.

Bottom Line: Yes, I would recommend this to a friend

Apr 2, 2020

Hi Brad -

I'm happy to hear that your experience with The Zebra was everything we strive for: easy, effective, and excellent. We're proud to have been able to help you find coverage that fits your needs. Thanks for spreading the word! - Sola K.

---

Advertisement

---

I'm very pleased

By Carlos L.

,

Richton Park, IL

,

Mar 28, 2020
Verified Reviewer

The customer service lady treated me amazingly! She gave a very best experience and cost for my car insurance. I did buy my policy in the same call I made to ask for information. Good job!

Bottom Line: Yes, I would recommend this to a friend

Apr 2, 2020

Hello Carlos -

I'm happy to hear that our award-winning licensed insurance agents were able to help you find the right policy. Thank you again for using The Zebra! - Sola K.

---

Outstanding customer service

By Morgan G.

,

Glendale, AZ

,

Mar 19, 2020
Verified Reviewer

My Zebra agent not only got me an AMAZING monthly payment but when I had an issue qualifying for a discount he took it upon himself to make things right with my new insurance company. I literally spent 2 hours on the phone arguing and going back and forth even though I submitted the proper paperwork 48 hours prior to my bill date my new insurance carrier would not apply the discount. It would take effect next month. I was frustrated, felt like I was being taken advantage of, and robbed. It was an extra $100 I did not have. But my Zebra agent called me out of nowhere and he had good news. After being told "no" by multiple people, he took care of it and made sure I got my discount. He made me feel like he actually cared about me as a person and my business as a customer. It really made my day. Thank you Zebra!

Bottom Line: Yes, I would recommend this to a friend

Mar 24, 2020

Hi Morgan -

Thank you for taking the time to leave this review. I'm thrilled to hear about your experience with our licensed agent. Our award-winning customer service is something that we are extremely proud of and I am glad that you were able to get exactly what you needed. If and when you ever need us again, we're here! - Sola K.

---

The agent lied for a sale

The agent lied about what my payments were going to be. I asked about service fees and he stated they were included in the monthly payment. My first payment was more than it should have been. Called, no answer. Called the company and they state they have a service fee of $10 a month, guess I'm no longer a Zebra customer, told them I left my last insurance agent because of deception.

Bottom Line: No, I would not recommend this to a friend

Mar 24, 2020

Hello Jacqueline -

I am sincerely sorry to hear that your experience was less than positive. We at The Zebra have no intention to mislead our customers. Underlying administrative fees and cost changes within the insurance company policy are out of our control. I highly suggest calling our Customer Service line at 1-888-255-4364. They will be able to guide you through this and try and help you find something better along the way. Again, I am sorry for the inconvenience. Please do not hesitate to reach out. - Sola K.

---

Very informative

He was on the spot, very helpful, very informative. When I was having problems with trying to make my payment to get it going to work with me to get it done so that I would have insurance on my car and not be without. Very reasonable. I mean, I can't say enough about how good of an experience I had, thank you.

Bottom Line: Yes, I would recommend this to a friend

Mar 24, 2020

Hi WillaMina -

I am glad to hear that you were able to get your problem solved with the help of one of our licensed insurance agents. Thank you for taking the time to leave us a review. - Sola K.

---

Car insurance

By Felecia E.

,

Georgia

,

Mar 14, 2020
Verified Reviewer

They were very fast and the fact that I called at 10:30 at night and was able to finalize my insurance still because they have someone answer and find agents for you. Highly recommended them.

Bottom Line: Yes, I would recommend this to a friend

Mar 24, 2020

Hi Felecia - Thank you for taking the time to leave us a review of your experience with our award-winning customer service agents. Thank you for spreading the word! Bye, Felecia! - Sola K.

---

Helped me get coverage

By Kathy T.

,

Kingman, AZ

,

Mar 14, 2020
Verified Reviewer

The agent was splendid and very helpful. I was very satisfied with her customer service skills and experience of helping someone with no knowledge of email and doc sign over the internet. Never once did she make feel not secure. Wonderful patience.

Bottom Line: Yes, I would recommend this to a friend

Mar 24, 2020

Hello Kathy -

Thank you for leaving such a glowing review of one of our licensed insurance agents. I'll be sure to pass the message along. Thank you again for using The Zebra! - Sola K.

---

Ok company

By Aimee O.

,

Texas

,

Mar 14, 2020
Verified Reviewer

Helped me find my current company. But the new rates were much higher when I checked them again. Will keep trying them every time my insurance comes up for renewal.

Bottom Line: Yes, I would recommend this to a friend

Mar 24, 2020

Hello Aimee -

I'm sorry to hear that you were not able to find what you were looking for this go-around. On the bright side: you likely currently have the best deal for you. We recommend searching every 6-12 months. We're here for you if you need us! - Sola K.

---