ThermaComfort Wrap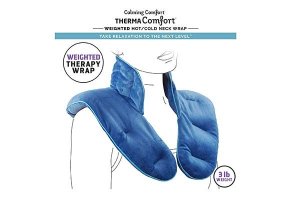 Using weight, aromatherapy and the ability to be heated or cooled, the ThermaComfort neck wrap claims to be the solution for neck and shoulder pain and for those looking for relaxation.
About ThermaComfort Wrap
The ThermaComfort from Calming Comfort neck wrap is an As Seen on TV weight hot/cold therapy device that can that uses aromatherapy to provide a relaxing, calming experience.
"All day pain can drive you insane. You need the ThermaComfort weighted wrap by Calming Comfort," the product's commercial says. "The neck and shoulder wrap that instantly calms you with deep pressure therapy while it soothes away the pain."
The company behind the product, Calming Comfort, is known for its variety of pillow- and cushion-based products designed to provide you pain relief and comfort. Examples of their products include weighted blankets and foam knee pillows.
In this review, we'll take a few minutes to discuss how the Therma Comfort works, what science says about aromatherapy and weighted products, then give you the details on the product's pricing and return policy.
We'll also include a quick section about similar products and finish up with a few final thoughts about the ThermaComfort's pros and cons.
How the ThermaComfort Works
The ThermaComfort is made from a soft material that drapes around your shoulders and down to your chest. It also has a collar on it that goes around your neck like a dress shirt. To use it, you simply put it on your shoulders. It can be used while you're working, driving or just relaxing, the commercial says.
According to the product's website, the fabric molds to your body form to provide maximum comfort. As far as functions go, there are three main features to the ThermaComfort: weight, hot/cold therapy and aromatherapy.
While ThermaComfort's website doesn't say how much it weighs, it does note that the chambers inside its fabric are filled with clay beads. This weight, a chiropractor says at one point in ThermaComfort's commercial, provides "deep tissue stimulation" and "relaxes the muscles in your neck and shoulders."
If you want to use the neck wrap for hot and cold therapy, you can heat it up in the microwave for a few seconds or you can chill it in the freezer.
And, finally, you the ThermaComfort's commercial says that it employs aromatherapy to help relax you, too, but there is no information available on the wrap's website that specifies the types of aromatherapy ingredients incorporated into it.
Do Weighted Wraps, Hot/Cold Therapy and Aromatherapy Actually Work?
To find out just how beneficial the ThermaComfort could be, we went to trusted medical website WebMD to read what they had to say about weight wraps, hot and cold therapy, and aromatherapy.
A 2018 article on the site quoted various sources providing anecdotal evidence as to the effectiveness of weighted blankets, noting that people said they felt calmer and less anxious. They also presented a couple of studies that indicate weighted blankets can ease anxiety by 63% in mental health patients.
These results and anecdotes don't necessarily mean that you'll get the same benefits by wearing a neck wrap, but there seems to be some evidence that weighted wraps and/or blankets have a particular calming effect.
As for heat and cold, both are well-document regarding their ability to help you. WebMD says heat "helps soothe stiff joints and relax muscles", whereas cold is good for numbing pain and reducing inflammation.
Finally, WebMD says that aromatherapy's legitimacy is hit or miss. On the one hand, they say that research on aromatherapy is limited. On the other hand, they noted that an analysis of 12 studies indicates that "aromatherapy helped relieve pain."
They go on to say that the "treatment has also eased anxiety in studies of various patient groups" and that "some research shows it can lessen post-surgery nausea, too."
In general, we believe that science is conclusive that using the wrap as a heat or cold treatment will most likely be helpful with aches and pain in the area where your wrap lays. However, the research into weight therapy and aromatherapy is a little less certain.
ThermaComfort Pricing and Return Policy
Three Pound Pressure:
1 Wrap: $29.99 + $699 for shipping
2 Wraps: $50 ($25 each) with free shipping
4 Wraps: $70 ($17.50 each) with free shipping
Five Pound Pressure:
1 Wrap: $39.99 + $699 for shipping
2 Wraps: 650 ($32.50 each) with free shipping
4 Wraps: $85 ($23.75 each) with free shipping
You have 30 days to make a return if you aren't satisfied and, the site says, you'll get a full refund. However, we read through the fine print and found that none of your shipping charges will be refunded and you have to pay return shipping.
Knowing that these wraps are fairly large and they'll be weighty, your shipping costs could exceed $20 if you want to one and even more if you return two. Should you be able to fit one wrap in a large Priority Mail box, your shipping fees will be around $18.
This is important to know because the shipping fees alone will cost you, in a best-case scenario, around $23, which ends up being jclose to the cost of a single wrap.
A Quick Comparison of ThermaComfort to an Amazon Weighted Neck Wrap
One of the best ways to figure out if an item is a good value is to do a quick comparison with similar products. Amazon has dozens of weighted neck wraps, one of which is a highly-rated hot-cold neck-wrap from Soothing Company that provided aromatherapy, too.
More than 2641 customers gave the wrap an average rating of 4.4 stars at the time of publishing. The pillow's price was similar to the ThermaComfort—$26.99—but it came with free shipping for Amazon Prime members.
One thing we noticed is that the ThermaComfort is a pretty good value compared to what's on Amazon and clearly the best value when it comes to buying two pillows.
The Final Word: Is the ThermaComfort a Good Value?
Based on our research of this product, we believe its most reliable feature, research-wise, is the fact you can heat it or cool it. The aromatherapy and weight functions may provide the results you're looking for but the research isn't quite there yet for us to give a definitive statement about its effectiveness for your particular health situation.
What we do know is that, if you're set on buying a weighted neck wrap, you'll be hard-pressed to find a better deal on two wraps. Just keep in mind that the shipping costs are such that making a return on two pillows could cost you as much as the retail price of one pillow.
Wasted money

By Donna M.

,

Texas

,

Jan 13, 2020
Verified Reviewer

The package of 2 arrived within 2 weeks. No order information included and no return policy information. These were purchased as Christmas gifts and neither liked the product. I called to see how to return them, only to be told they could not be returned as it had been more than 30 days. I am a senior living on a fixed income and have lost approx $80. The products were cheap and not comfortable, just a warning to be careful if you order this product.

Bottom Line: No, I would not recommend this to a friend

---

Split open

By Margaret S.

,

Florida

,

Dec 29, 2019
Verified Reviewer

Beads came out after heating, linked in the beginning, split at the top. Loved it until that happened. I did recommend it, hope it does not happen to them.

Bottom Line: No, I would not recommend this to a friend

---

Advertisement

---

Busted upon first time use

By Munir A.

,

Houston, TX

,

Jun 17, 2019
Verified Reviewer

The ThermaComfort was busted upon the first time use. Made a big mess and was very difficult to clean up.

Contacted customer support and they refused to pay for shipping the items back. This is the catch, the cost associated with shipping the items back is expensive and does not worth the headache nor guarantees the full credit.

Do not recommend to buy it...

Bottom Line: No, I would not recommend this to a friend

---

Where is it?

By Andrea W.

,

Connecticut

,

Jun 4, 2019
Verified Reviewer

I really can't say how the product is because I ordered it two weeks ago and according to tracking info it is not expected until another week and a half. From Nevada to Connecticut, 3 weeks in transit? This is absurd. I bought it because I had a neck problem and needed it soon. I could have ordered from Amazon and gotten it quicker, but I thought I would buy one get one free and order directly from the company. I would suggest that you avoid ordering from this company if you want the product quickly.

Bottom Line: No, I would not recommend this to a friend

---

Advertisement

---