ThermaSpice by SpiceFit Reviews
Claimed This company has claimed this profile, is getting alerted on any new customer reviews entering this page, and may engage in dialogue with its customers to address their matters.

Companies cannot pay money or provide goods in order to remove or alter customer reviews.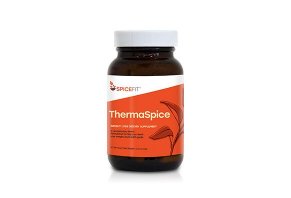 SpiceFit formulated their ThermaSpice supplement with a blend of 19 ingredients that claim to help you lose weight, maximize health, and boost confidence.
About ThermaSpice by SpiceFit
ThermaSpice by SpiceFit is a dietary supplement featuring a formula of spice-derived, cutting-edge compounds that promise to help you reach your ideal weight by making you feel fuller throughout the day, experience confidence in the way your body looks, and optimize your health from the inside out.
The supplement's website indicates that all you have to do is take one easy-to-swallow capsule twice per day, ideally 30 minutes before breakfast and dinner, with a full eight-ounce glass of water. It's tested for purity and potency at an independent, third-party party facility, and can start working right away—although the SpiceFit emphasizes it could take as long as 30 to 60 days.
ThermaSpice is advertised as the perfect tool to help anyone look and feel their best, but will it live up to this claim once you've handed over your money? We'll help you take an in-depth look at what we learned during our research so you can come to your own conclusion.
The Role of Calories in Weight Loss
There's no need for a science lesson here, but a little background information can potentially go a long way toward helping you decide if ThermaSpice is right for you.
In a nutshell, the Mayo Clinic reports that when we consume more calories than we expend during daily life (known as metabolism), as well as during additional physical activity, this excess energy is stored in the form of fat inside specialized cells called adipocytes. If this calorie surplus continues for long enough, these adipocytes can fill up and grow to a point where they're visible on the surface of the skin.
On the flip side, if you expend more calories than you consume, these specialized cells will slowly release their stored energy, eventually leading to weight loss.
Is there anything contained in SpiceFit's ThermaSpice supplement that will provide an extra weight loss boost, compared to monitoring calorie consumption and exercise frequency?
Taking a Closer Look at ThermaSpice's Ingredients
The supplement facts label listed on SpiceFit's website indicates ThermaSpice contains the following:
Vitamin D 20 mcg
Thiamin 0.38 mg
Riboflavin 0.43 mg
Niacin 5 mg
Vitamin B6 0.5 mg
Vitamin B12 1.5 mcg
Biotin 75 mcg
Pantothenic Acid 2.5 mg
Chromium (as Chromax) 100 mcg
Capsimax cayenne pepper fruit extract 25 mg
DygloFit 200 mg
Spice Caps Blend 210 mg: Green tea leaf extract (providing 90 mg EGCG), Moringa oleifera leaf, Alpha lipoic acid, Ginger (Zingiber Officinale) root extract, Turmeric (Curcuma longa) root extract, Black pepper fruit powder
According to the clinical evidence summarizations provided by the Natural Medicines Database, Examine.com, and WebMD, the first nine vitamins and minerals in ThermaSpice's formulation are essential for optimum human health. However, they note that there's insufficient clinical evidence that they can provide weight loss benefits in otherwise healthy (i.e., non-deficient) individuals.
The Capsimax found in ThermaSpice is a proprietary ingredient manufactured by OmniActive Health Technologies, which involves a "concentrated highly active, natural capsicum extract from red hot chili peppers [that] is encapsulated in a controlled-release coating."
While these same sites indicate topical capsicum can be effective for reducing different types of pain, they don't mention anything related to optimized weight or overall health.
DygloFit (Dichrostachys glomerata) is another proprietary ingredient, this time manufactured by Icon Group, LLC, based out of Brattleboro, VT.
According to the ThermaSpice website, "In modern research, DygloFit has been shown to help people maintain healthy body weight, while also providing metabolic support in the long run. That's because DygloFit is made from the extracts of some of nature's most powerful polyphenol compounds, ideal for supporting metabolic wellness."
Neither Icon Group nor SpiceFit's websites provided support for these claims. Furthermore, searching the National Institutes of Health's PubMed for variations of terms like 'Dichrostachys Glomerata weight loss' and 'DygloFit metabolism' returned no results at the time of our research.
On the other hand, WebMD and the Natural Medicines Database report the natural caffeine found in green tea in ThermaSpice's proprietary blend could cause appetite suppression in some individuals. However, it's still not listed as 'effective' for weight loss.
Alpha-lipoic acid (ALA) has been shown to help reduce body weight in overweight individuals when taken in 1,800 mg doses for 20 weeks. However, since the ALA in ThermaSpice is part of a proprietary blend, we can't be sure it contains the same dosage found in supporting studies. Customer support wasn't able to offer additional insight.
These sites listed insufficient clinical evidence for the weight loss-related benefits of ThermaSpice's remaining ingredients.
Could ThermaSpice's Ingredients Cause Side Effects?
As always, SpiceFit recommends consulting with your healthcare provider before using ThermaSpice, or any other dietary supplement.
WebMD, Examine.com, and the Natural Medicines Database indicate that in some instances (no dosages or specific circumstances noted), niacin can cause flushing, vitamin B6 could lead to a headache, tingling, and sleepiness; and capsicum can lead to stomach irritation, sweating, flushing, and runny nose.
However, the Capsimax capsicum in ThermaSpice promises to alleviate many of these potential side effects.
Turmeric doesn't typically cause significant side effects, although we're told some people (again, no specifics provides) could experience stomach upset, nausea, dizziness, or diarrhea.
How Much Does ThermaSpice Cost?
What you'll pay for each bottle of ThermaSpice largely depends on which SpiceFit site you purchase from, as well as the quantity you order.
For example, if bought from SpiceFit.com, the company charges $69.95 per bottle, including free S&H. However, if purchased through ThermaSpice.com, customers will pay:
1 Bottle (60 capsules): $49.95, plus $4.95 S&H
3 Bottles: $134.85 ($44.95 per bottle)
6 Bottles: $224.70 ($37.45 per bottle)
The three- and six-bottle options include free shipping. All orders come with a 90-day satisfaction guarantee, less S&H, which you can request by calling customer support at (888) 309-0221.
What Do We Know About the Company Behind SpiceFit and ThermaSpice?
Since writing our original article, five HighYa readers provided feedback about their experiences with ThermaSpice, giving the supplement an average rating of three stars.
Common compliments referenced effective weight loss, while complaints often cited no results. A company representative responded to each complaint with a resolution.
As a company, SpiceFit is based out of Woodland Hills, CA and has been in business since 2017. They held an A- rating with the Better Business Bureau, based on one closed complaint, as of 7/17/18. No additional details were provided.
ThermaSpice was formulated by board-certified physician and nutrition specialist Dr. Melina Jampolis, who focuses on "a balanced, thoughtful approach to health, focusing on easy ways to make the most out of your diet and wellness routine, even on the busiest days," at her Los Angeles, CA practice.
She's also a frequent guest expert on CNN, and is the author of "The Doctor on Demand Diet," along with the upcoming "Spice Up, Slim Down."
How Does SpiceFit's ThermaSpice Compare to Other Weight Loss Supplements?
Of ThermaSpice's 17 ingredients, only three are considered spices: Curcuma longa (curcumin, turmeric), capsicum (cayenne), and perhaps ginger.
So, while we didn't encounter any other dietary supplements with an identical formulation, we did find dozens of other dietary supplements containing turmeric, capsicum, and ginger, (as well as additional potentially beneficial ingredients in some instances) during our research. And from a price perspective, most could be purchased for between $8 and $30, putting ThermaSpice at the upper end of the spectrum. What details can you use to make a more informed purchase?
First, as discussed earlier, authoritative sites like the Natural Medicines Database and WebMD indicate there's insufficient clinical evidence that most of ThermaSpice's ingredients can help users lose more weight than with diet and exercise alone.
And even among those that might (green tea (and its natural caffeine content) and ALA), they're part of a proprietary blend, so we can't know if they're featured in the same dosages and levels found in supporting clinical studies.
But, if you've spoken with your doctor about your weight loss goals and they recommend using a supplement to help you achieve them, our experience researching hundreds of nutritional supplements has taught us you'll want to focus on manufacturers who:
Support all of their claims with verifiable, placebo-controlled, double-blind clinical evidence
Provide refund policies on their supplements, with no restocking fees
Don't automatically sign customers up for a recurring shipping subscription after placing an order
Have mostly positive online customer feedback
Do these criteria bode well for ThermaSpice?
Our Final Thoughts About ThermaSpice by SpiceFit
We've already mentioned the lack of reported clinical evidence supporting ThermaSpice's ingredients several times, so we won't rehash the details again here.
However, it's brought to us by a well-known physician, and the company seems to stand behind the supplement with a 90-day refund policy, which should give you more than enough time to discern if ThermaSpice provides a weight loss boost, compared to your existing diet and exercise program.
Just keep in mind that you'll have to pay to ship your bottle(s) back to the company if you're dissatisfied.
» For Further Reading: A Beginner's Guide to Losing Weight and Getting in Shape
Good results

By Linda W.

,

Minnesota

,

Mar 2, 2019
Verified Reviewer

They worked really well in getting my metabolism speeded up and keeping me regular! I would recommend this to my friends, will help in weight loss and gives you really a sense of wellbeing and clarity to your mind!

Bottom Line: Yes, I would recommend this to a friend

---

1 out 1 people found this review helpful

Review of ThermaSpice

By John A.

,

Salem, OH

,

Feb 5, 2019
Verified Reviewer

I just finished my third and final bottle of ThermaSpice. After three months of diligent use, I have not lost one pound and my waist size is the same. The introductory video was very high caliber and did everything but guarantee results. Turns out this product is a sham just like most infomercials.

I should have saved my money.

Bottom Line: No, I would not recommend this to a friend

Feb 6, 2019

Hi John, my name is Octavia with SpiceFit. I'm very sorry to hear that you did not see the result you expected after taking ThermaSpice. We understand that everybody is different so we will always stand by our 90-day money back guarantee. Please email me at octavia@spicefit.com and I'd be happy to issue you a full refund.

---

Advertisement

---

2 out 3 people found this review helpful

It took a while but I have less appetite now

By Warren M.

,

Ohio

,

Nov 21, 2018
Verified Reviewer

I just finished the third bottle. At first I noticed a little more energy, now I notice a definite reduction in appetite. I have lost some weight. I also work out more now. But I don't restrict my diet intentionally. Just today I was thinking that I am not hungry all the time anymore. I have experienced appetite reduction. I do think the product price is steep.

Bottom Line: Yes, I would recommend this to a friend

---

4 out 4 people found this review helpful

Great product

By Jeanne B.

,

Wisconsin

,

Sep 15, 2018
Verified Reviewer

I thought I would lose weight on this product after one bottle but what I have noticed is that I am losing belly fat and fat period. My weight is remaining steady, but all my clothes are getting so big I need new clothes and I am getting the waist back I had in my 40's.

I think it's great and will continue taking it. By the way, it has also helped ease my pain from 9 spinal surgeries and a shoulder from an assault with two tears and no more pain.

I take turmeric also, but it is the combination of both that is working.

I would buy again and will.

Bottom Line: Yes, I would recommend this to a friend

---

Advertisement

---

9 out 11 people found this review helpful

The natural appetite suppressant found in SpiceFit is very effective and greatly appreciated.

Mainly covered in my review title.

My weight is going in the right direction - down. I sure like this. I feel like slim people who can say I am not hungry. Wow!

Furthermore, I have not experienced any unwelcomed side effects since the capsule is digested in the colon.

So thank you, Dr. Malina.

Bottom Line: Yes, I would recommend this to a friend

Aug 29, 2018

Hi Marguerite,

I am Octavia from SpiceFit. Thank you so much for leaving us a review. We love to hear how our customers are doing with our products. If you have any questions about the product please reach out to us at Octavia@SpiceFit.com. Thank you!

---

8 out 9 people found this review helpful

I will reorder this product

By Gina J.

,

New Jersey

,

Jun 11, 2018
Verified Reviewer

To be completely honest, I haven't take the pills like I should, but I have more energy and am not hungry like I used to be. I also share a bottle with a friend, and she's lost around 8 pounds in the month she uses it, and she felt less hungry. She has asked me to order her more supplies, but I haven't yet. So overall this product has helped.

Bottom Line: Yes, I would recommend this to a friend

---

14 out 15 people found this review helpful

Weight loss

I have been using SpiceFit for about six weeks, and I am disappointed that I have not lost any weight so far. I originally purchased three bottles with the aim of loosing ten pounds. I have been careful not to overeat, but so far to no avail. I would not recommend this to a friend.

Bottom Line: No, I would not recommend this to a friend

May 21, 2018

Hi Anthony. My name is Octavia with SpiceFit. I'm sorry to hear that this was your experience. While a majority of our customers experience the many positive benefits of SpiceFit, we do understand that it may not work for everybody. With that said, I would be more than happy to issue you a full refund, just for giving our product a try! Please email me at Octavia@spicefit.com to begin the refund process. I look forward to making this right!

---

13 out 14 people found this review helpful

First 30 days

By Ann Smith

,

Forth Worth, TX

,

May 16, 2018
Verified Reviewer

I've been taking SpiceFit for 30 days. I have been "regular" for the first time ever. I've experienced no side effects. I've lost inches. I haven't weighed myself daily or weekly because my weight fluctuates. I'm going to weigh myself in the morning. My skin is clearer and I feel healthier. I'm going to stick with it for 90 days. I have noticed a drop in sugar cravings, and I have more energy to want to exercise. I'm excited about this journey!

Bottom Line: Yes, I would recommend this to a friend

---

46 out 46 people found this review helpful

Buyer beware

By T. S. Anand

,

Santa Cruz, CA

,

Jan 9, 2018
Verified Reviewer

I purchased a 3-month supply. I took as directed for two weeks. I did not notice any appetite decrease, but I did notice that I was breaking out in red bumps and that my evacuations were loose and hot. I decreased my dose to one per day, but the symptoms continued. So I stopped taking.

I requested a refund and customer service gave me one promptly. Even after I'd stopped completely, I suffered from burning sensations in my abdomen and anus for another couple of weeks. I drank liquid aloe vera three times daily for a week until the symptoms finally decreased. I was very concerned that I had been internally damaged. I suspect that the Capsimax was responsible for all the symptoms.

So all I can say based on my experience is, "buyer beware!"

Bottom Line: No, I would not recommend this to a friend

Feb 14, 2018

Hi T.S., I'm Octavia from SpiceFit. Thank you so much for taking the time to leave us a review about your experience with ThermaSpice. I cannot imagine what you must be feeling, it sounds awful. I want to assure you that SpiceFit stands by ThermaSpice with the highest level of integrity. All of our products are third-party tested for quality and purity. I take these reviews seriously and have taken note of your reaction to it.

In addition, we do always suggest that you consult your primary physician prior to beginning any new product to ensure that you do not experience any interactions while taking it. I am happy to hear that you took advantage of our 90-Day Money Back Guarantee! Again, I am so sorry for the inconvenience that this has caused. If you ever have any questions or concerns, please e-mail me at Octavia@SpiceFit.com. Take care!

---