Thinkster Math Reviews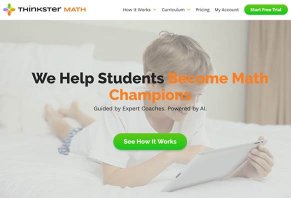 Thinkster Math uses proprietary Active Replay Technology (ART) and personalized, one-on-one coaching to help students in grades K-8 fully grasp foundational concepts.
What Is Thinkster Math?
By combining a patent pending educational platform with expert coaches, Thinkster Math's tutoring technology promises to improve the performance of those in grades K-8, along with their engagement, confidence, and critical thinking skills, in as little as 10 weeks.
Compared to other math education programs, the website tells us Thinkster's tablet-based Active Replay Technology (ART) tracks how your child arrives at their answers. Then, this allows their coaches to observe how students are working through problems, visualize their thinking, identify where mistakes are being made, and then provide guidance about how to correct them.
Between their use of artificial intelligence, world-class curriculum, content personalization, and guaranteed results, Thinkster certainly seems appealing if you're looking to boost your child's math abilities.
Does this necessarily mean they're the best option for them, though? We'll explore everything we learned during our research so you can come to your own informed conclusions.
How Does Thinkster Math Work?
This involves a few key concepts, so let's break everything down:
What Is Singapore Math?
Because of Singapore's consistently high international math assessment rankings, PBS.org tells us that their teaching methods, "or the actual curriculum used for kindergarten through sixth grade," have become increasingly popular outside the country as well.
In a nutshell, this way of teaching focuses on mastery, not memorization. Relying heavily on visualized instruction methods (while still meeting Common Core standards), such as model drawing, students master only a certain number of mathematical concepts each year.
The article indicates this approach was "carefully constructed based upon child development theory," which allows children to learn not just how math works, but why it works, thereby helping to provide a solid foundation for further learning.
How does Thinkster weave Singapore math into their tablet technology?
Where Does Thinkster's App & Active Replay Technology (ART) Come In?
Once you download the Thinkster app for an iPad or Android tablet, you'll add profiles for each of your children.
Then, they'll need to take a proprietary, comprehensive skills assessment that involves 15 questions (chosen from grade level) and takes about 20 minutes to complete. Your child will show all their work on the tablet screen using either a finger or a stylus.
From there, a Thinkster Academic Advisor will review the results, identify strengths and weaknesses, call you to discuss, talk about your goals, answer questions, and then match them with an expert coach.
Finally, after the coach creates a personalized learning plan, your child will begin completing worksheets.
Similar to what's used during the assessment, Thinkster's more than 10,000 worksheets allow your child to show their work when solving problems, using their finger or a stylus. As they write, the app's Active Replay Technology will record how they came to their conclusion, which can then be reviewed later by coaches.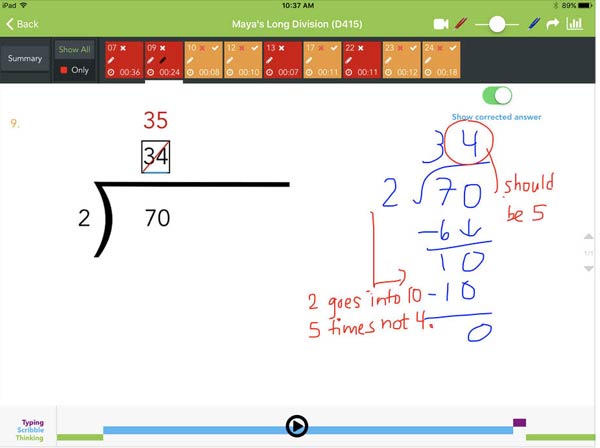 Using patent pending Active Replay Technology (ART), Thinkster's app records each student's work and allows coaches to visualize—and better understand—their thought process. Image credit: Prazas Learning Inc.
While working, worksheets provide students with instant feedback for right or wrong answers, as well as access to video tutorials to prevent frustration. Worksheets can also be downloaded for use without Wi-Fi.
In addition to their tablet version, Thinkster provides a companion app for parents that provides easy access to a summary of their student's recent activity, detailed stats (e.g. test scores, time spent, answer accuracy, where they struggled/excelled, etc.), the coach's comments, as well as a Progress Matrix that tracks their child's growth.
Parents can also send coaches questions and schedule their next session directly through the companion app.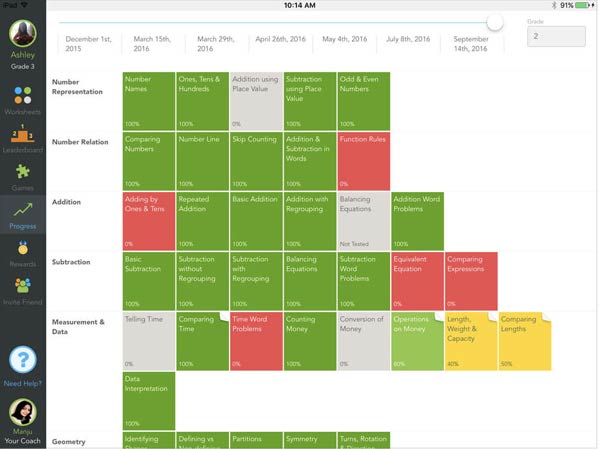 Using the Progress Matrix inside Thinkster's companion app, parents can track their student's progress, visualize where they're struggling and excelling, and view detailed statistics. Image credit: Prazas Learning Inc.
Bringing Thinkster's Process Together
In addition to Thinkster's Singapore math-based method, tablet technology, and coaching approach, your child will undergo weekly one-on-one whiteboarding sessions with coaches that can help with schoolwork and assist in explaining difficult concepts.
Periodic reviews and tests will check your child's confidence and reinforce conceptual knowledge, while every quarter, parents will meet with their child's coach to discuss their growth.
As an incentive, students can earn points for completing worksheets and playing math games, which can then be exchanged for gift cards to popular retailers and businesses like Target, Amazon, and Fandango. They'll also be able to earn a place on Thinkster's leaderboard for bragging rights.
Together, it's this transparency that allows Thinkster to guarantee that their program will address your child's learning needs.
How Much Does Thinkster Math Cost?
Thinkster offers three different pricing programs across two different grade level blocks:
Grades K-5
Silver – Free skills assessment and up to two parent-coach phone calls (10-15 min each) per month: $60/mo
Gold – Includes two one-on-one online coaching sessions (30 min each) per month, in addition to homework help and test prep: $100/mo
Platinum – Includes four one-on-one online coaching sessions (30 min each) per month: $130/mo
All of the above prices are based on one-month billing cycles. You can save $10/mo if you choose three-month cycles.
Grades 6-8
Features-wise, these are identical to packages for K-5 students. Only the pricing is different:
Silver: $80/mo
Gold: $145/mo
Platinum: $200/mo
Similarly, you can save $10-$20/mo by signing up for three-month billing cycles.
New customers can sign up for a free seven-day trial, after which it will roll over to the Gold Plan, and the credit card on file will be charged accordingly. All new sign-ups also come with a 15-day money back guarantee.
Have questions or need to request a refund? Thinkster's customer support team can be reached at 888-GET-MATH.
What Are Thinkster Customers Reporting In Their Reviews?
Among more than 60 pieces of feedback on Verified-Reviews.com, Thinkster Math had an average rating of 4.6 stars at the time of our research. Over 92 percent of these were positive, with customers often complimenting content and coach quality, improved math ability, and the personalized approach.
Still, some claimed that the work can be repetitive and that they'd like to see more teacher-student interaction.
On iTunes, Thinkster's iPad app had garnered more than 400 customer reviews and an average rating of about four stars. Most seemed pleased with its comprehensive features, ease of use, solid design, and effective results. Many complaints (what relatively few there were) related to technical issues.
Still listed under the name Tabtor Math, the Android version had 30+ customer reviews and a slightly lower three-star average rating on Google Play. Many of these referenced the same compliments and complaints found elsewhere online.
Thinkster used to be known as Tabtor Math, which combined the words "tablet" and "tutor." The parent company, Prazas Learning Inc., was founded by CEO Raj Valli in 2010, who previously worked as VP/CMO of WABCO Holdings Inc. None of these entities were listed with the Better Business Bureau at the time of our research.
Thinkster vs. Kumon, Mathnasium, & Other Math Tutoring Services
The bottom line is that if you're looking for a math tutoring service that combines app-based technology with live teacher interaction, Thinkster Math is currently the only game in town. This is especially the case when discussing the company's Active Replay Technology.
Kumon provides a similar worksheet-centered approach that promises to provide the same critical thinking foundation, although students utilize physical workbooks and have in-person visits with instructors twice per week. Kumon's prices range between $95 and $125 per month, putting Thinkster on the upper end of the spectrum.
Mathnasium and Sylvan are two other franchise-based math tutoring services, who, like Kumon, and Thinkster, promise to deliver a customized approach to learning, along with specially trained instructors. Pricing can vary (sometimes greatly) by franchise location.
Outside of cost, one standout feature is that Mathnasium and Sylvan tutor children from elementary through high school grades, while Thinkster and Kumon are centered solely around grades K-8.
Given these details, which of these options is right for your student?
Considering their often similar feedback, similar to most other products and services (especially those related to learning), the right option for your student will largely come down to their needs and preferences. For example, if they thrive in a face-to-face environment, the distance learning approach provided by Thinkster might not provide exactly what they need.
On the other hand, the travel time involved in taking your child to a physical location two or more times per week could potentially be stressful on them, especially during the school year when other homework and activities can pile up. And of course, cost can certainly be a factor.
Let's carry this information over to the next section as we come to a conclusion about Thinkster.
Our Final Thoughts About Thinkster Math
According to Pew Research, U.S. students ranked 38th out of 71 countries in mathematics in the 2015 Programme for International Student Assessment (PISA) test—the same one in which Singapore continually ranks on top. Clearly, there's a need for improved proficiency, not just here, but around the world.
In this respect, based on their time in business and mostly positive online customer feedback, it seems like Thinkster's tablet-based approach could help—so long as their process coincides with your student's preferred learning methods.
How to find out? While your child's schoolteacher might be able to provide some usable insight, ultimately, the only way to know for sure is to give it a shot.
Thinkster provides a free seven-day trial and a 15-day refund policy, giving you and your student about three weeks to try their program, which should be more than enough time to figure out if it's the right fit before committing to a longer membership.
What was your student's experience with Thinkster Math? Help other readers solve problems by writing a review below.
See Also: Guide to Fidget Spinners: What Parents Need to Know