ThredUP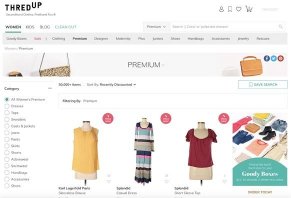 ThredUP is an online consignment website that lets you buy and sell gently used clothes and accessories that the company carefully inspects for quality before they sell them.
ThredUP Review: Does It Make Sense?
ThredUp is an online thrift store that brands itself as the world's largest secondhand shopping destination for clothes and accessories.
On the thredUP site, you'll find clothing styles from hundreds of brands that are marked down up to 90 percent compared to retail.
Founder James Reinhart created thredUP in 2008 as a way to help customers improve their wardrobe without going through the trouble of searching for clothes in physical thrift stores.
The company accepts gently used kids' and women's clothing and accessories and then sells the best pieces through an e-commerce platform that promises to protect buyers from knockoffs and poor quality. Is thredUP worth investigating? We'll help you decide below.
How Does ThredUP Work?
ThredUP operates as an online consignment shop, meaning that customers can use the platform to both buy and sell. Below, we'll go through how the platform works for both options.
Buying Clothes from thredUP
ThredUP offers a continuously rotating collection of gently used clothing on their website. Their supply depends on what gets sold or donated to them, so inventory moves quickly. This means potential customers should move quickly on the items that interest them, and the company suggests checking the site often.
When thredUp receives a shipment of clothing, the company states that they carefully analyze each piece and accept an average of 40 percent for resale. Each item is then photographed and listed on the site with information about sizing and overall quality.
The items sold on thredUp have both their estimated retail price and selling price listed. Our research into this pricing at the time of writing showed that the majority of items were listed for between 25%-75% off the listed retail value.
Regarding shipping, thredUP charges a flat rate of $5.99 per order. All customers that spend more than $150 in one month will receive free shipping on orders made the following month.
Because thredUP often has just one of each item available at a time, they restrict how long customers can keep products in their online shopping cart before they are released back to the marketplace.
This length of time varies per item, and shoppers are asked to contact the company directly with any clarifying questions. Likewise, any items marked as "unavailable" are in other customers' carts and will be listed as available again if they don't go through with the purchase.
We want to point out that some items qualify for "Auto-Buy," which means that you can purchase them even when they are in someone else's cart. You are eligible for this feature once you've made your first purchase on the site. You will be notified by email if another shopper uses Auto-Buy to snag something from your cart.
Regarding returns, the company will take back any purchase you aren't happy with, provided you return it in the same condition it was delivered. You'll get a full refund minus a $1.99 restocking fee and the original shipping charges. Handbags are the exception, as the company states that they guarantee the quality and authenticity of each bag so all sales are final.
Selling on ThredUp
If your goal is to sell your clothes through thredUP, the first step is to request a Clean Out bag from the company (only available in the contiguous United States) for $1.99. Alternatively, you can also print off a shipping label for free and use your own packaging material.
When this pre-paid shipping bag arrives, you can fill it with like-new women's and kid's clothes to ship to thredUP. The company states that they only accept items that are clean or freshly washed, from a name brand, on-trend, less than five years old, and free of rips, tears, and stains.
Standard clothing orders are processed in about four weeks but you can receive expedited service for $16. Once you've shipped out your bag, thredUP tells us that you will receive an email with an estimated processing date.
The company states that they typically accept about 40% of all the apparel they receive, and the rest is donated. If you want to have any unaccepted clothing returned to you, you'll need to pay $10.99 or have that amount deducted from your payout.
Unless you specify otherwise, all unaccepted clothing becomes the property of thredUP, which means that it will be sold to customers as part of their Rescues program or sold by weight to third-party partners that recycle or dispose of apparel.
The company offers two options for making money from your clothes; pricing each item yourself as a consignment item, or taking an immediate payout for the price they plan to sell your clothes at.
Though you can adjust the price of your consignment items at any time, the company provides a minimum and maximum range that you need to comply with. You will have seven days after your clothing is priced to choose between the two pricing options.
Both payment options can be redeemed as store credit, as a payout through PayPal or through a thredUP prepaid Visa. If a consignment item doesn't sell within 84 days, you have two weeks to reclaim it (standard shipping rates apply) before it becomes the property of thredUP.
How Much Can You Earn from Selling to ThredUP?
Regardless of whether you take a quick payment or price your items on consignment, thredUP pays you according to the following scale:
| ThredUP Listing Price | Standard Payout | LUXE Payout (for premium designer brands) |
| --- | --- | --- |
| Less than $14.99 | 5% | 5% |
| $15–$19.99 | 10% | 10% |
| $20–$34.99 | 15% | 15% |
| $35–$49.99 | 25% | 25% |
| $50–$74.99 | 40% | 40% |
| $75–$99.99 | 50% | 50% |
| $100–$199 | 60% | 70% |
| $200–$299 | 70% | 80% |
| $300+ | 80% | 90% |
If a consignment item is sold as a discount or with a promo code, that discount will be deducted from your earnings accordingly, with a maximum reduction of 20%.
As this chart makes clear, thredUp awards more expensive items with a higher payout. While you'll make just $0.75 for an item sold for $15, but $20 from a piece sold for $50 and $140 for anything listed around $200. You can see more examples of pricing through the thredUP payment calculator here.
If you have additional questions about the value of your items before you ship them in, you can message the company at support@thredup.com.
Alternatively, it's also possible to donate your Clean Out bag to a charity partner, which means that thredUP will "purchase" the contents of your bag by sending $5 to the charity of your choice.
Customer Reviews of ThredUP
Understanding that background, do thredUP customers think this service is a good deal?
We looked at a review and comments on the blog Get Green Be Well as well as reviews on Trustpilot and Influenster to find out.
One significant trend we noticed on all these sites is that thredUP sellers are less than satisfied with their payouts. Dozens of people wrote that they received $10 or less for giant bags full of high-quality, brand-name clothes and that large portions of their clothing were rejected- even pieces with the tags still on.
Many people stated that they found the payouts insulting and were upset that they needed to pay to get their rejected clothes back.
A few people also reported that they noticed their rejected clothing for sale on the company website, which made them feel like they were scammed out of their payment.
We found that thredUP reviews are more positive on the purchasing side. The site averages four stars out of five on Trustpilot, and they list dozens of reviews from people who were happy with their purchases.
A few reported that the prices per item were too close to retail to make sense for used items, especially when shipping costs were factored in.
We also noticed some reviews where customers stated that the apparel they received wasn't the size or color they were described as, though they said that customer service took care of these issues when they came up.
What Are Similar Online Thrifting Services to ThredUP?
You don't have to limit your search for ways to sell your gently used clothing to thredUP; there are numerous other services to consider. Two other popular options today include Poshmark and Swap.com.
The chart below will highlight some of the differences between them and thredUP:
| | ThredUP | Poshmark | Swap.com |
| --- | --- | --- | --- |
| Buying Setup | Users send clothing to thredUP for the company to purchase directly or sell on consignment, shoppers browse the platform and buy directly from thredUP. | Users set up a profile and sell clothing to each other, platform takes a cut from every sale. | Users ship gently used clothes and accessories to Swap, which the company can accept to sell. If a piece is bought, the donator earns a percentage. |
| Option to Sell? | Yes, users send clothing to thredUp and get a percentage of the price for all accepted pieces. | Yes, users sell their clothing directly | Yes, users send clothing to Swap and get a percentage of the price for all accepted pieces. |
| Company Cut | ThredUP pays users between 5%-90% of their listed selling price for clothing they accept to sell, depending on the price of the item. | $2.95 for sales under $15, 20% for purchases over $15. | Swap pays users between 20%-70% of the price of each item sold, depending on the listing price. The company charges a $5-$10 fee if they reject more than 40% of your donated items. |
| Shipping Costs for Buying Clothes | $5.99 flat rate for orders under $79 | $6.49 per item | $5.99 no rush shipping, all orders over $60 ship fee. |
| Returns Allowed? | Returns accepted, minus $1.99 restocking fee. | Only if a seller misrepresents the product (wrong size, brand, etc.). | All returns for items you don't like qualify for store credit. |
As this chart makes clear, Swap.com has a similar structure to thredUP. The key differences between the sites are that Swap.com offers sellers a slightly higher percentage of the profits for each piece you sell, though the company will charge you a fee if they don't accept more than half of the items you submit.
Both companies also require you to pay a return fee if you want to get the clothing back that they don't accept or can't sell.
If you want more control over the selling process, we think Poshmark might be your best bet. You only need to take pictures of your apparel and list them on the site, and you will have more control over the pricing and advertising for each item.
One downside is that buyers using discount codes will affect your take-home pay, and it's easy for both buyers and sellers to dispute purchases because there isn't a middle man to inspect each item before it gets listed for sale.
Our View: Should You Try ThredUP?
After reviewing the company's pricing structure and previous customer reviews, we think it makes more sense for deal-conscious fashionistas to buy from thredUP than to sell used clothes on the platform.
Most of the reviews we looked at showed that sellers received just pennies on the dollar for the cost of their clothes and it's expensive to have unpurchased clothes shipped back to you. This resale strategy might make sense if you know you have high-quality designer goods that earn a higher percentage, but there's still no guarantee that thredUP will buy it.
For those who want to purchase clothes, thredUP offers an ever-changing assortment of clothes with transparent pricing. It's possible to score some deals on the site, but reviews from longtime customers wrote on Trustpilot that the brand has been raising their prices to the point that you might occasionally save more money buying clothing new if you can find it on sale.
If you're looking for a new way to find deals on clothes and don't mind the thrill of the hunt, there's a good chance you'll enjoy trying out thredUP. Just keep in mind this isn't the best platform from making money from your closet.
» See Also: 6 Tips for Buying Pre-Owned Designer Clothing Online