Tidal HiFi Reviews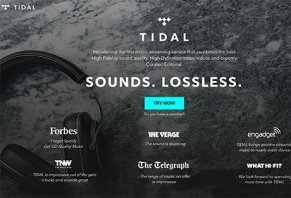 Tidal HiFi is a new subscription-based music streaming service that claims to provide CD-quality, lossless, high fidelity sound to all your electronic devices.
About Tidal HiFi
Owned by Aspiro, Tidal HiFi is an online subscription service that claims to stream music in lossless, high fidelity sound, along with high definition music videos, exclusive articles, interviews, and other content. And because Tidal's music is CD-quality, they claim you can expect a crisp, clear sound without fuzz; or what they call a "fully detailed, richer sound."
In a nutshell, whether you're using a smartphone, tablet, desktop, or home music network system, Tidal HiFi claims to bring you the best possible music experience.
Crystal clear, CD-quality sound wherever we go? Where do we sign up? Am I right? Not so fast. Before you decide to enroll in Tidal HiFi's streaming service, there are some things you should know.
Let's start with the nitty gritty details.
Tidal HiFi by the Numbers
Tidal HiFi's streamed music is claimed to be lossless, or 1,411 KBPS (we'll talk more about this in a moment), compared to the 320 KBPS found on competitors such as Spotify and the 256 KBPS on iTunes radio.
Once you've signed up for Tidal HiFi, the company claims you'll gain access to more than 25 million tracks in FLAC format (iOS devices use ALAC, although at the same 1,411 KBPS), in addition to 75,000+ music videos. In fact, the company claims it would take more than 140 years to listen to their entire library.
When listening to Tidal, If you find a song, artist, or album you like, you're able to "favorite" it by pressing the nearby star. Then, you can categorize your favorites in any way you like (alphabetically, chronologically, etc.). Finally, based on your listening preferences, you'll be able to explore new artists through automatic recommendations. In fact, the built-in audio search even allows you to learn about music you hear on TV or the radio.
Tidal HiFi is ad-free, and can be listened to on any Tidal-enabled device, including Android, iOS, and desktop models, whether you're online or off.
But for all of us non-audiophiles, what does this really mean?
What Does "High Fidelity Sound" Mean?
Merriam-Webster defines high fidelity as, "the very good quality that some recorded sounds or copied images have." How Stuff Works puts a finer point on it by stating, "An audiophile would tell you that a good hi-fi system would reproduce sounds that were identical to the original sound. In other words, a hi-fi system would pick up every nuance of the original performance."
Whichever genre you're into, this basically means you'll be able to experience the full scope of the music, as was intended by the musicians who made it.
But now that we've covered high fidelity, let's talk briefly about lossless.
Are Tidal's Music Files Really Lossless?
The non-technical explanation: While Tidal's files may begin lossless (1,411 KBPS), by the time they reach your device, the quality may be reduced by up to 40%-50%. Granted, this is still quite a bit higher than the file quality you'll experience with most other streaming music.
The technical explanation: Taken directly from Tidal HiFi's FAQ: "Since PCM [Pulse Code Modulation] has a variable bit rate by nature, our experience from our testing is that a lot of repertoire is in the region of 700-900 kbps. So if you compare with AAC 320, you are looking at doubling plus some. But remember that if bandwidth is not an issue, decoding a lossless file is much easier – so the general experience is actually quicker than with AAC." For even more information about lossless, Tidal provides a great video explanation, including audio examples.
The Equipment-Sound Quality Connection
Imagine that you still have one of those old boxy TVs from a couple decades ago. For some reason, you decide you want to hook up your Blu-ray player to it and watch your favorite action flick.
Halfway through it though, you decide you've had enough of the small screen. So, you switch the Blu-ray player back over to your state-of-the-art 64" flat screen TV and start it up again.
Consider this: Of these 2 options, which one do you think would provide better sound and a crisper image? In other words, which would offer a more complete experience? The more advanced equipment, of course.
Well, when it comes to streaming audio, the same principle applies. While the Tidal HiFi's content may be of higher quality, you'll only be able to experience this difference if you're streaming it through high quality hardware (e.g. headphones, speakers, in-home sound systems, etc.).
For the sake of argument, let's go ahead and assume you have higher-end audio equipment. But just because you can experience this sound difference, does it necessarily mean you'll appreciate it?
Are You an Audiophile?
And audiophile is someone that is "enthusiastic about high-fidelity sound reproduction," and who wants to "capture the experience of a live musical performance in a room with good acoustics, and reproduce it at home." Depending on how much of an audiophile you are, you can spend many thousands of dollars in pursuit of this perfect sound, although "it is widely agreed that this is very difficult and that even the best-regarded recording and playback systems rarely, if ever, achieve it."
We bring this up because, while many of us could rightly be considered passionate music enthusiasts, this doesn't mean that we have the ear to discern (or appreciate) the differences in audio streamed through Tidal HiFi, or that of a competitor. The good news is that it's easy to discern if you're an audiophile (although you probably already know this).
What Are Tidal HiFi's Listeners Saying?
Because Tidal HiFi is breaking new ground with their streaming service, they've certainly received a lot of media attention, including a fairly detailed write-up in Forbes, who was very complimentary of the service from almost every perspective. However, they ultimately concluded: "Can you justify paying more for your music streaming each month? My advice is simple. If you're using it just on a phone, probably not." In case you skipped over it, this relates back to the audiophile section above.
In addition, What HiFi? gave Tidal a 5-star rating, where they noted that it provides CD-quality sound, a large library of music, useful curated content, and an intuitive design. However, they also noted that Tidal's CD-quality music isn't available on all platforms; that playback can be sluggish; and that gapless playback is not available.
Rain News noted, "A fully-produced wall of sound on Tidal offered a little more range than you'd hear from the same track as an MP3 [such as an extra twang of a bass string or the full ring of a piano key], but nothing that wouldn't already be lost if listening with cheap headphones."
Finally, reader comments on ComputerAudiophile.com appeared to be almost wholly positive, citing true HiFi sound, no audio drops, and ease of use. Likewise, this Reddit thread can provide some good insight into the pros and cons of Tidal's services.
Tidal HiFi Pricing & Refund Policy
If you want to give Tidal a try before you buy, the company offers a free 7-day trial. Once this trial ends though, Tidal HiFi's services will cost you a pretty penny at $19.99 per month.
In fact, Tidal HiFi's competition includes popular streaming apps such as Spotify ($9.99 per month to upgrade) and Pandora ($4.99 per month to upgrade), which means that, at best, it's 200% more expensive than its closest competitor.
Note: You can search online for "Tidal HiFi vouchers" before signing up, which could provide you with some extra savings.
There isn't a refund policy listed on Tidal's website or in their Terms & Conditions, and the only method of contacting the company is through an online contact form.
Is Tidal's High Fidelity Music for You?
Chopping to the point: If you're into quality audio and have the equipment needed to fully explore recorded music, then Tidal HiFi's CD-quality streaming audio may be worthwhile.
Outside of this select group of aficionados though, it might be the case that average, everyday listeners won't be able to tell much of a difference (if any) between their current streaming audio and the audio provided by Tidal HiFi.
A TIDAL wave of PROBLEMS

By Martin F.

,

Florida

,

Feb 27, 2020
Verified Reviewer

I subscribed to Tidal because it promised an easy way to get a big library of music into Serato for DJing. Seemed easy and cheap enough at the $9.99 per month rate. Once I subscribed, however, the nightmare began.

Within 2 weeks they upcharged me to the $29.99 per month rate for their supposed hi quality stream without permission. Let me just clearly state that the quality is not as promised...Some recordings of older songs is just horrible. You can find better quality on YouTube.

I emailed them and they responded back stating they canceled my subscription but would not refund the upcharge and that I would need to dispute it through my credit card company...so I did...I won that round and got the charges removed.

That was in October/November of 2019. Now in January, I find another charge for the $29.99 monthly subscription. So again I am disputing the charge. Luckily I kept copies of the emails I printed to PDF.

Customer Service is HORRIBLE...Recording quality of most older songs are not even CD quality. This service is a JOKE and it is best to be avoided at all costs. Do yourself a favor and don't even do the free trial and don't trust them with your credit card because they will bill it and try to fight it. AVOID AVOID AVOID!

Bottom Line: No, I would not recommend this to a friend

---

Alphabetical order can't be that hard

By Ben G.

,

Hudson, OH

,

Oct 1, 2019
Verified Reviewer

I get it for free with my phone plan, so that's why I use it, but I would not pay for it. The sound quality is not noticeably better. Also, my biggest frustration is the fact that there is no way to alphabetize a playlist. Why on earth would I want to see songs in the order I downloaded them? This makes it way too difficult to play a specific song from my playlist. I believe Tidal blames someone else, but that company blames Tidal, so screw you Tidal, it's your UI, just fix it. It's ridiculously stupid.

Bottom Line: No, I would not recommend this to a friend

---

Advertisement

---

A solid streaming alternative for HiFi lovers

By Nick L.

,

Fremont, CA

,

May 8, 2019
Verified Reviewer

Tidal is a solid alternative to Spotify if you really want a streaming service to explore lossless songs more accessibly than buying albums all the time then Tidal HiFi is worth it.

Questions you should ask yourself before subscribing.

1. What quality of speakers/headphones do I listen on?

- If the answer is stock phone earphones, cheap computer speakers...Tidal HiFi will not make your music magically better.

2. Can I consistently hear the difference between YouTube compression and full quality music files?

- If you cannot distinguish that difference, you will NOT hear any difference between Spotify Premium Extreme quality and Tidal.

3. Are you willing to try something new?

- Are you invested into the playlists you have curated in your Spotify/iTunes account? Are you willing to remake them again? Do you listen to very niche artists? Going to Tidal is going to be a risk/reward investment. There's no guarantee you will find all your music there, but the ones that are their library are guaranteed to be full quality files.

4. Do you have $10 extra to invest into Tidal HiFi?

- Assuming you have good headphones/speakers and can hear the sound quality improvemtn, can you afford or be willing to pay a premium for the very small extra luxury?

5. How often do you explore your music selection?

- If you have only a few artists which you listen to religiously, you're better off absorbing the cost to buy the full quality digital or vinyl albums of those artists/tracks, HOWEVER, if you're one to explore music all the time, Tidal is absolutely worth it for the price you pay.

Summary: Tidal is going to be ever so slightly more sparse in the music selection than Spotify's huge library...but remember, how many different artists do you actually listen to and care about and how popular are they? If they are relatively known, chances are you will find them here. Also quality > quantity, I love knowing that EVERY song that exists in Tidal is guaranteed to be full quality using the HiFi account and settings and I'm ok with missing a small handful of tracks here and there in return for a full library of CD quality music. The service is expensive and is likely not going to be worth it for 90% of consumers, but it was never intended to be for 90% consumers (that's what their $9.99 service is for) so accept it for what it's worth to you.

I would say take the trial and accept that there may be a $20 charge (if the support is actually as bad as others say) and cancel after that if you really don't like it. Even at $20 it's worth trying if you think you'll hear the difference.

Bottom Line: Yes, I would recommend this to a friend

---

The best, if you have the equipment to appreciate it.

By Chris P.

,

North Yorkshire, England

,

Apr 1, 2019
Verified Reviewer

Please bear in mind this is a premium service offering lossless hi-fi quality so you may have to pay a little more than something like Spotify.

This is no boast, Tidal delivers, in all areas.

Highly recommended.

Bottom Line: Yes, I would recommend this to a friend

---

Advertisement

---

If only...

By Ryan Z.

,

Scottsdale, AZ

,

Mar 24, 2019
Verified Reviewer

While the music quality is slightly above what is available through other services, the library is missing many songs that I enjoy listening to. The iOS app and desktop app also leave a lot to be desired. Overall experience is subpar, especially considering the price is 2.5x more (it's $25.99 a month on iOS for HiFi now).

You do need the right equipment to actually notice a difference in music quality. If you're using earbuds over Bluetooth with your iPhone, you aren't going to notice a difference. I am running a Peachtree 300 with LS50s in my office, and a Marantz/Focal system for my home theater.

The price needs to come down to a max of $12.99 - $14.99, user interface improved, and the library expanded. Until that happens, this app is a no from me.

Bottom Line: No, I would not recommend this to a friend

---

Dishonest! Avoid at all costs!

By Michael S.

,

Chicago, IL

,

Mar 21, 2019
Verified Reviewer

Dishonest renewal policy and deceitful charging. No reason, sound quality is no better than Spotify and at least they are honest. NO help from customer service. Had to get my credit card company involved to reverse the charge. Bad people.

Bottom Line: No, I would not recommend this to a friend

---

Don't waste your money worst ever

By Diana L.

,

California

,

Mar 20, 2019
Verified Reviewer

Can't say I made a purchase because the free trial wasn't worth having. Why would I spend money on something not worth having for free unless you have nothing better to do with your money. But even then, I put it in a trash can before I would pay for this app. I would never spend a dime on this so-called better than the rest. The free trial is the worst. It plays 25% of the time, the rest of the time it's stuck on stupid.

And don't get me started on trying to get to the home screen from angled phone, you can't. You have to turn your phone back upright, which is stupid when you're trying to do this hands-free while in a moving car. Then finally when you do, it freezes up. Then you download music so it will play and it plays like you're playing it on slow-mo, and it constantly tells you "you're offline, get online."

The most stupid music app ever. I had two free months, I canceled it after three weeks. Not even worth having it for the free trial.

Bottom Line: No, I would not recommend this to a friend

---

Best sounding steaming service, period!

By David K.

,

Pittsburgh, PA

,

Dec 18, 2018
Verified Reviewer

As I read through the negative comments, I can't believe what I'm hearing. Those comments have to be the other streaming service trolls. Tidal is by far, the most rewarding audio experience one can get online. The "master" quality songs 192kHz/24-bit depth maximum are truly breathtaking. To put that into perspective, it would be CD quality times four. An average 3.5 minute "master" quality song would take 236.3 MB of data versus a 320kbs "MP3" quality song takes 13.1 MB of data. Look how much information is taken out of the average MP3 song. Critics say you can't hear it anyway. I can hear it! The singer's voices, every breath, every cymbal, instrumentals, everything is there! I rarely, if ever, turn on the TV because the great sounding music is much more rewarding.

A file size of 236.3MB "master" at 9,216kbps versus 13.1 MB "MP3" at 320 kbps is the difference in the amount of data used. A compressed MP3 song throws away 223.2MB of song dynamics or detail you supposedly can't hear. If I'm paying for anything, I would prefer to have it NOT watered down.

That brings me to cost. $19.99 a month for the BEST sounding streaming service available in the United States. The yearly cost is about the price of two concert tickets, but you have access to millions of artist 24/7/365.

Maybe it's just me, but when searching for information on Tidal Master quality, it always refers to some other streaming service's 320mbps quality. Is there a deliberate trashing of Jay-Z owned Tidal streaming service?

Bottom Line: Yes, I would recommend this to a friend

---

Money stolen by Tidal

By Gregory K.

,

Oklahoma

,

Oct 30, 2018
Verified Reviewer

Do not use Tidal, they will steal as much money as possible from you and refuse any type of refund. They have an absolutely no refunds policy in the US. Their system will ignore cancelation requests and forward you to a survey that may not load, which is required to complete the request.

Bottom Line: No, I would not recommend this to a friend

---

Absolute garbage

By Marrian H.

,

West Sussex, England

,

Oct 19, 2018
Verified Reviewer

Awful company. If I could give zero stars, I would.

I signed up for a six-month free trial and got charged after four months. Apparently I had upgraded, which cut my free trial in half. The customer service agent told me they could see I had downgraded a minute later. So I was charged, out of the blue, £9.99 for one minute's worth of their service. It wouldn't even have been a minute, I must have accidentally pressed something that upgraded my account and canceled within seconds.

Their customer services is a joke, the agent just kept saying "as per our terms and conditions" as a reason not to refund me for their unfair practice. Luckily I had signed up for the trial with my PayPal account and spoke to PayPal who refunded me directly, and their customer services agents were helpful and friendly - something Tidal could learn from. I never even used the app.

Bottom Line: No, I would not recommend this to a friend

---

Twice the price, not quite as good.

By Brian E.

,

Sydney, New South Wales, Australia

,

Sep 18, 2018
Verified Reviewer

I downloaded and ran Tidal's HiFi quality service (AAC 320 kbps) against Spotify's extreme premium (OGG Vorbis 320kbps) service.

Ran them, plus some genuine high quality, FLAC files through my phone - LG G6 (Asian market version with the 32bit DAC) and my Shure 535 IEMs.

I played the same five songs as an "A vs. B vs. C" comparison, switching between all three on the fly.

Conclusions:

1. Spotify sounded closer (and better) than the Tidal service to the original high quality, FLAC files.

2. Tidal has some weird streaming issues from time to time, large gaps between songs as it buffers.

3. Neither is as good as the genuine, high-quality FLAC files played directly.

4. Tidal Hi-Fi is TWICE the price of Spotify premium.

Overall, I really can't recommend Tidal.

It's more expensive, and somehow, slightly worse than the competition.

Bottom Line: No, I would not recommend this to a friend

---