Top Wallet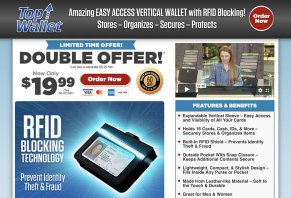 Top Wallet claims to help you store more credit cards securely with its unique design in which you can carry up to 18 various types of cards safeguarded by RFID protection.
Top Wallet Review
Top Wallet is an innovative wallet that combines an extendable cardholder and RFID-blocking technology to make it a space-saving, secure place for your cards, money, and identification.
The wallet's commercial emphasizes the space-saving capability of the wallet, claiming that it's a great solution if you're plagued with an overstuffed wallet.
"Dropping an overstuffed wallet can be a nightmare," the commercial says, "but the top wallet stays closed so nothing falls out."
In this review, we'll talk about the wallet's various features, the cost and return policy, and then talk about the threat of RFID scams that could lead to your credit or debit card number being stolen.
How the Top Wallet Works
The wallet comes in black, tan, and red. It has a synthetic leather strap that goes across the top of the wallet and buttons down to keep the contents safe.
The genius behind the wallet is the extendable series of cardholders tucked into its inner compartment. To access the extension, you pull up on the strap in the same way that pulling on the end of a tape measure.
At this point, you'll expose eight cards of your choice. There's also a transparent slot on the back of the wallet in which you put your driver's license.
Now, the commercial for the wallet says that the wallet can hold up to 16 cards. We can see where nine of the cards go, so we're assuming there are a few other slots and spaces to put the remaining seven cards it claims it can hold.
The card's commercial and website don't indicate that you can double-up on cards in each slot, so keep that in mind.
Also, as we mentioned earlier, the wallet has RFID-blocking technology, although none of the information presented on the website or in the commercial explains how it blocks RFID scanners (more on that in a few minutes).
Top Wallet's Cost and Return Policy
At the time of publishing, you could buy a wallet for $19.99 plus $6.99 for shipping. The total for the wallet and shipping would be $25.98.
You also had the option of buying an additional wallet for a $6.99, which means two wallets shipped would be $32.97. The site will also charge you $1 for every order you make.
The Top Wallet site says your order will ship "within 30 days from the time the order is processed and will be mailed."
Your wallet will come with a 60-day, money-back guarantee. In order to process your return, you'll need to call (888)528-5809 to get a return authorization number.
The customer service reps will instruct you had to proceed. Keep in mind that you can't make a return without getting a return authorization number. Also, you'll be responsible to pay for shipping on the return.
Is RFID Credit Card Scamming a Common Thing?
Part of the appeal of this wallet and others like it is that they claim to stop RFID fraud, which is a manner of hacking that, supposedly, involves someone passing by you and waving a device that steals the information off your credit card.
We did some research on how prevalent this type of crime was and found a post on cyber security site, CSO, by columnist Roger A. Grimes that provided some interesting conclusions about the probability of someone walking by you and scanning your credit cards with what amounts to a criminal's magic wand.
"When I asked several contactless credit card security experts about their opinion of whether fraud could be committed using my proposed criminal scenario, they all said, 'No!' They said it was technologically impossible," Grimes wrote.
While he notes that there have been stories of RFID reading taking place, Grimes said they are few and far between.
"I could not find any public evidence of a single RFID contactless real-world crime being committed, and most knowledgeable officials I spoke with off the record did not think there would be any matching the fraud scenario I was seeking."
We also did a quick email interview with Robert Siciliano, a security analyst with HotspotShield, a Wi-Fi security app.
He said that fewer than 5 percent of credit cards in the U.S. use RFID technology, making minimal the threat of someone stealing your information.
"RFID cards make up less than 5% of cards deployed in the US. It is likely that neither you or anybody you know has an RFID card," Siciliano wrote.
Therefore, we believe you should consider buying the Top Wallet based on its function and storage capability, not its ability to block RFID fraud.
Comparing Top Wallet to Other Wallets
We wanted to get a sense of the cost of other wallets that provided a lot of storage space and RFID protection, so we took a look at some of the top-rated wallets of that type on Amazon.
We found one wallet from Kalmore that offered RFID protection as well as enough slots for 14 credit cards. This wallet employs an accordion-style storage system. When you open it up, it fans out. The wallet was $14.99 and had more than 2,300 reviews for an average rating of 4.5 stars.
The Marshal Bifold leather wallet was another highly rated option during the time of our research. It was $14.99, had an average rating of 4.4 stars and held up to 12 cards.
This wallet is different in that the Top Wallet and the Kalmore wallet because it opens up like a regular wallet but with an extra cardholder "page" in the middle.
We believe that both wallets offer better value than the Top Wallet. But, because this type of item is both a fashion accessory and a highly functional item, the way your wallet looks and works could be just as important as how much it costs.
Based on our observations, we think the pull-out extension of the Top Wallet makes it easier to see which card you want to pull out compared to the accordion-style operation of the Kalmore wallet.
The Marshal wallet is made from real leather and is easy to open and view your cards but the Top Wallet allows you to securely close up the wallet so that, in the event you drop it, nothing will fall out.
The Final Word: Our Conclusions About Top Wallet
Based on the research we did regarding RFID fraud and other competing wallets, it's our opinion that RFID crime isn't that big of danger and, therefore, shouldn't be a deciding factor in which wallet is best for you.
What we do think is important is your particular taste in style and function. If you like the concept of a wallet that can close completely and has a unique way of storing your cards, then the Top Wallet is a great choice.
However, if you prefer an accordion-style wallet or even a traditional bifold option, then you have plenty of choices on Amazon that could make you just as happy as the Top Wallet.